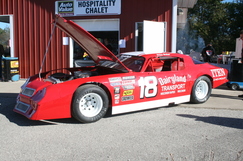 ---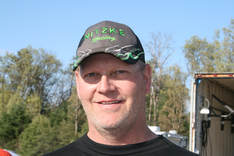 ---

---
Mark Mackesy and Derrick Van Dreel take Albert Getzloff Memorial wins at Golden Sands Speedway in race four of the CWRA "Stars to Legends" Tour
June 23rd, 2017

FOR IMMEDIATE RELEASE: CONTACT: DALE P. DANIELSKI
608-783-5827
dale@starmakermultimedia.com

MACKESY AND VAN DREEL POST WINS
IN ALBERT GETZLOFF MEMORIAL AT GOLDEN SANDS

PLOVER, WI - It was round four of the CWRA Stars to Legends Tour here at Golden Sands Speedway, as the Albert Getzloff Memorial race was held in honor of the long time race tire sales and service provider for CWRA, who passed away this past year. When all was said and done it was Mark Mackesy, Wausau, WI., and Derrick Van Dreel, Stevens Point, WI., in victory lane at the conclusion of the two 30 lap Feature events.
The first 30 lap main started with Jesse Pokszyk, Friendship, WI., and Jake Capek battling, with Capek securing the early lead. Rising star on the Tour Rachel Kallas, Winneconne, WI., soon found herself in the mix grabbing the lead from Capek a short time later. Meanwhile, the winner of the last two CWRA races, Mackesy was cruising through the field in search of the lead. Mackesy found that lead at the mid-point of the race and built a cushion, looking like a shoo in for the win. Mark Eswein, Wis. Rapids, WI., in his first CWRA start of the year had other ideas however, moving into second spot with 10 laps to go in hot pursuit of Mackesy. The two raced nose to tail for several laps with time ultimately running out on Eswein who had to settle for second position behind Mackesy who took the win by a car length. Battles raged behind the leading duo and after 30 laps of racing it was Monty Gress, Neillsville, WI., in his best finish to date, Jeff Weinfurter, Wis. Rapids, WI., Jerry Brickner, Wausau, WI., and points leader Frank Nitzke, Berlin, WI., following.
Main event number two found round two CWRA winner, Derrick Van Dreel on the front row and he wasted no time in taking the lead. Darren Jackson, Wis. Rapids, WI., in his first CWRA start followed in second looking for a mistake by Van Dreel to take the lead. The mistake never did come however, and Van Dreel raced to his second CWRA Stars to Legends Tour win of the 2017 campaign leading all 30 laps with Jackson a close second. Mackesy and Eswein after starting deep in the 18 car field worked their way to the front along with Weinfurter, putting on a battle that was second to none for the third position. The trio raced nose to tail and side by side for numerous laps, even making contact on occasion, before Weinfurter finally secured the position at the finish. Eswein wound up fourth followed by Mackesy, and Capek.
The next event for the CWRA Stars to Legends Tour will be Saturday, July 15th at Dells Raceway Park, Wis. Dells, WI.. In an extremely close race, new points leader Derrick Van Dreel will be there taking on the challenges of an anticipated 15-20 car field in the event that will honor former CWRA stars that became legends, Marv Marzofka and Tom Reffner, who will both be in attendance.
For additional information on CWRA go to the CWRA Facebook page or to starmakermultimedia.com under the news section.
SUMMARY
30 lap Feature one 1. Mark Mackesy, Wausau, WI. 2. Mark Eswein, Wis. Rapids, WI. 3. Monte Gress, Neillsville, WI. 4. Jeff Weinfurter, Wis. Rapids, WI. 5. Jerry Brickner, Wausau, WI. 6. Frank Nitzke, Berlin, WI. 7. Rachel Kallas, Winneconne, WI. 8. Darren Jackson, Wis. Rapids, WI. 9. Steve Lichtfeld, Portage, WI. 10. Jake Capek, Nekoosa, WI. 11. Jesse Pokszyk, Friendship, WI. 12. Derrick Van Dreel, Stevens Point, WI. 13. Jeff Nowak, Wausau, WI. 14. Kirby Kurth, Wis. Rapids, WI. 15. Dave Neitzke, Eureka, WI. 16. Wayne Breitenfeldt, Wausau, WI. 17.Dakota Blakeslee, Wis. Rapids, WI. 18. Renee Scheinoha, Wis. Rapids, WI. 19. Mike Sievers, Wis. Rapids, WI.
30 lap Feature two 1. Van Dreel, 2. Jackson, 3. Weinfurter, 4. Eswein, 5. Mackesy, 6. Capek, 7. Brickner, 8. Gress, 9. Lichtfeld, 10. Nitzke, 11. Pokszyk, 12. Kallas, 13. Kurth, 14. Neitzke, 15. Breitenfeldt, 16. Blakeslee, 17. Nowak, 18. Scheinoha, 19. Sievers, DNS.
Dash 1. Mackesy
Qualifying 1. Brickner

CWRA Stars To Legends Tour point standings as of 6/23/17

1. Derrick Van Dreel 292
2. Frank Nitzke 291
3. Jeff Weinfurter 290
4. Jake Capek, 287
5. Rachel Kallas 257
6. Michael Sievers 207
7. Mark Mackesy 200
8. Monty Gress 181
9. Kirby Kurth 154
10. Wayne Breitenfeldt 150
-30-


JUNE 16TH, 2017
FOR IMMEDIATE RELEASE: CONTACT: DALE P. DANIELSKI
608-783-5827
dale@starmakermultimedia.com
POINT LEADER NITZKE LOOKING
FOR STARS TO LEGENDS TOUR WIN

PLOVER, WI - Former Golden Sands Speedway, Plover, WI., Super Late Model track champion and current CWRA "Stars to Legends" point leader, Frank Nitzke of Berlin, WI., is looking for his first 2017 racing season Feature win. Now would be the perfect time as the speedway presents the CWRA "Stars to Legends Tour" Albert Getzloff Memorial race on Friday night, June 23rd.
The race is named in honor of Getzloff who handled tire sales for CWRA and others in Wisconsin for many years. Always of quick wit, Getzloff was involved in the sport since it's infancy in the 1960s and has been a mainstay ever since until his passing due to heart complications.
Nitzke is heading up a 15-20 car field of CWRA drivers that will be shooting for the top prize in the First Annual Albert Getzloff Memorial event. Having raced and won throughout the State of Wisconsin, Nitzke has chosen to race on the CWRA Tour due to cost factors built into the series. "I'm racing with CWRA because it's more affordable and still really competitive. They require the Towel City Racing tire for all their events which is cheaper in upfront cost and lasts much longer than the other tires out there. I love this tire, it's really been fun racing with it on the tour"
With three CWRA events in the books, Nitzke finds himself on top the point standings with 222 points, slightly ahead of Jake Capek, Nekoosa, WI., 218, and Derrick Van Dreel, Stevens Point, WI., 214. Nitzke's consistent finishes in main event competition have put him first in points but a win at Golden Sands could propel him the rest of the way with four CWRA races remaining. "Consistency is good but a win in the Getzloff Memorial Race at a track I'm a former Champion at would be great!"
Besides the aforementioned drivers, Mark Mackesy, Wausau, WI., and the last CWRA Tour event winner at Wausau's State Park Speedway, is another driver that will be racing in the Getzloff Memorial. With two CWRA main event wins at State Park, Mackesy has momentum on his side and will be a favorite to win. Local racer Jeff Weinfurter, Wisconsin Rapids, WI., and the only female competitor racing the entire Tour, 17 year old Rachel Kallas, Winneconne, WI., will also be challenging for the prestigious Getzloff Memorial race win.
In addition to CWRA, a full program of racing will be held with a huge Fireworks display capping off the evening.
Fan gates at the Speedway will open at 5:00 pm with racing set to start at 7:45pm.
Golden Sands Speedway is located 6 miles West of Plover, WI., or 7 miles East of Wisconsin Rapids, WI., on Highway 54.
-30-


June 8th, 2017 Mark Mackesy #12 CWRA State Park Speedway victor

FOR IMMEDIATE RELEASE: CONTACT: DALE P. DANIELSKI
608-783-5827
dale@starmakermultimedia.com

MACKESY VICTORIOUS IN CWRA STARS TO
LEGENDS TOUR EVENT AT STATE PARK SPEEDWAY
WAUSAU, WI - Mark Mackesy, Wausau, WI., not only picked up his first Feature win of the 2017 racing season, but roared to a main event sweep, capturing both 25 lap events in the CWRA "Stars to Legends Tour" event at State Park Speedway here Thursday night. The race program was the third for CWRA in 2017.
For Mackesy it was his first start on the CWRA Tour this year and he made the most of it by taking the lead in main event number one at the halfway point and holding off a determined Frank Nitzke, Berlin, WI., at the end of 25 laps. Following the two at the finish were Jake Capek, Nekoosa, WI., early race leader, Rachel Kallas, Winneconne, WI., Derrick Van Dreel, Stevens Point, WI., and Wayne Breitenfeldt, Wausau, WI.
The second 25 lap main found Mackesy starting from the 7th spot in the lineup but that proved barely a deterrent, as the local racing favorite wasted no time again moving into the first position near the half-way point of the event. The task became a bit tougher in race number two than one for Mackesy however, as Jeff Weinfurter, Wis. Rapids, WI., who suffered mechanical problems in the first Feature came flying through the field from the back of the pack to challenge. Drawing up to Mackesy's rear bumper was as close as Weinfurter could get however, as the laps ran out with Mackesy getting his 2nd main event win of the night holding off Weinfurter. A spirited battle took place throughout the race between four drivers for the next positions, with Van Dreel eventually securing the 3rd spot with Capek, Nitzke and Kallas following at the finish.
With his two main event wins, Mackesy was declared the overall winner of the event followed by Capek, Nitzke, Van Dreel, and Kallas.
Nitzke's solid performance has put him on top the point standings heading into the next CWRA "Stars to Legends Tour" event Friday, June 23rd, at the Golden Sands Speedway, Plover, WI. That event will be the Albert Getzloff Memorial race, held in honor of Getzloff, who provided drivers with race tire service for many years on the Central Wisconsin Racing Association circuit.. A full program is scheduled for the night with racing set to start at 7:45pm.
For more information on CWRA go to the CWRA Facebook page or to starmakermultimedia.com under the news section.

SUMMARY
25 lap Feature race one. 1. Mark Mackesy, Wausau WI., 2. Frank Nitzke Berlin, WI. 3. Jake Capek, Nekoosa, WI., 4. Rachel Kallas, Winneconne, WI., 5.Derrick Van Dreel, Stevens Point, WI., 6. Wayne Breitenfeldt, Wausau, WI., 7.Darek Gress, Neillsville, WI., 8. Monty Gress, Neillsville, WI., 9. Mike Sievers, Wis. Rapids, WI., 10.Jeff Weinfurter, Wis. Rapids, WI.
25 lap Feature race two. 1. Mackesy, 2. Weinfurter, 3. Van Dreel, 4. Capek, 5. Nitzke, 6. Kallas, 7. D. Gress, 8. Breitenfeldt, 9. M. Gress, 10. Sievers.
Overall event standings. 1. Mackesy, 2. Capek, 3. Nitzke, 4. Van Dreel, 5. Kallas.
Qualifying 1. Weinfurter.

CWRA Stars To Legends Tour point standings as of 6/8/17.
1. Frank Nitzke 222
2. Jake Capek 218
3. Derrick Van Dreel 214
4. Jeff Weinfurter l 204
5. Rachel Kallas 192
6. Michael Sievers 165
7. Skylar Holzhausen 144
8. Mark Mackesy 108
9. Wayne Breitenfeldt. 101
10. Kirby Kurth 101


-30-

May 27, 2017
FOR IMMEDIATE RELEASE: CONTACT: DALE P. DANIELSKI
608-783-5827
dale@starmakermultimedia.com
VAN DREEL CAPTURES FIRST EVER FEATURE WIN
IN STARS TO LEGENDS BACK MEMORIAL RACE

Marshfield, WI - Derrick Van Dreel of Stevens Point, WI., could not have picked a better time to win his first ever Feature race as he roared to an impressive win in the CWRA Super Late Model "Stars to Legends" Jim Back Memorial event at Marshfield Motor Speedway, Marshfield, WI., Saturday. The event was to consist of Feature events of 30 and 31 laps representing legendary driver Jim Back's car number 61, but was called official after the first 30 lapper due to a power failure at the track.
For Van Dreel who is racing on the entire "Stars to Legends" Tour this year it was his first Feature win of any kind in any division of racing. Van Dreel paced himself early on before taking the lead from Jake Capek of Nekoosa, WI., midway through the event and then holding of Brian Back of Rudolph, WI., for the win. Battles were going on throughout the 16 car Feature field and when the checkered flag waved it was Van Dreel first, followed by Back who was racing in memory of his late Grandfather Jim, Jeff Weinfurter, Wis. Rapids, WI., Michael Sauter, West Salem, WI., Frank Nitzke, Berlin, WI., and Capek.
Heat race victors on the night were Back and Capek.
The next event for the CWRA "Stars to Legends" Tour drivers will be at State Park Speedway of Wausau, WI., on Thursday, June 8th where a full program is scheduled. Racing is set to begin at 7pm. For more information on CWRA go to the CWRA Facebook page or to starmakermultimedia.com under the News section.

SUMMARY
30 lap Feature race.. 1. Derrick Van Dreel, Stevens Point, WI., 2. Brian Back, Rudolph, WI., WI. 3. Jeff Weinfurter, Wis. Rapids, WI.,4. Michael Sauter, West Salem, WI., 5. Frank Nitzke, Berlin, WI., 6. Jake Capek, Nekoosa, WI., 7. Rachel Kallas, Winneconne, WI., 8. Skylar Holzhausen, Sparta, WI., 9. Kirby Kurth, Wis. Rapids, WI., 10. Monty Gress, Neilsville, WI.
Heat 1 1. Back, 2. Nitzke, 3. Sauter.
Heat 2 1. Capek, 2. Kallas, 3. M. Gress.

Tour point standings as of 5/27/17.
1. Skylar Holzhausen 144
2. Frank Nitzke 132
3. Jake Capek 130
4. Derrick Van Dreel 124
5. Jeff Weinfurter 118
6. Rachel Kallas 111
7. Michael Sievers 102
8. Kirby Kurth 101
9. Eugene Gregorich, Jr. 96
10. Putch Bentley 90


-30-
May 13, 2017

FOR IMMEDIATE RELEASE: CONTACT: DALE P. DANIELSKI
608-783-5827
dale@starmakermultimedia.com
CWRA STARS TO LEGENDS TOUR KICKS OFF SEASON
WITH LYLE NABBEFELDT MEMORIAL RACE

WIS. DELLS, WI - The Central Wisconsin Racing Association "Stars to Legends Tour kicked off its 2017 season with the Lyle Nabbefeldt Memorial race at Dells Raceway Park, Wis. Dells, WI., here Saturday night with star driver Skylar Holzhausen of Bangor, WI., taking the overall win.
The event featured two 55 lap main events commemorating Nabbefeldt's car number when he raced in the 1970s on short tracks throughout Wisconsin. Nabbefeldt was killed at the Dells track while qualifying in 1973 and the race is held in his honor.
Holzhausen who was fastest on the day started last in the 12 car field for the 1st 55 lap segment but soon was moving quickly through the field. A move past early leader and upstart driver Jake Capek of Nekoosa, WI. with 15 laps to go sealed the win for Holzhausen who went on to a 5 car length victory. Capek stayed within striking distance but was forced to settle for 2nd at the checkered flag. Rounding out the top finishers were Frank Nitzke, Berlin, WI., Eugene Gregorich, Jr., Amherst Jct, WI., and Jeff Weinfurter, Wis. Rapids, WI.
A partial inversion for the 2nd 55 lap main put Gregorich Jr, on the pole position and he wasted no time in bolting out to a huge lead. Holzhausen meanwhile was working his way to the front and finally caught Gregorich Jr, with 20 laps to go. The two battled nose to tail and side by side for several laps before Holzhausen secured the lead going on to a 10 car length victory. With wins in both 55 lap Feature events, Holzhausen was crowned the 2017 Lyle Nabbefeldt Memorial Champion. With the Crown went the original traveling trophy that has gone to the winner of the event back when the memorial race was initiated in 1973.
Following Holzhausen and Gregorich, Jr., in the 55 lap nightcap were Capek, Nitzke, and Rachel Kallas of Winneconne, WI. Overall final standings found Holzhausen 1st with 100 points followed by Capek, 90, Gregorich Jr., 88, Nitzke, 86 and Kallas with 74.
Next up for the CWRA "Stars to Legends Tour" will be a stop at the Marshfield Motor Speedway, Marshfield, WI., Saturday night, May 27th for the Jim Back Memorial race. Racing on the night begins at 7pm.

SUMMARY
55 lap Feature one. 1. Skylar Holzhausen, Bangor, WI., 2. Jake Capek, Nekoosa, WI.,3. Frank Nitzke, Berlin, WI., 4. Eugene Gregorich, Jr., 5. Jeff Weinfurter, Wis. Rapids, WI., 6. Michael Sievers, Wis. Rapids, WI., 7.Derrick Van Dreel, Stevens Point, WI., 8. Rachel Kallas, Winneconne, WI., 9. Kirby Kurth, Wis. Rapids, WI., 10th. Putch Bentley, Iron River, MI. 55 lap Feature two. 1. Holzhausen 2, Gregorich, Jr., 3. Capek, 4. Nitzke, 5. Kallas, 6. Van Dreel, 7. Kurth ,8. Sievers, 9. Bentley, 10. Weinfurter.

Tour point standings as of 5/13/17.
1. Skylar Holzhausen 110
2. Eugene Gregorich, Jr. 96
3. Frank Nitzke 92
4. Jake Capek 92
5. Rachel Kallas 75
6. Jeff Weinfurter 74
7. Derrick Van Dreel 74
8. Mike Sievers 73
9. Kirby Kurth 69
10. Putch Bentley 63





AUTO RACING FACTS, OBSERVANCES and OPINIONS

2017 September

There's always added excitement when racers win their first ever event, or pick up a victory after a long drought. In this scribe's recent travels that occurred on a number of occasions.
Going back to August 4th, 2017 at the Golden Sands Speedway, Plover, WI., it was up and coming driver Jerry Brickner scoring his first ever Feature win, it coming in the 50 lap Super Late Model main event there. Veteran, Mark Eswein closed in late but at the checkered flag it was Brickner over Eswein, Chad Devine Mike Litchfeld and Jordan Thiel. You can never again win that first one and a very excited Brickner celebrated hard in victory lane afterward.
On to LaCrosse Fairgrounds Speedway, West Salem, WI., August 5th, it was Adam Oxborough winning his first ever Feature of any kind in the 15 lap Sportsman division main. Steve Bachman and Randy Humfeld both threatened at the end but Oxborough held them off for the milestone win. Same night, same track, produced another first ever winner as Ty Reedy won the 25 lap NASCAR Late Model Feature his initial main event conquest. Reedy had veteran racer Brent Kirchner on his tail but was up to the task holding off Kirchner, Ty Majeski, Nick Panitzke and Mike Ehde who were tightly bunched up behind.
Nick Clements who has won in the top division of racing at La Crosse Fairgrounds before, but hadn't seen victory lane in awhile, changed that here August 19th. Clements captured the first of two 20 lap NASCAR Late Model features on the night ending the drought. According to Clements the team was ready to take a sawz-all to the car as frustration was setting in having not won yet in the John Gilbertson owned Steve Carlson Late Model. Frustration meanwhile doesn't begin to describe the season Sportsman driver Brian Hesselberg has had at Lax. Having only finished one Feature all year at the track, Hesselberg after more costly repairs on his car from a wreck a couple weeks back, finally came through for the feature win here 8/19. The 15 lap main was tight all the way, but Hesselberg held his line and motored to the win over Randy Humfeld and Steve Bachman who finished nose to tail behind. For Hesselberg, who was strongly considering calling it a racing career after this season, hopefully winning means everything and the plan changes.
Speaking of winning, the first time is anything but the case for Nick Panitzke as he won his 5th NASCAR Late Model Feature at Lax. Fairgrounds here Saturday, August 19th. Panitzke's victory was in the 2nd 20 lap main on the night and it put him in the division point lead heading into the season Finale on October 5th, as part of Oktoberfest Racing Weekend.
Also included in recent travels was a visit to the Shawano Speedway, Shawano, WI., July 29th. Always great to catch a race here and tonight was no exception as an excellent field of cars was on hand to do battle. Taking the 20 lap Late Model main event win was the very popular Nick Anvelink who utilized a late race restart to pass Troy Springborn which he held to the finish. Springborn held on for 2nd with Ron Berna, Joe Reuter and Brett Swedberg following.
Here and there...Back in July at Lax. Speedway, Nick Panitzke was guilty of a tire infraction in qualifying. Undaunted, the long haul Minnesota driver who had to start in the back of his 10 car heat race, moved from last to first in just three laps to win! Now that was fun to watch...Something not seen in five years at Lax. Fairgrounds is someone other than Steve Carlson leading the NASCAR Late Model points heading into the last event of the year. Nick Panitzke has an 11 point lead going into Oktoberfest Racing weekend over Carlson...Can't leave out the fact Justin Mullikan won his first ever Late Model race at Lax. Fairgrounds. Mullikan raced to a heat race win here on August 5th...The Central Wisconsin Racing Association Stars to Legends Tour has continued on in 2017 with recent winners being Mark Mackesy and Jeff Weinfurter, (Golden Sands Speedway, August 4th.) Jake Capek (First ever Super Late win by the way.) and again Mackesy at State Park Speedway, Wausau, WI., August 10th. One event remains on the Tour this year at Marshfield Motor Speedway, Marshfield, WI., Friday, September 8th and at least 6 drivers still have a shot at the season points championship...Hard to believe with this past show August 19th at Lax. Speedway that the next racing for most of the divisions is at Oktoberfest Racing Weekend, October 4-8, 2017. And, of course with 'Fest, comes the Champions Reunion from 11am-2pm on Sunday, October 8th in the Hospitality Chalet in the grand stand area of turn one. This years' theme will be 60 years of racing at the Fairgrounds featuring some drivers that actually raced way back then as well as past champions that raced through the years. One such driver's career that will be focused on is the late Ken Christenson, Sr., of the racing Christenson family. In addition, a replica car of one he raced back in the day will be on display. The Reunion is open to all past Champions in any division or series at any track, including an Oktoberfest main event win, that haven't raced in the past three years. Contact Dale P. Danielski at 608-783-5827 or at dale@starmakermultimedia.com if you are interested in attending. Additional information is forthcoming via www.starmakermultimedia.com a Facebook Champions Reunion event page, and a mailer to past attendees...
Looking back in time on Wednesday, August 7th, 1957, it was the "Big Cars christening the new 1/2 mile dirt, Fairgrounds oval in West Salem, WI., with Johnny Pouleson in a Perdue Offenhauser winning the afternoon, 15 lap Feature, and Buzz Barton, in another Offenhauser taking the 15 lap main event nightcap. Johnny Beauchamp in a 1957 Fuel injected Chevrolet would win both the afternoon 25 lap main, as well as the 100 lap feature nightcap in the stock car division, which competed for the first time at the track on August 14th... Jim Sauter captured the first ever pavement Feature race at the Fairgrounds in West Salem on July 14th, 1970 in his 1967 Chevelle.. Following Sauter in the main were Jim Back and Dick Trickle. Dale Walworth won the Semi-Feature race over Tom Schaller while heat race wins went to Walworth, Bill Wirtz, and Marv Marzofka. Fast time went to Back at 21:39 seconds. Jim Hemker was victorious in the Hobbystock Feature... A Sunday event in 1963 found Ken Christenson winning the Feature event at the Southside Speedway of Westby, WI. Christenson who also won a heat race was followed in the feature by Glen Henderson, Cecil Henderson and Dick Jones.
Dale's pics from the past. Cars line up at the North La Crosse Speedbowl, La Crosse, WI., back in the 1960s. The #2 car is that of early racing pioneer, Ken Christenson, Sr. (Ken Christenson photo collection.) A replica car looking nearly identical to this one will be on display at Champions Reunion IX as part of Oktoberfest Racing Weekend, October 4-8, 2017. Ernie Derr, the IMCA Late Model king won at La Crosse Fairgrounds back in the 1960s. Jim Sauter won first Feature on pavement at Lax. Interstate Speedway in 1970 and was first full season Late Model Champion on pavement in 1971 in this 1969 Chevelle. (Mussoni collection photo) Tom Reffner first ever Oktoberfest Feature winner in 1970.
That once again wraps things up here and just remember, I repeat, get out there and enjoy life a little...please, get off the phone!
Questions, comments, opinions and other information welcome at Starmaker Multimedia 967 10th Ave N Ste A, Onalaska, WI 54650 608-783-5827 or at dale@starmakermultimedia.com

AUTO RACING FACTS, OBSERVANCES and OPINIONS

2017 August

A benefit of holding all the Champions/Racer Reunions that I have through the years is contacting and ultimately staying in touch with the many star racers we enjoyed watching in the past. I recently had conversations with two of the best from the area, Dave Marcis and Mike Miller, and they had some interesting insights on racing, before and today.
For Dave Marcis it was a matter of racing in Wisconsin and accomplishing all he set out to, and making the decision to do it full time which meant moving down south and competing in NASCAR. "I raced 92 times back one year in the '60s and won 52 of them. There was nothing more I could do here and I couldn't make a living because the season was too short in the North." With the move, Dave did what no one before him from the area did and that was win races in NASCAR's top division, Cup. "When I went down south, I had $100 in my pocket. I didn't know if it was going to work out or not, but I knew I wanted to make a living at it, so I had to try.
Marcis would win 4 Cup races while making his living in the south but he sees where NASCAR could be heading for a fall in the future if things don't change. "NASCAR doesn't have anyone with knowledge of racing. The tracks keep taking seats out because the fans aren't coming like they used to. It's not about racing anymore, it's about a show, entertainment and the fans just aren't coming like they did before. The TV networks are paying the bills right now, but with ratings continuing to go down how long will that last? If the networks get out of it then what?"
Of course Dave's racing days have long since concluded, but he does still keep track of things and is to some extent still involved. "I do shocks for some of the guys to help keep them going, even though what that costs is ridiculous, but really, the cost of so much of this short track stuff, do fans care about the shocks guys run and how expensive they are? No, it doesn't put people in the stands. It does nothing for the show, matter of fact the racing isn't that good." Having his roots in Wisconsin Marcis sees paved racing at the short track level in need of common sense rules to get it back where it was in its heyday. "These tracks need to get together and have all the same rules so guys can race more. These tracks run their own deal anymore and some races with the same cars at tracks that are 35 miles apart are racing against each other running shows on the same day. That has to stop! That cuts the car count down and nobody wins. More cars bring more people."
Continuing discussion about his short tracking days, Marcis claims many of the drivers from up North could have made it in the south. "Marlin Walbeck, Dick Trickle, Tom Reffner, Marv Marzofka, and there were others, all could have been successful down south. They were doing so good with their short track racing North that they didn't want to take the risk like I did. The first time I went down south I took Trickle with me. He didn't come back until way late in his career. It was understandable because he was getting such good deal money to race besides his winnings in the north."
Even with his limited involvement in racing, Marcis says he stays plenty busy doing numerous things. "I have a "Honey Do" list that's 35 years long! My wife wanted me to put a yard in here at the house, I have a dump truck and a back-hoe so I could do it, but that was 24 years ago she asked!"
Meanwhile, Mike Miller is still a shirttail involvee in racing, keeping tabs on the sport to some degree. But it's more about what went on before that I enjoy the most in any discussion with Mike. According to Mike who did the unthinkable at the time, move from Minnesota, (New Prague to be precise.) to Wisconsin to be able to race more, it took 5-7 years to finally reach the level of success that the Central Wisconsin gang was experiencing. "I finally got it all down to where I could consistently win races. The patience, the muscle memory , the co-ordination from Head to Butt, to Foot to gas pedal. We were so close when racing that if you didn't have all that right your competitor would win. It was literally inches that made the difference a lot of times in winning or losing. I remember one year the first 4 times we raced Dick (Trickle) and I, the total difference of all our race finishes was less then a fender. That was racing against guys that had learned over time the patience, fully concentrating on all those things that make the difference. It took me a long time to finally have that." Miller also recalls back in the 1970s when female racer, and Indy car driver Janet Guthrie raced in Wisconsin at a time when the old school drivers weren't too fond of a female being involved racing in the sport. "She was going to race at State Park Speedway, (Wausau, WI.) and a spokesperson for her asked me what do we need to do to get here up to speed? I became a mentor of sorts, I think I kind of felt sorry for her as no one would help her, so I tried to get her thinking like I had to. Co-coordinating all those things, getting her mind set and concentrating on all of it to be competitive at the short track level. Of course attempting this at State Park compounded the problem as that has always been a place where when it seems like you are going slow you are probably moving up!" Guthrie never really did "get it' at that level but according to Miller she made a good attempt. "She was really serious about her racing, and she did compete in the Indianapolis 500. If she could have spent more time, that seat time thing, I think she would have been alright." And of course the seat time thing, racing enough to where you do become accepted, is something Miller knows all too well. It's no secret that both fans and drivers alike remember back in the day there being no Love lost between the Wisconsin drivers and the Minnesota contingent. "I think it took ten years after moving to Wisconsin that Dick finally told me, you're a Wisconsin guy now. It took a long time to earn that respect from the Wisconsin crew. If Guthrie could have stayed with it, I think she would have earned it too."
Of course Miller like Marcis is concerned with the State of short track racing and the sport in general. "You could learn so much racing practically every night of the week like we did. With rules the way they are and tracks so independent, it's difficult for racers to get the laps, the experience to speed up the learning curve like we did. There are still some really good drivers out there, one I've watched that has reached the Cup level, Kyle Larson is one of them. That guy can driver a race car, any race car!"




Here and there...Speaking of short track level racing, The CWRA Stars to Legends Tour returned to Dells Raceway Park, Wis. Dells, WI., for an event July 15th. The program was held in honor of two all time great short trackers, Marv Marzofka and Tom Reffner. Both were on hand for the event which saw two new main event winners on the Tour for 2017. Rachel Kallas and Frank Nitzke were the winners of the two 50 lap Features held as a 17 car field did battle on the night. For Kallas, it is believed to be the first ever Feature win for a female in CWRA competition. For Nitzke, it meant taking over the Tour point lead heading into the next event at Golden Sands Speedway, Plover, WI., Friday, August 4th...The Tundra Series was in action at La Crosse Fairgrounds Speedway, West Salem, WI., June 30th and a field under extremely threatening weather, of 27 Super Late Models participated. Cole Anderson under the guidance of Dan Fredrickson took the 50 lap Feature win easily outdistancing Dalton Zehr, and Michael Sauter...Nick Panitzke continued to run hot in NASCAR Late Model competition at Lax Speedway June 24th,, winning the 25 lap Feature event, his 3rd here for 2017, over a 24 car field. Brad Powell and Steve Carlson followed...And it finally happened here July 8th at La Crosse Speedway. Matt Henderson ended his 8 year drought in NASCAR Late Model competition winning the 25 lap Feature event. Henderson drove the wheels off his car in fighting off Brad Powell and Jerimy Wagner for the win. And, rookie driver in NASCAR competition, Ryan Brown captured his first ever win, taking the 3rd heat race on the night. He attributed the victory to the long hours spent playing racing video games. My, how things are different these days. Used to be you started in a lower division of racing, got your seat time, took your lumps, finally moving up through the ranks and winning in the top division...
Looking back in time on Saturday, July 12th, 1969, it was John Ziegler in a 1964 Ford winning the 30 lap Feature at Dells Motor Speedway, Wis. Dells, WI. Following Ziegler at the finish were Lyle Nabbefeldt, Jim Back, John McNamara and Tom Reffner. On Saturday, July 19th, 1969 at the Dells, it was Kato Theissen in Dick Trickle's #99 1967 Ford Fairlane winning the 30 lap Feature. Following Theissen were Duane Walch, Tom Jensen, Homer Spink and Emmitt "Jerry" Stephan. On Thursday, July 15th, 1971 at State Park Speedway, Wausau, WI., it was Marv Marzofka winning the 30 lap Feature race. Jim Hornung won the 15 lap Semi-Feature with heat wins going to Denny Paasch, Bill Wirtz and Dick Trickle. (Results courtesy of Jim Cleveland)
Recent Feature winners on the CWRA Stars to Legends Tour, these coming at Dells Raceway Park, Wis. Dells, WI., July 15th, Rachel Kallas, winner of the Tom Reffner 50 and Frank Nitzke, victor in the Marv Marzofka 50.
Dale's pics from the past. Mike Miller started racing regularly in Wisconsin in 1973. He raced Ford Mustangs originally with this photo taken at the Dells track in 1974. Dick Trickle and Dave Marcis do battle in the early '60s at Griffith Park Speedway, Wis. Rapids, WI. racing in Wisconsin.
That wraps things up for this round, just remember, get out there and enjoy life a little... get off the phone!
Questions, comments, opinions and other information welcome at Starmaker Multimedia 967 10th Ave N Ste A, Onalaska, WI 54650 608-783-5827 or at dale@starmakermultimedia.com

AUTO RACING FACTS, OBSERVANCES and OPINIONS

2017 July

By Dale P. Danielski

Been hearing some discussion about the chances of Ty Majeski winning a main event at each of the Wisconsin pavement tracks he's competed at, less a couple that don't race what he has driven. For modern era short track paved racing the list is impressive!
It would appear the only Speedway left for Majeski to conquer, is the Slinger Super Speedway, Slinger, WI. As far as I know even with all the Roush development stuff going on for Majeski, he still does plan on racing in the upcoming Slinger Nationals. If he wins there my guess is he'd be at 10 or so Speedways in the State raced at as there are currently 12 paved tracks operating.
Of course I always have to make comparisons with today's racing to that taking place years ago and it brings up past stars and how many paved tracks they may have won at. Being able to compete through a number of generations of short track racing, and a circuit consisting of 5-7 events/week greatly increased the totals for drivers such as Dick Trickle, Tom Reffner and Marv Marzofka. Therefore their totals all surpass the Majeski mark, but that really shouldn't diminish from what he's done. Different era, less opportunity to win at all tracks. Preliminary totals for the aforementioned trio are in the 14-18 range of tracks having won Features at. In Trickle's case we know he won at Stratford, Adams Friendship, Black River Falls, Tomahawk, Tomah/Sparta, Capital Speedway, both the old 1/4 mile and newer 1/2 mile, Wis. Dells 1/4 mile and 1/3 mile, Griffith Park Speedway of Wisconsin, Rapids, Golden Sands Speedway, KK Sports Arena, (WIR) North La Crosse Speedbowl, La Crosse Interstate, (Lax Fairgrounds) State Park Speedway, (Wausau) Slinger and the Milwaukee Mile. Although I can't confirm it, I believe he also won an event, possibly in a secondary division at the road course, Road America of Elkhart Lake, if that counts.
Reffner's totals are very similar although I know Tom won at Columbus 151 Speedway and I don't think Trickle ever did.
Marzofka won at the majority of those same tracks although Marv tended to stay closer to home in pursuit of track championships whereas Trickle and Reffner did more traveling.
Looking at winning at out of State venues Majeski has excelled in that category as well winning in Alabama, Florida, Georgia, Illinois, Indiana, Iowa, Michigan, and Minnesota to name a bunch.
Of course Trickle did a ton of traveling through the years winning pretty much throughout the Midwest and both coasts. Some wins that stand out were in Florida, Georgia, Illinois, Minnesota and Missouri.
Reffner meanwhile had stand out wins in Colorado, Indiana, Minnesota and Missouri.
There are others like Mike Miller who moved from Minnesota to Wisconsin to race more that won at most of the Wisconsin paved tracks but also at numerous out of State venues. For Miller it included big wins in Alabama, California, Georgia, Indiana, Michigan, Minnesota, Missouri, Nevada, North Carolina, Pennsylvania, Tennessee and Virginia.
All in all, drivers from Wisconsin years ago had more opportunity to race and win all over the Country due to uniformity in rules, much of which started with the Central Wisconsin Racing Association. Rules formed there went Nationwide and allowed drivers to race and win everywhere.
For Majeski, considering he's had much less rules uniformity to work with than racers back in the day his winning where he has, has definitely been impressive. And it's good once again to see someone from Wisconsin making their mark higher up!
Here and there...The CWRA Stars to Legends Tour returned to action at the Marshfield Motor Speedway, Marshfield, WI., here May 27th with the Jim Back Memorial race. A field of 16 Super Late Models were on hand and when it was all said and done Derrick Van Dreel had taken the 30 lap win, a first ever occurrence for the Stevens Point, WI., driver. Originally scheduled for 61 total laps as that was Jim Back's car number, the event was called complete after the first 30 due to a power outage! A generator that provides electricity for the track went out and the program had to be called as no other options for lighting were available. I remember back in the day when lights went out at the Golden Sands Speedway and cars with their headlights on surrounded the track providing lighting to complete the program. That option was apparently not available here on this night... La Crosse Fairgrounds Speedway, West Salem, WI., which has been extremely weather plagued all season had a show June 3rd with 26 NASCAR Late Models on hand. Nick Panitzke who so far has raced in all the events won both 20 lap Features on the night, no easy task...State Park Speedway, Wausau, WI., held a CWRA Stars to Legends Tour race here June 8th. Although a bit slim on cars both 25 lap Features for the group were competitive and consequently entertaining to watch. Mark Mackesy in his first appearance on the Tour this year won both main events and was crowned the overall race champion...Good to catch a show at the Golden Sands Speedway, Plover, WI., here June 9th and Wyatt Brooks who we've never seen win a Feature did just that here Friday night. Brooks held off Mike Lichtfeld and Jordan Thiel for the win in the 50 lap event...La Crosse Fairgrounds held another show on June 17th and it was another driver we've never seen win a Feature, Jesse Pokszyk taking the 25 lap NASCAR Late Model main event win. Pokszyk started up front taking an early lead and building on it as the laps unwound, pretty much leaving everyone in his dust by the time the checkered flag waved. Nick Clements and Corey Jankowski followed...CWRA Stars to Legends Tour racing took place at Golden Sands Speedway June 23rd with the Albert Getzloff Memorial race. Getzloff was the tire sales and service guy for CWRA for many years. Some of the stuff Albert said would make you do a double take, but more often than not he'd have you busting a gut after something he commented on. This race is the first to honor him and 19 Super Late Models showed up to do battle. Mark Mackesy continued on his roll taking the first 30 lap Feature which was three in a row in CWRA competition for the Wausau, WI., driver. The streak was snapped in the 2nd 30 lap main as Derrick Van Dreel took the win, his 2nd of 2017 on the Tour. Next up for the Stars to Legends Tour group is July 15th at Dells Raceway Park, Wis. Dells, WI. This event will honor two drivers that are what the Tour represents, superstars in their racing days and true legends of the sport now. The two great racers, Marv Marzofka and Tom Reffner will both be in attendance for the event... La Crosse Fairgrounds got another race in, albeit with threatening weather again, as a thunderstorm rolled through an hour or so prior to racing, and it was Nick Panitzke taking his 3rd NASCAR Late Model win. If Panitzke continues to race at Lax he will definitely be a threat to win the track Championship. As long as the team is having fun, Panitzke indicated they will!
In the quote of the column department it's Jesse Pokszyk after his big win at La Crosse Fairgrounds. "That's my biggest win in any kind of stock car to date!"
Looking back in time on May 25th, 1964 it was Marv Marzofka in his 1957 Chevy taking the Feature win at the Black River Falls Speedway...And looking back on August 8th, 1964 at that same speedway, it was Dick Trickle winning the Feature race over Marlin Walbeck and Marv Marzofka...On Sunday, June 7th, 1970 it was Marv Marzofka winning the 50 lap Feature at Golden Sands Speedway. Marzofka was followed by Tom Reffner and Jim Back...On Thursday night, May 27th at State Park Speedway of Wausau, WI., it was Tom Reffner winning the 20 lap Feature over Jim Back and Marv Marzofka...
Recent Feature winners on the CWRA Stars to Legends Tour here at Golden Sands Speedway, Plover, WI., in the Albert Getzloff Memorial race Mark Mackesy #12 and Derrick Van Dreel, #12v. Dale's pics from the past. Mike Miller poses next to one of the Oldsmobile Cutlasses he drove in the late '70s. Marv Marzofka #91 racing back in the day. Tom Reffner, 1989 at Golden Sands Speedway. Dick Trickle posing with "Goldie" in 1989 at Golden Sands Speedway. Supposedly the last chassis constructed by Trickle, this car is rumored to be reappearing in the not too distant future.
Questions, comments, opinions and other information welcome at Starmaker Multimedia 967 10th Ave N Ste A, Onalaska, WI 54650 608-783-5827 or at dale@starmakermultimedia.com
-30-


AUTO RACING FACTS, OBSERVANCES and OPINIONS

2017 June

By Dale P. Danielski

It was nice at last to take in some racing action as a nice April day, 4/22/17 greeted drivers and fans alike at Golden Sands Speedway, Plover, WI., for the "Thaw" event.
The race was also the first for new ownership team Mark and Cody Smiley. After a long run as owners/promoters the Basseuner family has sold the track and the new group intends to expand its offerings as time goes by.
The "Thaw" race offered a sizeable pay-off for all Divisions including a $3,000 to win feature for Super Late Models. The larger purse brought out an excellent field of cars, 32, and the racing proved to be very competitive. Although he wasn't perhaps most people's pre-race pick, driver Mike Litchfield proved them all wrong as he dominated the 100 lap main winning over a 20 car starting field. Following Litchfield at the finish was Casey Johnson, youngster Derek Kraus, Mark Eswein Jeremy Lepak and Dalton Zehr. A nice crowd on a Saturday afternoon (Yes, you are reading that correctly) were in attendance and hopefully they left craving more action as the track enters a new era of stock car racing.
I've often wondered why more tracks don't go with a Saturday afternoon time frame. In the past it was always that people had other things they were doing so you didn't want to interfere with that. My thought was always that the thing they are doing should be watching racing at your race track! I'm thinking over 1,000 were in attendance for the "Thaw" and hopefully that paid the bills and keeps peoples interest up. I know in my advanced age now I wouldn't have been brave enough to put up that kind of money for my first racing promotion but I give the Smiley's credit for "dangling the carrot" out there. Hopefully now and for years to come it pays off!
Another race we attended was the Lyle Nabbefeldt Memorial race at Dells Raceway Park, Wis. Dells, WI., May 13th. The race was round one of the CWRA "Stars to Legends Tour" and proved very entertaining as well. Of course most of the younger folks out there don't even know who Nabbefeldt is, so promoting these type of events can be difficult. Nabbefeldt is one of the drivers that the Tour name is derived from; A star back in the early days of Central Wisconsin racing and a legend to be as he raced and won everywhere for many years. Sadly, Lyle was killed at the Dells track in May of 1973 while attempting to qualify for the nights racing, which led to the Memorial events being held in his honor.
Skylar Holzhausen wouldn't be all that aware of racing back in Lyle's days, but his Dad Steve would, having started his racing career in the 1970s. Appreciating history is why the Holzhausens will be racing on the entire CWRA Tour in 2017 and the opening event gave them no reason not to as Skylar took both ends of the Twin 55 lap feature format on the night. Working his way from the back of the pack, Holzhausen found himself chasing early leader Jake Capek with the laps winding down. A slick pass in turn one put Holzhausen in the lead which he would not relinquish. Capek followed in 2nd at the finish with Frank Nitzke, Eugene Gregorich, Jr., Jeff Weinfurter and Mike Sievers following.
The 2nd 55 found Holzhausen mid-pack for the start and he again steadily worked his way to the front. Meanwhile, Gregorich, Jr., who started in the front row was in the process of building a huge lead. With the laps again winding down and Gregorich Jr., still safely in front, Holzhausen, who admitted afterward he really had to push it at the end, finally caught Gregorich, Jr., and made the victorious pass with 15 or so laps left. At the finish it was Holzhausen, followed by Gregorich, Jr., Capek, Nitzke, Rachel Kallas and Derrick Van Dreel rounding out the top 6 finishers. All in all an entertaining evening of racing and a great way to honor one of our racing heroes from the past.
Here and there...The next event for the CWRA "Stars to Legends Tour was scheduled for May 27th at the Marshfield Motor Speedway of Marshfield, WI. By the time you read this the Jim Back Memorial race will hopefully have been held. We'll provide a report from there in the next issue of MRC... Speaking of Jim Back, there isn't enough paper or ink in pens to cover all that this guy was and represented both on the track and elsewhere during his racing career. Hopefully as we go, we can come up with a "Back" story or two to tell...La Crosse Fairgrounds Speedway, West Salem, WI., has gotten just one of three scheduled events in so far but it proved to be a huge success, at least as far as NASCAR Late Model car count is concerned as 30 cars turned out for the first race. No stranger to victory lane here in recent years it was Ty Majeski taking the 25 lap Late Model win. Steve Carlson who is after another track championship placed 2nd and was followed by Tony Leis, Nick Panitzke, Corey Jankowski and Brad Powell. Some opening up a bit of rules for the LM division appears at least here early to be helping and hopefully car counts remain good for the rest of the season...Majeski continued his winning ways by taking the Cabin Fever 100 ARCA Midwest Tour event at State Park Speedway of Wausau, WI., here May 21st. The event was actually moved from May 20th to the 21st due to horrible weather conditions on the scheduled race date...In the quote of the column section, actually two quotes, it's Skylar Holzhausen racing in the Nabbefeldt Memorial at Dells Raceway Park." I'm not very confident racing on these tires (Towel City Racing tire) here tonight, I just don't know what to expect." Holzhausen after the racing was completed. "I love these tires, I raced hard on them and they stayed consistent. I was worried about passing with them but you can pass on the inside and outside without abusing them."
And looking back in time on Saturday night, May 29th, 1965 it was Marv Marzofka winning the Feature race at Dells Motor Speedway, Wis. Dells, WI. Following Marzofka at the finish was Jim Back, Lyle Nabbefeldt, Dick Trickle, Dave Marcis and Marlin Walbeck. The Semi-Feature went to Dave Larson with the Consolation race winner Del Kemnetz. Heat race wins went to Kemnetz, Chuck Smith, Wayne Kittleson and John McFaul. Fast timer among the 46 cars on hand was Trickle in his 1958 Ford at 14:02 seconds. And on May 5th, 1968 at Golden Sands Speedway, Plover, WI., it was Dick Trickle winning the Central Wisconsin Racing Association 25 lap Late Model Feature. Following Trickle was Jim Back and Marlin Walbeck. The Semi-Feature winner was Dick Schultz with the Consolation race win going to Dick Ames. Heat race winners were Ray Hoffman, Ray Knutson, Dave Marcis and Marv Marzofka. Fast time went to Walbeck at 14:02 seconds.
Photos "Thaw" race action Super Late Models heading into turn 3 at Golden Sands Speedway, Plover, WI., April 22nd, 2017 How many can you identify? Skylar Holzhausen in victory lane after taking both 55 lap Feature wins at Dells Raceway Park, Wis. Dells, WI. Jeff Blaser photo.
Dale's Pics from the past. Matt Kenseth #8 raced and won at the Golden Sands Speedway in 1989. Frank Nitzke is racing the full CWRA Stars to Legends Tour this year but how many of you remember Frank's Dad Stu? Here he is in his #90 Ford. Bob Bergeron photo

Questions, comments, opinions and other information welcome at Starmaker Multimedia 967 10th Ave N Ste A, Onalaska, WI 54650 608-783-5827 or at dale@starmakermultimedia.com


AUTO RACING FACTS, OBSERVANCES and OPINIONS

2017 May
By Dale P. Danielski

Being that we haven't gotten to that first short track race yet for 2017 we'll continue a bit as in last months column on the opening race topic. We'll take a look back through the years at openers we've made, whether the tracks or our own, and maybe throw in a circumstance or two from the events.
Years ago when we caught 75 to near 100 race events it was anyone's guess where we might start a season. Quite often it was in Florida somewhere or at an event on the way down there for Speedweeks. February 1976 caught us heading to New Smyrna Speedway, New Smyrna Beach, FL for some World Series racing action. Still in school it was Spring break for us so what better way to enjoy the time off than by driving 1200 miles to a short track race! The events we saw found Freddy Fryar, Donnie Allison, Jody Ridley, John Anderson and Gary Balough winning. It was really interesting to see the year and make of car competing and as a matter of fact winning during the Series as Fryar was driving a Pete Hamilton built 1972 Nova, Allison was in a 1974 Nova, Ridley won with a 1964 Ford Falcon and on the more normal side Anderson and Balough were in current year Camaros. At least 10 States were represented during the Series and it was with great difficulty after 10 days or so in sunny Florida that we headed back to snowy Wisconsin.
1985 found us heading south again and the first stop this time was to the Jax Raceway of Jacksonville, FL for a February 9th race. Some good old fashioned dirt racing was the order of the day and it was Jeff Purvis taking the 50 lap Feature win. We got a good dose of how they liked to do things south of the Mason Dixon line at this event as the main started straight up with fastest qualifier Purvis starting in front and running away with the race.
February 10, 1991 found us at Volusia County Speedway in Barberville, FL for some asphalt action. Volusia was flip flopping back and forth thru the years on which racing surface they would hold events on and in this event it was paved star Daniel Keene taking the asphalt surfaced win. Interesting to note that Wisconsin racers Tom and Steve Carlson finished 5th and 6th in the 30 lap main.
March of 1996 found us in New Mexico for some USMS action at the Southern New Mexico Speedway of Las Cruces. In traveling to this event you find yourself thinking that you can't get there from here as in from our roots in Iowa at the time. Days later we did indeed get there and saw Mark Noble (20 lap main) and Eddie Martin (40 lap Feature) the victors for the two day show.
For many years it was ARTGO starting out the Midwestern asphalt racing season at Rockford, IL., Speedway and that was the case in 1997 on April 6th. Unfortunately good intentions for the day went away quick as the race was snowed out! With that our opening race for the year was at the NASCAR Cup race in Bristol, TN. on 4/13/97. Jeff Gordon took that 500 lap win in our first ever visit to the high banked speedway.
It's always fun to make your opening race a Grand opening one at a speedway and on this occasion actually it was a grand re-opening of the Lafayette County Speedway of Darlington, WI., on April 14th 2000. Modifieds were the top billed class on this day and it was veteran Scott Nesteby taking the 20 lap Feature win on the 3/8 mile, weird shaped dirt track.
Definitely closer to home, about 2,000 miles closer as a matter of fact than New Mexico where we were years earlier we caught the opener at La Crosse Fairgrounds Speedway, West Salem, WI., on April 10th, 2004. NASCAR Late Models were the top attraction and the day found 31 of them in action on the paved 5/8 mile oval. When the dust had cleared it was Charlie Menard taking the 25 lap Feature win followed by Kevin Nuttleman, Tony Bagstad, Andy Burgess and Steve Holzhausen.
The Chateau Raceway of Lansing, MN., had their opening event on 4/17/09 and we were there! Modifieds were the top attraction here and it was Mike Sorenson taking the Feature win. Sorenson was followed to the finish in the main by Steve Wettstein, Tommy Myer, Brad Waits and Doug Hillson.
With the Annual Frostbuster event coming up at La Crosse Fairgrounds Speedway this year on April 30th, that's where we found ourselves starting the season on April 26th, 2015. To absolutely no ones surprise it was Steve Carlson taking the 25 lap NASCAR Late Model Feature win with Ty Majeski, Brad Powell, Harley Jankowski and Mike Carlson following.
And that of course gets us pretty close to up to date and by the time you read this we most certainly will have made several early season race events. Looking back in time at early 1971 season events held at La Crosse Interstate Speedway of West Salem WI., beginning with the May 7th opener taking main event wins were Jim Sauter, Jim Sauter, Jim Sauter, Marv Marzofka, Jim Sauter, and Marv Marzofka. Yes, Mr. Sauter went on to win the track championship that year with Marv Marzofka 2nd.
Here and there...What you have read is fake news. It was written by an anonymous party who doesn't exist and even if they did wouldn't tell you who they are as they are not supposed to be reporting this news before the media gets a hold of it. Can you believe that!
Dale's Pics from the past. Buck Simmons who did very well on both pavement and dirt raced at News Smyrna Speedway in this #81 in 1976. "Lil" John Provenzano #5 raced at Jax Raceway in 1985. Bristol Speedway, 1997 when tickets were hard to come by. #27 Tony Bagstad racing at Lax Fairgrounds in 2004.
Questions, comments, opinions and other information welcome at Starmaker Multimedia 967 10th Ave N Ste A, Onalaska, WI 54650 608-783-5827 or at dale@starmakermultimedia.com


AUTO RACING FACTS, OBSERVANCES and OPINIONS
2017 April
By Dale P. Danielski

So how dumb is it to sit in 100 degree temperatures for over three hours with absolutely no shade to be found? Has to have something to do with racing for this scribe to do it and that is exactly what happened here March 19th as for the first time in probably 10 years we attended a NASCAR Cup race.
Phoenix, AZ in March has average high temperatures of 72 degrees or so. With a trip out west planned that sounded reasonable for an appearance at a Cup race at Phoenix International Raceway. Well, can you say record temps for the time chosen to catch a race here in cactus country? That's what happened for several days here but still, all in all a memorable experience.
I've always been partial to the shorter tracks at any level of the sport and the Phoenix track being a mile in length definitely fits in that category. Viewing at a venue like this is at a premium as there is very little you miss. As far as the racing itself you can sure tell when these drivers decide to race and when they are coasting. With the segment format NASCAR is using now there was a bit more competition at the end of each, but overall the real racing doesn't take place until near the end of the event. And of course with that mindset it's no wonder why there are wrecks at the very end of these races. Actually with the Phoenix event that wasn't going to happen and it appeared race leader Kyle Busch would coast to the win. A Joey Logano wall smacker changed that scenario however and it was into the pits for most teams with just a few laps left. It is too often at this point in this scribes observance that crew chiefs over think things as far as giving up track position with so little of the race left. I firmly believe had Busch stayed out for the restart he would have kept his advantage and won. That strategy obviously worked for Ryan Newman as he did stay out and won the race! Starting in front on these restarts is a huge advantage as well as the slowpoke starts NASCAR mandates puts anyone further back at a severe risk.
Oh well, the finish did create some additional excitement and I guess that is what NASCAR wants it's fans to see. That was certainly the case in this instance.
Here and there...We are getting to that part of the Spring when opening season events are set to take place. Not sure when we'll be catching our first short track race but still being quite early as time goes by there will be more and more opportunities.
We're seeing where the Marshalltown, Iowa Speedway is holding a $10,000 to win Modified race March 30th - April 1st, which of course barring bad weather will already have a winner before you read this. The Dells Raceway Park track of Wis. Dells, WI., will be holding their first event of the year April 9th with the Annual Icebreaker 100. Deer Creek Speedway of Racine, MN., will get things rolling there on April 15th. Golden Sands Speedway of Plover, WI., will get it's season kicked off under new ownership on April 22nd. We can remember attending many a Spring Classic at Rockford Speedway and the 40th running of that event will take place April 23rd. Mississippi Thunder Speedway, Fountain City, WI., will kick off their 2017 season with racing on April 28th. And close to home for us is the season opening Frostbuster event at La Crosse Fairgrounds Speedway, West Salem, WI., April 30th. There are of course other tracks with openers coming up but with very few newspapers left to advertise said events you'll just have to hunt and peck around the internet as to where they are and when.
And looking back in time at some area tracks and when they held opening season events, on Sunday afternoon, April 29th, 1962 it was Augie Winkleman winning the Feature event at the AF Speedway of Friendship, WI. Following Winkleman was Les Katzner, Dick Trickle, Don Bandt and Merlin "Cappy" Zahr. Heat race winners were Winkleman and Bandt with the non money winners race going to Katzner. The Dash victor was Winkleman while fast time honors also went to Winkleman at 20:05 seconds which was a track record. On Monday afternoon, May 25th, 1964 it was Marv Marzofka in his 1957 Chevy taking the season opening race at the Black River Falls Speedway of Black River Falls, WI. Heat race winners were Howie Kittleson, Jerry Wagner and Augie Winkleman. Fast time honors went to Marlin Walbeck over 50 other competitors. On Saturday night April 30th, 1966 it was Dick Trickle outdistancing a 9 car field to win the season opening Feature race at the Dells Motor Speedway, Wis. Dells, WI. Following Trickle were Dave Marcis, Tom Reffner, Rich Somers and Marv Marzofka. The Semi-Feature was won by Howie Kittleson with the Consolation race going to Bill Bembinster. Heat race winners were Bud Gawronski, LaVerne Weiland, Bud Schroeder and Reffner. Fast timer of the 42 cars on hand was Marzofka in a 1958 Ford at 14:03 seconds. On Sunday afternoon, April 21st, 1968 it was Marlin Walbeck winning the season opener at Golden Sands Speedway, Plover, WI. The Semi-Feature went to Sonny Immerfall. Heat race winners were Wayne Kraft, Ed Walkush, Nelson Drinkwine and Walbeck. Consolation race winner was Larry Sparks in a 1961 Ford with Reffner setting fast time at 14:06 seconds. Estimated attendance for the race was 3,000. On Sunday afternoon April 5th, 1970 it was Tom Reffner in a 1967 Mercury Comet winning the season opening Feature at Capital Speedway of Oregon, WI. Following Reffner were Eddy Hume, Jim Back, Rich Somers and Mike Dolphin. Semi-feature honors went to Bill Retallick with the Non-money winners event going to Back. Heat race winners were Norm Bartnick, Ron Beyer and Reffner. Back set fast time at 20:12 seconds. And winning the opening day Feature at La Crosse Fairgrounds Speedway, West Salem, WI., April 24th, 2016 was Ty Majeski. Majeski was followed by Steve Carlson, Mike Carlson, Adam Degenhardt and Brad Powell...And in the Quote of the Column department it's "Never care about something more than those that should". That's from this scribe and it's been said in a number of instances both in racing and outside of it!
Dale's Pics from the past. 1975 #61 John Boegeman the Super America Black Knight. The #36 Joe Shear race car from 1995 racing season. Hotshoe Modified racers Ron Jones, Eddie Martin and Tim Donlinger talk strategy in 1996. 1997 #96 Johnny "The Jet Saathof racing his modified.
Questions, comments, opinions and other information welcome at Starmaker Multimedia 967 10th Ave N Ste A, Onalaska, WI 54650 608-783-5827 or at dale@starmakermultimedia.com

AUTO RACING FACTS, OBSERVANCES and OPINIONS
2017 March
By Dale P. Danielski

It appears that an attempt is at least being made to get Super Late Model rules back to being uniform at Central Wisconsin paved tracks. The United Motorsports Association (UMA) has been formed with the intent of getting race tracks all under one rules umbrella once again.
The group consists of the tracks Dells Raceway Park, Wis. Dells, WI., Golden Sands Speedway, Plover, WI., Marshfield Motor Speedway, Marshfield, WI., State Park Speedway of Wausau, WI., as well as the Tundra Series. The group is not only trying to get a handle on the fractured Super Late Model Division but also to get rules and procedures in place for Late Model, Sportsman, Modified, Hobbystock and 4 cylinder divisions of racing.
It just amazes this scribe how far from the formula that worked in the past through sanctioning groups things have gotten, especially for the Super Late Model class. First of all where did the moniker Super Late Model come from? For years we had Late Model, Sportsman and Hobbystock or Street stock divisions which were very identifiable by name alone and simplified matters for potential new drivers and fans to become interested in. Simple is good but somehow this deal got way out of hand. Most of the problem occurred when tracks decided to take on all responsibility for rules and procedures which included having to race on the tracks specified tire. Taking this away from sanction groups which were better equipped to handle these things resulted in the beginning of the end for racing as we were accustomed to seeing.
We hate to use the word end here and maybe if order can be restored starting out with the Super Late Model Division we have a fighting chance to renew interest in the sport at the short track level. The UMA group is initially attempting to equalize competition by car weight requirements, carburetion and to some extent the RPM chip usage that can be used at each track which will hopefully create a level playing field for the 18 different engine packages that currently exist. Yes, you read that right, that's how far out of control things have gotten. Years ago we laughed at the SCCA sanctioning body with their too many to count classes of racing. Little did we know our favorite sports pastime of short track racing would fall prey to the same situation!
I don't know that these three requirements are the total answer here but it is definitely a good starting point. Somewhere down the road it is this writers opinion that only certain engines should be allowed and that more restriction will have to take place as far as shocks, springs and race car bodies go. Some shock and body usage restriction is in place with UMA but it doesn't go far enough as far as cutting needless costs.
The group has also come up with a tire rule as the Hoosier 3035 can be used on the left side with the Hoosier F-80 allowed for the right side of the race car. In the past each track was independent with their tire choice but maybe something more uniform and that is handled by a "Group" or sanctioning body will eventually provide stronger implementation to put total uniformity back into that equation. The same compound tire being impounded at each racetrack only to be used at said track which was normal protocol was (is) just plain a bad idea. That scenario puts additional burden on tracks and promoters who should be dealing with marketing their product to fans instead of messing with tires. The tire deal all started with issues as far as detecting the softening o the tires. Well, everyone decided, we'll show you, racer, we'll make you give us your tires after each race event so you can't treat them away from the track. That really didn't work as well as tracks thought it would so here we are.
The UMA group is not a sanctioning body per se as the tracks will still be holding events on their normal nights for racing which means some conflict as far as racing on the same night against each other will take place. The group however has scheduled Tundra Series events and is also bringing back the successful from years past Wisconsin Challenge Series. These two Series will each have events at all the aforementioned tracks this year.
As we've said all the answers to the short track paved speedway problems probably aren't going to occur with this initial offering of rules, regulations and procedures but again, it is at least a starting point.
Here and there...We thinks the tire rule that the Central Wisconsin Racing Association has come up with for their series of races this year may just be the equalizer that UMA is trying to come up with for short track racing. The Towel City racing tire of choice has proven to have great wear characteristics and has been immune to softening agents, as no distinct advantage in competition has been found at this point. In addition, the tire is substantially cheaper than anything currently being used in the Super Late Model Division which should provide a huge plus in getting racers to get their cars out of the weeds and back on the race track! I'm not privy to what is going on in the majority of support divisions UMA is planning to set up uniform rules and procedures for, but I do know there are a lot of those divisions out there. A LOT of them out there, with little or no identity to differentiate one from the other. Not sure if a group of promoters will have the time for all these "sanctioning" type plans but again at least taking a step is more than has been done in the recent past... The new moniker for the CWRA series this year is "The Stars to Legends Tour." Where today's stars become tomorrow's legends. Very appropo as the group has certainly produced many Star racers who went on to become legends of the sport. It is the intent once again of CWRA to promote its drivers as such which can only help to create more involvement from racers and extra excitement for fans...
Looking back in time it was Nate Haseleu winning the 75 lap Wisconsin Challenge Series Feature at Golden Sands Speedway, Plover, WI., on May 19, 2002. Following Haseleu were Chris Weinkauf, Jeff Weinfurter, Jeremy Lepak and Mark Eswein. Looking further back in time it was Jim Back winning the season finale 30 lap Feature at Black River Falls Speedway, Black River Falls, WI., on September 5th, 1966. Back was followed by Dick Trickle and Marv Marzofka. The semi-feature went to Orv Buelow. Marzofka was crowned 1966 season champion at the track. Michigan drivers Ed Howe and Tom Maier were publicity hyped to come to the Midwest Championship September 9-10, 1972 at Dells Motor Speedway and "Blow the doors off" the Wisconsin drivers. They fared quite well with Maier placing 3rd in the 200 lapper and Howe 4th. A couple of Wisconsin drivers with their doors very much intact, Dick Trickle and Marv Marzofka, finished 1st and 2nd. Interesting to note that both Howe and Maier raced together on the track as teammates for the entirety of the 200 lap race. Neither was ever more than a car length away from the other, even swapping positions now and then.
Dale's Pics from the past. #87 Nate Haseleu in the Golden Sands Speedway pit area prior to winning the 75 lap WCS race there in 2002. #61 Jimbo Back in the Jim's Custom Shop Ford. #91 Marv Marzofka. Marzofka won 32 Features with this car in 1972. #67 Ed Howe #70 Tom Maier.
Questions, comments, opinions and other information welcome at Starmaker Multimedia 967 10th Ave N Ste A, Onalaska, WI 54650 608-783-5827 or at dale@starmakermultimedia.com




AUTO RACING FACTS, OBSERVANCES and OPINIONS

2017 February
By Dale P. Danielski

Pretty neat to see that the Golden Sands Speedway of Plover, WI., will be celebrating a 50 year Anniversery this year. Of course I've written about the little high speed track in the past but it never gets old talking about it, especially since I've been involved off and on with the place for practically my entire life!
Now that the track has new ownership it appears that another 50 years of racing is a possibility and I'll be there the entire way supporting the effort even at a spry 109 years of age.
The Plover track is one of the few these days that really doesn't have issues with urban sprawl as it is all farming and industry in the area. We seem to be losing so many tracks anymore due to neighbors complaints and increasing land values for construction of something other than a racing facility. The few homes reasonably close to this track have race fans inhabiting them so problems in that regard have been practically non-existent. There have been discussions through the years of one of the big potato producers in the region turning it into additional farming acreage but that has never materialized. Rumors of a trucking company going in there never reached fruition either. That is all well and good as having grown up in Central Wisconsin and followed all the stars that have raced there it only seems right it should remain a racetrack. Furthermore it just seems likes the Plover, Wisconsin Rapids populace's have always been racing oriented producing many race cars and the fans to follow them.
Of course if it were not for Sam Bartus building the track back in 1967 who knows how long we would have waited to witness super fast, paved, short track racing on a high banked oval, as flat asphalt tracks ruled the roost in the early 1960s. Maybe it was more luck and a little anger mixed in that it happened as Bartus was peeved by losing his lease at the nearby Griffith Park Speedway which he also built and ran. A so typical through the years "spite" track to get at the other promoter, but in this case it turned out a lot more positive than negative as the sport was changing and a track of this design fit right into the soon to be new era of racing. Everything from land purchase to out buildings and the construction of the facility itself including the race track cost Bartus $100,000. Try to find even a parcel of land for a commercial use for that price today. Not going to happen. Of course that's why so many of the tracks throughout the land that have been shuttered and gobbled up never get replaced as what would it cost to replace them in today's dollars?
So it was with Sam Bartus building his new "Super" Speedway and promising great things for racing. He wasn't wrong as the oval located half way between Plover and Wisconsin Rapids brought great car counts and huge throngs of fans from everywhere right from the onset. It's well documented that Dick Trickle won the first ever Feature race at the speedway, a 25 lap affair, on Thursday night, May 25th, 1967 and the speedway certainly helped him further his career as this type of experience on a high speed track could take you nearly anywhere in the Country and be capable of winning. Trickle wasn't the only one as it's truly amazing how many great race drivers have tried their hand at conquering the "Sands oval. Of course 50 years of longevity certainly helps in that regard. Just looking at some that have raced there and this is a very PARTIAL list, hard to believe I know, include: Trickle, Tom Reffner, who by the way won the first extra length Feature at the track a 50 lapper on May 30th, 1967, Marv Marzofka, Marlin Walbeck, Jim Back, Dave Marcis, Lyle Nabbefeldt, Dave Field, Gordie Clay, Rich Somers, Jere O'Day, Jerry Smith, Sonny Immerfall, Nelson Drinkwine, Randy Sweet, Ramo Stott, Andy Hampton, Mark Martin, John Ziegler, Joe Kryzkowski, Mike Miller Joe Shear, Ron Beyer, John Brevik, Larry Detjens, Dan Prziborowski, Neil Callahan, Jim Sauter, John Reimer, Dave Watson, Jon Chrest, Bob Jusola, Whitey Harris, Kevin Stepan, Kirby Kurth, Don James, Tom Jensen, Dale Walworth, Bill Wirtz, Dick Duerst, Fuzzy Fassbender, Neil Sederberg, Dick St. John, Bryan Reffner, Kevin Peterson, Kevin Nuttleman, Steve Holzhausen, Don "Thunder" Turner, Allen Check, Larry Baumel, Gary Back, Fritz Bishofberger, Joe Jones, Don Bandt, Orv Buelow, M.G. Gajewski, Bill Retallick, Larry Sparks, Harold "Fluff" Furo, Eugene Gregorich, Jr., Harold Oaks, Don Trapp, Ken Mras, Terry Bivins, Roger Cummings, Kevin Cywinski, Larry Steinback, Dick Bently, Joe Milanowski, Ev Fox, Don Rodah, Ron Breeze Jr., John McNamara, Homer Spink, Les Katzner, Dick Schultz, (Why in the World did I even attempt to come up with such a list) Steve Moll, Todd Stapleman, Wayne Breitenfeldt, Orv Buelow, Ron Waite, Dick Severson, Warren Droesser, Chuck Green and Chuck Green, Jeff Weinfurter, Delmar Kemnetz, Matt Kenseth, Harold Mueller, "Dago" Louie Vetrone, Roy Schmidtke, Morrie Piotrowski, Jason Weinkauf, Ed Nichols, Pete Mahlum, Tom Schaller, Rex Rossier, Chris Weinkauf, Bucky Linhart, Cal Breezer, Rocky Breezer, Fred Beckler, La Vern Grandal, Steve Carlson, Bob Mackesy, Greg Delap, Floyd Fairfield, Steve Burgess, Roy Bohm, Jason Schuler, John Pleuss, Jim Bohmsach, Larry Anderson, Les Laub, Jim Hornung, Ted Musgrave, Bobby Turzinski, Ty Majeski, Mike Reichenberger, Frank Nitzke, Mark Eswein, Bryan Roach, Jerry Peterson, Mike Mattson, Les Back, "Cub" Rezin, Rick Haase, Rick Somers, Bob Senneker, Lyle Nowak, Rene Scheinoha, Dalton Zehr, Bob Fox, Cecil Henderson, Jeannie Kind, Keith Witt, Rick Wateski, Neil Knoblock, Donnie Woller, Tim Sauter, Rory Melbinger, Wayne Lodholz, Eddie Hoffman, Scott Wimmer, Christian Elder, Shane Sparks, Gary Porter, Don Hanneman, Rory Melbinger, Jim Ross, Bart Horstman.
Of course with any good thing comes some controversy at some point and with Sam Bartus running things there was a fair share of that. Track safety issues among other things caused a driver boycott of the track in 1969 which saw it closed for several months. Once the problems were worked out however it was back to business and the track continued under Sam's promotional hand for a number of years. In the words of long time racer, promoter, and restaurant/bar owner Jere O'Day, "Sam was great at getting things built but always struggled with financing and running the tracks afterward." Unfortunately that ultimately caused Sam to lose the track but others came in and kept the speedway open. The list of those included Jere'O'Day and Dean Spohn, Paul Kaczrowski, Ralph Jacobson, Phil Bickley, Terry Preuser, and most recently Darrell Basseuner. There was a period of five years just before the Preuser reign that the track was closed but continued to be classified as a race track and grandfathered in utilizing originally agreed on bylaws and regulations by holding at least one event a year. Impromptu events were held but that eventually ended as well and the track to re-open had to get up to current standards to operate. Preuser was the first to attempt it along with yours truly. Accomplishing this was no small feat as trying to get up to date to current Township and County regulations and standards required a bunch of time and money to conform. The track was supposed to reopen early in 1988 but it wasn't until the Fall of the year that it finally did. The improvements were great and the track itself held up quite well considering all the years of inactivity and racing much to the of area fans was back! In another one of those trivial but yet significant moments it was Mike Reichenberger the first driver to take to the track for the re-opening race. Preuser's stay was quite short but it can't be underestimated how important he was in getting the place reopened to allow racing to happen again. The Basseuner family took it a step further especially as far as physical improvements and as a result the venue is considered one of the best in the State.
And that now brings the track to its current state with Mark Smiley and son Cody in control. What that means for now is to hold a full season of race events which hasn't happened in quite some time. Other improvements will be made and additional events are planned. The original group of racers participating back when the track first opened, the Central Wisconsin Racing Association will have events at the track this year as well. Things that go around so often come around and if all the excitement that was created from day one is back and maintained, the track hopefully will see another 50 years of racing. In this case we can only hope History does repeat itself.
Here and there...The Teepee Supper Club of Tomah, WI., was torn down here recently. That may not mean much to most people but the Club when owned by Francis Kelly was a huge supporter of Dick Trickle's racing efforts. Kelly helped Trickle on a local scale but was also instrumental in getting Dick into USAC stock car racing as well as in some NASCAR races in the 1960s...Promoters from Wisconsin tracks Dells Motor Speedway, State Park Speedway, Marshfield Motor Speedway, Golden Sands Speedway and the TUNDRA Series have gotten together to form the United Motorsports Association. The group is hoping to come up with standardized rules for a number of different classes of short track paved racing which at this point is needed but will take a gargantuan effort to pull off. The group has also rekindled the long running and very successful Wisconsin Challenge Series with events to be held at the aforementioned tracks...Well now NASCAR Cup after originally stealing short tracks Nationwide Thunder by taking Saturday nights for holding their Cup events have now decided to steal the format short tracks have used for their programs for as long as anyone can remember. That being multiple races making up each event for their scheduled shows. NASCAR is calling them separate segments making up one race but basically they are trying to duplicate what short tracks do across the land. Has NASCAR ever come up with anything on their own? We'll see how all this shakes out as the new format will begin with the Daytona 500 February 26th....
And, looking back at on July 5th, 1970 it was Marv Marzofka winning the 50 lap Feature at Golden Sands Speedway. Following Marzofka were Tom Reffner, Bill Wirtz, Roy Schmidtke and George Thornton. On 8/16/1996 it was Wayne Breitenfeldt taking the Late Model Feature race win at Golden Sands Speedway. Rick Somers was 2nd followed by Bobby Turzinski. On August 10th, 1997 it was Eddie Hoffman taking the ARTGO Series 100 lap Feature win at Golden Sands Speedway. Following Hoffman were Steve Carlson, Joe Shear, Ron Breeze, Jr., and Rex Rossier.

Dale's Pics from the past. Some of the many Golden Sands Speedway racers. Jim Hornung #7, Tom Jensen #9, Steve Burgess #12 and Jim Weber #28, #36 Joe Shear, #87 Bryan Reffner, #56 Larry Anderson, Tim Sauter #5 Marv Marzofka, #52 Bart Horstman. Photo credits to Bob Bergeron, Marg/Farar, Mussoni collection, Dale P. Danielski.
Questions, comments, opinions and other information welcome at Starmaker Multimedia 967 10th Ave N Ste A, Onalaska, WI 54650 608-783-5827 or at dale@starmakermultimedia.com


AUTO RACING FACTS, OBSERVANCES and OPINIONS
2017 January
By Dale P. Danielski

Was sorry to hear of the passing of racing promoter Lanny Edwards. Unbeknownst to most, much of what this scribe has been involved in has been with the asphalt group of racing, but there was a time frame of 6 years or so when dirt was the deal and Mr. Edwards played a big role in that.
The open wheel modified class of car was going berserk across the Nation as cars numbering in the thousands were being built and raced everywhere. There really wasn't any one group running a National series to reward the top shoes of the division and two guys with a plan, myself and Doug Sheckler decided to change that.
Consequently the United States Modified Series was born to allow the best of the best to compete against each other in head to head competition throughout the land. The beauty of the Series however was that the hometown hero could also compete against the traveling pros as rules were the same wherever the cars were raced making for a level playing field.
Every Series needs a race and races have to be contested at a track so who is going to help launch the fledgling series? Enter one Lanny Edwards promoter of Devils Bowl Speedway of Mesquite, TX.
Actually, it took some time discussing the Series plan with numerous individuals before the race could be scheduled and the time of year, Fall of 1994, made for limited options. Successful race promoter Emmett Hahn who worked closely with Edwards thought Lanny might just be the one to kick off such an endeavor as he had done just that with the first ever World Of Outlaws Sprint car race. Favoring the open wheel set in most of his promotions anyway, Edwards would be the logical choice promoting the inaugural USMS open wheel modifed event, right? As it turned out, yes, as Hahn who was more familiar with the modified type car gently coaxed Edwards into having the show, a two day event, October, 14-15, 1994.
A normal purse pay-out for a USMS event was set at $2,000 to win with $200 to start the main event. But Edwards wanted to go much bigger than that so a $7,000 to win Feature event was chosen! Before two rookie promoters could say OH **** the event was on!
Race day dawned October 14th and everyone was optimistic there would be a good turnout of cars. But when the 115th car checked in and there was nowhere to put everybody optimism turned to elation. The biggest problem at that point was finding something large enough to put all the entry fee (The USMS take of the promotion) and pit pass (Devil's Bowl take for purse pay-off) money into!
Day one race action was fantastic with David James winning the 15 lap preliminary main event, but a terrible forecast for wet weather turned into reality and day two's $7,000 to win main event was postponed until the Spring of 1995 as no suitable date was available to get the show in that year. Rescheduling postponed races is almost never successful and unfortunately with the Spring race set for March 26th, 1995, that was the case as the car count was way down and a poor crowd attended. Van Gemmill was still pleased with the final result as he won the 40 lap main event make up race and took the $7,000 home that went with it. The less than expected outcome however proved to be the end of the Lanny Edwards/USMS collaborating on race events as no such shows were ever scheduled again. But, I can only look back with fond memories and a great appreciation for Lanny, as he stuck his neck out to promote a grand show for a couple new promoters in the business with a new vision for racing. Although the inaugural event didn't go as planned the Series proved very popular for fans and drivers alike for the next five years and is still talked about to this day. If not for Lanny Edwards taking on that first USMS event the series may never have gotten off the ground!
Here and there...How many 72 year old rookie of the year candidates do you know of? Well I know exactly one and he happens to be local racer Don "Thunder" Turner. Turner decided to race at La Crosse Fairgrounds Speedway, West Salem, WI., full time in 2016 and after placing 6th in final NASCAR Late Model points was declared the NASCAR Whelen All-American Series "Rookie of the Year" for Wisconsin. As Thunder himself stated after receiving the award, "Go Figure!"...The Central Wisconsin Racing Association has 8 firm dates thus far for its Series of racing in 2017. Finally seeing some light at the end of the tunnel the group will hold events at Dells Motor Speedway, Wis. Dells, WI., Marshfield Motor Speedway, Marshfield, WI., State Park Speedway, Wausau, WI., and Golden Sands Speedway, Plover, WI. The latter two tracks are new additions to this years slate and additional dates may be added....Speaking of Golden Sands, it has been purchased by Mark Smiley from the Basseuner family who after many improvements and a long run promoting it have decided to get out of the racing business. Smiley plans a full schedule of racing to include at least 15 events which is a big departure from the half dozen or so held the last several years...So it's now the NASCAR Monster Energy Cup Series. I don't think even Monster can muster up enough energy to wake those dosing during Cup events. It will take a BIG dose for sure...In the quote of the column department, it's many time Champion Kevin Nuttleman who hasn't raced in some time attending Champions Reunion VIII this past year as part of 'Fest racing. "I'm not sure I'm ready to be attending an event like this with all these "retired" racers...And in the other quote of the column, making up for some we missed it's Ken Schrader who we at USMS had conversations with pertaining to modified racing and who did participate in some Series events, "How in the hell did you ever talk Lanny Edwards into paying that purse?" $7,000 was a lot for that inaugural event but the show did go on!
And in our looking back in the past feature for the column, on September 16th, 1967 it was Dick Trickle winning the 100 lap State Championship Feature at Golden Sands Speedway. Trickle took home $1,195.00 for the win. Dave Field followed in 2nd with 3rd going to Jim Back. The 50 lap Semi-feature went to Nelson Drinkwine followed by Everett Fox and Larry Baumel. 25 lap Consolation race honors went to Wayne Kittleson followed by Jerry Stephen and John Brevik. The Non-qualifiers race was won by Tom Schaller with Hilarian Michlig and Ed Walkush in 2nd and 3rd. In the season finale, August 31st, 1967 it was Marlin Walbeck winning the Feature event at State Park Speedway. Following Walbeck were Lyle Nabbefeldt, Tom Reffner and Dave Field. The Semi-feature went to Neil Callahan with Larry Baumel and Orv Buelow next. Heat race winners were Dennis Trickle, Bob Hofschild, Callahan and Walbeck. Consolation race winner was Vern Losser. Dick Trickle had fast time at 15:38 seconds. On September 2nd 1967 it was Dick Trickle winning the Season Championship 50 lap Feature at Dells Motor Speedway. Marlin Walbeck finished 2nd. The 30 lap Semi-feature went to Orv Buelow. The first Consolation race went to Willie Hammond with the 2nd Consy going to Lou Kander. Heat race winners were Art Link, Dennis Rank, Mel Richolson and Bud Schroeder. Fast time went to Trickle at 13:68 seconds. And on July 3rd, 2001 it was the MARS sanctioned race at Marshfield Super Speedway. Finishing first in the 100 lap Feature was Todd Kleuver followed by Mark Eswein, Rory Melbinger, Chris Weinkauf and Judd Brandl. Heat race winners were Dean La Pointe, Rod Wheeler, and Dan Mills. Pete Kempf won the Last chance race. Eric Franzen had fast time.
Dale's Pics from the past. Van Gemmill $7,000 winner of USMS Outlaw Modified Nationals, Devils Bowl Speedway, Mesquite, TX., 3/26/95. #3 Kelly Shryock never lost a USMS Championship, five for five. (Owen Richards photos) Marlin Walbeck winning the National Short Track 200 in 1967 at Rockford, IL., Speedway. Checkered flag presenter is promoter Hugh Deery. The Dick Trickle Granada #99 1976, a car you didn't get to see race much as it was always in the shop getting Wreck Repair. Don "Thunder" Turner # 7 2016 Rookie? Don "Thunder" Turner posing back in the '70s before becoming a Rookie contender. ( Mussoni photo collection)
Questions, comments, opinions and other information welcome at Starmaker Multimedia 967 10th Ave N Ste A, Onalaska, WI 54650 608-783-5827 or at dale@starmakermultimedia.com


AUTO RACING FACTS, OBSERVANCES and OPINIONS
November Online 2016

By Dale P. Danielski

Our race chasing season concluded here with Matt Rowe's Impact Survival Series "Creepy Classic" event at State Park Speedway of Wausau, WI. Of course with a name like that you already know this is not one of those races for the purists out there. And if you couldn't tell that by the name you might be a bit suspicious of a race that starts 80 cars like this one did!
There actually is some pretty darn competitive racing that goes on at these events but more importantly it's about the entertainment value. Certainly there is some money to be made if you can finish in one of the top spots, but it's more about having fun than anything else. And having fun these drivers do as you never know for sure what you might see them do throughout any given part of a race. That's a lot of opportunity by the way as this race was 300 laps long!
When all the fires were out, when all the rubber was laid down, when all the pieces of plastic and metal from 80 racing machines was cleaned up, it was Zack Schelhaas being declared the winner. A first time winner, Zack was pretty pleased with his effort even though as per Series rules he had to give up his car to event promoter Rowe or forfeit his winnings. That kind of ruling may seem a bit harsh but it certainly makes for a level playing field. Actually, looking at the Schelhaas racer there was nothing fancy about the car, so I have to believe he came out on the long end of the deal. In this day an age of ultra expensive race cars these kind of events are definitely a refreshing departure from what you normally see, fun racing for competitors and great entertainment for fans. If you are thinking of attending an ISS event you'll have to wait until January 1st, 2017, yes you read that right as that's when the new season will kick off at 141 Speedway of Francis Creek, WI.
Of course we would certainly be remiss if we didn't mention attending the 47th Annual Oktoberfest Racing weekend at La Crosse Fairgrounds Speedway, West Salem, WI., here October 6-9. Most of the racing part of the weekend can be summed up in two words; Ty Majeski. Majeski was the Champion of everything he competed in during the weekend with the exception of the Dick Trickle 99 event on Friday of 'Fest. He actually won that event on the track as well, except an infraction going through tech nullified the victory. The 200 lap finale, the ARCA Midwest Tour race on Sunday went to Majeski for his first win in the race which also clinched the 2016 Tour Championship for the NASCAR bound driver. The win was also the first ever after 36 years of trying for crew chief Brian "Toby" Nuttleman. Nuttleman has had too many to list here "shoes" pilot race cars he's wrenched on, but finally this year it all came together and he got his first win. For Majeski there really isn't anything left at this level to accomplish other than maybe winning the NASCAR Whelen All-American Series Tour National Championship, or one particular race at the Dells that got away and consequently he's doing some ARCA racing before moving into top tier NASCAR which ultimately is expected to get him into a Cup ride in the near future. A lot is different in NASCAR land and we can only hope he gets a fair shot at it at the top level of sport.
Here and there...Looking at final results of the Creepy Classic ISS race at State Park Speedway we see where two cars completed the full 300 laps. Eddie Muenster, a successful racer for a lot of years in a number of different race cars finished 2nd to Schelhaas also completing the full distance. Dan Van Pay who placed 7th in the event was declared the 2016 Champion of the Series...Ty Majeski captured all three 21 lap segments of the JMcK 63 on Sunday. That has never been done before and I'd suspect it will be a long time if ever to happen again...After putting his car on it's roof and sliding into the infield at the Rockford National Short Track Championships, Dan Gilster figured out in a hurry that's not how you should go about winning a race. After righting the car and amazingly finishing the race there, Gilster checked things over finding little to nothing wrong with the race car before bringing it to 'Fest and walking off with the win in the 40 lap Mid-American Feature...Kyle Stark was a double winner on the weekend taking the Midwest Dash Series Feature as well as the always crazy Double O race which utilizes both the big and small tracks. Stark likes to race whenever and wherever he can, (He also competed in the Creepy Classic at State Park where he finished 5th.) and being from a time when racers competed numerous times a week I can appreciate that! ...Brad Warthan can now call himself an Oktoberfest race winner as he won the biggest race of his career, the Sportsmen Feature on day one of the 'Fest racing weekend...On a somber note, the 'Fest racing weekend brought the end of life for long time racer Joe Rinartz who died in his sleep at the track early Sunday morning. Joe ran many laps here and at other tracks in the area and was certainly taken away far too soon...And sad, is the leaving the sport by a couple of popular drivers in the area. Two time NASCAR champion at Lax. Fairgrounds J. Herbst announced that the Sunday 'Fest events would be his last. It's also looking like the Sunday 'Fest event could have been the last for Skylar Holzhausen as Father Steve has put the race car up for sale. Of course if the car doesn't sell and offers come from elsewhere...Another driver calling it quits after a very successful career in racing is the Fox Valley's Mike Reichenberger. Mike has raced and won in many different Series at numerous tracks but has decided that 2016 is his last year. Mike competed in a 75 lap Feature at Norway Michigan Speedway which was the only time he raced this year and won the event! If you're saying this is the end of your racing what a way to go out! Mike will now concentrate on son Brandon's efforts as he continues up the racing ladder...Champions Reunion VIII was a big success in 2016 as part of 'Fest racing weekend as a turnout of over 60 strong were on hand for the event Sunday. Cool to see old and restored race cars bearing names from the past of Dick Trickle, Paul Tradup, Mert Williams, Cecil Henderson Mike Miller and the Mike Wall racing machine on hand for the show as well. If sponsorship can be obtained it looks like the event could again happen in 2017...After finally making a bit of forward progress in 2016, the Central Wisconsin Racing Association is looking to book dates for 2017. The Towel City Racing Tire provided excellent, side by side racing and proved very economical for racers to compete on this past season. Other cost saving measures will be looked at during the off season with the hopes of building car count at the various tracks it competes at in 2017. The hope is to have 8-10 such race events next year...
And in our looking back in the past feature for the column, on October 12th, 1980 it was Mark Martin being declared the overall winner of Oktoberfest at the Fairgrounds of West Salem, WI. Martin and Joe Shear split the two 100 lap Feature events with Martin out qualifying Shear which served as the tie breaker...On Sptember 26th, 1999 it was Steve Carlson winning the Remax Challenge Series NASCAR Touring event 400 lap Feature as part of the Winston National Short Track Championships at Rockford, IL., Speedway. Following Carlson at the finish were Eddie Hoffman, Jason Schuler, Jimmy Mars, Larry Middleton, Jon Lemke, Brian Hoppe, Pete Moore, Mark Kraus and Keith Buskeros. Looking back at October 5th, 2003 it was Tim Schendel winning the 250 lap Oktoberfest feature finale...Looking back to Thursday night, September 10th, 1970 it was season championship night at State Park Speedway of Wausau, WI. Winning the 40 lap Feature was Dick Trickle followed by Jim Back, Larry Detjens, Marlin Walbeck and Dick Schultz. Heat race winners were Schultz, Back and Detjens with the Dash winner Trickle. Fast time on the night also went to Trickle at 14:87 seconds.
Dale's Pics, past and present. The #18 Camaro Mike Miller drove in 1981 restored to original by Dan Navrestad. 2009 La Crosse Fairgrounds Speedway track Champion J. Herbst. Skylar Holzhausen #78 on the way to a Feature win in 2009. The #30 Dave Marcis Larry Wehrs Chev sponsored Chevelle. Dave started his racing career at State Park Speedway, Wausau, WI.
Questions, comments, opinions and other information welcome at Starmaker Multimedia 967 10th Ave N Ste A, Onalaska, WI 54650 608-783-5827 or at dale@starmakermultimedia.com


AUTO RACING FACTS, OBSERVANCES and OPINIONS
October 2016

By Dale P. Danielski

I don't think you ever totally take the "Racer" out of a racer. Case in point would be Dave Tradup, a successful racer for many years out of Viola, MN.
Tradup is from a racing family as his Father Paul did very well in the sport racing on both dirt and pavement in East Central Minnesota. Dave's brothers also raced so it was inevitable Dave would get behind the wheel as well.
Of course the sport at some point will wear you down, and you either become satisfied and keep doing what you are doing at whatever level that may be, get out of the racing game entirely, or pick another avenue of speed. In Tradup's case it was not exactly a normal, natural progression, as a matter fact it was more of an escalation of sorts as his avenue of choice was attempting to set a land speed record at the Bonneville Salt Flats!
So now instead of racing around dirt and pavement bull rings in Minnesota and Wisconsin, Dave would be taking his wheel driven missile shaped racing machine in a straight line down a runway of salt at over 200 miles per hour! The goal for Dave as he headed to Utah back in August was to average right around 250 miles per hour which would be a new record for his class of car that featured a 304 CI V-8 engine producing 685 horse power. The team got up to speed quite quickly and reached a top speed of 253.5 miles per hour. In order to set the record however they had to average in that 250 mph range over a certain amount of miles which unfortunately due to mechanical issues they were unable to do. Their average of 245.3 mph is certainly not a speed to take lightly and having been so close this year, Tradup Racing Enterprises plans another trip out to the flats in 2017. With what they have learned and a couple changes with their car mechanically they plan this time to come home with the record.
In talking to Dave I asked him how big a difference it was going over 200 in a straight line compared to racing in circles at 100 mph or so. And according to him once you got up to the 200-250 mph speed it really was not that noticeable how fast you were going. I guess it's similar to race cars going over 200 on an oval track. You don't really notice the element of speed until you hit something! In Dave's case he was fortunate and didn't have that happen although he did mention having one finger on the parachute release button just in case the car started to get away from him. That actually did happen to some extent, but with the parachute deployment, the car slows drastically and very quickly and in turn gets straightened out before disaster can hit.
Like I said earlier, you really never totally take the "Racer" out of a racer. Some aspect of it may be gone but in Dave Tradup's case it was filled in with something at least as much if not more exciting and fulfilling.
And speaking of Tradup, his Salt Flats car was on display at Elmer Duellman's Annual Racing Reunion in Fountain City the weekend of September 17-18. In looking at the car up close you wouldn't really think it was capable of speeds in excess of 200 miles per hour, but upon further inspection underneath the tube shaped shell, you can see some pretty tricked up stuff that enables you to reach those speeds. A really cool deal to say the least. And of course at the Reunion we were able to view a number of race cars from days gone by. And with the cars, of course a number of drivers that raced back in the day were on hand as well. All the storytelling broke out and as usual it was a fun time for all the one day we were there. Again, I can't emphasize enough for those that haven't been to Elmer's Auto and Toy Museum to make a trip there if you get the chance. There is so much cool stuff there I guarantee you will not leave disappointed. Elmer's is open into October so go to the website www.elmersautoandtoymuseum.com and see what days you can attend.
Here and there...With a huge field of cars and weather issues throwing a wrench into things the big A Feature finale of the Modified Nationals at Mississippi Thunder Speedway, Fountain City, WI., turned into a Marathon. Just now wrapping things up, here comes Ryan Gustin taking the checkered flag, your A Mod main event winner! The big paying B mod main has just ended with Michael Truscott taking the win! I'm sure those two aren't complaining about the lengthy program as the wins were worth a whopping $40,000 and $20,000 respectively...Scott Bloomquist was at the Fountain City race placing 2nd in the A Mod Feature. Of course as most have heard Bloomquist has filed a lawsuit against Eldora Speedway and others over having been disqualified twice there for tire and weight infractions. Litigation of this nature could be the death knell for the sport as we know it and in Bloomquist's case going for a settlement of 16.5 million just isn't warranted. Rules are in place for a reason and someone has to make a determination in these instances. Take your lumps and move on, don't try to ruin the sport over something you are more than likely guilty of...Interesting how things shook out in the final CWRA race of the year at Dells Raceway Park, Wis. Dells, WI., 9/24/16. It seems the group was able to run one of the cleanest events of the night with side by side, competitive racing the norm. That in itself wouldn't be a big surprise but winner Mark Eswein won the 25 lap event racing on tires that had at least three nights on them with a like number of race drivers using them previously. Eswein just bolted the tires on his car and without any set up changes won the race! Even more surprising was 2nd place finisher Kirby Kurth taking that spot with tires rescued from the dump! The tire the group is running this year is the Towel City Racing Tire, the harder compound of the two options available, and by all accounts it has proven more economical for racers in terms of initial cost and repeat-ability. That's what the group has set out to do, make racing affordable again with the tire choice being the first of a number of steps to reduce costs. Dells Raceway Park management was impressed with the racing by the group on the night as well. According to Manager Jerry Auby, "That was the only race of the night where they didn't have a big wreck." Track owner Wayne Lensing also noted the side by side racing taking place and was quite impressed. CWRA is looking at shocks, body rules and other areas in their rules package for 2017 to again make racing at this level affordable again. They are off to a good start with their tire selection...
In the quote of the column department, and there's actually several here, we need a bit of a background lead in. Of course everyone knows of the successes of Steve Carlson. He's won everywhere and a lot. But in talking to his brother Tom, no slouch in racing either we learned that the Wisconsin International Raceway of Kaukauna, WI., was one that took a bit longer for Steve to conquer. According to Tom " I was following J.J. Smith there and boy did I learn a lot about how to get around that place." At a race that both Tom and Steve were at Steve didn't make the show while Tom got a top 5 in the main event. According to Tom "I noticed Steve wasn't in the race, here he was on his hauler waiting to get out of the pits and head home. He came over to me and pretty humble looking asked, "Can you show me how to get around this place.? Tom pretty much unbelieving his brother would ask, promptly responded, "Come with me I'll show you around." He rode with me and learned the right line just like I had, and from then on Steve was fast, eventually winning a number of races at Kaukauna!"
And looking back in time to July 22nd, 1972 it was John Brevik taking his second consecutive Late Model Feature event win at the North La Crosse Speedbowl of La Crosse WI. Following Brevik were Don Grant, Al Kroes, Don Turner and Larry Anderson... August 19th, 1978 it was Steve Holzhausen winning his first ever Feature race in Late Model competition as he took the 30 lap main event at the Dells Motor Speedway, Wis. Dells, WI. Following Holzhausen at the stripe were Mike Miller, Marv Marzofka, Tom Musgrave and Ted Musgrave the top 5....On June 11th, 1987 it was Rick Haase taking the Late Model Feature win at Wausau's State Park Speedway. Following Haase were Tom Reffner, Jim Back, Wayne Lodholz and Perry Redeker. In the Hobbystock main it was Terry Marzofka taking his 6th win of the season followed by Keith Witt, Darwin Brunow, Nick Erickson and Don Woller...On June 26th, 1991 it was Mark Lamoreaux winning the CWRA Late Model Feature at La Crosse Fairgrounds Speedway. Following Lamoreaux were Bryan Reffner, Steve Holzhausen, Steve Carlson and Tim Sauter. The Sportsman Feature went to Mike Koeneke followed by Kurt Thicke, Scott Helmers, John Stasiak and Terry Miller...Looking back to May 30th, 1991 it was Tom Carlson winning the 30 lap late Model Feature at Wisconsin International Raceway, Kaukauna, WI. Following Carlson at the line were Jim Weber, Rod Wheeler, J.J. Smith and Steve Paoli...
And in closing, don't forget to make it out to Oktoberfest 47 at La Crosse Fairgrounds Speedway, West Salem, WI., October 5-9, 2016. Way too much racing to try and list it all here but believe me there will be something if not a number of things going on during the weekend you will enjoy. And of course as part of the racing event is Champions Reunion VIII to be held Sunday October 9th, from 11am-2pm in the Hospitality Chalet in the turn one grandstand area. This part of the weekend will feature racers from the past doing what they do best, b.s.-ing about all their racing accomplishments. Fans with a Sunday ticket can get in on the fun and attend free of charge. A number of old time race cars will also be on hand for all to enjoy. Just a sampling of some of the racers that will be at the reunion include, Tom Carlson, Roy Bohm, Rory Melbinger, Tom Reffner, John Rogge, Les Katzner, Rick Hauser, John Brevik, Nelson Drinkwine, Pat Durnen, Paul Thicke, Ron Waite, Steve Holzhausen, John Bell, Bruce Backus, Jim Hendricks, Tom Jones, Marv Marzofka, and more than 50 others the way it looks!
In the Dale's pics from the past category it's the Dave Tradup Bonneville Salt Flats car #2201. #75 a Dave Noble driven coupe. Dave was a top shoe racing pavement and dirt in the 1960s and '70s. One of the coolest creations ever, the Mert Williams wagon #96.
Questions, comments, opinions and other information welcome at Starmaker Multimedia 967 10th Ave N Ste A, Onalaska, WI 54650 608-783-5827 or at dale@starmakermultimedia.com


AUTO RACING FACTS, OBSERVANCES and OPINIONS

September 2016

By Dale P. Danielski

When you see that word Championship in a sentence it usually means the racing season is winding down. I wish I could say Mid-Season Championship but we indeed are getting to the end of the 2016 racing campaign in these parts.
Perhaps the earliest season ending race (Unless your track is closing) we've experienced happened here August 5th at the Golden Sands Speedway, Plover, WI. Usually track season championships are just starting to heat up around that time of year but not in this case as GS ended their racing season of six races on this day. A great crowd was on hand for the event and 23 Super Late Models, one of the better turnouts for a weekly race we've seen on pavement this year, and more than enough cars in four other divisions made for some very entertaining racing. And, we can even say we witnessed a Feature race that Ty Majeski didn't win! Of course he wasn't racing here tonight but nonetheless that says something for how dominant Majeski has been as we've seen almost nobody else win a main event in a top division at any tracks and we generally get to more shows than most! Actually it was Dalton Zehr taking the main event on the night. Zehr has had a very good season of racing but has unfortunately been doing it in the shadow of Majeski who has had another stellar season of racing.
Speaking of Majeski we did again see him win at La Crosse Fairgrounds Speedway, West Salem, WI. on August 6th. Our next event attended was at Lax. on August 13th and we saw, yes you are reading this right Brad Powell take the 20 lap NASCAR Late Model Feature win! Of course it was back to normal routine on August 20th at the Speedway as Majeski won not just one, but two 20 lap NASCAR Late Model main events. Lost in the shuffle is the fact Steve Carlson has actually won four Features at the track this year. Even more phenomenal is the fact until August 20th he had won or placed no worse than 2nd in all Feature races at the track this year. Adam Degenhardt finally broke Carlson's 2nd place streak this past Saturday by taking that spot in one of the mains. Carlson's consistency has however resulted in another track Championship, his 4th in a row, as only Oktoberfest remains for NASCAR Late Model racing at the track this year with nobody close enough to catch him.
Here and there…It appears Ty Majeski with his two Feature wins at La Crosse Fairgrounds August 20th has a legitimate shot at winning the Whelen All American Series National Championship. Ever since Larry Phillips circumvented everything NASCAR tried to do with its point system to win numerous National Championships, I have no idea what is required these days, but it would be pretty cool to see someone here racing local win it. With Majeski moving on to bigger things this may be the last chance fans get to see something like this... Well, Jeff Thompson finally did it. After coming Oh, so close in the past, he finally won his first ever Feature, taking the 15 lap Sportsman Feature at
La Crosse Fairgrounds August 20th over a fast closing Nick Clements. Justin Berg, Brian Hesselberg and Devin Schmidt were next across the line… The Central Wisconsin Racing Association was the sanctioning group for the Dan Weinfurter Memorial race held August 21st at Marshfield Motor Speedway of Marshfield, WI. The race is held in honor of Dan, a racer himself, who lost his life in a highway accident awhile back. Dan had to be smiling on the day as Uncle Jeff Weinfurter took the win in Late Model Feature one and placed 2nd in the night cap Feature event. CWRA is now holding their events with the Towel City Racing tire a requirement for Late Model competitors. The Marshfield event also saw a draw take place for starting positions in the Feature instead of time trial qualifying. The draw provided just as much if not more drama for fans as kids in the stands drew pills for the 16 drivers starting the event. A complete invert of the finishing order of Feature one was how main event two started and with Jeff Weinfurter and Dalton Zehr finishing one, two in that event there was plenty of passing in the 2nd race as again the two placed one and two, this time with Zehr winning. With two laps of boring time trials these days having way too much bearing on Feature starts and finishes this is definitely something tracks should take a look at for lining up cars. Sure the fastest car may at some point get lucky and start up front but at least it's more interesting determining how they got there!
Of course the Oktoberfest Racing weekend at Lax. Fairgrounds will be here before you know it as the dates this year are October 5-9. With 'Fest comes the Annual Champions Reunion. This year's event, Sunday October 9th with be the 8th held and each year the turnout of former champions gets larger and larger. There are always many surprises as to who will show up and this year promises to be the same. The event is held from 11am-2pm Sunday the 9th and is open to all Champions of any Division of racing in any series at any track that haven't raced in the last three years. This scribe qualifies for entry to the event as the Bicycle Champion at Golden Sands Speedway in 1902 and with that in mind you may qualify too! All kidding aside it's always fun to get with the heroes of past racing. A number of race cars will be on display as well during the event including the #5 Schneider Trucking Dick Trickle NASCAR Grand National Division show car. Dick raced for Schneider for three years, 1998, '99 and '00 and the car will provide a great remembrance of those days of racing. The 1934 Ford 5 window coupe driven by Cecil Henderson at the old North La Crosse Speedway back when it was a dirt track will also be on display. The Camaro Mike Miller drove to the win with in 1981 at the Minnesota State Fair will also be on hand. Dan Navrestad has restored the car to original and in addition to displaying it will race it later that day! In discussing the car with Miller he stated, "I hope he wins that race, he has the car capable of doing it. When I drove it, it was the fastest car in the Country, then like a dummy I sold it." If you are a fan and have a Sunday ticket for 'Fest you will be allowed to attend the Reunion FREE! You also may want to go to FACEBOOK under Champions Reunion VIII for more updates on who will be at the show this year. Former racers can also indicate if they will be coming to the Reunion there as well.
In the Quote of the column department its Les Back son of legendary driver Jim Back. "My Dad knew he could make more money racing than working in the shop (The successful Jim's Custom of Vesper, WI.) so that's what he did 5-7 days a week."
And looking back in time to May 12th, 1972 it was Mert Williams winning the 25 lap Late Model Feature event at the then La Crosse Interstate Speedway, West Salem, WI. Williams was followed by Larry Detjens, Jim Back, Allan Ward, Don Grant and Roy Schmidtke. La Vern Grandal won the Hobbystock main.
On July 22nd, 1981 it was Dick Trickle winning the 20 lap Feature at La Crosse Interstate Speedway. Jim Sauter, Mike Miller, Jim Johnson and Marv Marzofka followed.
On August 17th, 1991 it was Kevin Nuttleman winning the NASCAR Winston Racing Series Late Model Feature at La Crosse Fairgrounds Speedway after first to the checkered, Mark Manke was DQ'd for a rules infraction. Following Nuttleman at the line were Shawn Pfaff, Brad Loney, Dudley Fleck, Jerry Bottcher and Bart Horstman.
Looking back at August 28th, 2004 it was Charlie Menard winning the 25 lap Feature at La Crosse Fairgrounds Speedway. Following Menard in a race that started 25 cars were Andy Burgess, Steve Holzhausen, Paul Proksch, Sam Anderson and J. Herbst.
Looking back on August 2nd, 2014 it was Adam Degenhardt winning the 25 Lap NASCAR Late Model Feature at La Crosse Fairgrounds Speedway. Following Degenhardt were Steve Carlson, Mike Carlson, Cole Howland, Matt Henderson and Brad Powell.
In the Dale's pics from the past category it's Jim Back racing his Wehrs Chevrolet Camaro in the Blue race in 1979 at Wisconsin International Raceway, Kaukauna, WI. (Gary Hall photo) Racing at Capital Speedway, Oregon, WI. in 1977, #75 Larry Phillips. (Gary Hall photo) May 5th 1981 at Dells Motor Speedway, Wis. Dells, WI. it's Mike Miller driving his Camaro in ARTGO action at the track. (Gary Hall photo)
Questions, comments, opinions and other information welcome at Starmaker Multimedia 967 10th Ave N Ste A, Onalaska, WI 54650 608-783-5827 or at dale@starmakermultimedia.com

AUTO RACING FACTS, OBSERVANCES and OPINIONS

By Dale P. Danielski

August 2016

Usually when you hear of a staged or manipulated race you think of NASCAR's upper divisions of racing. And when you here of this you're pretty perturbed as no one wants to be witness to an event that is fixed, right? Well that was not the case in the Sportsmen Division race here at La Crosse Fairgrounds Speedway, West Salem, WI., 7/1/16.
Actually, you won't here anyone admit to this happening but with just 6 cars racing Sportsmen which was being run with the Tundra Division Super Late Models on the night it just had to be the case. With two cars (Rachel Kallas and John Zuch) substantially slower than the four behind them on the front row for the 15 lap race, one way or another it was decided to race side by side until the end and break out at that time and determine a winner. Timing is key here as too early a breakout out and the field will pass you before the checkered is waved. Well, the two continued side by side with the race winding down to its conclusion and it appeared they might just pull it off! The move was made by Zuch with a lap and a half to go. That unfortunately was too soon, as Bill Prietzel in the blink of an eye went from last to first in just a straightaway to win the race. The funny thing is that even though most everyone knew what was going on it turned out to be a great race! Having been contested legitimately it would have been a horrible show. Maybe there is something to entertaining your crowd even if it isn't quite on the up and up. After all All-Star wrestling from way back as well as the current version of it is a huge hit. And if you think everything there is on the up and up, well, just tune into a NASCAR Cup event sometime.
Having seen racing like this is not exactly new either as I can remember drivers on occasion trying to hold up all the fast cars in Feature events at the State Park Speedway of Wausau, WI. A narrow track, you just couldn't pass unless one of the two grooves opened up. Of course the fast guys caught on pretty quick to this ploy as they'd flip a coin before the race to see who would spin out to bring out a caution and restart the race in single file. That pretty much ended the front row parade but I guess when you think about it why not give something like that a try in hopes of getting a win? It was so difficult to beat the Trickles, Reffners, Detjens, etc., anyway, it was about the only way you at least had a shot.
Of course I remember seeing this same thing tried at the Golden Sands Speedway of Plover, WI. This track being very much wider, Marv Marzofka one night racing in the back decided he would have none of that nonsense. Marvelous Marv took his Camaro where no one previously had dared to go, onto the highest point of the track, 3rd groove. Marv passed half the field within a lap and had the leaders behind him within three more and went on to the win that had everyone talking. According to Marv it actually was easier than it looked to pull off the impressive win. "I wasn't really going all that fast out there but the front two were going so slow that as long as I didn't drop a wheel into the dirt I was fine." And, the rest is history as next Mike Miller, then Tom Reffner and finally Dick Trickle all used the maneuver to win Feature races at the track.
Speaking of the TUNDRA Series it was Dalton Zehr picking up the 50 lap Feature win at Lax 7/1/16 in a hotly contested race between Nick Panitzke and Casey Johnson. That's how the race finished with Nick Barstad and Jordan Thiel rounding out the top five. Interesting to note that Zehr and Johnson while running up front both used the outside lane on double file restarts. That's practically unheard of during Saturday night racing here unless you're Steve Carlson. Zehr obviously made it work just a tad better as he took the big win.
Here and there…Bill Prietzel took both of the Sportsmen Feature wins 7/1/16 at Lax doing it in similar fashion as the aforementioned…Good to see the Vintage cars racing as part of the Tundra Series program at Lax 7/1/16. Rex Rossier got the Feature win even though I tried to get him to slow down a bit and give the other drivers a chance in the race. When Rossier finishes he wins and he did it again convincingly here tonight…You just never get sick of the Green Mamba jet car melting down a vehicle. This time around it was a motor home with a boat inside that met its fiery demise. It happened as part of Smash-O-Rama at La Crosse Fairgrounds 7/2/16. All kinds of goofy novelty events as well as other destruction took place on the night and it was very entertaining for the huge crowd on hand. It didn't hurt either that a great fireworks display, biggest ever at the track, capped things off…It was back to racing for the purist on July 9th at Lax Fairgrounds and to no ones surprise it was Ty Majeski taking some time off from his Roush Racing Driver Development deal to win the 25 lap Feature for NASCAR Late Models. Steve Carlson, Brad Powell, and Mike Carlson followed…The 126th La Crosse Interstate Fair of which I've been a part of all of them featured two 20 lap Features for the NASCAR Late Models. As usual a number of racers tried to win races on the first or second lap which only resulted in a bunch of torn up race cars. When the dust had finally cleared it was Steve Carlson taking the win in 20 #1 and Ty Majeski
coming back to take the 20 lap night cap…After a rain-out it was back to action with two 20 lap NASCAR Late Model Feature races at Lax Frgnds July 30th. In what has become a regular occurrence at the track Ty Majeski was the big winner taking the checkered flag 1st in both main events. Majeski claimed his car wasn't quite right on the night which poses the question; How far ahead would he have been in the races if it had been? Brent Kirchner made his return to the Lax Speedway and looked good in placing 5th in both 20 lap Feature events…
And looking back in time to Wednesday afternoon, July 4th 1962 at Stratford, WI., Speedway it was Augie Winkleman winning the Feature race over Everett Fox, Marlin Walbeck and Jerry Wagner. Semi-Feature honors went to John McNamara over Marv Marzofka and Jr. Marzofka. Heat race winners were Jr. Marzofka, Marv Marzofka, and Walbeck. The non-qualifiers race win went to Al Nowak with Marv Marzofka winning the Chicken Race. (Chicken Race?) Fast time honors went to Marlin Walbeck at 15.7 seconds which was a new track record. Racing again at the track in the evening of July 4th, 1962 (Wow two races in one day!) it was Dave Unertl winning the Feature followed by Ray Hoffman, Everett Fox and Norm Wolf. The Semi-Feature went to Marv Marzofka with heat race winners Larry Hanson, Marv Marzofka and Augie Winkleman. Marlin Walbeck was fast qualifier. (This information from the Jim Cleveland race results archive.) Looking back at August 9th, 1978 it was J.J. Smith winning the Feature race at Marathon Park of Wausau, WI. Following Smith were Leon Plank, Roger Paul, Bob Menor and Mike Blaser. Heat race winners were Blaser and Smith with Plank winning the Trophy Dash. Fast time was set by Smith at 26.84 seconds. Back on August 16th, 1981 at Marathon Park it was Tom Nesbitt winning the 40 lap Feature. Nesbitt was followed by Ron Schreiner, Gary Dorn, M.J. McBride and Scott Webb. Heat race wins went to Schreiner, Tom Greenlee, Nesbitt, and Webb. The Semi-Main winner was Brian Leslie. (Results courtesy of Gary Hall. Looking back to June 18th, 1981 it was Marv Marzofka winning the Feature race at State Park Speedway, Wausau, WI. Following Marzofka were Steve Moll, Dick Trickle, Tom Reffner and Mike Miller. Looking back on July 13th, 1975 at La Crosse Interstate Speedway, West Salem, WI., it was Tom Reffner winning the 20 lap Feature over Jim Sauter, Mark Lamoreaux, Mike Miller and Jim Back. The Semi-Feature went to Jim Bohmsach over Tim Carlson and John Brevik. Heat race winners were Earl Sharping, Denny Paasch and Sauter. The Dash was won by Sauter with Fast time going to Tom Reffner at 20.918 seconds.
In the Dale's pics from the past category we have Ron Hornaday racing this car at Saugus California Speedway in 1982. Not sure what make of car it is but it's pretty wild looking. It took awhile, but Hornaday went on to bigger things. In the not defunct but changed Speedway department it's the La Crosse Fairgrounds Speedway in the spring of 1995 after having been re-paved in the fall of 1994. J.J. Smith who won on both dirt and asphalt surfaced tracks raced this #30 on pavement in 1982. Marv Marzofka racing his Camaro at Wisconsin International Raceway, Kaukauna, WI., in 1978. Marzofka would place 4th in the Feature on this day. (Gary Hall photo)
Photos: Jerimy Wagner at speed in his NASCAR Late Model in 2016 at Lax. Speedway.
Questions, comments, opinions and other information welcome at Starmaker Multimedia 967 10th Ave N Ste A, Onalaska, WI 54650 608-783-5827 or at dale@starmakermultimedia.com


AUTO RACING FACTS, OBSERVANCES and OPINIONS

By Dale P. Danielski

July 2016

Is there a changing of the guard of sorts taking place at La Crosse Fairgrounds Speedway in the NASCAR Late Model Division this year? We bring this to our reader's attention as Mike Carlson for the first time in his career passed his Dad Steve to win the 25 lap Feature race on 6/11/18.
Mike started his racing career in the 4 cylinder division at the track before jumping into the Late Model Division there. There has been steady improvement each year and in 2016 with a new car and a crate engine, Carlson has found the right combination passing Dad on lap 22 of the feature race and going on to the significant win. Significant in that when you beat your Dad on the race track and not just finish ahead of, but pass him, it is truly a historic feat for a young driver. It's especially noteworthy when you have a racing father that's had the career in the sport that Steve has.
I can remember Bryan Reffner winning a Feature race over his famous father Tom and saying how from that point on he knew he had what it took to be a successful racer in this sport. It turned out just that way as Bryan went on to a very successful career of his own in racing.
So will we see more of this from Mike Carlson this year and beyond? More than likely, but don't count the veteran Steve Carlson out just yet as he turned the tables on Mike the following week winning the 25 lap main at the track with Mike right behind.
What we really need now days are more family rivalries like this in racing. More Dads, sons and daughters involved in short track racing. Car counts continue to drop off everywhere (And we're speaking more of the pavement than dirt set here.) and no one seems to be able to offer a solution to the problem. Back when you had a sanctioning group mandating rules to keep everyone on the same page all benefited as tracks on the circuit saw the same drivers competing every week (Great for marketing and promotional purposes.) and those drivers knew they could compete with a uniform set of rules. Now days tracks are independently operated and all want to hold events on the same night. There is not a whole lot of cooperation between them anymore and it has really hurt the sport at the short track level as fewer and fewer people choose to get involved in racing.
Sadly, some of it is the technological evolution that has taken place with fabricated race cars that can easily be purchased by anyone if the money is there. Gone are the days when home built ingenuity could compete and Dad and kids would work together and all eventually race. Worse yet is the young kid catching a glimpse of the current product, showing some interest and finding out it is going to cost him $50,000 and up to get involved. We're speaking of a top division of racing here obviously, but this is the scenario at all too many tracks. In addition with all the electronic devices available for amusement these days Dads and their kids would rather play video games in the palm of their hand then put a steering wheel there. It's immediate gratification for a lot less money!
In spite of all that, as long as I've followed this sport it always seems to reach a point where you have to take a couple steps back to move forward. With 12 or better engine combinations available out there costing anywhere from $8,000-$30,000, and the hottest set up in shock absorber technology at your fingertips for $6,000 or so, along with race car bodies that are too aerodynamically sound and unnecessarily expensive, I think that saturation point has been reached. If pay-offs at these tracks justified these types of expenses and maybe on a Touring Series they do, it might be a different story. Unfortunately purse pay-offs have remained the same or actually gone down for over 20 years! For a weekly show and to race for fun these expenses are just too much to overcome for the average racer. There are more entry level divisions of racing out there and they are an important part of a race program, but to sell an exciting show you need to promote the stars of it, the heroes, and they should be in your top billed class of racing. Taking a couple steps back here, bringing back more rules uniformity at the tracks that run similar divisions, and getting more people involved (Remember, more cars still do bring more race fans.) again in the sport would be a good place to begin.
Here and there…Nice to see Terry Schoppenhorst win the CWRA Lyle Nabbefeldt 55 lap Memorial race feature at Dells Raceway Park, Wis. Dells, WI., here June 18th. If you are going to pick a time to win your first ever Feature of any kind as Schoppenhorst did here, a big race is when to do it! Lax Fairgrounds held a boat race here 6/11/16 as part of the race program and to say it was wild is definitely a big time understatement. Trailers carrying boats after promoter Chuck Deery had watered down the front stretch to simulate being on a lake made for great entertainment. There was so much debris lying around after the event it probably took a week to clean it up. Jared Novak was the happy winner of the race…After a two week hiatus Brad Powell came back to La Crosse Fairgrounds with a vengeance taking the 25 lap NASCAR Late Model Feature 6/25/16. Steve and Mike Carlson followed…Good to see nice guy Mark Challet take the Feature win in the Thunderstox division on the night. Challet led the entire distance in that division's main event…
In the defunct race track category it's the Golden Sands Speedway of Plover, Wisconsin. The track was built and promoted by Sam Bartus opening in 1967. It held regular racing through 1983 before being shuttered for 5 years. Terry Preuser and yours truly provided a big push getting the track opened in late 1988. Unlike others there is a good ending here as the track is still operating today.
In the Quote of the column department, "I decided to go racing to stay out of the bar! I figured that would be cheaper so I bought Kevin Nuttleman's car and went racing." If you can figure out who said this, yeolde scribe will buy you a beer!
Photos: Mike Carlson #50 driving his NASCAR Late Model. "Bad" Brad Warthan in his mean looking black #22 has been quick this year winning the Sportsmen Feature at La Crosse Fairgrounds 6/4/16. Dale's Pics from the past. Ernie Derr #1 raced with IMCA making frequent visits to Wisconsin including La Crosse Fairgrounds. He raced this potent Dodge Charger at Marathon Park of Wausau, WI. (From the Gary Hall collection) Minnesota traveler Don James raced this Chevelle throughout the State of Wisconsin in 1974. Another Minnesota traveler, Bob Jusola #4 raced this Nova frequently on the Wisconsin circuit in 1973.
In the defunct race track file this is a photo of the Golden Sands Speedway of Plover, WI. as it appeared in early 1988. The Speedway had been closed for 5 years before re-opening in late 1988. Photo of Dick Trickle making his return to Wisconsin to race at Golden Sands in 1989 in his Miller beer Camaro.
And going back in time to June 20th, 1969 it was Lyle Nabbefeldt winning the feature race behind the wheel of the Dick Trickle 1967 Ford Fairlane. Following Nabbefeldt at the stripe were George Thornton, Jim Back, Dave Field and Homer Spink. Other results found Tom Jensen winning the Semi-Feature while Roy Gau took the consolation race. Heat race winners were Keith Kemnetz, Gene Theide, Ron Soma and Nabbefeldt. Field set fast time on the night at 13.28 seconds. On August 6th, 1971 it was Don James winning the 20 lap Feature at La Crosse Interstate Speedway, West Salem, WI. James was followed by Lyle Nabbefeldt and Jim Back. The 15 lap Semi-feature winner was Buck Linhart followed by Dale Pennel and Dale Walworth. Heat race victors were Linhart, Walworth and Roy Schmidtke. The fast dash went to James. (Thanks to Jim Cleveland and all his research for these race results.)Going back to August 17th, 1985 in a visit to Rockford, IL., Speedway (A track that was in the midst of taking a couple steps back economically in their track rules.) it was Bobby Hacker taking the 30 lap Feature win over Ricky Bilderback, Al Papini, Dave Watson and Wayne Lensing. Semi-Feature victor on the night was Wayne Swartout. The Fast Dash went to Jimmie Pierson with heat race wins going to Steve Moll, Gary Loos and Denny Miller. Fast qualifier around the high banked ¼ mile paved oval was Lensing with a new track record for the "Rockford Rules Late Models" at 14:259 seconds.
Questions, comments, opinions and other information welcome at Starmaker Multimedia 967 10th Ave N Ste A, Onalaska, WI 54650 608-783-5827 or at dale@starmakermultimedia.com

AUTO RACING FACTS, OBSERVANCES and OPINIONS
By Dale P. Danielski
April 25th 2013

Well, it's still April and amazingly with this cold, dreary, wet weather we've had for what seems like forever we were still able to witness our first racing action of 2013. Not surprisingly it occurred at the La Crosse Fairgrounds Speedway, West Salem, WI., here Saturday night, April 20th.
J. Herbst has vowed that 2013 is going to be a much better year for his Electrified Motorsports race team and it'd be hard to argue that after the first night of racing as he won the 25 lap NASCAR Late Model Feature. Herbst who finished 4th in final track point standings last year feels he lost the title due to poor qualifying efforts that resulted in him missing the dash event too often which was leaving many points on the table. That changed here tonight as his time trial laps put him into the dash which he won.
It was definitely a night of fast laps as Shawn Pfaff set a new track record in Late Model qualifying turning the 5/8 mile paved oval in 19:570 seconds to set the new standard. Brad Powell was right behind at 19:597. Both those times beat the previous record by J. Herbst of 19;619. The highlights for those two drivers would end there however as they were involved in a skirmish in the Feature event which put them both on the sidelines. The final order of main event finish found Herbst 1st followed by Mike Carlson, Steve Carlson, Brent Kirchner, Todd Korish, Bill Niles, Cole Howland, Nick Clements and rookie contenders Brandon Berg and Jonathan Eckleberg rounding out the top 10. Steve Carlson's finish may have been better but a car ride height infraction forced him to start last in the Feature field and that along with a flat tire during the race kept him out of contention for the win. Mike Carlson actually appeared to have the main event wrapped up but slid high in turn 4 with just a couple laps to go which allowed Herbst to sneak by for the win.
Sportsman racing action was exciting as Steve Bachman made a late race pass to secure the win in that division's 15 lap Feature. Jimmy Gilster back running a Sportsman car full time placed 2nd with Bill Martin 3rd.
The Thunderstox main came down to a last lap shootout as well with Adam Moore taking the win just in front of Jason Bolster.
All in all it was a great night of racing and despite what Mother Nature has thrown at us we are once again racing here in April to start out a new season. It can only get better weather wise from here, right?
Here and there…Shawn Pfaff wasn't really surprised with his new track record in qualifying. "We had a car like this last year at Oktoberfest. We didn't touch it, just scaled it and it was just as fast as last year" It's a good thing we did scale it too as we found we were 25 lbs lighter than the rules allow."….Brad Powell put up a thumb and finger an inch apart in describing the difference between his and Pfaff's qualifying efforts. "That's like an inch running out on the racetrack the difference in our laps." …Defending NASCAR Late Model track Champion Todd Korish got off to a rough start in qualifying. The team set his car's tire pressures incorrectly and according to Korish, "It didn't start to hook up until coming out of the last corner of the last qualifying lap". That miscue resulted in a 10th place qualifying effort for Korish well below where he is normally at…The Eckleberg racing team was out in force Saturday with Dad Curt racing a NASCAR Late Model, son Jonathan moving up from the Sportsman Division to Late Model and daughter Mandi taking over the driving duties in the Sportsman car. It's truly a family affair as Mom has been known to hop into a car now and then as well!...Bill Niles looked strong in the NASCAR Late Model Division opening night in a car his Dad Mike has been working on the last couple of years. After wrecking a car at Oktoberfest last year this car was finished and the result was a solid 6th place finish in the feature race…Ty Majeski who is a regular competitor at Fox Valley Wisconsin tracks will be racing at
La Crosse Fairgrounds this year. "We'll be racing in 6-8 races here this year. I'm doing it to get better accustomed to racing without a spotter which isn't allowed here." This scribe remembers the days when drivers drove cars and everyone else watched as steering wheels weren't allowed in the hands of those viewing and trying to steer the machines…Bad Brad Warthan is back at La Crosse Fairgrounds in an attempt to win the Thunderstox Division Championship. "I'm going for the Championship here and probably not racing much if at all anywhere else." Warthan's first effort resulted in a 5th place showing in the Feature…John Radtke who does the bulk of his racing on dirt was at La Crosse Fairgrounds competing in the Hornet Division. Radtke proved tough on asphalt taking the first Hornet Feature event...Was really sad to hear of the announcement Raceway Park of Shakopee, MN., will be seeing their last racing ever this season. I didn't get there a lot but sure enjoyed the tight racing action when I did. It's a track like so many I was brought up on, back to basics, not all the modern era bells and whistles but a bunch of fun none the less. Too often these tracks close and whatever development is supposed to occur never does leaving the facility to deteriorate over time when it could have been holding action packed racing. We'll see just what does happen here once 2013 comes to a close.
With announcements of tracks closing it's good to hear of news that a facility is planning to open. Amherst Speedway of Amherst, WI., is planning a full schedule of racing for 2013. Located at the Fairgrounds site in Amherst the track already held an exhibition of sorts in 2012 which hopefully leads to a full fledged campaign this year. Although a fair amount of work needs to be done internally as well as facility wise, Rick Schlabowske who is heading up the promotional efforts at the track expects racing to commence in late May. I hope all goes well and the track indeed does get up and running as that is very near my home stomping grounds of Stevens Point, WI., which will offer great opportunity to head back to that area for some dirt track racing action…We mentioned last year that Mark Kraus was not going to be in the driving seat in 2013 instead devoting time to his son's racing and other endeavors. However Kraus did compete in the combined CRA/ARCA Midwest Tour event this past Saturday at Toledo Speedway of Toledo, OH. With assistance from Toby Nuttleman, he was competitive all weekend and ended up 21st in the 150 lap main event. It's not so easy come Spring and the beginning of racing season to step away from the sport!
In the quote of the column department Brad Warthan cut our discussion short at the track here Saturday night, but he had a very good reason for it. "Sorry, but hey, I gotta go pee before this Feature event" and he ran off…
Looking back in time we attended the ARTGO/REMAX event held at La Crosse Fairgrounds Speedway on April 26th, 1998. Eddie Hoffman won the 125 lap event and was followed by Ron Breeze Jr., Brian Hoppe, Al Schill, Jr., and JR Roahrig. March 28th, 1999 found us at Raceway Park for the season opening Enduro event. Jim Schoepke won that 200 lap race held in cold, blustery weather conditions.
Turning back the hands of time even further it was Augie Winkleman taking the 30 lap Feature at State Park Speedway, Wausau, WI. The date was May 28th, 1961 and Winkleman took the checkered flag first ahead of Jerry Volm, Ben Landwehr and Jerry Wagner. Herbie Kurth took the Semi-Feature win over Don Winkleman, Woody Schmutzler and Bob Dalsky. Heat race wins went to Kurth and both Don and Augie Winkleman. Wagner captured the Trophy Dash. The Adams County Fairgrounds Speedway held their 2nd ever paved track event June 9th with Augie Winkleman also taking the win there in the Feature race. Winkleman was followed to the stripe by John Mayer, Vern Piotrowski, Dean Spohn and Cal Breezer. Heat race winners were Piotrowski and Winkleman with Spohn taking the non-money winners event. Interesting to note that Tom Reffner, #88 in a 1956 Olsmobile finished 2nd in that race. Winkleman had a big night also taking the Trophy Dash and fast time honors at 20:32 seconds.
Photos: Opening night at La Crosse Fairgrounds Speedway #82 J. Herbst. New track record holder in the NASCAR Late Model Division Shawn Pfaff #21. Steve Bachman #14 Sportsman winner. Pics from the past. Joe Shear #36 from 1998. 1976 found Fred Bender #56 racing this car. Note the high dollar hauling apparatus.
News, notes and comments welcome to Dale P. Danielski at Starmaker Multimedia 967 10th Ave N Ste A, Onalaska, WI 54650, at 608-783-5827 or at dale@starmakermultimedia.com , www.starmakermultimedia.com

AUTO RACING FACTS, OBSERVANCES and OPINIONS

By Dale P. Danielski
April 2013

It's difficult to remain optimistic the racing season here in the Upper Midwest is going to start in short order with three foot snow banks and 12 inches of frost in the ground, but believe me, we will have an opening race in April. With that in mind I thought I'd take a look at opening shows that got my season going in the last dozen or so years.
Back in 2001 apparently we got a little antsy with waiting for racing action choosing to hit the highway to far away Hutchinson Raceway Park of Hutchinson, KS for their season opener 4/21/01. Modifieds were the top attraction at the 3/8 mile dirt oval and there was a pile of them on hand opening night. With lightning flashing in the west they did manage to get the show in and it was Randy Wilson taking the Feature win. I knew that lightning meant storm and man did we get a dose of it heading to our overnight digs in Wichita, KS. I know now when they warn you of wind and driving a high profile vehicle, take heed! On more than one occasion I thought the Astro Van I was driving was going on its side into the ditch. With little more than barbed wire fence to stop it, the wind blew freely, but thankfully spared us, and we made it to our destination. And while in Kansas, you might as well stay for another show in the state so we did, catching the 81 Speedway of Wichita, KS., event. Sprint cars were the top billed class for tonight with A.J Stelphlug taking the A main. Greg Stephens took the ever popular Modified Feature win. In my race notes I noticed the well run C. Ray Hall production ended at 10:17 pm which we were also very impressed with on a rather chilly night even by Kansas standards. Interesting to note that when we got back to Wisconsin for some racing it was the Fox Ridge Speedway of Arcadia, WI., Grand Opening race our next event attended on 4/27/01. Pat Doar took the headlining Late Model event there in front of more than 2,000 fans. The track today is closed, however, there have been rumblings that if a certain nearby speedway stumbles, Fox Ridge would consider re-opening.
The 2002 season for us got underway in March at the Darlington Raceway, Darlington, SC. How cool to be watching racing with 70 degree temps in the middle of March! The first race we saw there was the Craftsman Truck Series where none other than Illinois born and Wisconsin resided for many years Ted Musgrave was the 200 mile race victor. Closer to home April 6th saw action get underway at the Lake Geneva Raceway, Lake Geneva, WI. Super Late Models were the headliner for the evening and Bob Koidahl was the 35 lap Feature winner. Sadly, that track is closed as well and last we heard the development that was supposed to replace it never happened.
The 2003 race season again started with some NASCAR Cup racing as we made our first ever trip to the Martinsville, VA., Speedway, 4/1/03. No April foolin', Martinsville is a neat place and we enjoyed watching Jeff Gordon take the Virginia 500 Cup win. April 18th found Madison International Speedway offering a $5,000 to win race with 56 Super Late Model cars showing up to compete! Eric Franzen took that 100 lap Feature win at the big ½ mile paved oval.
La Crosse Fairgrounds Speedway, West Salem, WI., has notoriously been the first track in Wisconsin to open and that was the case 4/10/04. We were there and saw 31 NASCAR Late Models do battle with Charlie Menard getting the 25 lap Feature win.
Never one to miss multiple shows in one day that's how the 2005 season started with us making tracks to both the Dells Motor Speedway, Wis. Dells, WI., and to
La Crosse Fairgrounds Speedway, 4/9/05. A great field of 47 Super Lates participated at the Dells and it was Charlie Menard again being the first victor we would see taking an opening race season win. Menard had to hold off a hard charging Adam Royle for the win in the 100 lap main event there with Ryan Matthews a close 3rd. At La Crosse we played witness to 33 NASCAR Late Models competing and it was Minnesota traveler Mark Lamoreaux taking the 25 lap Feature win.
With 2006 rolling around it was time to start the race season to the west of our home turf at the Deer Creek Speedway of Racine, MN April 8th. The first track to open in the area found 49 Midwest Mods, 28 Street Stocks, 41 Super Stocks, 29 USRA Modifieds and 25 Late Models checking in to do battle. The top billed division was the Late Models and Ron Schreiner took the Feature win. Our second event to attend in '06 was at the newly re-opened Tri-Oval Speedway of Fountain City, WI, 4/14/06. Chris Oertel made the substantial haul from Marshfield, WI., to take the main event win in the Modified Division. Many issues that caused delays occurred during the night but the track that originally opened in the 1960s was again up and running!
La Crosse Fairgrounds Speedway was again our season opening event destination in 2007 and 26 NASCAR Late Models were on hand to race 4/14/07. The veteran, Steve Carlson took the 25 lap Feature win out racing Kevin Nuttleman and Andy Burgess at the stripe.
More of the same in 2008 as La Crosse Fairgrounds again beat everybody to the punch with their opening show on 4/19/08. On this occasion it was generation next Mike Carlson, son of Steve taking the win in the 25 lap NASCAR Late Model Feature. Dad Steve could only watch from 2nd as his son took his first ever Late Model win. J. Herbst, Shawn Pfaff and Kevin Nuttleman followed in the main event.
A track that has a history dating back to the 1950s is the Chateau Raceway of Lansing, MN. April 17, 2009 found us heading over there for their season opening event. This 1/3 mile clay oval has featured a lot of exciting racing through the years and this night was no exception. Modifieds which had now been the rage for many years were the top billed class and 23 were on hand to compete. Mike Sorenson had the hot set up and it paid off as he captured the Feature event. The win was certainly no fluke as he held off some heavy hitters to include Steve Wettstein, Tommy Myer, Brad Waits and Doug Hillson at the finish.
April 16, 2010 found us at the Mississippi Thunder Speedway, Fountain City, WI., for the season opening event there. The former Tri-Oval Speedway under new management featured four divisions of racing with the A Mods top billed. In their main event it was Josh Angst taking the win over Bob Timm. Interesting to note that long time racer and the ever controversial Karl Fenske was doing the flagging on the night.
And it was off to the La Crosse Fairgrounds Speedway, 4/23/11 for the race season opening event with three divisions of racing featured. Apparently it was a long winter in the area as some rabbits who were calling the race track their own had to be shagged off the speedway before racing could get underway. Once on safer ground, racing commenced with the Wiley old veteran, Steve Carlson taking another opening night win in the NASCAR Late Model Division. Sportsmen action found the popular Jimmy Gilster taking first while Thunderstox competition saw Adam Moore in victory lane.
And, bringing us up to date it was La Crosse Fairgrounds Speedway again the entertainment for opening night racing 5/5/12. Brad Powell got his season off to a good start thwarting Steve Carlson's bid to win yet another opener by taking the 25 lap NASCAR Late Model Feature. Although we note a May date here it must have been a warm one as the frogs in Lake Speed at the track were the happiest around singing merrily to the sound of roaring V-8 racing engines… or something on that order.
So friends, there is hope for racing to occur and soon as you'll note nearly all the opening events we covered here in the last 12 or so years occurred in April. Keep the faith and we'll see you at a track somewhere in the next few weeks!
Here and there…Speaking of opening races we see where the Deer Creek Speedway is still scheduled to open on April 6th, 2013. The ARCA Midwest Tour kicks off their 2013 season at Toledo Speedway, Toledo, OH., 4/19-20, 2013. Upper Iowa Speedway, Decorah, Iowa will get things rolling there on 4/20/13. La Crosse Fairgrounds Speedway is looking at a 4/20/13 date for their NASCAR Late Model, Sportsmen, Thunderstox and Hornet divisions of racing opener. Mississippi Thunder Speedway is looking at a 4/26/13 date to start racing. Dells Raceway Park, Wis. Dells, WI has set May 4th as its opening night, while the Veterans Raceway Park track in Tomah, WI is looking at a full schedule of racing beginning May 10th. These are just some of the tracks within reasonable distance of this area announcing their opening race events. These tracks will also be hosting practice days before opening so check their websites for those dates…
Going back into time…way back in time, it was Augie Winkleman taking the 30 lap Feature May 21st, 1961 at State Park Speedway, Wausau, WI. Winkleman was followed by Jerry Wagner, Buzz Ryan and Ken Pancratz. The 25 lap Semi-Feature went to Herbie Kurth. Heat race winners were Don Winkleman, Kurth and Ryan. Dave Marcis took the Trophy Dash win…The Adams County Fairgrounds Speedway recently paved and promoted by Sam Bartus opened in 1961 on Friday night, June 2nd. The first ever paved track event at the track in Friendship, WI., found Marlin Walbeck #30 taking the 25 lap Feature win. Walbeck in his '56 Chevy was followed by Augie Winkleman, #64, Ron Deboer, #68, Lyle Nabbefeldt, X and Les Katzner, #16. Heat race honors went to Dean Spohn, #6, and Winkleman, with Deboer taking the non-money winners event and Winkleman the Trophy Dash. Winkleman set the fastest time at 20:05 seconds. Notably in 5th in time trials was Dick Trickle in a '56 Ford at 21:22 seconds…
Photos: Cup regular #18 Paul Menard does a little racing at The Dells track in 2002. Jimmy Mars heads for the track in 2005 at Deer Creek Speedway. #51 Chris Oertel ready to race his Modified at Tri-Oval Speedway in 2006. #66 Steve Carlson getting racy in 2011 at Madison International Speedway. #12 Bobby Allison raced this car at Wausau's State Park Speedway in 1975.
News, notes and comments welcome to Dale P. Danielski at Starmaker Multimedia 967 10th Ave N Ste A, Onalaska, WI 54650, at 608-783-5827 or at dale@starmakermultimedia.com , www.starmakermultimedia.com


AUTO RACING FACTS, OBSERVANCES and OPINIONS
March, 2013
By Dale P. Danielski

Being up here in the cold and snowy North Country our only means of catching race action has been tuning into the TV Tube for Daytona Beach Florida Speedweeks activities. Of course that meant checking out the UNOH "Battle at the Beach" racing action.
A cool concept and something new, we enjoyed watching Whelen All-American and K & N Series competitors try and conquer the reasonably flat paved Speedway which was laid out utilizing the backstretch of Daytona International Speedway. It was cool that is, until the end of each event over the two day period. Since when is it OK to blatantly take out the leader to win a race? I don't mean gentle nudging one out of the groove to pass, I mean "bonzaing" the corner and crashing the guy in front of you to win!
The highly touted Kyle Larson started this method of winning in day one by taking out leader CE Falk III on the last corner of the last lap of the NASCAR Whelen All-American 150 lap Late Model event. Larson didn't seem to have any remorse over the incident making it sound like this is just part of racing. Ah…excuse me, but that isn't racing that is intentially wrecking. NASCAR officials didn't seem to think anything was wrong with the maneuver either as Larson was allowed to keep the win and the $15,000 or so that went with it. What seems a little strange here is that they did reprimand a driver earlier with a black flag for over aggressive driving putting him in the back on a restart after making contact with a fellow competitor. So why doesn't taking the leader out on the last lap constitute the same action? It seems the whole mentality anymore is anything goes on the last lap even if it means crashing out the leader to win. Sad to say but NASCAR created this problem by allowing it to happen on too many to count occasions at their top levels of racing, Cup, Nationwide and the Truck Series. I guess if it's acceptable at those levels it has to be OK here. Unfortunately for me much in the way of loss of respect goes out to Larson for this win at all costs maneuver. Maybe I'm in the minority and I hope not, but I would think car owners would take note and make certain this isn't the new breed of "talent" to be looking for to steer their racing equipment which in turn is supposed to provide a favorable image of the sport. If you can't win by out driving someone maybe you need to finish second and get'em next time.
Of course as I mentioned earlier this was only the first race of the two day event. The exact same scenario unfolded in the two other main events with the leaders each getting booted after taking the white flag! I guess Larson set the precedent for this with his tainted win. Steve Park got the win in the NASCAR Whelen 150 lap Modified main on day two as he went through Mike Stefanik to win. Stefanik didn't buy any of Park's explanation of trying to "stay off" his bumper only being able to say "Yea right" between swear words! That win was worth $20,000 to Park and maybe as a good will gesture he should offer at least half of it to Stefanik. And finally, in the K&N Pro Series finale it was Gray Gaulding crashing Michael Self out of the lead in overtime of the scheduled 150 lap event with the result appearing to give Gaulding the inside track to the win. A wide girth by Gaulding of the last corner however allowed Cameron Hayley to slip by and take the checkered flag 1st! Validation for Gaulding being prevented from winning for taking out the leader in the first place maybe?
I don't know, but maybe this is what fans want to see from drivers these days. Again, I have to say I hope not, and boy if we start seeing this when racing begins in this part of the Country come Spring, look out!
Here and there…OK, I know it supposedly pays the bills, but do the same three or four advertisers during the majority of the Speed TV telecasts really think we are more inclined to buy their products after advertising them 20 times an hour? I think it's more of a reason not to endorse them especially when they are doing it while racing action is taking place. Why aren't we doing the split screen deal for this? I think that's a great way to capture the best of both Worlds. Of course Speed parent company FOX was no better for the 500 utilizing split screen so little early it was of little value and very minimally late when it would have made a difference, instead barraging everyone with ad after ad throughout. I pity those trying to watch these races through the rest of the year but that's all the more reason to get out to your local track once things get cranked up this Spring. No ads while you're sitting in the stands and debris cautions an extreme rarity... Attendance sure didn't look too good to me in the racing I witnessed on the tube. The UNOH events grandstands looked terrible while Truck, Nationwide and even Cup racing found many seats where bodies were supposed to be…Maybe with the wild wreck in the Nationwide race that tore the front end off Kyle Larson's car he'll realize this wrecking thing can be really dangerous. Thankfully he came out of the wreck unscathed and hopefully a bit wiser…Well with the release of the 2013 La Crosse Fairgrounds Speedway, West Salem, WI., schedule you know racing season can't be too far off. Something new at the track this year will be Figure 8 racing. I can't wait to see that!
Taking our regular look in past years racing, it was Augie Winkleman taking the 30 lap Feature win at State Park Speedway, Wausau, WI., on May 14th 1961. Buzz Ryan, Ken Pancratz and Jerry Volm followed. Winkleman had a banner night as he also won the Semi-Feature, 2nd heat, Trophy dash and time trials. The only two other winners were Ryan in the 1st heat and Volm in the 3rd. At the Stratford Speedway, Stratford, WI., on September 6th 1961, it was Jerry Wagner taking the Feature race over Jesse Meachem, Dick Shefchik and Allen Schjoneman. The Semi-Feature went to Woody Schmutzler with heat victories going to Bruno Swiderski, Hilarian Michlig and Joe "Sonny" Martin. Fast Qualifier with a new track record of 18.5 seconds was Ken Pancratz…
Photos: More from our 1981 Florida Speedweeks vacation. #2 Dale Earnhardt Sr. at the "Big Track". Dirt stars doing some short trackin', #02 Ken Walton, #1 Tom Nesbitt and #53 Joe Kosiski. And the King of Modified racing #61 Richie Evans at New Smyrna Beach, FL. Speedway.
News, notes and comments welcome to Dale P. Danielski at Starmaker Multimedia 967 10th Ave N Ste A, Onalaska, WI 54650, at 608-783-5827 or at dale@starmakermultimedia.com , www.starmakermultimedia.com


AUTO RACING FACTS, OBSERVANCES and OPINIONS

By Dale P. Danielski
February, 2013

Once again in our series of articles here in the off-season we look back at racing from a bygone era. This time around we are looking at the 1981 racing season in the Upper Midwest.
We have noted that specially fabricated chassis's were becoming a major part of the landscape during this time period as the bulk of drivers were going this route over junkyard, or homebuilt racing machines. The same thing was happening with engine construction as numerous companies were building engines for drivers promising more horsepower and longevity with minimal maintenance. Of course accomplishing this came at a cost with these engines ranging in the $10,000-$20,000 range.
Ray Baker of Baker Engineering was one builder who established a very impressive list of clients with the so called "High Buck" engines. Mark Martin was one of his earliest customers and the young Arkansas racer proved to be very fast with his Dillon Chassis and Baker Engines. Looking at the Baker list of winners in 1980 is indeed impressive as besides Martin, Bob Senneker, Mike Eddy, Butch Miller, Don Gregory, Junior Hanley, Terry Senneker and Ray Young all won with those engines under their hoods. That's some who's who of racing! In an ad Baker ran boasting of his product, Hanley was listed as having won 49 of the 65 races he started. Florida racer Dickie Anderson won 44 races including 17 in a row. Martin had the fastest qualifying time in 24 of 30 races he competed in including setting 16 new track records. To all that I say WOW!
Of course Prototype Engineering was another company that produced a "Higher End" engine and they were fortunate in having none other than Dick Trickle utilizing their power plants, which of course the majority of the time produced the winning combination. Mark Martin even raced a Prototype during the 1981 season and continued his top performance on the short tracks. Larry Detjens was racing his new Dennis Frings Chassis with the highly rated Draime Engine power and appeared to have the early season hot set up. Kirn Racing Engines and Hutter were a couple more builders that got into the short track market with the more expensive engines. They could all brag of much success with their respective drivers, but was it worth spending the money when you consider that the weekly shows held in the region were paying $250-$500 to win? Local racing groups such as CWRA were trying to cut costs for these types of shows having gone with a limited 9-1 Compression engine rule but many drivers wanted the best of both Worlds as in being able to race the same equipment at all shows as they'd been able to do for so many years. Doing this caught Larry Detjens one night by surprise as after a win in May at the CWRA sanctioned Capital Super Speedway, Oregon, WI. his engine was claimed! According to rules fellow competitors could claim engines of others in Feature races that were CWRA sanctioned. Richie Bickle Jr., claimed Detjens' engine for the $3,500 claim price and Detjens kept his win by accepting the claim. The victory for Detjens paid more than what a normal night's racing would have, but I guarantee his engine was worth more than the $3,500 Bickle Jr., bought it for! Carl Wegner was another engine builder that could produce the more expensive version engine but was also a huge advocate of saving the racers money as well. It certainly made for interesting conversation to see who was running what and where during the 1981 season and it seemed to signal the beginning of the end for the home built chassis and engine guys. It was just becoming really tough to go the home built route and stay on the track when you could head to the store and but what you needed! Marv Marzofka was one of the few that continued to field all his own equipment and did continue his winning ways.
Heading into the 1981 season this scribe was fortunate to start out his season down in Sunny Florida catching action at numerous short tracks as well as the big one, Daytona International Speedway. When not watching racing somewhere we could be found entertaining sea gulls and Pelicans on the beach along with some long nights and mornings making sure the watering holes stayed in business. All in all you couldn't ask for a better way to shorten the long, cold Midwestern winter.
Of particular interest while in the Sunshine State was viewing the three night show at the Winterhaven Speedway of Auburndale, FL. The very racy ¼ mile paved track with John Boswell serving as promoter offered $3,000 to win 100 lap features each night. Even more interesting was the fact these shows brought a great mix of both dirt and pavement stars. Dirt star Ronnie Johnson captured the final 100 lapper and was crowned the overall champion while paved track Florida hero Leroy Porter won two features taking home over $6,000 in the process. Charlie Swartz, another dirt phe-nom had fastest time one of the nights which certainly wouldn't have been predicted going into the event. A couple drivers I had always wanted to see compete and each a winner of hundreds of races in their respective regions, the North East and South East U.S., Red Farmer and Buzzie Reutimann were on hand. What a treat it was to see them race and they weren't alone as more star power to include Billy Gill, David Pletcher, Jim Cope, Butch Yoakum, Dave Dunkin, Bobby Tinkham, Dick Anderson, Jim Cope, were all also in attendance.
Other track visits while in the sunny south included the East Bay Raceway of Gibsonton, FL. Pennsylvania star Kenny Brightbill won two Features of the Fourth Annual Southern Late Model Nationals while Charlie Swartz showing his versatility took the finale and the overall series crown. Again drivers in attendance I'd never seen compete included Bob Wearing, Will Cagle, Freddy Smith, Tom Helfrich, Ray Godsey, Ed Sanger, Larry Moore, John Mason, and Ken Walton. How many Feature wins do you think that group of drivers combined had when all was said and done?
Desoto Memorial Speedway of Bradenton, FL was another stop I was able to make on the trip and in the programs 100 lap Feature it was Dick Anderson taking the win over Leroy Porter. Dick Trickle hanging around after competing in the Annual World Series of Asphalt Stock Car Racing at New Smyrna Beach Speedway placed 3rd in that race. Speaking of New Smyrna it was Junior Hanley taking the World Series Crown there. Winners during the series included Mike Eddy, Joe Shear, Gary Balough, Hanley and Trickle.
With Speedweeks ending and the racing fever high it wasn't long and the Midwestern season was set to begin. Some racers were getting a head start on things however as Dick Trickle stayed in Florida an extra week or so and was able to win at New Smyrna Speedway. Larry Detjens struggled during Speedweeks short track racing but quickly corrected things by taking two huge wins in March in California. Joe Shear's racing and winning in Florida helped get him off to a good start when back North in 1981 as he captured the ARTGO Spring Classic at Rockford, IL., Speedway.
With racing getting into high gear one huge noted change in our neck of the woods found the Golden Sands Speedway of Plover, WI., eliminating the top division, Late Models for 1981. The top division to start out the year was known as Late Model Sportsmen and Gary Kawleski took the 25 lap Feature win there April 19th in a Pontiac Firebird. Preferring to see our known stars racing at the home track we decided to find other venues on the days Plover was holding their events. It didn't stop us from hitting an insanely number of events elsewhere as you could still catch shows 4-5 nights a week at the very minimum.
Speaking of traveling, Jim Weber a Minnesota native was now doing most of his racing in Wisconsin at various tracks. On a not so memorable occasion Weber won the Feature at the Lake Geneva Raceway, Lake Geneva, WI., only to find he had been disqualified due to his car not meeting the minimum 1200 Lb. right side weight requirement. Conrad Morgan was awarded that win after the DQ.
Although Larry Detjens was far and away the hottest driver racing, (He won 6 Feature races in a week's time in early June) others were having successful campaigns as well. John Ziegler in the CharlieYelk prepared machine took several wins in May at the Slinger Super Speedway, Slinger, WI., and also at Capital Super Speedway. Up and coming driver Kevin Stepan was finding Feature winning success at Wausau's State Park Speedway. Jim Sauter was still racing the short tracks and running well at Wisconsin International Raceway, Kaukauna, WI, taking the first seven main events held there as well as winning in ARTGO competition. Steve Carlson was moving up the racing ladder taking a "Special event" win at Golden Sands Speedway in the Late Model Sportsman Division. Although car counts were good at Golden Sands the fan following was down and the Late Model Division returned to the ultra-fast 3/10 mile paved oval. Mike Miller promptly won the Feature in their return.
In a bizarre and very unfortunate twist, Late Model competitor Steve Burgess had his race shop in Eau Claire, WI., broken into and nearly everything in it stolen. The loss was estimated at $110,000 and Burgess said he had no insurance! Even more distressing was finding everything destroyed in Texas after the thief had set the rig and car ablaze.
We haven't mentioned Dick Trickle a whole lot here but he was hard at it racing three cars at various tracks and Series. To keep track of all his equipment Trickle had names for all his cars as well. Being a big fan of the old Gunsmoke TV series, they were named Matt, Festus and Miss Kitty who of course were all part of the cast on the popular show. The cars were all definitely competitive too, as Trickle had accumulated 20 wins by the first of July. Larry Detjens meanwhile was up to 22 Feature wins but then on August 1st the unmentionable happened. In a wreck after contact with Alan Kulwicki in the 1st of two 50 lap races of the ARTGO event at Wisconsin International Raceway, Detjens car slid passenger side into the exposed inside guard rail piercing the vehicle and striking Larry which resulted in terminal internal injuries. Gone in a blink of an eye was one of the most popular and talented drivers race fans in the Midwest had seen. Sadder yet is the fact that Larry was set to make an all out assault on NASCAR Cup Racing the following season, something few from this part of the Country had been successful at. With his prowess in the long races no one doubts he would have made it in the big time, but that of course would never be determined.
With the '81 season winding down it was time for the Annual trek to Falcon Heights, Minnesota for the always very prestigious State Fair racing. Mike Miller who was having a so-so season racing made the campaign worthwhile by capturing the biggest win of his career, the 300 lap Feature finale on the immaculate ½ mile paved oval. Other season ending special event winners were Junior Hanley in the Rockford Short Track Championships and at the Oktoberfest Racing Weekend at La Crosse Interstate Speedway, West Salem, WI and Dick Trickle in the Larry Detjens Memorial race at State Park Speedway, the ARTGO Summer Nationals at Capital Super Speedway and the Budweiser Invitational at Wisconsin International Raceway. Jim Sauter took the ARTGO season crown and ended up with 20 or so victories on the year.
And so, that's how 1981 in a nutshell went racing wise in our area. Our personal chasing of events took us to 81 race programs at 30 or so different tracks. Remember that word insane we used earlier?
Notes from 1981…The racetrack formed out of a gravel pit, today known as Marshfield Motor Speedway was still a dirt track in 1981 and known as Yellow River Speedway. 16 year old Kevin Cywinski who would go on to a fair amount of pavement racing success was a regular winner at the ½ mile dirt oval during the season in the Street Stock Division…The Tomah-Sparta, Wisconsin Speedway which was a part of the racing circuit in the 1960s but had been shuttered for many years reopened in 1981 and was renamed Wild Bills Track and Trailer. The track remained open for some time before again closing. Lo and behold it has now once again re-opened once and is called Tomah Veterans Raceway…The ARTGO Series visited Elko Minnesota Speedway for the first time ever and it was Jim Sauter leading a large Wisconsin contingent of racers to the checkered flag in the 100 lap Feature. In weekly action at the track it was the Murgics, Mike and Steve winning on a regular basis…
Here and there…Big news here of late is the merging of ARCA and the former ASA Midwest Tour to form a new branch of race sanctioning here in the Midwest. And with that, the release of the 2013 schedule for the ARCA Midwest Tour. Of note to folks in this area is Veterans Raceway Park of Tomah, WI., appearing on the schedule. That tight 3/8 mile and reasonably flat oval track is definitely going to produce a big challenge for all the Tour guys to try and conquer. Most of the traditional events are once again on the schedule plus Dells Raceway Park, Wis. Dells, WI., is back on the slate along with a co-sanctioned event with the ARCA/CRA Series at Toledo Speedway, Toledo, OH., on April 19th and 20th. Co-Sanctioning will also take place between ARCA MT and ARCA CRA at Madison International Speedway, Oregon, WI., August 10th and 11th…
And taking an even look further in the past, it was Jesse Meachem taking the 30 lap Feature win at State Park Speedway, Wausau, WI., on May 7th 1961. The track had been paved for the '61 season after serving for a number of years as a dirt oval and this was the first event of the year there. Meachem who was racing a 1950 Oldsmobile was followed by Ed Baranoski in a 1956 Ford and Ken Pancratz also in a '56 Model Ford. They were the only three to finish the race! Heat race winners were Jerry Volm, and Augie Winkleman, while Winkleman also won the Trophy Dash….Stratford Speedway, Stratford, WI., was another track that was paved for the 1961 racing season and held events on a regular basis. On Wednesday, August 23, it was Marlin Walbeck winning the Feature event over Leroy Binder, Ken Pancratz and Allen Schjoneman. The Semi-Feature went to Woody Schmutzler over Bill Worth and Art Halverson. The Consolation was won by Dick Shefchik with Tiny Coyer and Ron Graveen following. Heat race wins went to Schmutzler, Ken Schaefer and Bob Messer. Fast time honors went to Jerry Wagner at 18.8 seconds around the 1/3 mile oval.
Photos Dirt track stars racing in Florida in 1981 #19 Kenny Brightbill and #00 Buzzie Reutimann. Paved racers in Florida in 1981 #92 Dick Anderson and Mr. attention getter, #112 Gary "Hotshoe" Balough. #66 Rusty Wallace was still earning his racing stripes short tracking in 1981. The Larry Detjens look sadly in his last year of racing. News, notes and comments welcome to Dale P. Danielski at Starmaker Multimedia 967 10th Ave N Ste A, Onalaska, WI 54650, at 608-783-5827 or at dale@starmakermultimedia.com , www.starmakermultimedia.com


AUTO RACING FACTS, OBSERVANCES AND OPINIONS
BY Dale P. Danielski
December, 2012

Since Midwest Racing Connection published a Checkered Flag Racing News Retro issue earlier this year and I came across a years worth of CFRN papers from 1980 we'll take a look here and see just what was going on in racing 32 years ago.
1980 marked the beginning of "Spoiler Madness" as drivers racing in Florida at New Smyrna Speedway in New Smyrna Beach, FL., modified their race cars bodies to try and keep up with Gary Balough who appeared with a pretty radical looking car to race. A northern contingent of drivers, Dick Trickle, Larry Detjens, Tom Reffner, John Boegeman, Steve Burgess, Joe Shear, Mel Walen, Mike Miller among others all found themselves scrambling to bend sheet metal in ways never tried before to gain speed at the ½ mile paved New Smyrna track. It got pretty crazy and would influence the look of cars heading into the season in the Upper Midwest.
The American Speed Association opened that Series' season in West Chester, Ohio and drivers appeared with all kinds of weird looking stuff. Officials made them all either trim or totally remove the parts that weren't in keeping with the intent of the rules and things did get to looking a bit more normal at least. Mark Martin ended up winning that race in a very subdued, even stock appearing Camaro.
Midwestern racing got started with the Annual ARTGO Spring Opener at Rockford, IL., Speedway. Larry Detjens less all the add on sheet metal from Florida took that event in his Camaro. Central Wisconsin racers got rolling with the new $3,500 cost limit on engines ruling with Rick Haase, Dick Trickle, Tom Reffner, Dave Watson and Mike Miller taking wins. Miller appeared to be adapting best to the new rules taking three wins in a row at Wausau's State Park Speedway along with wins at Plover's Golden Sands Speedway. Miller was for the 2nd year in a row behind the wheel of an Oldsmobile Cutlass which was a huge departure from the Camaros that dominated action for so long.
A number of drivers that would later go on to bigger things were racing in 1980. Mark Martin had the hot set up in ASA competition taking several wins in April and May. Ted Musgrave was traveling more from home in Illinois and winning races in Wisconsin, while Rusty Wallace was in a battle with Joe Ruttman in USAC Stock Car competition trading wins throughout the year. Of course Wallace would shortly thereafter move into NASCAR Cup racing and we know the end result of that. There were also a couple upstarts with a familiar name racing in the entry level Road Runner Division at Golden Sands Speedway. Both Baird and Bryan Reffner were racing AMC products just like papa Tom and doing quite well in their rookie season.
One of the weirdest events to take place during the year was an ARTGO event at the Illiana Speedway of Schererville, IN over the Memorial Day weekend. The program there was going smoothly until a thick fog rolled in that made it virtually impossible to see the racetrack and cars in the corners and backstretch from the main grand stands. The drivers claimed they could see OK racing as the fog was high enough to see ahead and behind. With the pea soup refusing to lift it was finally decided to place a flagman (Dick Beebe) on the backstretch along with the one in front, Bill Gronley. Both paid particular attention to each car in the field that went by and all went quite well. That's until Beebe displayed the yellow flag on the backstretch. Reason for the slowdown? All the cars hadn't gone by therefore he thought one had spun and a yellow caution was necessary! Actually nothing had happened to necessitate the yellow, it was just that one of the competitors had pitted! Better to be safe than sorry during this crazy night of racing I guess. Ed Hoffman ultimately was declared the overall winner of the Chicagoland Challenge winning one feature and placing 2nd to Dick Trickle in the other.
1980 also marked the beginning of the Annual and long running Slinger Nationals at Slinger Super Speedway. Mark Martin, Jim Sauter and Larry Detjens won feature events at the two programs held in June and July with Detjens being crowned the 1st ever, Overall Slinger Nationals Champion.
A number of Late Model racers from Minnesota such as Dan Priziborowski, Dewey Gustafson, Don James and Jim Weber among others still disenchanted with the move to Sportsman car type rules in their home state were traveling to Wisconsin and doing quite well. It paid off in grand fashion for Gustafson at State Park Speedway July 17th as he took one of the two 30 lap Features held on the night.
Race car specs and rules again became a hot topic as Mark Martin was involved in a wreck at Capital Speedway of Oregon, WI. that broke his leg. A gap in the drivers side front fender area made for a clear path to his leg which caused the fracture. Drivers then decided to put another bar in that spot as part of the roll cage which prevented additional such injuries. In the meantime with Martin out of the seat of his race car, Darrell Waltrip who was carving out quite a career in NASCAR Cup racing was given a shot behind the wheel for the 200 lap ARTGO event at La Crosse Interstate Speedway of West Salem, WI. Waltrip promptly blew away the competition on the way to the 200 lap win.
And, much to the dismay of many of us who liked the different look, Mike Miller debuted a new Chevy Camaro in July with Bemco Engineering front and rear clips under it replacing the Olds Cutlass he had been racing. The car was fast right out of the box as Miller won the 50 lap Feature at State Park Speedway the first night out.
With the season winding down Martin, Detjens, Trickle, Shear and Marzofka continued their winning ways but others such as like Kevin Stepan, Steve Moll, John Ziegler, Jim Back and Steve Burgess also found themselves in victory lane.
With end of year specials starting with the Annual Minnesota Fair Races in Falcon Heights sadly on the day it would be long time competitor Bob Jusola's last race. Jusola was racing in the 300 lap event when he succumbed to a heart attack. The attack was massive and Jusola was gone at the age of 48. Bob Senneker went on to win the race held on the ½ mile paved oval.
Other prestigious season ending event winners included Jim Sauter in the 200 Lap Rockford Speedway National Short Track Championship Feature and the Bettenhausen 100 at Illiana Speedway, Mark Martin in the Annual Oktoberfest event at La Crosse Interstate Speedway, Dick Trickle in the Bob Jusola Memorial race at Elko Minnesota Speedway and the World Cup 400 at I-70 Speedway, Odessa, MO., Larry Detjens in the Bud 200 event at Colorado International Speedway, Colorado Springs, CO., and Steve Burgess at Wisconsin International Raceway, Kaukauna, WI., and Bakersfield, CA., Speedway.
All in all it was a very interesting year of racing in the Upper Midwest in 1980 with more of the same predicted for the rest of the decade. With the response being what it has been with these type of efforts, we will probably do more retro-ing in winter issues of MRC. Stay tuned!
Here and there…Speaking of CWRA, the group does still exist and is planning a Reunion for this summer which all previous members will be invited to. They are also looking into the history of the sport in Central Wisconsin, specifically of the Griffith Park Speedway in Wisconsin Rapids, WI., which held the first paved racing in that area.
Looking back in time Griffith Park Speedway held the first ever paved racing event for stock cars on Sunday night, July 17th. The $20,000 to construct facility which featured a ¼ mile almost circular oval and was promoted by Sam Bartus, provided the first racing in the area in nearly 5 years. Jere O'Day won the 25 lap Feature and was followed by Don Ruder and Ken Pancratz. The Semi-Feature was also won by O'Day and he was followed by Jim Gurney and John Detert in that event. Heat race wins went to John Moquin, Augie Winkleman, and Ruder. O'Day set the fastest time in qualifying. Also note that Dick Trickle did participate in the night's program placing 3rd in the 1st heat. Unbeknownst to most the track opened the night before, Saturday, with Midget race cars the main attraction. Billy Woods won that division of racing's feature.
Photos. Drivers and their versions of "Spoiler Madness" early in the 1980 racing season included Jim Derhaag (Silver car) and Ed Hoffman. (Black and Gold car) Officials kindly asked the drivers to remove the space age looking appendages.…Mike Miller's Oldsmobile Cutlass #18 that he campaigned for part of the 1980 season before switching to a Camaro…Mark Martin #2 a prolific winner during the 1980 season…
News, notes and comments welcome to Dale P. Danielski at Starmaker Multimedia 967 10th Ave N Ste A, Onalaska, WI 54650, at 608-783-5827 or at dale@starmakermultimedia.com , www.starmakermultimedia.com


AUTO RACING FACTS, OBSERVANCES AND OPINIONS
BY Dale P. Danielski
November, 2012

With all the hype and the pending drama and excitement that was certain to go with it to determine the NASCAR Late Model track champion heading into Oktoberfest racing weekend at La Crosse Fairgrounds Speedway 10/4-7/12 it's almost fitting that it ended with a resounding thud before the race cars and drivers could even get through the first corner of the first lap of the final Feature race.
Shawn Pfaff and Todd Korish were supposed to battle it out tooth and nail for 40 laps in the main event to determine the 2012 Champion, but only one of them survived the "Big One" and the championship was over before the race even started. Only two points separated the two going into the night's main event with Pfaff holding the edge. At the drop of the green Mark Lamoreaux and Bill Niles got together heading into turn one which send both spinning. With nearly nowhere to go at least half the field piled into the two disabled cars and one of them was Pfaff. With front end damage too severe to continue, the Championship was Korish's, if he could complete a few laps and finish a few spots in front of Pfaff. Although a couple close calls nearly prevented that once the race restarted, Korish did avoid further trouble and the result was his first ever NASCAR Late Model track Championship. The 40 lap Feature race was to say the least ho-hum with Steve Carlson running away with the win but for Korish and his 6th place finish it was the best that could have happened.
And of course this event which opened the Annual Oktoberfest racing festivities set the tone for what again proved to be a very exciting four days of racing.
The ASA Midwest Tour was anything but ho-hum in determining its season Champion, as Jon Eilen did just about everything he could to try and lose the title! With constant trouble Eilen eventually had to settle for a provisional start in the 100 lap Feature finale. From there things finally turned around for the Minnesota racer as he place a sold 5th and won the title by 17 points over Nathan Haseleu. It was Eilen's first ASA Championship and certainly his biggest in racing through the years.
Looking at other action during 'Fest it was Matt Inglett winning the final Sportsman Feature and Randy Humfeld with a 6th place finish taking that Division title. Futures Super Late Model action found Matt Tifft holding off a late race bid by Bobby Kendall for the win. Not to be upstaged by the NASCAR Late Models this race also featured a huge crash to start the race. Close to half the field was involved but order was restored and action continued. Mark Chalet won the Thunderstox main but it was Tom Luethe taking the Division Championship. It wasn't without controversy however as Luethe and closest challenger Dakota Miller tangled with Miller done for the night and Luethe having to start in the back with only a couple laps left. A 9th place finish was just enough though for Luethe to take the title by a scant three points over Miller!
The top attraction for day two of 'Fest was the Dick Trickle 99 event. Skylar Holzhausen was the most consistent in the three Features that make up the event and took home the "Big Cheese" overall win trophy. Holzhausen capped off the event by winning the third 33 lap segment which clinched the crown. Dan Fredrickson and Casey Johnson won the other two segments but couldn't parlay their winning performances into an overall win.
The Area Sportsman race definitely provided the most exciting finish of the night. Randy Humfeld who got nudged into the backstretch wall on the last lap of the race was running 3rd with about 1,000 feet of racing left, but then Rick Schermerhorn who was the nudger and in 2nd, got into leader Brent Kane in turn three. Kane wasn't about to settle for that so heading out of turn four got into the back of Schermerhorn which sent both drivers into the turn four wall. Lo and behold 3rd place suddenly became first and Humfeld with a severely bent car crossed under the checkered flag 1st!
Night three of 'Fest found Zack Riddle setting a new track record in qualifying and following it up with the 68 lap Big 8 Series Feature win. But the big news of the night was the Outlawz Division undefeated season coming to an end for Jerry Aylsworth. Brett Wenzel picked up tonight's feature win with Aylsworth who had not lost a race all year placing 7th.
The final day of racing for this the 43rd edition of the Oktoberfest event found Travis Sauter capturing the 100 lap ASA Midwest Tour feature race. There were no disqualifications to elevate Sauter to the position as was the case last year and Sauter's win was deemed official. Skylar Holzhausen made the race close at the end but came up a couple car lengths short at the finish. Dan Fredrickson, Griffin McGrath and ASA 2012 Champion Jon Eilen rounded out the top 5. Big 8 Series racing was featured on the day in the form of three 21 lap main events. Local NASCAR racer J. Herbst won one of the mains to cap off a solid weekend of racing. Bobby Wilberg and Kyle Shear took the other two 21 lappers. Zack Riddle parlayed consistent finishes in all three mains and was declared the overall JMcK Champion. The event is named in honor of the late promoter John McKarns. In a unique format race, the Late Model Challenge was held which featured drivers racing on both the 5/8 mile track and also the ¼ oval in the infield. Matt Berger was the most consistent finisher in the two segments and declared the overall winner.
Here and there…Todd Korish became the first NASCAR Late Model Champion at La Crosse to go Feature race winless throughout the year… Matt Tifft capped off a fine year of racing by winning the Futures Feature as part of 'Fest and also taking Rookie of the Year honors on the ASA Midwest Tour…Jeff Storm Toured the 5/8 mile oval in 18:527 seconds to top ASA Midwest Tour qualifying. In case you are wondering that's an average speed of 105.980 Miles per hour and a new track record…Skylar Holzhausen ended the season on a high note as in addition to his Oktoberfest success he also was the overall winner of the Marshfield Shootout at Marshfield Motor Speedway, Marshfield, WI., September 29th. Skylar captured one of the 50 lap features as part of the event while Father Steve took the other…It appears long time pavement and dirt competitor Mark Kraus may have run his last race at Oktoberfest. Leasing Super Late Model race cars to the Decker clan this past year and also nurturing a young son along in racing has Kraus looking at other ventures come 2013 and beyond…The four day crowd total for this years Oktoberfest was estimated in the 15,000 range. After a number of years of warm, actual balmy temperatures this year found 40s and 50s for day time highs and in the upper 20s at night…Speaking of crowds there was a very nice turn out of Champion drivers from past years of racing at the Champions Reunion Sunday as part of 'Fest. Bob Kosiski who won here at the track when it was a dirt half mile was on hand and had plenty of good racing history information to offer…Start planning now for Oktoberfest 2013 which will be held October 3-6…Photos. Todd Korish #32 2012 NASCAR Late Model Champion at La Crosse…Skylar Holzhausen Trickle 99 victor at Oktoberfest 2012…Pics from the past…Lyle Nabbefeldt drove this Coupe bodied race car in 1966. Photo courtesy of Bob Bergeron…#55 Homer Spink who raced throughout Wisconsin in the 1960s and into the '70s, racing this Ford Mustang in 1974…
Looking back in time on August 12, 1961 the Black River Falls Speedway opened and held there first ever event. #X Lyle Nabbefeldt in a 1955 Studebaker was the Feature winner and was followed by #64 Augie Winkleman, '56 Chevy, #30 Marlin Walbeck, '56 Chevy, #65 Vic Kopacz, '56 Chevy and #46 Bud Barfnecht in a 1947 Hudson. The Semi-Feature winner was #74 John Smith while heat race wins went to #45 Sonny Drake and #37 Don Bernander. Attendance was reported to be 2,800 with a $1,000 purse paid out. A total of 44 race cars participated.
News, notes and comments welcome to Dale P. Danielski at Starmaker Multimedia 967 10th Ave N Ste A, Onalaska, WI 54650, at 608-783-5827 or at dale@starmakermultimedia.com , www.starmakermultimedia.com


AUTO RACING FACTS, OBSERVANCES AND OPINIONS
BY Dale P. Danielski
October, 2012

It was off to the Iowa Speedway of Newton Iowa here September 14th for ASA Midwest Tour action. Anyone who has not seen a race at this facility should plan for it in the future as it is top notch through and through. In our first ever visit to the facility we were to say the least impressed!!
And expanding on impressive with the $5,000 question is, how many of you readers out there predicted Brent Kirchner would win the 150 lap race at the 7/8 mile paved oval? Kirchner although running only a few races with the Tour in 2012 was confident and Chris Wimmer is probably wishing he didn't think Kirchner could win as he was beaten by the La Crosse, WI., driver in a car Wimmer sold him and won this event with last year! After battling side by side for the last half dozen laps Kirchner edged Wimmer for the win taking the $5,000 top prize in the process. The two were going over set up notes for the race during the day and it just had to be painful for Wimmer knowing that the help he provided was probably a bit much and provided Kirchner the necessary edge to win. In addition, the extra points Wimmer may have gotten to win the race most certainly would have put him in a better position heading into the last two Tour races to perhaps catch Jon Eilen who had problems during the day for Championship laurels. As it stands now just 20 points separate the top four in the ASA Championship hunt.
But hold on a minute. With the event at Elko Speedway, 9/22/12 in the books it's down to the last event, Oktoberfest October 7th to determine the ASA Midwest Tour Champion. Jon Eilen rebounded nicely from his poor finish in Iowa to place 3rd and expand his lead a bit to 22 points over Nate Haseleu. Chris Wimmer fell out of the 100 lap race early and is now 29 points behind with Chris Weinkauf next 30 out of the top spot. The four still have a shot at the title and again it will all be decided at the Annual Oktoberfest racing weekend October 4-7. After an entire season of racing four drivers still legitimately in contention for a championship. That's what the fans want to see and they have definitely gotten there money's worth this year!
Speaking of Championships, Ben Pettis who had led the Super Late Model Standings at Marshfield Motor Speedway, Marshfield, WI., for much of the year needed a decent finish in the 40 lap Feature to win it here 9/15/12. He didn't get it, and as a result of his 2nd place finish in the main, Jim Sauter Jr., is the 2012 Champion at the track. What a way to lose a championship on the last regular night of racing but what a way to win a championship coming from behind in the final feature event! Mark Eswein won the 40 lap race with Sauter Jr., Steve Holzhausen, Ryan Hinner and Paige Decker following.
Here and there…To say the finish of the 100 lap Thunderstruck 93 ASA Feature race at Elko Speedway ended in controversial fashion would be the understatement of the year! Jacob Goede led most of the way but the aggressive, apparently needing to win worse Dan Fredrickson got into him in the last corner of the last lap which allowed just enough space along the sideways Goede for Fredrickson to eke out a two foot win as the checkered flag waved. The win was not a very popular one with fans as the booing heard from the speedway after the race has only been rivaled by fans this year showing their displeasure with NFL officials! It definitely created excitement and more than likely will put some more fans in the stands for the next event as everyone ponders what will happen next!...Final order of finish after 150 laps in the ASA event at Iowa Speedway found Brent Kirchner first followed by Chris Wimmer, Chris Weinkauf, Jeff Choquette, and Jeff Storm. After 100 laps of ASA racing at Elko Speedway it was Dan Fredrickson, Jacob Goede, Jon Eilen, Skylar Holzhausen, and Nate Haseleu…Bob Kosiske who won at La Crosse Interstate Speedway when it was a dirt track in 1959 will be in attendance at the Champions Reunion which is again part of the Oktoberfest Racing weekend at
La Crosse Fairgrounds Speedway, October 4-7. Steve Kosiski, his son and a great racer in his own right will be on hand as well…Interesting to note with all the advance on Excalibur Speedway of Tomah, WI., re-opening recently it now actually has! Mike Inglett is heading things up there and the track will race on Saturday nights while the weather holds out this fall. A special two day event with a $10,000 purse was slated for September 28-29. We'll get you an update when we hear more about it…
Photos. Brent Kirchner winning the ASA Midwest Tour event at Iowa Speedway… The always exciting Danny Fredrickson wins at Elko Speedway…Pics from the past…Don "Thunder" Turner has competed in all the Oktoberfest Racing Weekends. This photo from the Jim Mussoni collection from 1971…Ramo Stott Drove this car in USAC competition in 1972 at Wisconsin International Raceway, Kaukauna, WI.
As a prelude to Champions Reunion IV at La Crosse Fairgrounds Speedway Sunday October 7th from 11am – 2pm we look back to August 10th 1959 where it was Bob Kosiske winning the 100 lap Late Model Feature at La Crosse Interstate Speedway, West Salem, WI. The event held during the Interstate Fair was witnessed by 3,400 fans. Kosiske drove a 1959 Ford Thunderbird #35 to the win…On August 10th, 1960 it was Ramo Stott driving a 1960 Ford convertible to the 25 lap Feature win in front of 2,000 fans at La Crosse Interstate Speedway… August 5th, 1963 found Dick Hutcherson winning both the afternoon and evening Feature races at the 7th Annual La Crosse Interstate Fair races. Hutcherson drove a 1963 Ford #3 to the wins…On August 8th, 1966 it was Ernie Derr racing a 1966 Dodge #1 to the 100 lap victory at La Crosse Interstate Speedway. Derr collected $490 for his efforts during the race program…
News, notes and comments welcome to Dale P. Danielski at Starmaker Multimedia 967 10th Ave N Ste A, Onalaska, WI 54650, at 608-783-5827 or at dale@starmakermultimedia.com , www.starmakermultimedia.com


AUTO RACING FACTS, OBSERVANCES AND OPINIONS
BY Dale P. Danielski
September 6, 2012

So now it's down to one. There is just one more race program for Shawn Pfaff and Todd Korish to decide who is the 2012 NASCAR Late Model Champion at
La Crosse Fairgrounds Speedway, West Salem, WI. I list Pfaff's name first here as he is now after nearly the whole season of racing, the new point leader in the division having edged in front by two points over Korish after racing at the track Saturday, September 1. A better qualifying effort, and placing higher than Korish in the Dash/Heat race, along with the Feature have allowed Pfaff to erase a 10 point deficit and turn it into a lead heading into the Season finale October 4th as part of the Annual Oktoberfest Racing weekend.
After a full year of racing it comes down to the two dueling it out which is the way it should be. Brent Kirchner has a remote shot at the title in 3rd spot but realistically it will be the two battling for the Championship. Pfaff is going for his 3rd title while Korish is searching for his first. Of course accusations are flying that Kevin Nuttleman returning to the driver's seat in a team Pfaff car served as a "pick" in the feature, slowing at the start of the event which allowed a clear path for Pfaff to quickly maneuver into 3rd place. Pfaff would eventually place 2nd while Korish ended up 5th which has provided the difference in the points battle and consequently some very colorful discussion. That's all the more reason for fans to come out in October to catch the final. There may be sparks, there may be some bent metal and there more than likely will be fireworks before a Champion is crowned!
OK, so NASCAR gave it some thought for their top tier divisions awhile back. Formula 1 does it when they have to, but overall what group's race in the rain?
La Crosse Fairgrounds Speedway on August 25th got half or so of their show in before rain hit the speedway. With rain continuing to fall and little chance of getting the show in with dry conditions the question was posed to the Hornet drivers. "Would you race in the rain?" Most with big smiles on their faces answered "Yes!" And so they did. Kaleb Miller slipped and slid to the Feature win in the first 15 lapper while Davey Pennel blew away the field in the 2nd main for the little cars. Pennel even appeared faster racing in the wet than dry as he scorched the field coming from last position to win! I guess when you think about it these cars aren't that ill equipped to race when wet as they all have a street type treaded tire. It works on the street and now we know can work on the race track as well!
Here and there…Shawn Pfaff had a banner night at La Crosse Fairgrounds Speedway Sept. 1. Besides taking over the points lead he also won the special showdown match race competition for NASCAR Late Models. Two drivers, Todd Korish and Brent Kirchner scheduled for that competition didn't even make a lap as they suffered through some "issues" and pulled into the pit area…Almost lost in all the points chasing hoopla was past Champion J. Herbst winning his 4th Feature race of 2012. That leads all drivers at La Crosse Fairgrounds…Brandon Berg who is driving a backup car for Jerimy Wagner captured a heat race win this past Saturday night at the track. Berg is scheduled to shoot for NASCAR Late Model Rookie of the Year honors in 2013…Speaking of Rookies, Johnny Olson has already wrapped up that honor for 2012...You certainly don't want to miss the ASA Midwest Tour event coming up Sept 13-14 at the Iowa Speedway of Newton, Iowa. This event is a must see every year as both drivers and fans get to experience the thrill of racing on a Super speedway here in the Midwest. 140 mph average speeds with the cars doing 170 or so on the straights would give anyone a thrill!
Photos. Pics from the past…Don Leach came up from Illinois frequently to race in Wisconsin. He raced this Chevelle in 1972. Dick Grave #45 was another Minnesota driver that raced often in Wisconsin. He raced this Chevy Nova in 1973. #21 Shawn Pfaff at the wheel and seeing very clearly the front of the pack…
Looking back on Tuesday, August 24th 1971 at La Crosse Interstate Speedway a special 100 lap Feature event was held, The Old Style Cup, with Tom Reffner taking the win. Jim Sauter, Dick Trickle, Jim Back, Rich Somers, Pete Mahlum, Jim Olson, Lyle Nabbefeldt and Larry Detjens followed in that order. The Semi-Feature went to Tom Jenson followed by Don Grant and Buddy Schroeder. Consolation race honors went to Dave Veglahn followed by Lad Huber and Bob Gavin. The Fast Dash went to Jim Back. Back to Friday racing on August 27th it was Marv Marzofka back in victory lane in the Feature followed by Jim Sauter and Larry Behrens. Semi-Feature honors went to Buck Linhart with the Consolation victor Ron Backburg. Heat race winners were Ron Sanders, Linhart and Don Grant. The fast Dash was won by Marzofka. It was the Pepsi Cup Season Championship held on September 3rd capped off with a 50 lap Feature. Marv Marzofka was the victor followed by Jim Sauter and Jim Back. Buck Linhart was the Semi-Feature winner with the Consolation going to Ron Backburg. Heat race winners were Denny Sobkowiak, John Scott and Sauter. The 5 Lap Dash went to Don James. Jim Sauter was crowned 1971 season champion in the late model division nosing out Marv Marzofka by just 7 points, 1523-1516. Oktoberfest Racing weekend was the final event at the track for 1971 with a two day show scheduled. Day one on Saturday night Oct.2nd found preliminary qualifying events held leading up to the big 200 lap Oktoberfest finale. Mike Murgic, Tom Reffner and Greg Delapp took those events with Dick Trickle setting the fastest time at 20:78. Trickle then took his 1969 Ford Torino to the 200 lap Feature victory grabbing the lead on lap 175 and holding on the rest of the way. Following Trickle were Marv Marzofka, Don Leach, Tom Reffner, Allan Ward, John Brevik, Dick Grave, Dick Schultz, Larry Behrens and Dan Prziborowski. Consolation race winner was Kenny Mann. And of course you don't want to miss Oktoberfest 2012 style as the big season ending event is set for October 4-7th, 2012 at La Crosse Fairgrounds Speedway, West Salem, WI. Tons of race cars in numerous divisions, thousands of fans at campfires everywhere, plus all the stories and fun that goes with it is in a nutshell, Oktoberfest Racing weekend. This year marks the 43rd running of the storied and nationally known racing extravaganza… The Champions Reunion will again be a part of the Oktoberfest festivities held Sunday October 7th from 11am-2pm in the Hospitality Chalet at the East end of the main grandstand. This event provides a great opportunity for fans and drivers to get together and reminisce about the good old days of racing. A must see for sure! And this year as an added bonus to the event is the appearance by the Bob Kosiski replica Ford Thunderbird race car. Bob Raced and won at the Fairgrounds back in the 1950s and '60s when it was a ½ mile dirt track. It is hoped Bob himself can attend but it is certain his son Steve a very successful racer in his own right will…
News, notes and comments welcome to Dale P. Danielski at Starmaker Multimedia 967 10th Ave N Ste A, Onalaska, WI 54650, at 608-783-5827 or at dale@starmakermultimedia.com , www.starmakermultimedia.com


AUTO RACING FACTS, OBSERVANCES AND OPINIONS
BY Dale P. Danielski
August 23, 2012

"The water temperature was pegged and we had no brakes." Sounds like words coming from a disgruntled driver at a races end that did not finish. In actuality it was Travis Sauter describing his car from victory lane after winning yet another high profile event, this time the ASA Midwest Tour Governor's Cup 125 at the Elko Speedway of Elko, MN, August 18th.
Sauter has had a summer that most drivers only think about, winning some of the highest profile races held in the Midwest this year. He did it here again at Elko by passing Nathan Haseleu with 15 laps to go and stretching his lead at the finish. This win falls on the heels of his Tour win at Madison International Speedway, Oregon, WI., August 5th. The way Sauter is winning these races is so reminiscent of how the great short tracker Bob Senneker did it back in the 1970s through the 1990s. Senneker would bide his time and let the other competitors wear out their equipment before striking late and taking another victory. On nearly every occasion, Sauter has patiently weeded his way through the field, waited for the right moment, and pounced on his competition to take another late race win. According to Sauter this was also his first big win outside the State of Wisconsin. "I'd like to thank my sponsors for helping me this year and one of them, Don Fowler of Don's Truck & Auto is here so hopefully that means we can drink some beers tonight." A little celebrating Wisconsin style in Minnesota from the Sauter racing group as they win another big asphalt short track event!
Here and there… Minnesota racer, Nick Barstad made his ASA Midwest Tour debut at Elko and raced to a very respectable 11th place Feature finish. The team is testing the water on the Tour this year and hopes to race for Rookie of the Year in 2013…Another Minnesota driver in the spotlight all night was Nick Panitzke who raced up front the entire way before finishing 7th. The team had taken some time off the Tour and it appears it paid off as they came back strong here at Elko tonight…It is definitely a "Long shot" in this case. We're talking about Eric Long who has participated at all the ASA Midwest Tour events in 2012. Graduating from a Slinger Super Speedway, (Slinger, WI.) 4 cylinder race car to a full blown Super Late Model on the tough ASA Tour has been difficult for the Wisconsin driver to say the least. "We've made progress and I see improvement but I know I have a long way to go." Amazingly, Long who is on the track trying to log laps and get seat time is in the top 15 in ASA Tour points with three races to go…Well the younger set continues to impress at La Crosse Fairgrounds Speedway as Cole Howland raced to his second NASCAR Late Model win of the season here August 11th. Howland held off 2011 Division Champion J. Herbst, Todd Korish. Shawn Pfaff and Steve Carlson for his 2nd career victory…Good to See Late Model competitor Steve Owen in victory lane tonight after winning the 2nd heat. Owen has not necessarily by his own doing been in the wrong place at the wrong time racing at the speedway this year on too many occasions, but finally the teams efforts paid off with a trip to the winners circle…Female racer and daughter of Shawn Pfaff Jacinda Pfaff made it to victory lane as well tonight winning a Thunderstox Division heat race…Jerry Aylesworth kept his undefeated streak alive in the Outlawz Division winning another Feature event tonight. No one has gone undefeated an entire season so can Aylesworth do it even when competition gets stiffer at the season ending Oktoberfest racing weekend event? Thor Anderson has been an infrequent visitor to the ASA Midwest Tour this year due to the fact the team has a chance to win the Late Model Championship at Hawkeye Downs Speedway of Cedar Rapids, Iowa. "We weren't planning on racing the whole season at Hawkeye Downs but after winning a couple races there we were near the top in the point standings so we decided to try and win it." Anderson is in great position to do just that as he is leading the points with just a couple events remaining…
Photos. Travis Sauter #5 picked up another big win this time in the ASA Midwest Tour event at Madison International Speedway August 5th. Pics from the past…Minnesota driver Don James raced in Wisconsin a lot through the years. This car was raced during the 1974 season. John Brevik raced and won frequently during the '60s and '70s. He raced this car on the Wisconsin circuit in 1972. (Photo from the Jim Muzzoni collection.)
Looking back on Friday, August 6th 1971 at La Crosse Interstate Speedway it was Minnesota driver Don James #76 taking the 20 lap Feature win. James was followed by #55s Lyle Nabbefeldt and #61 Jim Back. The 15 lap Semi-Feature went to #58 Buck Linhart followed by #2 Dale Pennel and #83 Dale Walworth. Heat race wins went to #6 Ed Nichols, #40 John Scott and #15 Rich Somers. James also won the 5 lap dash. August 13th racing was rained out and rescheduled for Sunday August 15th. The 20 lap Feature winner on that day was #99 Dick Trickle followed by #5 Dick Giles and #85 Dan Prziborowski. The 15 lap Semi-Feature went to #40 John Scott followed by #7-11 John Brevik and #28 Denny Sobkowiak. Heat race victors were #66 Curt Iverson, Brevik and Giles. The 5 lap Trophy Dash went to Prziborowski. August 20th action found Larry Detjens #43 in a 1967 Plymouth Satellite taking the Feature win followed by Roy Schmidtke #76 and Marv Marzofka #91. The Semi-Feature went to Dale Walworth #83 followed by #7 Don Turner and #1 Ron Backberg. Heat race winners were #58 Buck Linhart, #83 Dale Walworth and Schmidtke. The 5 lap Dash went to #76 Don James…
News, notes and comments welcome to Dale P. Danielski at Starmaker Multimedia 967 10th Ave N Ste A, Onalaska, WI 54650, at 608-783-5827 or at dale@starmakermultimedia.com , www.starmakermultimedia.com


AUTO RACING FACTS, OBSERVANCES AND OPINIONS
BY Dale P. Danielski
August 9, 2012

There is definitely a difference when drivers are racing for points and championships rather than just wins. We know this after discussing the topic with two drivers who are leading points, Todd Korish in the NASCAR Late Model Division at La Crosse Fairgrounds Speedway and Jon Eilen who leads the ASA Midwest Tour standings.
Korish has led the standings at La Crosse Fairgrounds in 2012 practically from the beginning of the year. And with that comes an adjustment in driving style. According to Korish, "I'd like to race for Feature wins but when you are going for a championship its top 5s, top 5s and top 5 finishes you need. I could have won races this year but I always have to think about the big picture. A couple times I could have put the bumper to drivers to get a win but I can't because then I might not finish at all." And, according to Korish it's his competitors that control his destiny. "They've got me right where they want me. They know I can't race aggressively and risk getting in a wreck. Even tougher for Korish is the fact his teammate Adam Degenhardt has a Feature win this year. "Sure I'd like to win, but I've won Features before, I know what that's like. I committed myself to winning the track championship at the end of the season last year after losing out, so that's how I have to race, top 5s, top 5s." Of course adding to the championship drama but something Korish feels he has a handle on, is having to finish out the points season nearly a month after the last September show with racing at Oktoberfest. "It's tough having to wait. And I know those guys (Points contenders) are going to get all nutted up and change their cars all around (Like I did last year) for that last race. I'll leave mine the same and know what I've goy going into that race." And believe it or not the consistency for Korish could actually result in a rather odd statistical record. "If I go the whole year without winning a Feature and win the championship I'd be the first ever here to do that." Not the most enviable record but one nonetheless for Mr. Consistency.
Jon Eilen has led the ASA Tour standings for most of the season and feels the same type pressure. "Earlier in the year I'd race more aggressively for the win. But now that I'm leading the points and have a chance at the Championship I have to race different. At Grundy (Morris, IL.,) I could have won that race if I would have pushed a little harder. I could have passed Eddie Hoffman (Who ultimately won the race) but we might also have wrecked and not finished. You have to finish all the races to win these championships." Fortunately for Eilen while still in his more aggressive role earlier in the year he did pick off a Tour win.
From a fans perspective, points racing is pretty boring. Most want to see their driver go for the win and so be it if he or she spins or wrecks trying. But they also for the most part understand the importance of finishing to potentially win a championship as the prestige and pay-off at the end of the year makes it well worth it. Case in point in NASCAR Cup competition where Matt Kenseth won a championship with one win and a lot of ho-hum finishes which resulted in Cup officials overhauling the entire points system to try and create more competition. They are still working on coming up with that formula by the way.
So with both these points chases close for the respective drivers we will keep close tabs and see how it all shakes out when both championships are decided at the Annual Oktoberfest racing weekend at La Crosse Fairgrounds October 4-7.
Here and there…J. Herbst took his 3rd NASCAR Late Model Feature win here at La Crosse Fairgrounds July 28th. He was followed by Mike Carlson and Brad Powell. Even with numerous wins Herbst has a very slim to none chance to win his 3rd title in four years at the track this year…Interesting to note that Dad Steve Carlson won the 2nd Late Model heat over his son, a chip off the old block, Mike…Troy Tuma was a happy guy after the 1st late Model heat at Lax as he won it! For Tuma it was his first ever LM type car win…Rick Schermerhorn after literally tearing the rear end out of his car the week before during time trials came back strong to win the Sportsman Feature July 28 at Lax. According to Schermerhorn, "It took a lot of cold pizza and beer but we got it back together and here we are in victory lane!" .. We see where La Crosse regular (When he hasn't won a championship and has to take a year off) Danny Gilster picked up a Feature win at the Golden Sands Speedway, Plover, WI., July 27th. The win came in the Super stock division and was over Brian Weinfurter…August 4th racing at La Crosse found Steve Carlson back in victory lane after 25 laps of NASCAR Late Model racing. He was followed by Shawn Pfaff, Brad Powell, J. Herbst and you guessed it, Todd Korish in 5th…Steve Bachman set fast time in the Sportsman division for the first time ever. He proved it was no fluke by coming back to win the 15 lap Feature race…Jordan Myers blew away his competition in the Thunderstox main and in the fabulous trailer race of destruction it was Dakota Miller by popular fan vote the winner…Sorry to hear of the passing of Sportsman Division racer Rich Blackdeer this past week. Saw Rich win many a races in his orange Ford Products through the years…
Photos. Points chaser #32 Todd Korish. Fellow points Championship chaser Jon Eilen in the #77. Steve Carlson #66 picked up his 2nd win of 2012. Pics from the past…Marv Marzofka races his battle scarred Ford Torino to another win in 1971. Dick Trickle won 56 Feature events in 1971 in his Ford Torino.
Looking back on Friday night, July 21st 1971 it was the beginning of the Annual Interstate Fair and a 50 lap Feature was held to commemorate the occasion. Taking the win on the night was Marv Marzofka with Rich Somers and Jim Sauter following. The 15 lap Semi-Feature was won by Greg Delapp with Don Grant and Fred Beckler following. Heat race wins went to Beckler, Warren Droesser, and Larry Behrens with Behrens also winning the Trophy Dash. Friday night July 23rd found the running of the Interstate Fair 100 featuring a 100 lap Feature for Late Model Drivers. Larry Behrens took that huge win and was followed by Ron Beyer and Don Turner. The Semi-Feature went to Curt Iverson. Heat race victors were Fred Beckler, Ralph Bakewell and Behrens. Marv Marzofka won the 5 lap Trophy Dash. On Friday July 30th, Jim Sauter got back into victory lane taking the 20 lap Feature event. Sauter was followed to the stripe by Marv Marzofka and Jim Back. Fred Beckler won the Semi-Feature with heat race wins going to Buck Linhart, Behrens and Sauter. Sauter also captured the 5 lap Trophy Dash making it a three win night.
News, notes and comments welcome to Dale P. Danielski at Starmaker Multimedia 967 10th Ave N Ste A, Onalaska, WI 54650, at 608-783-5827 or at dale@starmakermultimedia.com , www.starmakermultimedia.com


AUTO RACING FACTS, OBSERVANCES and OPINIONS
By Dale P. Danielski
July 26, 2012

With the popularity of our last effort pertaining to the derivation of race car numbers (No death threats, no one throwing things at me) we're going to go down a similar path with this effort and talk about names of race cars, cartoon characters in racing and driver nicknames. I've delved a bit in the past on this subject but with a staying closer to home attitude for attending races this summer I was sitting in my lawn chair and all these names started popping into my head. It's quite interesting actually so here we go!
I can remember in my earliest days of race attending mostly in Central Wisconsin, drivers having cartoon or comic strip characters on their cars. Back when there was little or no fear of lawsuits and more room was available on race car panels due to sponsorship being more of a luxury than necessity, numerous drivers would paint the character in plain view on their race car. Ron Beyer who had a fairly successful career racing in Wisconsin had Snaggle Puss on the side of his Chevy. Madison WI., area racer Duane Walch had Snoopy on the side of his car. What would grace the side of the car didn't necessarily have to be from a comic either as Marv Marzofka and Ev Fox each had a moose head painted in plain view on the side of their yellow race cars. Moose Peterson a car dealership business owner sponsored the race team so it made sense to display a Moose on the cars as they raced throughout Wisconsin. La Crosse, WI., area race driver Ken Christenson Sr., when teamed up with Gerald Goldbeck built a car they nicknamed Lil Stinker. The fact it was painted to look similar to a skunk probably had something to do with that. Of course those that remember Christenson barnstorming throughout the State recall his nickname of "Babe".
Attaching a name to a race car was also fairly common back in the day. Tom Reffner called his 1969 Mercury Comet the Mercury Mind Stomper. A Jim Back Ford was the "Avenger". One of Rich Somers' earlier model race cars had the name "Lil Thumper" painted on the hood. Of course later on Somers when purchasing a new Ford Mustang race car became known as the "Thunder Pony". Dick Trickle was a fan of the TV program Gunsmoke so he named two of his race cars "Miss Kitty" and "Festus". Reffner later on labeled one of his cars The Tachyon. Another model became Tachyon II. Look that one up once and see just what it is! Of course those who were following the racing scene in the '70s and 80s remember the Super America convenience store chain sponsored Knights. Dick Trickle was originally the Purple Knight but later became the White Knight and was teamed up with Reffner the Blue Knight and John Boegeman the Black Knight. What marketing genius that turned out to be for that time period as no one was seeing that kind of sponsor backing and certainly not from a retail type business rather then one with a product directly related to racing.
Driver nicknames were extremely popular in racing and most of the time were a result of race track announcers attempting to create excitement and identity for the fans. It worked as the drivers became recognizable whenever and wherever they raced. In their earliest days of racing Jim Back and Tom Reffner teamed up and went by the names Jimbo and Tombo. That time period also produced the "Ridgerunner" Marv Marzofka. Due to his being partial to the color yellow Marzofka later became the "Screaming Yellow Zonker" which was also a popular candy at that time.
Some others included Marlin "Shoes" Walbeck, Lyle "The Throttle Popper" Nabbefeldt, Ronnie "The Weasel" Beyer, Tony "The Tiger" Strupp, Don "Peaches" Leach, Ed "Gunner" Walkush, Mark "Cub" Rezin, Lavern "Bucky" Linhart, Bill "Mr. Clean" Gerrits, Harold "Fluff" Furo and Denny "The Patriotic Polak" Sobkowiak. Out of state drivers would often head to Wisconsin to do battle and they too had home state nicknames. Michigan's Ed "The Green Hornet" Howe was one who ventured over on numerous occasions. Bob Jusola, "The Flying Finn" of Minnesota was another. Tom Jones who had a great amount of success racing in Illinois held his own in Wisconsin becoming known as the "0 Hero" since his car numbers were always 0. Of course with the Knights of Superamerica prolific winners during that era there were those who tried to beat them when they could. Southern Wisconsin racer John Ziegler was able on occasion to do just that and he did it as "The Knight Stalker" Jim Back spent all day and most of the night trying to come up with ways to beat the Knights team and consequently he became known as "The All Night". There may have been other reasons that name was attached to the popular driver and if you were there you know what we are talking about!
Although we mostly followed the pavement group racer we noticed nicknames weren't uncommon in the dirt World either as we'd catch some of those shows in various parts of the State. We remember "The Racing Farmer" Roger Paul a huge favorite racing in North Eastern Wisconsin. There was the always controversial Roger "The Bear" Regeth. That name definitely fit Regeth in both stature and in his racing style! There was J.J "Tweety Bird" Smith another big winner in that part of the State. Jerry "Medina" Smith won a ton of dirt races and the name Medina was actually his hometown which differentiated him from J.J. Smith who was also named Jerry. Dave "The Outlaw" Conger raced and one on the dirt against the aforementioned group of drivers. Lyle "Pappy" Diemel was another. One name that really stood out back in the '70s was a driver who raced mostly on the Central Wisconsin dirt tracks such as the Colby and Rangeline Speedways. Hilarian "Hurricane" Michlig was just that, racing and winning for a number of years.
Of course some nicknames were earned rather than just attached to a driver. We remember sipping a brew with Rusty Wallace in the big beer tent at the Minnesota State Fair back when Rusty was competing in the USAC stock car division and talking about one such instance. Wallace and Joe Ruttman had quite the rivalry going then and Rusty saw fit to nickname Ruttman "Chopper Joe Ruttman" as a result of a certain driving style Wallace thought Ruttman inflicted on him while racing on the Milwaukee Mile. And then there was the "Swamp Fox" nickname. Does anyone remember who that was? You shouldn't as the name was given to this scribe by his older brother when I was racing at State Park Speedway of Wausau, WI., and decided to drive off the end of the back straight away and into the pond there. I guess I looked like a swamp fox, a slightly drenched and very embarrassed one at that!.
Even though we don't see it like we used to announcers still do come up with attention getting names for race drivers. Dan Deicher does this at La Crosse Fairgrounds Speedway as each and every week we get to see "Armageddon" Adam Degenhardt, "Mr. Consistency" Todd Korish, "The Bloomington Bandit" Mark Lamoreaux, "The Mid-Pack Legend" Bill Niles, and "The Honey Badger" Brent Kirchner go at it tooth and nail in racing competition. It still creates interest and excitement today and there's certainly nothing wrong with that!
Here and there…Speaking of the Honey Badger, Brent Kirchner took the feature win here July 14th in the 25 lap NASCAR Late Model at La Crosse Fairgrounds Speedway…And it was Armageddon Adam Degenhardt picking up his first NASCAR Late Model win of the season as he took the 2nd 20 lap Feature July 21st at Lax. Cole Howland passed 2011 Late Model Champion J. Herbst to capture the victory in the first 20 lapper. It sure is good to see some different names in victory lane than what is usually the case as that is what keeps these guys going week after week…And speaking of winning Craig Kohlmeier picked up his first ever Late Model win by taking the 1st Late Model heat at Lax July 14th. Kohlmeier is subbing for car owner Curt Eckleberg who had his finger nearly totally severed while working in the fan area of his race car earlier this year. Eckleberg was able to have the finger re-attached but is out for the year. Sadly, the high the team was on after winning only lasted a week as Kohlmeier was involved in a wreck at the track July 21st which badly damaged their race car…Rick Schermerhorn turned the quickest lap in the Sportsman Division July 21st at Lax. That was the good news. On his cool down lap the differential of the car came completely out, forcing Schermerhorn into the wall and out for the night. According to Schermerhorn, "This is too good of a car for something like this to happen. We'll get it fixed and be back out. Hopefully when we do it will be as fast as it has been."…
Photos. Cole Howland #1 was very impressive in picking up a 20 lap Feature win July 21st. Craig Kohlmeier won his first ever Late Model race July 14th. Pics from the past…Both Larry #57 and Jim Anderson #56 raced back in the day. Photo from Griffith Park Speedway just outside Wisconsin Rapids, WI., #3 Ron Beyer and Snaggle Pus, #91 Marv Marzofka Moose Peterson car.
Looking back on Friday night, July 9th, 1971, it was the Necedah, WI., flyer himself Jim Sauter winning another Feature race at La Crosse Interstate Speedway. In order behind Sauter after 20 laps were Rich Somers and Larry Behrens. The Semi-Feature win went to Bud Schroeder #78 in a 1963 Ford followed by Pete Mahlum #1 and John Scott #40. Heat race winners were Warren Droesser #77 Scott, and Sauter #5. Sauter also captured the Trophy Dash making it a three win night. The July 13th racing at the Speedway was part of Fair week with the Farm Progress Days 50 being held. Tom Reffner #88, captured the 50 lap Feature event and was followed by Marv Marzofka #91 and Jim Sauter #5. Semi-Feature honors went to #78 Bud Schroeder with #13 Don Grant and #41 Greg Delapp following. Heat race victors were Delapp, #8 Larry Ravenscroff, and #99 Dick Trickle in his 1969 Ford Torino. The Fast Dash went to #61 Jim Back and Fast time honors with a new track record went to Trickle at 20:74 seconds. July 16th racing action found Marv Marzofka taking the 20 lap Feature followed by Larry Behrens and #57 Larry Anderson. The Semi-Feature went to Don Grant followed by #36 Fred Beckler and Greg Delapp. Heat race victors included Beckler, #8 Lyle Nabbefeldt and Anderson. The Trophy Dash was one by #15 Rich Somers.
News, notes and comments welcome to Dale P. Danielski at Starmaker Multimedia 967 10th Ave N Ste A, Onalaska, WI 54650, at 608-783-5827 or at dale@starmakermultimedia.com , www.starmakermultimedia.com


AUTO RACING FACTS, OBSERVANCES AND OPINIONS
BY
Dale P. Danielski
July 12, 2012

So what's in a number? When it's placed on the side of a race car usually a pretty interesting story!
In a somewhat random selection process we decided to find out from numerous drivers how they arrived upon the numbers chosen for their race cars. Keep in mind we are dealing with racers and tight racing budget economics here and it's all in fun with nothing to be taken too personal!
Starting out with NASCAR Late Model drivers at La Crosse Fairgrounds Speedway we find a number of different reasons for the numbers. With Brent Kirchner it was his dad racing. "My Dad raced with that number and since I always liked the #8 I stuck with it." According to Rookie late Model competitor John Olson it evolved from another team. "I pitted for Kevin Eddy when he was racing and he was the #41. He went on to race in a different division so when I started I decided to keep the number." Shawn Pfaff basically inherited the #21 that he currently races with. "The #21 came from the Ron Schendel #21 Citgo sponsored car. I've stayed with that number ever since." Steve Carlson's choice was due to a similar instance. "I had Phillips 66 Trop Arctic sponsor me so the #66 was the number for the race car. I've stuck with that ever since." In Todd Korish's case it was following the efforts of Dale Jarrett racing #32 in the then NASCAR Busch Series. "I liked that team so when I decided to start racing that was the number I took." For Brad Powell who raced with #23 for years and still does with one of his race cars, it's definitely about economics. "The numbers to go on the car after Mike Belling quit racing (#43) were free so I needed to change." For J. Herbst it was a matter of not being able to get the #28 which he used racing Thunderstox. "When I moved up to Late Model I couldn't get the #28 because Paul Proksch had it so I just switched them around. Plus my friends who had shirts with that number were too cheap to get new ones made up so I just kept it!" The Speedway back in 1985 had a house car all decked out like a squad car painted black and white and equipped with a big red cherry ball strobe on top. According to Bill Niles, "I had a chance to drive that car and ever since than and all the while I've been racing I've stayed with the #54 and the police car theme." For Sportsman driver Matt Inglett in a familiar pattern he went with a flip flop of his Dad's car number. "My Dad raced the #72 so I just switched mine around to be #27. Plus, my birthday is on the 27th so it worked out" Sportsman racer Greg Scheck gets a lot of help from Mike Niles who raced with the #2 on his cars. Consequently Scheck has gone to that number and adds, "It's cheaper (Being one digit instead of two) than the #22 I used to race with." Jake Arneson another driver in that division says, "#3 is a lucky number, #7 is a lucky number so that's what I have for the number on my race car!" For Thunderstox racer Tom Luethe it was a bit different scenario. "The #50 was the number on my jersey my sophomore year playing football in high school so I just stuck with that for my race car." Jason Bolster goes back to high school as well for his Thunderstox division race car number. 'I graduated in 1988 so when I raced at the Tomah track I used that on my race car. I couldn't get that number racing here at La Crosse, someone else had it, so I just shortened it to #8." ASA Midwest Touring Star driver Jon Eilen didn't like the number he originally raced with so a change was made to his current #77. "When my brother and I were racing we had the numbers #2 and 69. Neither one of us liked those numbers but we liked the #77 which was on one of our fleet of trucks so we went with that." With the multi-generational racing Holzhausen family it's a number passed down with a twist or two here and there. According to Steve Holzhausen the #78 was used by his Dad Bud so he just kept it when he started racing. Brothers Greg and Brian also both raced but since #78 was taken by Steve, they went with #87 and #787 respectively. Steve's son Skylar is now using the #78 in ASA Midwest Tour competition. Of course Steve still races and might put up a fuss over who gets the number but when he competes it's usually with the #97 which is what car owner Pete Kempf's prefers. Of course purple is a huge part of Holzhausen racing lore but colors of race cars will have to be future fodder for a column here in MRC. Here and there…The Big 8 Series paid a visit to La Crosse Fairgrounds Speedway here Tuesday, July 3 and it was Casey Johnson taking the 48 lap feature. It was the 5th different winner in the Series in 5 races this year showing just how competitive that group of drivers is…A number of La Crosse NASCAR Late Model regulars competed in the race with Steve Carlson's 3rd place finish the best of the bunch. Todd Korish placed 6th, Matt Henderson 14th, J. Herbst 18th, and Shawn Pfaff 21st respectively…And back to NASCAR Late Model racing at Lax July 7th it was Brad Powell who "spanked the field"cruising to the 25 lap Feature win. It was a good night for Henderson Racing as Powell was driving Matt Henderson's back up car while Matt also drove to a second place finish behind Powell in the Feature…Good to See Mark Challet get a heat race win in the Sportsman Division Saturday night and also follow it up with a Feature victory in the Thunderstox Division. The Challets' are the epitome of the low buck racer and it's nice to see teams like this rewarded with a win now and then…
Photos. J. Herbst races to the NASCAR Late Model Feature win at La Crosse Fairgrounds June 30th. Casey Johnson wins the Big 8 Series race at La Crosse. Mark Challet #13 took a heat race win July 7th at La Crosse Fairgrounds.
Pics from the past…Roy Schmidtke #76 racing in 1971.
Looking back on Friday night, June 18th, 1971, it was Minnesota traveler, Larry Behrens in his #99 taking the 20 lap Feature win at La Crosse Interstate Speedway. Jim Sauter was 2nd with Marv Marzofka 3rd. The Semi-Feature win went to #40 John Scott with heat race victors Scott, Lyle Nabbefeldt and Marzofka. Roy Schmidtke #76 won the Dash. June 25th at the speedway found Jim Sauter back in the Feature event victory lane followed by Marzofka and Behrens. The Semi-Feature went to Pete Mahlum with Don Grant #13 and Warren Droesser #77 trailing. Heat race wins went to #55 Homer Spink, Mahlum and Sauter with the Dash win going to Behrens. Rich Somers found his way to the 20 lap Feature win July 2nd at the track followed by Marzofka and #76 Don James another Minnesota traveler. The Semi-Feature went to Warren Droesser with heat wins going to #66 Curt Iverson in a 1960 Ford Galaxie, Mahlum and Marzofka. Marzofka also captured the Fast Dash win.
News, notes and comments welcome to Dale P. Danielski at Starmaker Multimedia 967 10th Ave N Ste A, Onalaska, WI 54650, at 608-783-5827 or at dale@starmakermultimedia.com , www.starmakermultimedia.com




AUTO RACING FACTS, OBSERVANCES AND OPINIONS
By
Dale P. Danielski
June 28, 2012
You could say "Well it's about time" (No, not that Jr. Earnhardt won a Cup race.) as we finally took in our first dirt track racing action at Mississippi Thunder Speedway here Friday June 15th. Although partial to pavement since that's my upbringing in racing we can definitely appreciate some good three wide, side by side mud-slinging from time to time. That's exactly what's going on at the Bob Timm promoted MTS and they were at their sideways best on this occasion.
But before you see any action at the track upon arriving at the facility you will see the continued improvements being made. The track used to be practically concealed with trees bordering everything but the front stretch, which is no longer the case. All the trees including those on the backstretch have been removed with the pit area now extending to that point. With a number of huge car count special events being held at the track the change will indeed make it easier for teams to find a spot to park their rigs. And, a facility is only as good as it's racetrack and the reasonably new clay surface is now settling with a tacky, fast track with little dust now the norm rather than the exception.
I've been known to be pretty critical of programs that drag on and MTS has had that problem the last year or so. Not so anymore as cars were lined up and ready to go for each race and yellow flag clean up was fast and efficient. A show over with by 10:00pm is perfect and MTS accomplished that on this night. They've actually been that efficient for quite some time now and that will undoubtedly put more butts in the seats.
Another area I tend to have disdain for are divisions of racing that all look the same. At Mississippi Thunder the 600 Modifieds are anything but look a likes to the racing in this area. They are actually mini-versions of East Coast Dirt Modifieds which I have, and still think are one of the coolest appearing divisions anywhere. The 600 group are no slouches on the racetrack either as they really get up and go around the 3/8 mile clay oval.
In other racing action it was Touring star Kelly Shryock paying a visit to the track and promptly walking away with the bulk of the loot in the modified division. What looked like a relatively easy win for Shryock proved to be anything but at the end as Lucas Schott utilizing some lapped traffic got within a car length at the finish only to come up a bit short. Bob Timm, Brad Waits and John Doelle rounded out the top five finishers.
Here and there…We had mentioned in our last effort Brent Kirchner attempting to qualify for the ASA Midwest Tour event at the Milwaukee Mile. Out of the over 70 cars to take time Kirchner, considering he's never competed in this Series before, qualified a pretty amazing 2nd. Such notables and major event winners Scott Wimmer, Kelly Bires, Tim Schendel and Ross Kenseth didn't even make the race let alone qualify that well! The effort was no fluke either as he backed it up with a solid 5th place finish in the 150 lap main event. Kirchner plans to race at least twice more in the Series, at Iowa Speedway and during Oktoberfest at La Crosse Fairgrounds Speedway. Of course if you hadn't heard it was Travis Sauter winning the race which is another huge feather in his cap as he is developing a knack for winning bigger, high profile events in the last couple years…Todd Korish is really frustrated with the way his race car is handling, he's leading the NASCAR Late Model points at La Crosse Fairgrounds Speedway. Defending Champion J. Herbst has one of the, if not the fastest NASCAR late model at the track this year and he finds himself 5th in the points and facing major repairs on his wrecked car. It was all a result of yellow flag fever at the track this past Saturday night June 23rd as all divisions of racing suffered through caution flag waving wrecks and carnage. It seems if the accidents start happening early in a program it just sets the tone for the rest of the racing night. That was the case here as the Hornet division started the evening off with numerous over exuberant drivers deciding to drive through rather than around each other. One driver that managed to miss all the projectiles was Harley Jankowski who benefited from the wrecks to take his first career NASCAR Late Model Feature. Korish took his ill handling mount to a second place finish and moved into the point lead. Herbst who was in the midst of taking the lead from John Olson in the Feature with just 5 laps to go unfortunately got caught up in an Olson who was looking for his first career NASCAR Feature win, Bob Manske, (Lapped car) and himself mess which sent Herbst and Olson into the wall and Manske spinning. Brent Kirchner who led the points going into the night was involved in two incidents which led to his finishing a lap behind the leaders in the main. He's now 3rd in the point rankings. One thing is for sure folks will be coming out in big numbers next week to see what will happen next!
Photos. Todd Korish #32 is leading the NASCAR Late Model point standings at
La Crosse Fairgrounds Speedway.
Pics from the past…From the Jim Mussoni photo collection, #1 Pete Mahlum in his Chevelle. #41 Bruce Sparrman racing in 1974.
Looking back on Friday night, June 11th, 1971, it was Marv Marzofka taking another Feature win at La Crosse Interstate Speedway. Dale Walworth took the Semi-Feature with heat race wins going to Lyle Nabbefeldt in his 1957 Chevy and Larry Behrens in a 1969 Chevelle. The Trophy Dash winner was Bruce Sparrman in a 1971 Chevy Monte Carlo. And in a special Sunday afternoon show at the track June 13th it was Dick Trickle taking the 20 lap Feature win followed by Tom Reffner, Dick Schultz, Jim Back and Bruce Sparrman driving the 7Up numbered machine. The 12 lap
Semi-Feature went to Pete Mahlum with Lyle Nabbefeldt and John Scott trailing. Heat race wins went to Mahlum and Trickle with Reffner taking the Trophy Dash. Fast qualifier for the day was Back at 21:40 seconds around the 5/8 mile paved oval.
News, notes and comments welcome to Dale P. Danielski at Starmaker Multimedia 967 10th Ave N Ste A, Onalaska, WI 54650, at 608-783-5827 or at dale@starmakermultimedia.com , www.starmakermultimedia.com



AUTO RACING FACTS, OBSERVANCES and OPINIONS

By Dale P. Danielski
June 14, 2012
They were back at it at La Crosse Fairgrounds Speedway Saturday June 2 and on this night the Mid-American Stock Car Series was added to the regular three division program of racing.
It's always fun to watch the Mid-American group as they bring good fields of cars (On this night 21 cars) are ultra competitive, which means you never know who is going to win. Besides that the cars are very unique in appearance to anything else competing and that's refreshing in our cookie cutter, all cars look alike racing scene. On this night James Swan took the 35 lap Feature win over Ryan Farrell and Brad Keith.
Of course the Saturday night regulars didn't disappoint putting on a very competitive close to the finish night of racing. At the end of the night's headliner, the NASCAR Late Model Feature it was Brent Kirchner taking his first main event of 2012. He had to hold off a fast closing J. Herbst to do it with Matt Henderson, Brad Powell and Mike Carlson trailing.
Perennial fast qualifier Randy Humfeld broke through for the 15 lap Sportsman Feature win with the always exciting Rick Schermerhorn 2nd and Jake Arneson 3rd.
Thunderstox racing was intense and ultimately wreck filled with Adam Moore surviving the carnage to take that divisions main.
Matt Henderson appeared to be in position to win his first NASCAR Late Model Feature of the year at Lax. June 2nd when a caution waved changing everything. According to Don Henderson they have had fast cars but just can't finish. "We've had Jeff Gordon luck this year. We have a fast car and something always happens where we can't finish." The caution and resulting scuffle at the front of the field took Matt Henderson from 1st to 4th on the restart. 'I think we would have had this one if not for that caution" a frustrated Matt Henderson stated. The season is long and as with Jeff Gordon in Cup the team is looking to turn things around.
Mike Koenecke made his NASCAR late Model debut at Lax. June 2nd. Koenecke plans to run a limited schedule at the track this year. "I tried to sell the car this past year but didn't so it just sat last season. I had some people approach me (Company sponsorship) to race it so here we are. I like to race but I don't have to be out here every week. There are other things I'll be doing some weekends so we'll be out here ½ dozen times or so." According to Koeneke if he still has his car at the end of the season his son may be the next to race it. "He's really interested in racing so I may get him more involved."
Here and there…Good to see Dan Gilster at Lax. Fairgrounds June 2nd, but wait, as defending Champion in the Sportsman Division he can't race the Sportsman car he had in the pit area. However, with some modifications and 100 lbs of weight added he fit the rules for the Mid-Am Series racing on the night. Gilster accounted for himself very well nearly taking the lead in the main before settling for 4th place at the finish…Long time Lax. Fairgrounds participant Tom Thill plans to make his 2012 NASCAR Late Model debut in a couple weeks. "I bought a car from Paul Proksch and we just got the motor (John Scott built, there's that name again) done so we should be ready in a couple weeks."…Albert Locy plans to make his debut in the division here shortly as well…By the time you read this Brent Kirchner could well have competed in the ASA Midwest Tour event at the Milwaukee Mile June 12th. Kirchner purchased a car for three Tour races this year with the Mile first on the schedule. When asked about the number of entries and getting into the show there Kirchner replied, "The car will be ready, it's up to me to get it into the race."…Brad Powell made it two NASCAR Late Model Feature wins as he took the 25 lap headliner at La Crosse Fairgrounds June 9. Steve Carlson took a close 2nd with Shawn Pfaff, Matt Henderson and Brent Kirchner rounding out the top 5…Aaron Hass drove his bright yellow car to the Sportsman 15 lap Main event holding off Greg Scheck and Jake Arneson for the win…A last lap skirmish which sent Adam Moore and Dakota Miller to the pits allowed Nathan White to take the victory in the Thunderstox 15 lap Feature. Third position on the white flag was the right place to be and White went on to win his first Feature ever in the Division…In one of the more amusing moments of the night racing Justin Berg and Jamie Dummer got so wrapped up in their heat race they didn't realize the event was over! They continued on racing hard after the checkered flag waved before realizing the race was done. Berg edged out Dummer for the win but had the extra lap they ran counted it would have been Dummer first. Flagman Greg Oliver could only shake his head after watching the two…It was good to see Bill Niles back in victory lane as he took the 1st NASCAR Late Model heat race win. Niles is in his 32nd year of racing and we believe he's good for at least 32 more!...
Photos. The #33 of Matt Henderson almost got his first Feature win of 2012 season at Lax. Fairgrounds…Almost. #8 Brent Kirchner found victory lane for the first time June 2nd at Lax. Fairgrounds. Ironically, Kirchner scored the Feature win on this date at the track last year as well…#19 Mike Koeneke made his 2012 NASCAR Late Model debut at La Crosse Fairgrounds June 2nd.
Pics from the past…1971 #83 Dale Walworth Ford Torino.
Looking back on Friday night, May 28th 1971, it was Marv Marzofka breaking the Jim Sauter win streak at three taking the 20 lap Feature win. Following Marzofka at the stripe was Sauter. The Semi-Feature and 1st heat went to Ed Nichols with Dale Walworth taking the 2nd and Marzoka making it two wins on the night by winning the 3rd. The Trophy Dash went to Rich Somers. And on June 4th at the speedway it was Jim Sauter back in victory lane taking the 20 lap Feature. Rich Somers followed in 2nd with Larry Detjens in a 1967 Dodge Coronet 3rd and Marzofka 4th. The Semi-Feature went to Larry Behrens with heat races being garnered by Hellis Grorud, and Somers. The Trophy Dash went to Larry Anderson.
News, notes and comments welcome to Dale P. Danielski at Starmaker Multimedia 967 10th Ave N Ste A, Onalaska, WI 54650, at 608-783-5827 or at dale@starmakermultimedia.com , www.starmakermultimedia.com


AUTO RACING FACTS, OBSERVANCES and OPINIONS

By Dale P. Danielski
May 31, 2012
It's always nice to visit with someone that remembers racing, other than me of course, from years gone by. It's also pretty cool if that individual is still involved in the sport as I am, as we may actually at that point have something in common! One such individual is John Scott who raced for many years in Southwest Wisconsin and remains a fixture there as an engine builder for many teams that compete at La Crosse Fairgrounds Speedway.
Scott got his start in racing back in the early '60s racing in the La Crosse area. He built the engines for his own race cars and competed on paved tracks but also raced at La Crosse Fairgrounds before it was paved and at the North La Crosse Speed bowl both as a dirt and paved track. With the driving part of his career ending in 1975 Scott decided to concentrate just on building engines for racing competition. According to Scott, "I always liked engines, I liked the challenge of getting them to work." The challenge of getting them to work exists today as Scott's engines are represented in numerous divisions at La Crosse Fairgrounds. "I probably have 40 engines out here. From Late Models to Sportsman on down to Thunderstox." When asked how he gets them built and ready for each racing season Scott says, "I have to start right after Oktoberfest and work through the winter and spring to get done." And with different race cars as you would expect not all engines are the same. "If a guy wants a certain engine I'll build it how he wants. But they aren't all the same. There's a whole lot of variety of combinations guys can go with. Here at La Crosse in the Sportsman Division the horsepower range is between 330 to 350. In the Late Model Division it's 380 to 400, maybe a little more now that they can run headers. There are just a lot of things you can do depending on what the driver wants." With the experience Scott has there's also been a fair amount of success with those racing with his engines. "At one point I had 6-8 weeks in a row where I had a Feature winner in one or even a couple divisions racing out here each night." Scott has also had championship seasons with drivers using his engines with Brad Powell and Dan Gilster just a couple that have accomplished the feat. When asked how long he wants to continue in the sport Scott says, "I'll do engine building until I can't anymore. I worked as a tool and die maker but am retired now. Actually engine building is more of a hobby for me. I'm collecting Social Security in retirement but I build engines to keep me from going nuts sitting in my chair looking at the walls." And, at 71 years of age no one would blame Scott if he gave it up but watching him briskly walking from team to team helping them out in the pit area at La Crosse Fairgrounds you can see why he hasn't. "I still enjoy it, and I'll help anybody out here not just those that are racing my engines." And so it is with John Scott, a racer from back in the day still connected to the sport today.
Here and there…Defending La Crosse Fairgrounds Speedway NASCAR Late Model Division champion J. Herbst took his first Feature win of 2012 racing to the 25 lap win May 26th at the track. Following him in order were Harley Jankowski, Todd Korish, Brent Kirchner, Shawn Pfaff, Adam Degenhardt, Cole Howland, Mike Carlson, Jeremy Wagner, and Nick Clements…Steve Bachman took a year off of racing and committed himself to a full time effort in 2012. It paid off May 26th as he captured the Sportsman Feature in dominating fashion at La Crosse Fairgrounds…Chris Weber meanwhile raced to the main event win in the Thunderstox Division May 26th…Troy Tuma who has spent the last couple years trying to iron out all the mechanical issues with his NASCAR Late Model is looking at a full 2012 campaign at La Crosse Fairgrounds. "We've spent the last couple seasons mostly fixing things. We've done that and now I just need to get some laps in on this track. I need to get used to a track this size, it's a lot different than what I'm used to having raced at shorter paved tracks in Minnesota. We're getting some help this year too as far as set ups go so we're expecting to run better."
Photos. Harley Jankowski #85 raced to a career best 2nd place finish in the NASCAR Late Model Feature May 26th at La Crosse Fairgrounds Speedway. Troy Tuma #20 puts his NASCAR Late Model through its paces.
Pics from the past…John Scott #21 in his racing days. Marlin Walbeck #30 in one of the Chevrolet's he dominated racing with in the 1960s.
Looking back on Friday night, May 21st 1971, Jim Sauter again won the Feature, his third in a row, at La Crosse Interstate Speedway. The Semi-Feature went to Ed Nichols #6 in his 1969 Torino, with heat race wins going to #92 Dick Rogers in a 1963 Ford, #58 Buck Linhart, and Sauter. The Fast dash went to Marv Marzofka. And on this date of May 21st, 1961 at one of the first tracks I ever saw a race at, the Griffith Park Speedway of Wisconsin Rapids, WI., it was Marlin Walbeck #30 winning the 30 lap Feature. Ken Pancratz, #29, Herb Kurth #99, Morrie Piotrowski # 90 and Don Johnson followed. The 20 lap Semi-Feature went to #0 Bill Wirtz with heat race wins going to #7 John McNamara, Sam Warp, Carl Hankey and Walbeck. The Trophy Dash was won by Bill Glendenning while Fast qualifying time around the flat ¼ mile paved oval went to Les Katzner at 16:85 seconds.
News, notes and comments welcome to Dale P. Danielski at Starmaker Multimedia 967 10th Ave N Ste A, Onalaska, WI 54650, at 608-783-5827 or at dale@starmakermultimedia.com , www.starmakermultimedia.com


AUTO RACING FACTS, OBSERVANCES and OPINIONS

By Dale P. Danielski
May 17, 2012
Finally got into some actual racing here recently as La Crosse Fairgrounds Speedway, West Salem, WI., decided to wait through a weather front to get their opening program for 2012 in May 5th. A great field of 100 cars was on hand along with a couple thousand loyal, diehard fans to witness the action.
Brad Powell served notice he will indeed be a threat this year as he vaulted from his front row starting position into the NASCAR Late Model Feature lead never to be headed. Steve Carlson made a late bid but ran out of laps at the end and had to settle for 2nd. Had the race not run green flag to checkered, Carlson may have had a shot at the win as he was closing fast at the end. Powell normally is one passing a number of cars to get to the front being a notoriously good qualifier. With Time trials scrapped on the night however events were lined up by last years point standings which to Powell's good fortune put him in the front. After 25 laps it was Powell and Carlson followed by Mike Carlson, defending NASCAR division champion J. Herbst, Adam Degenhardt, Brent Kirchner, Mark Lamoreaux, Todd Korish, Cole Howland and Shawn Pfaff. Degenhardt's finish is noteworthy as he plans a full season in a 2nd car fielded by the Korish team. In so many instances drivers have a back up car in case their main ride has problems and usually the driver in it is just staying out of the way on the race track. Not so with Degenhardt as he indicated he wouldn't race that way. "These guys know I won't race that way, I'm going to race to win every night out here. If it was any other way with the team, I have my own stuff, I'd just race that."
Another driver in a second car that plans to go for the gusto is John Olson who is in a Brent Kirchner Late Model. "This is the same car Troy Rave drove. We're going for the Rookie of the Year in it this year." When asked what has been different so far between Late Model racing and Outlaw or Sportsman Division cars that he has driven in the past Olson notes, "It's the steering on these cars. The steering is so much quicker I have to get used to that." Speed of course is the other factor. "These cars are much faster but I'm not at all afraid of speed."
Another driver racing a NASCAR Late Model this year that has been out of the sport for quite some time is Bob Manske. "It's been 17 years since I raced a Sportsman car out here. 17 years and about 50lbs of weight I've gained! As a matter of fact the last timed I raced here I set fast time. I don't think I'll be doing that tonight" Manske didn't as Time trials were washed out anyway but he does plan on racing the entire season. "We're racing for Rookie of the Year this year, but mainly were just here to have fun. Troy Goodenough who owned this car gave me such a good deal on it I decided to get back into it. I even have my crew chief with me who helped me back in 1969 when I first started racing! I don't have any real high expectations, it's really tough competition out here. I'll tell you what though, it's going to be a blast."
Greg Scheck found himself in victory lane in the Sportsman Feature holding off Jim Schermerhorn and Matt Inglett. The Thunderstox Division had a healthy field of 20 cars on hand and it was Jason Bolster taking the feature win after leader under the checkered Chris Weber was DQ'd for a battery location infraction. Hornet drivers were swarming the pits on the night and it was Kim Strom and Andy Moore victorious in their main events.
And when all was said and done on the night, frogs could be heard happily singing in Lake Speed in the infield. Even they are glad to see the season get started!
Here and there…The postponed ASA Midwest Tour opener at Madison International Speedway May 6 did get there show in May 12th with Andrew Morrissey besting a 33 car field to take the Joe Shear Classic. Morrissey held off a furious last ditch effort by Skylar Holzhausen to take his first Tour win. Nick Panitzke Chris Weinkauf and Nate Haseleu rounded out the top five…La Crosse Fairgrounds got their second show of 2012 in the books here May12th with Mark Lamoreaux in the Herbst Racing 2nd car taking the 25 lap NASCAR Late Model Feature win. Finishing right behind him, you guessed it, J.Herbst…The ASA Midwest Tour has their next scheduled event at the State Park Speedway of Wausau, WI., May 19th. If you haven't seen some good ¼ mile paved short track racing in awhile State Park is the place to be Saturday…Chris and Jason Weinkauf will be competing in the entire ASA Midwest Tour in 2012 for Jay Vander Geest with Jason shooting for Rookie of the Year honors. Both got off to a good start at the MIS event with Chris placing 4th in the main and Jason 11th. In asking Jason how the two brothers will manage to get off of work to make all the shows, "We're both bosses so we can take off to go race!...In the quote of the column department this time around, Jon Eilen ASA Tour regular, is going to get married this summer. The date he picked to take the plunge is July 7th of this year. "We picked that date (7th month 7th day) so I could remember it since those numbers are the same as my car number!...
Photos NASCAR Late Model rookie drivers #37 Bob Manske and #41 John Olson. Adam Degenhardt #03 placed a very respectable 5th in the main opening night.
Pic from the past…On the heals of the ASA Midwest Tour run Joe Shear Classic May 12th, here's a photo of Joe from 1975.
Looking back on Friday night, May 14th 1971, Jim Sauter repeated his winning performance at La Crosse Interstate Speedway by taking his 2nd Feature in a row this time over Rich Somers and John McNamara. The Semi-Feature win went to Bobby Turzinski over Ed Viner and Fred Beckler. Heat race wins went to Buck Linhart, Larry Behrens and Sauter. Fastest time trialer was Marv Marzofka.
News, notes and comments welcome to Dale P. Danielski at Starmaker Multimedia 967 10th Ave N Ste A, Onalaska, WI 54650, at 608-783-5827 or at dale@starmakermultimedia.com , www.starmakermultimedia.com


AUTO RACING FACTS, OBSERVANCES and OPINIONS
By Dale P. Danielski
May 3, 2012
"We should have been racing here in March!"
That's been the consensus in these parts as downright balmy weather was the norm during that month whereas now we are struggling to get up to normal temps and the skies are full of precipitation. All that of course means it's been difficult to catch much racing action here in recent days.
We did get a chance to see some cars go around in circles though as La Crosse Fairgrounds Speedway of West Salem, WI., had their media and practice day April 21st. Somewhere in the neighborhood of 45 racing machines were on hand to shake 'em down as they say and in that group in somewhat of a surprise was ASA Midwest Tour regular Nick Murgic. So why did Murgic make the over 2 hour trip to West Salem when he could have traveled 10-15 minutes to the Elko Speedway of Elko, MN? Well, because at the time Elko had its dirt track in place for an early season event and the Murgics' are pretty far removed from being members of the dirt racing fraternity. And, with a number of changes implemented into their Super Late Model Touring car it was time for a shakedown cruise to see if they were for the better. According to father Steve Murgic, "We've got a lot of new things we're doing with this car so we came here to shake it down and see if we're heading in the right direction before the ASA Tour opener At MIS ( Madison International Speedway, Oregon, WI.,) next week" The team felt good about their car after the practice but even with good early results aren't certain how much they'll race with ASA this year. We'd like to run the whole Series but it's just getting tough for a working man to take the time to do it. There's some dates during the week and even on the weekend where we may not be able to make it. I practically have to shut down my shop to go to these shows so I'm both spending money to go race and losing money because the business is practically closed for those days. It's just tough." Hopefully the team finds a way as they appear to be close to a break through season with the ASA Midwest Tour.
Another driver a bit uncertain of what he will be doing this year is veteran Steve Carlson. I don't know for sure what I'm going to do this year. Probably race some with ASA and also here at La Crosse Fairgrounds." My car owners here, the Johnson brothers are helping Becca Kasten quite a bit, so we'll just have to see." One thing Carlson does know is he will be assisting his son Mike who shares a shop with him in his racing at the Fairgrounds. "He's got a new front and rear stub on the car so it's almost new from last year." Mike Carlson has gone with a mostly white color scheme on the car for this year as well and if it's as fast as it looks good he should be in for a banner year.
One driver that was on hand today has stated he will be competing full time at La Crosse Fairgrounds Speedway. Former NASCAR Late Model track champion here at Lax Fairgrounds Brad Powell hopes to run the entire year as he's picked up some additional sponsor backing for the 2012 campaign. If it goes according to plan Powell should be a contender for the championship this season.
Shawn Pfaff will again be back full time and he'd like nothing better than to win another championship. After practicing he felt good about his car although he said it can really change from week to week. According to Pfaff, "For a week you can have a perfect car. Then you come back the next week and you think conditions are exactly the same and the car isn't right, you're off by a couple tenths. These cars are so adjustable, you can adjust everything on them, you just have to keep working on them to stay fast!"
Defending Lax Fairgrounds Speedway NASCAR Late Model track champion J. Herbst will be back to defend his title in 2012. Herbst had both his cars at the track for practice and was reasonably satisfied with the results. Its amazing Herbst was even here today as a winter vehicle accident left him in rough shape physically. Numerous injuries were incurred in the one vehicle accident but Herbst has rebounded nicely and expects to be in the thick of things again this year. All in all it would appear another exciting season of paved racing is on tap in 2012 at La Crosse Fairgrounds Speedway. We just, as usual, need a little cooperation from the weather!
Here and there…Speaking of weather the Lax Fairgrounds Speedway opener was postponed April 28th and rescheduled for May 5th…Other tracks of note suffering the same fate included the Marshfield Motor Speedway, Marshfield, WI., and the Upper Iowa Speedway of Decorah, Iowa. Both of those will try again May 5th as well… Don't forget the ASA Midwest Tour opener Saturday and Sunday, May 5-6 at Madison International Speedway, Oregon, WI., where the 4th Annual Joe Shear Classic 100 lap feature will be held…One thing the weather hasn't affected is the fishing around here. This scribe took the opportunity to wet a line in the Big Lake Onalaska and scored the win by catching a number of sizeable fish. The filets will taste great when we get a chance to fry them up. If you can't be racing, try fishing!...Looking back in history on May 7th, 1971 the as it was known then La Crosse Interstate Speedway opened for the season with Jim Sauter #5 taking the 20 lap Feature win in his 1969 Chevelle. He was followed by #91 Marv Marzofka in a 1969 Mercury Cyclone and #15 Rich Somers in a 1969 Ford Torino. The 10 lap Consolation winner was #8 Larry Ravenscroff in his 1957 Chevy while heat race wins went to #92 Curt Iverson, 1963 Ford, #83 Dale Walworth, 1968 Ford Torino, and Marzofka. The Dash on the night went to Sauter…
Photos. #21 Shawn Pfaff at speed. #43 Brad Powell is after a championship in 2012. The name Murgic has been familiar in racing for a long time. The purple #77 is Mike Murgic in 1976 at the Minnesota State Fair race. Questions, comments, opinions and other information welcome at Starmaker Multimedia 967 10th Ave N Ste A, Onalaska, WI 54650 608-783-5827, or dale@starmakermultimedia.com.


AUTO RACING FACTS, OBSERVANCES and OPINIONS
APRIL 2012
By Dale P. Danielski

With the weather we've had it seems like we could be in the heart of the racing season. But, we aren't, so that means we'll go with a random thoughts column heading into April and the official start of it at least in these parts.
Of course you readers out there know I tend to pick on NASCAR and its ways on occasion so we definitely will include some of that here. Speaking of which, in the Cup race at Fontana, CA., Jeff Gordon dragged his gas can with the human filler attached to it into the next pit stall. No one was in that stall and it was pretty harmless but because NASCAR rules state that no pit work or equipment can be in another teams stall Gordon was penalized. Is that really the intent of the rule a guy being accidentally while still attached to that equipment dragged there or a team relocating to perform said work in another stall?. Should be able to make an exception to that rule with an instance of this nature in my eyes…It sure seems like NASCAR's biggest event and the first of the season, the Daytona 500 gets screwed up in some shape or form practically every year. That can't be providing it with the best image although with the race finally being held on Monday night this year it did receive record ratings. Of course we can't predict weather accurately, and who would have imagined Juan Pablo Montoya wrecking a track vehicle and burning up the track forcing a 2 hour delay. Montoya I'm sure at times would like to light a fire under his race team which seems to struggle more than it should but certainly this wasn't what he had in mind!...Of course many before me have talked about Chad Knaus with the Jimmy Johnson race team getting out of their Daytona infraction penalty, or at least most of it. It seems NASCAR has the uncanny ability to hit these teams where it hurts the least, in the pocketbook…Good to see Iowa racer Landon Cassill in a fulltime ride in Cup racing after losing out to Kurt Busch for the seat he held last year. We recall talking to Cassill at La Crosse Fairgrounds Speedway during Oktoberfest racing weekend several years ago and then watching him out fox veteran Eddie Hoffman to win a big race there. Shortly thereafter he went on to bigger things and certainly more than a few eyes must have witnessed that move which helped propel his career forward… Speaking of La Crosse Fairgrounds Speedway they will be opening on April 28th this year on a Saturday night of course. One noteworthy addition to the schedule this year sees the Big 8 Series Late Models competing in a Tuesday night, July 3rd Holiday special. Sportsmen and Thunderstox will also be on the nights card…Good to see the ASA Midwest Tour appearing at some big as well as tradition rich venues this year. The Mlwaukee Mile event should be great and going to the Iowa Speedway is always a good thing. First time visits to unique tracks Berlin Raceway of Marne, MI., and the I-44 Lebanon Speedway, of Lebanon, MO., will be challenging for drivers and very entertaining for fans…Well, we know running a race track at the short track level certainly doesn't get any easier and it's very possible new ownership at some point may be giving it a try at Golden Sands Speedway of Plover, WI., and the Marshfield Motor Speedway of Marshfield, WI. Both the 1/3 mile paved 'Sands oval and the ½ Marshfield track are for sale as we write this although neither has been purchased and both have full schedules of racing planned for 2012 with Marshfield hosting their opener April 28th and Golden Sands getting started May 4th…Other tracks in our vicinity with schedules out announcing opening dates include Deer Creek Speedway, Racine, MN., April 7th, Mississippi Thunder Speedway, Fountain City, WI., April 27th, Upper Iowa Speedway, Decorah, Iowa, April 28th. The Cresco Speedway of Cresco, Iowa will again feature a limited racing schedule with their first race program set for June 21.
A look back in time…In 1972 at the Golden Sands Speedway opening race, April 16th it was Dick Trickle taking the Feature win over Marv Marzofka and Lyle Nabbefeldt. Heat race winners were Rich Somers and Trickle with the semi-feature win going to Deb Langsdorf. Trickle also won the Fast Dash and set fast qualifying time giving him a sweep of all 4 events he participated in. When's the last time someone pulled off a feat like that?
Photos Jim Back in his first Pony car era creation, circa 1972, a 1968 Ford Mustang. Photo. A couple Minnesota travelers in 1972 Jim Derhaag left and Bob Jusola in their full size Chevrolets.
News, notes and comments welcome to Dale P. Danielski at Starmaker Multimedia 967 10th Ave N Ste A, Onalaska, WI 54650, at 608-783-5827 or at dale@starmakermultimedia.com , www.starmakermultimedia.com


AUTO RACING FACTS, OBSERVANCES and OPINIONS
MARCH 2012
By Dale P. Danielski
Being less than a winter enthusiast, it's always nice to have a bit of a diversion to count on to get the racing fix, especially if you aren't one of the fortunate ones to be able to catch racing action down south this time of year. With that in mind we headed over to Tilleda, WI., for some ice racing action.
A cool little ¼ mile or so oval was carved out there on a pond in the town fed by Henning and Pony creeks, allowing for racing action from the start of January until the end of February weather permitting of course. Even though this winter has seen some very mild temperatures, ice depth here was estimated at between 12-16 inches which is plenty for full bodied car racing.
And racing they do as the group "Tilleda Thunder On Ice" puts on events featuring 5 divisions of racing which include ATV's, front wheel, rear wheel, studded and non studded racing machines. The mood here is pretty laid back, and fun is the main operative, but there is a competitive side to this type of racing as after all there is a beginning and an end to each race and a checkered flag is awarded to the first across the finish line! The effort to compete is a dedicated one as well, as more goes into preparing these racing machines than one might think. This is especially true in the studded divisions of racing as a ton of time is put into putting the ice gripping studs into tires on these machines. According to Sarah Scheibe who has raced here the last couple seasons it can take anywhere from 8-25 hours to get the right number of studs and the proper pattern in each of the tires used on the racing vehicles.
The racing program here is run very similarly to what we are accustomed to at tracks racing in the summer months. Heat races are conducted leading up to Feature events in each division. Unlike many ice venues there is also a payback at the end of the day for all participants, derived from a $5.00 fan admission fee and the purchase of pit passes by competitors. Tilleda Thunder is a club, so memberships can also be purchased which result in discounted fees to enter each event and also rewards pay at the end of the season.
It really isn't about the money though; rather it's an activity that helps to pass the long winter months here in the Upper Midwest. According to Scheibe, "I used to hate winter and the cold, but since I started racing out here it makes it go so much faster. I almost look forward to winter now!"
Today's racing action was held on a blustery, cold winter afternoon but it didn't deter from the racing competition on the Tilleda pond. In dirt track racing sometimes you must fend off the cloud of dust flying at you from tires gripping the clay surface, whereas here today we had to shield our eyes from the fine ice particles being kicked up in the air. A unique, but pretty cool phenomenon none the less! There was plenty of ice dust generated today as 41 racing machines were shown on the line up board, some arriving from as far away as Manistique, MI., for events run during the afternoon.
The day's action was very enjoyable and we didn't even find ourselves thinking of witnessing racing down south or for the upcoming summer season. Although after learning that the Tilleda pond produces some pretty sizeable fish we may find ourselves heading back up this way come June!
Photo. Full size car comin at ya racing. Photo. ATV action green means go. Photo. And you thought Hoosier tires only worked on dirt or pavement. Photo. A lot of time and effort goes into making studded tires race ready. Photo. Hot set ups in ice racing. Photo. There's more than one use for road hazard signs. Photo. Freddy Fryar #25 in his Pete Hamilton built Nova, was the overall World Series of Asphalt racing winner at New Smyrna Beach Speedway.
And dipping back into history in our first ever visit to New Smyrna Beach Speedway, New Smyrna Beach, FL., February 7-14, 1976, Late Model Feature winners were Freddy Fryar, (2) Donnie Allison, Jody Ridley, John Anderson and Gary Balough. OOPS! I guess I was thinking about racing down south!...
News, notes and comments welcome to Dale P. Danielski at Starmaker Multimedia 967 10th Ave N Ste A, Onalaska, WI 54650, at 608-783-5827 or at dale@starmakermultimedia.com , www.starmakermultimedia.com


AUTO RACING FACTS, OBSERVANCES and OPINIONS
FEBRUARY 2012
By Dale P. Danielski
It's not too difficult to understand why folks who followed closely and witnessed much of the time racing in the Midwest, tried to keep track of feature event wins for drivers from this part of the Country. These racers had so many opportunities to compete that it was a countdown of sorts every year to see who won the most. It was just phenomenal how many wins were being racked up and more times than not at least in the paved late model ranks it was a road to a town in Wisconsin that found a driver near or on top the list. In 1978 it was again Wis. Rapids, WI., racer Dick Trickle leading the way.
The hot Bemco Engineering, Pontiac Firebird combination Trickle had going in 1977 continued in 1978 as Dick got off to a quick start winning the ASA event at Queen City Speedway of West Chester, OH. Mark Martin gave pursuit, yes the same Mark Martin racing in NASCAR today but had to settle for 2nd at the end of 100 laps. 3rd spot went to Illinois hot shoe Ed Hoffman with Florida traveler Dick Anderson in 4th and Michigan driver John Anderson 5th. Looking further down the rundown, Mark Malcuit was 6th, Mike Eddy 7th, Joe Shear 8th, Ray Young 9th and Don Gregory 10th. In looking at that list it's conceivable that combined they won over 3,000 Feature races. Is that possible? It's not only possible it's very likely before their careers, except for Martin of course, he's still adding to the total, all ended.
Trickle followed up his Ohio win with another ASA conquest this time at the Hartford Michigan Speedway. In order behind Trickle it was Denny Nyari, Bob Senneker, Ray Young and Dick Anderson. Big news pertaining to ASA was their sanctioning an event at the famed Milwaukee Mile in West Allis, WI. Normally competing on short tracks, the Super Speedway "Mile" was going to be a great challenge for the short trackers. Everyone wanted to be a part of the prestigious happening and an astounding 80 race teams entered the event to be held May 7th. One driver hoping to win the 150 mile race was Minnesota transplant to Wisconsin Mike Miller. Miller had been a Ford product racer for his entire career but decided to switch to an Oldsmobile Cutlass for the 1978 season. With Chevrolet power, the combination was a good one and Miller proved it by winning a couple early season main events at Capital Speedway of Oregon, WI.
Miller didn't win the Milwaukee event but did place a respectable 9th as Bob Senneker posted one of the biggest wins of his career. Senneker's win earned him $3,950 in prize money and was witnessed by over 16,000 fans. Mark Martin paced the 70 car field in time trials setting a track record of 31:454 seconds around the flat mile track. Placing 2nd after 150 laps was Larry Phillips with Dick Trickle, Larry Detjens and Dave Watson following. Most drivers chose a softer compound tire for the race which showed more wear than the harder compound available and it made a difference in the end. One driver was very pleased with his choice of the harder tire. It was none other than the "Sneaker" himself, race winner Bob Senneker.
The usual suspects were again winning during the year, but drivers like Steve Burgess, Rich Somers, John Speer, Tony Strupp and Larry Nipple also picked up wins at paved tracks in the region. Drivers that were destined for bigger things down the road were also winning as the names Rusty Wallace and Alan Kulwicki appeared in the newspaper headlines. Although becoming more and more infrequent, Fox Valley Wisconsin driver Pete Parker was racing and winning on both pavement and dirt tracks. His pavement win at Wisconsin International Raceway of Kaukauna, WI., early in the season was his first ever on black top. He picked up an additional pavement win later in the year there as well. Very common in the 1960s, the practice was occurring less and less as equipment was changing and cars and set ups just didn't work for both types of race surfaces.
The Art Frigo/John McKarns ARTGO Tour was going strong and something very rare occurred in an event held June 3rd at the Grundy County Speedway of Morris, IL. Dick Trickle and Tom Reffner crossed the start finish line side by side and without a clear advantage to be seen were declared co-victors of the race. A dead heat TIE after 50 laps of racing! In all my travels I can't say I've ever witnessed a finish like that.
Meanwhile, the Mike Miller train was really heating up as Mike was winning throughout Wisconsin. Golden Sands Speedway of Plover, WI., State Park Speedway of Wausau, La Crosse Interstate Speedway of West Salem and Dells Motor Speedway, Wis. Dells, WI., were some of his latest conquests. It's interesting to note that when Miller moved to Wisconsin mechanical engineering genius Bob Uhlir came with him. Uhlir had a hand in nearly all of Miller's racing creations and their latest effort was really paying off. MIL-LIR Chassis, a combination of Miller and Uhlir would be a team to beat throughout the 1978 season.
Another driver that was destined for bigger things won a feature at La Crosse Interstate Speedway on June 14th. No big deal, lots of guys win right? But this was none other than Steve Carlson behind the wheel of a 1970 Buick Skylark no less, winning the 10 lap hobby stock main at the track.
Dick Trickle captured the second race win of the Red, White and Blue series at WIR, after nearly not making it in time to compete. A crowd of over 6,100 fans anxiously awaited his arrival for the event and he finally did make it and of course the rest is history as Trickle held off Tom Reffner, Marv Marzofka, Mike Miller and Joe Shear for the 55 lap win. Trickle complained of having to remedy overheating problems on his Firebird for his late arrival but those in the know realized he was probably just psyching out his competition and waiting until the last minute to qualify. Often times Trickle would be the last one on the track for time trials and much to the dismay of the driver with the fastest time up to that point steal the honor with the quickest lap. On numerous occasions the lap by Trickle would be a track record as that occurred quite frequently during this time in racing. The last minute drama certainly didn't hurt from a promoters standpoint as folks attended events just to see what Trickle's next feat would be!
Marv Marzofka took his turn at winning a bunch of races as he took 7 wins at various tracks in a two week period in late June and early July. Marzofka in his familiar yellow Camaro appeared to be peaking at the right time during the year. And like Miller, Marzofka was doing it his way as he built his race car on his own from the ground up. Unlike so many others that were now utilizing chassis and engines by specialty manufacturers, Marzofka also built his own racing engines at his shop in Nekoosa, WI.
Dave Marcis who had put his time in racing in Wisconsin before moving south to compete in NASCAR was always welcomed home at least once during each season. 1978 was no different as Marcis competed at Dells Motor Speedway in August. Behind the wheel of Larry Detjens' Camaro, Marcis placed a respectable 7th in the 75 lap feature at the 1/3 mile paved oval which was won by Mike Miller. Miller continued to roll and now had two race ready Olds Cutlasses at his disposal to tackle the racing scene. He also captured the 60 lap feature finale of the Red, White and Blue Series at Kaukauna although Dick Trickle had enough points to take the overall series crown.
Another driver that was destined for bigger things down the road captured his first career Late Model victory August 19th at the Dells Motor Speedway as Steve Holzhausen in a 1978 Ford Fairmont took the 30 lap main event holding off Mike Miller in the process. Ken Lund had done the same thing a few weeks before knocking off the heavy hitters for his first career win at the Dells.
With the season winding down and a number of drivers having very satisfying years it was time for big dollar special events. Tom Reffner got things rolling by taking two of three feature wins in the ARTGO finale at Capital Speedway which gave him his second such crown in the series. Larry Detjens took the 300 lap win in the Amsoil sponsored ASA race at the Minnesota State Fair on Labor Day which was always one of the most prestigious and sought after races to win. Rich Somers took an amazing 9 feature race wins at WIR to win that season crown while Marv Marzofka took track championships at Golden Sands Speedway, La Crosse Interstate, Wis. Dells, and State Park Speedways. Of course no season ending event was bigger than the National Short Track Championships at Rockford, IL., Speedway and none other than Dick Trickle claimed the 200 lap win on the ¼ mile high banked oval. Surprisingly Trickle who won the very 1st NSTC event in 1966 hadn't won one since. 1978 found the tough to tame track smiling upon Trickle and he rather easily took the win lapping the entire field except for 2nd place Mark Martin.
Dave Watson who didn't exactly have a banner year of short track racing in 1978 did at least end the season in Wisconsin in fine fashion by taking the 100 lap main event during Oktoberfest at La Crosse Interstate Speedway.
And drivers that were running well at the end of the year kept their momentum going by traveling out of state and winning at high paying special events. Mike Miller took a $7,000 win at Craig Road Speedway, of Las Vegas, NV and also won the 150 lap Feature at Bakersfield, CA., Speedway, which was worth another $4,000. Dick Trickle took the World Cup 400 win at I-70 Speedway and also the Florida State Championship 200 lap Feature win at Golden Gate Speedway of Tampa, FL. Tom Reffner traveled to Colorado Springs International Speedway and took the 150 lap main event win there for the second year in a row. This year's version was worth over $4,000 in prize money for the Rudolph, WI., racer. I guess the motto is when you are winning you might as well keep racing, and these guys did both during the 1978 season!
Speaking of winning, final Feature win totals found Trickle with 47, Miller with 27, Reffner with 22 and Marzofka with 19. This all in one season and most of the time racing against each other! Pretty amazing to say the least, and again no wonder why folks try to calculate just how many career wins these guys really did end up with. Between them that number is very possibly pushing 2,000. Again, pretty amazing, but that was the way racing was during this era.
Looking back at ticket pricing during the year it appeared very affordable to watch racing although I'm sure wages at the time weren't the greatest either! If you wanted to catch racing during the Annual Oktoberfest event, for an adult it would cost you $3.00 on Friday, $4.00 Saturday and $6.00 on Sunday. Students age 12-17 got a break with pricing at $2.00, $3.00 and $3.00 respectively. If you could pass for under age 11 you were in all three days free!
Looking back in time in 1971 at the Dells Motor Speedway, August 28th which ended up being the last event held there during the year it was Dick Trickle taking the Feature win followed by Bill Retallick, Tom Reffner, Jim Back and Bill Wirtz. Semi-Feature winner was Del Kemnetz with the consolation race going to Russ Mueller. Heat race victories went to Gene Theide, Greg Delapp, Kato Theisen, and Steve Manke. The Trophy Dash was won by Retallick with Trickle setting fastest time of 14.73 seconds. 1971 was the last year of the full sized, longer wheel based cars as 1972 brought on the pony car revolution.
Photos. Mike Miller #18 captured 27 Feature wins during the 1978 season racing two Oldsmobile Cutlasses. Dick Trickle was at it again in 1978 winning 47 Feature events in his Pontiac Firebird. Bob Senneker #84 was tough to beat wherever he raced in 1978.
News, notes and comments welcome to Dale P. Danielski at Starmaker Multimedia 967 10th Ave N Ste A, Onalaska, WI 54650, at 608-783-5827 or at dale@starmakermultimedia.com , www.starmakermultimedia.com


AUTO RACING FACTS, OBSERVANCES and OPINIONS
DECEMBER 2011
By Dale P. Danielski
The cold weather is again here and that can mean only one thing for this scribe writing in the off season for MRC: Going retro!
It's reasonably well known that Dick Trickle was preferential to Ford Motor Company for his racing efforts. Hard to knock his success through the years either as he drove the FoMoCo race cars to record performances everywhere. With 1975 and 1976 not so kind however for Trickle racing the Ford products, Dick decided to make a change for the 1977 season. It came in the form of a new Bill Bembinster BEMCO Engineered race car and was fitted with of all things a Pontiac Firebird body. Prototype GM racing engines were also now under the hood and it appeared Trickle's Ford days were done. To go along with the change of equipment Trickle was now also the White Knight instead of using the Purple Knight moniker he had raced under for so many years. Supposedly Tom Steuding who had plenty of good racing years on both dirt and pavement and Dick got together, more than likely one night very late or perhaps in the early morning hours and came up with the idea to change Trickle's name. Steuding had a sponsor known as the White Horse Inn and Trickle thought he'd look good in White so a new name but by no means new persona was the result for Trickle!
It was awhile before the car made its debut but Trickle pulled off the feat in grand fashion winning with an unpainted version on May 15th in the Spring Opener 50 at Wisconsin International Raceway of Kaukauna, WI. A win at WIR was always impressive back in the day as drivers from a four State area would converge for the event and determine who was the best of the best. On this day Trickle put down the efforts of Jim Pierson who was 2nd in a 1977 Camaro, Tom Reffner who had been winning regularly in his new 1977 AMC Hornet, in 3rd, dirt track legend and pretty fair paved driver in his own right, Roger Regeth in 4th in a 1973 Camaro, and Jim Back 5th in a 1973 Camaro.
Interesting to note that Trickle didn't totally give up on Ford race cars as he drove one to the win later that night at Paul's Super Speedway, the dirt track in Depere, WI. It was actually still quite common for drivers after racing on the paved WIR track in the afternoon to take their cars over to a dirt track nearby and race at night.
And as was always the case when you were running well, you traveled as Trickle did the very next week winning the American Speed Association 300 lap race at I-70 Speedway of Odessa, MO. Meanwhile, all the usual suspects were getting things going in high gear as well with Dave Watson, 1974 Camaro, Joe Shear, 1974 Camaro, Marv Marzofka, 1974 Camaro, and Larry Detjens, 1976 Camaro picking up wins at area tracks.
Of course it wasn't like others that thought they had the hot set up weren't traveling as well as Bob Senneker of Dorr, MI., ventured over to the La Crosse Interstate Speedway of West Salem, WI., June 5th, taking both 50 lap features as part of the Dr. Pepper sponsored program held there.
The Art Frigo/John McKarns ARTGO Tour was again a very popular venue and Trickle picked up the 100 lap win at Capital Super Speedway of Oregon, WI., June 18th as part of a weekend doubleheader. Larry Detjens who for a long time was as loyal to Chrysler products as Trickle was to Fords was winning in his new Camaro taking the ARTGO 100 lap main at Grundy County Speedway, Morris, IL., June 19. The wins kept coming for Trickle too as he took big wins at I-70 Speedway in an ASA event there and also at the Queen City Speedway of West Chester, OH., in a 77 lap Feature at that ½ mile track. Note worthy in that event was Wisconsin native Dave Marcis who was now very established in NASCAR Cup competition finishing 2nd.
Mike Miller the Minnesota transport who was now operating out of Wisconsin Rapids, WI., picked up a victory at La Crosse Interstate Speedway along with two at Golden Sands Speedway of Plover, WI., in his 1970 Mustang. Miller was another who liked the Ford Products and kept racing his Mustang throughout the season. Later in the year however, due to significant engine woes Miller did switch to Prototype Engineering Chevrolet power plants, but maintained his Mustang livery.
And that guy Steuding we mentioned earlier was having an excellent season racing on dirt winning special events throughout the State of Wisconsin. To some his 30 lap Feature win July 21 on pavement at State Park Speedway of Wausau, WI., came as a surprise although Steuding was normally quite competitive when he raced on pavement. Steuding beat heavy hitters Trickle, Detjens and Marzofka on this night to win.
Of course when you are winning folks tend to keep track of the victories and during this year it was no different as Trickle, even with his somewhat late start was up to 44 main event checkered flags as of August 3rd.
Of course with the season winding down it was time for special events to finish 1977 off and Larry Detjens took one of the biggest winning the World Cup 400 at I-70 Speedway. It was the 3rd straight year drivers from Wisconsin had done so in the prestigious event. No event was any bigger than the Rockford Speedway, Rockford, IL., National Short Track Championships and some young upstart kid put all the veterans in their place as Mark Martin captured the 200 lap win in his 1977 Camaro. Of course an event that continues to grow today, the Annual Oktoberfest at La Crosse Interstate, now Fairgrounds Speedway was held with fan favorite Larry Detjens taking the 100 lap Feature event.
And, as for Trickle, he wound up winning just 54 Feature events during the year down from his record breaking 67 in 1972 and other season high of 56 in 1971. Sure, a down year at 54 and of course unheard of in this day and age!
Of course we would be remiss if we didn't mention seeing a drivers name here and there in the results column from tracks in Wisconsin during the 1977 racing season. One Dale P. Danielski did compete in the Late Model Division winning a token event on occasion. Driving the 1972 Nova I purchased from fellow racer Jim Bohmsach I have to admit I had a blast during the year. Too bad it was one and done as it was the first and last year I raced!
Photos. No Mark Martin, this driver's claim to fame is at least being able to say he raced in the top division for a year! Dick Trickle won 54 feature races in his #99 Bemco Engineered Pontiac Firebird in 1977. With him in this photo are #18 Mike Miller and #76 Mike Demars. Trickle traveled in style for the 1970s era of racing.
News, notes and comments welcome to Dale P. Danielski at Starmaker Multimedia 967 10th Ave N Ste A, Onalaska, WI 54650, at 608-783-5827 or at dale@starmakermultimedia.com , www.starmakermultimedia.com


NOVEMBER 2011
AUTO

RACING FACTS, OBSERVANCES and OPINIONS




October 2011


By Dale P. Danielski
Octoberfest racing weekend 10/6-9/11 at La Crosse Fairgrounds, West Salem, WI. is near and with that in mind we'll open some discussion pertaining to the event.
Of course having been to too many of these to count we like to go back in time and pick out some highlights and in some cases lowlights of the events held. This year is the 42nd Annual event so there have been plenty of both!
We've mentioned more than once in the past that the first ever event was held in 1970. The track having been paved in July of that year from the dirt surface it was since opening in 1957 didn't take long for folks to take a liking to, as speeds steadily increased and full fields of cars participated at the track. The scheduling of the event was due in part to other tracks hosting season ending specials such as the nationally renowned National Short Track Championships held at Rockford Speedway in Rockford, IL. Why not run something of that nature here in Wisconsin was the thought process so promoter Larry Wehrs did. We know Tom Reffner captured that first 200 lap feature event but it's interesting to note some of the others that participated on the day. Finishing behind Reffner that day were Rich Somers, John Mc Namara, Bill Mueller, Denny Sobkowiak, Kato Theissen, Buck Linhart, John Scott, Everett Fox and Harold Mueller. The Feature field consisted of 33 cars and some top drivers of the time including Jim Sauter, Jim Back and Marv Marzofka didn't fare too well placing a ways down in the final finishing order. It wasn't indicative of how fast they were as they all battled in the front, but wrecks and mechanical issues resulted in the poor finishes. Interesting to note is that racing was held on Friday to kick things off for the weekend with Dick Trickle capturing the Feature event that night. The Trickle name was nowhere to be found however in the Sunday 200 lap Feature results and we are curious in this corner as to why. Reffner with the win pocketed $1,000 plus $341 in lap money of the posted purse of $8,000. Each driver starting the Feature earned a minimum of $100. One pit stop for the race was mandatory with crews being allowed to add fuel. A total of 65 race cars participated with the event being open to 1955-1970 American made cars with the exception of pony cars. A pit fee of $5 was required with advanced grandstand seating available for $3. Preliminary events were held prior to the 200 lapper with Ron Backburg defeating Alan Ward, Don Dhein, Dick Bently and Bob Bowen in the first consolation race while George Kopecky outran Sonny Immerfall, Ray Slaback, Denny Clark and Curt Iverson in the 2nd. Marv Marzofka was the fast qualifier on the day. A couple other drivers probably wished they hadn't showed up for the race as Louie Vetrone hit the wall and was taken to the hospital with possible cracked ribs. Loren Iverson was another who smacked the wall and was taken to the hospital, but he was reportedly only shaken up after the accident. When all was said and done it was reported 4,000 fans attended the event. Certainly that would indicate the event got off to an auspicious start and consequently why it is still being held, this year of course being the 42nd Annual.
Looking at some statistical information from past 'Fests and in general at the track we find the fastest time record in qualifying in what is now known as a Super Late Model occurred on October 9th, 2009. On that day Chris Weinkauf circled the 5/8 mile oval in 18.840 seconds to hold the standard for that type of race car. The CWRA sanctioning group which raced at the track for many years finds Dick Trickle as its track record holder at 19:537. That mark was set 6/22/89. In Midwest Truck racing it is Terry Marzofka with track record honors at 20:810 set 10/10/98. Now days with so many divisions of racing participating there is plenty of history to delve into. This is just the tip of the iceberg as to what has happened through the years and maybe in future columns we can touch upon a bit more.
In our last effort we mentioned Jerry "Scratch" Daniels appearing at 'Fest for the 2011 edition of the event. In a photo here he poses with left, Doug Wolfgang and center Jerry Richert, Sr. 1962 Knoxville, Iowa Nationals winning car owner Ted Ready. Just the mention of these folks puts Daniels in select company and it's no wonder he is a Knoxville Raceway Hall of Fame inductee. You'll be able to see Daniels along with Ernie Tuff and his 1932 Ford Coupe that "Scratch" last drove at the Champions Reunion held in the Hospitality Chalet from 11am-2pm October 9th, 2011 as part of this year's Oktoberfest race weekend. Thanks to Stan Meissner for the photo.
To see how 'Fest has grown this year's event is 4 days and will consist of over 600 laps of Feature racing in 15 Divisions with somewhere around 500 race cars competing. La Crosse Fairgrounds track division Championships are yet to be determined at 'Fest and it will be interesting to see if J. Herbst in NASCAR Late Models, Dan Gilster in Sportsman and Andy Moore in Thunderstox can hold their leads. As a special treat this year, Fred Nielsen who was car owner for Joe Shear and other notables for many years will make his Grand appearance at the Champions Reunion. You'll just have to be there to see what I mean by "Grand". Nielsen will also have Shear autograph cards for fans that attend the event. Of course we would be remiss if we didn't mention that Shear is the only 5 time winner of Oktoberfest and the only driver to win it 3 consecutive years. The 'Fest weekend will also have a title sponsor this year as Livewire Energy chews have come on board to sponsor the event in 2011 and 2012. The quick energy boost Livewire provides will be the perfect tonic for the weary, sleep deprived gathering that makes up the bulk of 'Fest attendees!
Here and there…Marshfield Motor Speedway, Marshfield, WI., held their Shootout weekend here recently with Mark Eswein and Travis Sauter taking 50 lap Feature wins. The first half century race was particularly competitive with Eswein, Chris Weinkauf and Steve Holzhausen racing nose to tail and side by side for more than half the event!... In the quote of the column department Don "Thunder" Turner was racing his Super Late Model in the Shootout event and was surprised to find a dash race named in his honor. The Don "Thunder" Turner #7 Dash featuring the day's top qualifiers was held in honor of Turners' over 40 years racing. "Racing today was the first I knew of it. Maybe they were thinking I died or something!" Turner's heart was definitely beating as he placed 13th and 11th in the two Feature events respectively…Turner incidentally has also raced in every Oktoberfest race event held, all 41 of them!...Very sorry to hear of the passing of Bob Schmelzer here recently. Bob was a fixture at many tracks through the years working for various groups at events. Bob even did some promoting of his own in the '70s at the Columbus 151 Speedway of Columbus, WI. I always looked forward to conversing with Bob on any number of topics at various events through the years. He'd come across as being a tough even gruff sort but once you got past that crusty exterior you found a guy that was really helpful and dedicated to the sport. It just won't be the same at the pit gate from here on in but we'll continue to appreciate the great memories, starting with 'Fest this year…It had been many years since I attended the Punky Manor Memorial held annually at the Red Cedar Speedway of Menomonie, WI., so it was fun to get back there for the Saturday portion of the event September 24th. Five divisions of racing were on the night's card culminating in the big 40 lap Late Model Feature. The 3/8 mile clay oval is really racy and drivers here tonight didn't disappoint with some very competitive racing. When all was said and done it was area resident Jimmy Mars taking the win after battling Lance Matthees for a number of laps. Jake Redetzke was 3rd followed by A.J Diemel and Mike Prochnow. In looking at some of these last names I remember when their cousins, uncles and fathers were racing. Generation to generation, racing truly is a family sport. I'm amazed at what the Modifieds these days are turning for lap speeds. Buzzy Adams ( Of course I remember watching his dad Dave race and win years ago.) was bad fast in his taking the Modified Feature win in convincing fashion here during the Manor race. Mars hopped in the 428 modified but was no match for Adams placing 2nd. Shawn Huse used a very late race pass to take the win in the Midwest Modified feature which ended up being the most exciting of the night. George Richards won the Pure stock feature in a race that was yellow flag plagued and drastically shortened. It's too bad as the event was shaping up to be a dandy with no less than 4 cars battling in front…In closing, many thanks to Jim Cleveland who has done a ton of research on past asphalt racing in the state of which the early info on Oktoberfest for this column was obtained…
Photos. Jerry "Scratch" Daniels in select company. Joe Shear the only 5 time winner of Oktoberfest in his Fred Nielsen Camaro of 1979. Marshfield Shootout Feature winners Mark Eswein and Travis Sauter. Don "Thunder" Turner #7.
Any drivers that are still interested in attending the Champions Reunion during Oktoberfest you have time to sign up. If you are a past series or track champion in any division and haven't raced in the last three years you are eligible. If you are a previous 'Fest feature winner in any division you are also welcome to attend. State your intentions by contacting Dale P. Danielski at Starmaker Multimedia 967 10th Ave N Ste A, Onalaska, WI 54650 608-783-5827 or at dale@starmakermultimedia.com We also have a Facebook page titled Champions Reunion III that you may respond to or go to www.starmakermultimedi.com for information.


AUTO

RACING FACTS, OBSERVANCES and OPINIONS


By Dale P. Danielski
September 1, 2011
Having been to so many different race tracks through the years it's always interesting to have a look at some that held events in the past but were shuttered for whatever reason. Most leave very little or no sign they even existed but with some you can see a bit of what they once were and the action that took place.
We found one such track here recently as the Cannon River Speedway which shut down in the late 1970s, located just outside Morristown, MN., has left a bit of it's past behind. Unless you knew exactly where the track was you'd be hard pressed to find it as it is tucked away through woods off highway 60. It today is actually part of the Maiden Rock West campground. The track originally was listed as a 3/8 mile Tri-Oval and in my nosing around you can still make out that configuration. The corners were supposedly banked 17 degrees and there's still a fair amount of that you can see on each end. It's always fun to imagine what racing might have been like at a long gone track and here they aren't totally forgetting about it as a number of newspaper clippings and posters are displayed at the campground. How cool it would have been to watch Larry Behrens, Mert Williams, Dave Noble and the numerous others mentioned in the literature racing here on a hot summer night.
Looking back further in time in racing it is going to be a lot of fun welcoming top notch sprint car driver Jerry "Scratch" Daniels to the Champions Reunion October 9th as part of the 42nd Annual Livewire Oktoberfest racing action at La Crosse Fairgrounds Speedway, West Salem, WI. Jerry was a 1st rate driver in his day and because of his success was inducted into the Knoxville Iowa Raceway Hall of Fame. Daniels actually raced and won at the Fairgrounds in West Salem in the 1960s when it was still a dirt track. "Scratch" even raced for Ernie Tuff who is also going to be at the Reunion along with his 1932 Ford 3 window coupe race car.
Daniels who was no stranger racing elsewhere throughout the Midwest actually began his career in 1955 at the tender young age of just 15! He began racing the ultra fast Sprint cars in 1961 and proceeded to carve out a great career in them racing for a number of top car owners who provided competitive equipment. Before the Sprint cars Daniels got latched up with Ernie Tuff where they raced Tuff's Fords at a number of area tracks including the North La Crosse Speedbowl.

According to Daniels, " Jerry (Richert, another great race driver and who Daniels was good friends with.) said call Ernie, he's looking for a driver to race his car. I did, and that's how we met. I drove for him in 1958-'59, and we did really well. The car I raced at North La Crosse was unbelievable! It was easy to win with that car." And because of it the two traveled to other tracks. "We could make $800 on a weekend racing. That was good money back then. As a driver I got 40% of that so it was a $320 payday! I enjoyed racing for Ernie, that guy was a mechanical genius!"
As with all drivers back in the day there is always a story or two behind given nicknames. According to Daniels the name came from some friends and his brother who was also a pretty fair driver.. "My brother actually had the nickname "Itch" which he got when we were at a beer party and underage when the cops came sending everyone including us running through a field to get away. When we got home my brother was itching himself all over from something in that field. His nickname was now "Itch". One day we all got together and heard an old country music song that was talking about itching and scratching. So us being brothers and one already nicknamed "Itch", I became "Scratch".


Of course racing isn't always as glamorous as it seems and after racing all over the country and dealing with his brother being severely injured in a racing accident in Huron, ND., the two decided to quit. "They didn't know if he was going to live or die it was so bad. He did survive but I was getting tired of all the travel and being away from family anyway so it seemed like a good time to quit. Maybe if I'd have been a contracted driver racing for someone else I'd have stayed with it, but since I wasn't it was time to quit."
In addition, just walking away after competing in the rough and tumble 1950s and '60s days of racing like Daniels did is a victory in itself! Daniels has lived to tell about it and certainly there will be many more stories shared when he and Ernie Tuff and up to 75 other drivers get together for Champions Reunion III during Oktoberfest October 9th.
Here and there…There is still a form of competition going on at Cannon River Speedway as it is part of a Disc Golf course. According to Maiden Rock West campground ownership it is a very challenging course and one and all are invited over to conquer it!.. It was one of the most competitive feature races to date at La Crosse Fairgrounds Speedway here August 20th as Steve Carlson and J. Herbst duked it out for the win. The two raced side by side for numerous laps with neither giving an inch before Herbst was finally able to eke out a close win. Carlson finished 2nd and was followed by Jerimy Wagner, Nick Clements and Matt Henderson. It was also great to see Albert Locy race to a career best 10th place in that same race. The team has shown steady improvement on a very limited budget and all that effort paid off tonight…The ASA Midwest Tour saw another new winner grace victory lane in 2011 as Nathan Haseleu took the 125 lap main event win at Raceway Park of Shakopee, MN., here August 21st. Following Haseleu who also won this event last year were Chris Wimmer, Fast qualifier Nick Panitzke, Andrew Morrissey, Michael Bilderback, Jacob Goede, Steve Carlson, Skylar Holzhausen, Griffin McGrath and Nick Murgic…Ross Kenseth was very conspicuously absent from this event due to college orientation?...We had auto golf and the pool jump here recently in novelty type events at La Crosse Fairgrounds Speedway and Late Model drivers were the major players in both. Matt Henderson used a car to hit a golf ball, which was actually more like a beach ball, placed on top of a cone closest to the pin on a golf green constructed in the infield of the track. As you might have guessed this is no easy task but Henderson did it better than the other drivers in the very unique competition and won the top prize! In the August 27th night of racing at the track Todd Korish attempted to drive a street car via a ramp over two swimming pools filled with water. He skimmed over the top of the first and for the most part drove through the second one sending water flying everywhere. Rather than take a second shot at clearing them, he decided to drive the car without the ramp right through what was left of both pools sending what was left of the water again flying! There is never a loss for excitement generating events here at the track and these two definitely had folks wondering what might happen next!...Brent Kirchner took the NASCAR Late Model Feature win August 27th holding off a persistent Brad Powell in the process. For Kirchner it was main event win number 4 here and if not for a couple too many feature race altercations he could well be in the driver's seat for the track championship. As it now stands it will be a battle between J. Herbst and Korish who are first and second separated by just 25 points with two point's races remaining…Also on this night Tom Luethe took his first career feature win in the Thunderstox division feature grabbing the lead with less than a lap left in the race! Quote of the column comes from Steve Carlson after a close finish with J. Herbst at La Crosse Fairgrounds. "I had a 10th place car and with the cone, I like the cone, we got 2nd." Of course Carlson who was mired deep in the pack was talking about being able to move all the way up to 2nd on a race restart on the outside of J. Herbst due to the double file "construction cone" restarts…Back in history on August 21st, 1970 it was #61 Jim Back winning the 30 lap Feature race at La Crosse Interstate Speedway. Tom Reffner #88, Jim Sauter #5 and Roy Schmidtke #76 followed. 20 lap Semi Feature honors went to #1 Pete Mahlum followed by #9 Tom Schaller, #58 Buck Linhart and #60 Ralph Bakewell. Heat race victors were Linhart, Mahlum and Sauter with Jim Back posting the fastest time.
Photos. A view of the Cannon River Speedway as it looks today. Nate Haseleu at speed here used his extensive experience racing at the short oval Jefferson, WI., Speedway to win here at the ¼ mile Raceway Park track. J. Herbst won the feature at La Crosse Fairgrounds August 20th.
Questions, comments, opinions and other information welcome at Starmaker Multimedia 967 10th Ave N Ste A, Onalaska, WI 54650 608-783-5827 or at dale@starmakermultimedia.com


AUTO

RACING FACTS, OBSERVANCES and OPINIONS


August 18, 2011
By Dale P. Danielski
It's been rather slim pickings in the race chasing category lately but we have made some observances none the less.
The ASA Midwest Tour has certainly been a competitive one in 2011 at least in terms of numerous main event winners. The year began with Ross Kenseth looking like he was going to make a shambles of the points battle taking the first two Tour wins, but since then others seem to have caught up with the young upstart. Kenseth does currently have three wins but Tim Schendel, Mark Mackesy, Jason Weinkauf, Skylar Holzhausen, Jeff Choquette, and Jon Eilen have also grabbed victories. What's certainly somewhat odd is that multiple series champion Steve Carlson has not won yet nor has Andrew Morrissey who is leading the point standings with 3 races to go. Perennial racing up front drivers Nate Haseleu and Chris Wimmer havn't graced victory lane in 2011 yet either. Is the younger set making a power and supremacy move in the series? That will definitely be determined with some extremely tough to win at venues coming up to end the season. The first of those is at Raceway Park, Shakopee, MN., August 21 which is a super difficult to navigate, reasonably flat ¼ mile bull ring. A lot can be lost as well as gained racing in this event. New this year is the National Short Track Champions October 2 at Rockford Speedway, Rockford, IL., which carries ASA Midwest Tour sanction for the first time. Anyone that has been around racing even in the slightest knows about Rockford, one of the toughest tracks to race on in the entire U.S. More than likely this event will humble some that feel they have a handle on things while others will emerge out of the dust and smoke with a good finish or even a win here. And the season all culminates with one of the longest running, tradition rich, Annual events going today, Oktoberfest October 6-9 at La Crosse Fairgrounds Speedway of West Salem, WI. Anything can happen and usually does at the 'Fest and when all is said and done the ASA Midwest Tour, 2011 Champion will be crowned. Hard to believe the season is fast winding down but there is plenty of action to be observed heading down the stretch. The ASA Midwest Tour will certainly be providing a good share of it.
Here and there…It had to feel awfully good for Jonathan Eilen to be standing in victory lane at Hawkeye Downs Speedway, Cedar Rapids, Iowa after his ASA Midwest Tour victory August 12. This was the same event and track that after a hard lick with the wall sent Eilen to the hospital and into extensive rehab for a broken back! Eilen didn't let the crash deter him as he came back in impressive fashion to win the 100 lap headliner here tonight…Mike Carlson picked up his first NASCAR Late Model Feature win of 2011 at La Crosse Fairgrounds Speedway August 6th and he did it by fighting off Dad Steve at the finish. On a race restart Dad lined up outside of Mike and most in attendance at that point figured it was all over for the youngster. Not so as Mike pulled away and Steve was forced to settle for 2nd place money. Dad was however the first to congratulate his son on a job "Well done" after the race…Speaking of the younger set group of drivers, we find relative newcomers Matt Henderson, 5th, Mike Carlson 6th, Cole Howland, 7th, Nick Clements, 9th and Jes Tenner 10th in current NASCAR Late Model point standings at Lax Fairgrounds with barely a handful of races left in the season. Just outside the top ten is top rookie contender, Michael Sauter in 11th. It could be some of that changing of the guard in racing is taking place here as well…August 13th at Ye Olde Lax Speedway found a full moon lighting up the night sky. It apparently had an effect on drivers tonight as well as numerous cautions spiced up things in all divisions of racing. Steve Carlson wasn't concerned about the moon as he used it as a beacon to lead the way in the 25 lap NASCAR Late Model Feature. Todd Korish gave it a good run but wound up a close 2nd. The Korish finish once again tightened up the points battle as J. Herbst who placed 6th tonight leads Korish by just 19 points. It's beginning to look like it could be a two car race to the track championship as Shawn Pfaff and Brent Kirchner have lost some ground on the two with just four points races left…With Bill Niles still out with back problems Kevin Nuttleman piloted car 54 in tonight's program. No Fairy Tale ending here though as Nuttleman finished 12th in the main event but still remains the all time feature winner at the track with 106 wins…The Inglett clan was out in full force in the grandstands this past Saturday at Lax and they were loud! They had good reason to be as their favorite driver Matt Inglett held off Jimmy Gilster for the 15 lap Sportsman Feature…The thriving metropolis of Leon, WI., was well represented tonight as Dan Linnehan who lives there won the Outlawz feature event. Linnehan's racing appearances have been minimal but he looked in top form tonight! Although Dustin Bagstad has been suspended from competition in the Thunderstox Division for now, he still sure did a great job singing the National Anthem at the track tonight.


Back in history, during the week of August 11-14, 1970 at La Crosse Interstate Speedway, West Salem, WI., Jim Sauter was on a bit of a hot streak. Sauter captured the 30 lap feature event at the track on August 11, followed by Marv Marzofka, George Thornton, Everett Fox and Ed Nichols. Sauter followed that win up with another 30 lap victory on the 14th . Interesting to note that both Jim Back who was leading and Dick Trickle in 2nd fell out of that race on the 29th lap leaving Sauter all alone in 1st! And, since we are in the midst of a slow column day. a bit more history. On August 6th, 1971 Don James #76 from Bloomington, MN., captured the 20 lap Feature event at La Crosse Interstate. He was followed by Lyle Nabbefeldt #55s and Jim Back #61. Semi-Feature honors went to Buck Linhart #58 with Dale Pennel #2 and Dale Walworth #83 in pursuit. 1st heat winner was #6 Ed Nichols the 2nd went to #40 John Scott with the 3rd to #15 Rich Somers. James also won the fast dash. Quote of the column, "It just figures the only place it's raining in the area is right over the race track." That from Dale P. Danielski who with his wife who doesn't catch that many races these days were just heading out the door for action at Mississippi Thunder Speedway in Fountain City, WI. only to find the event had moments before been canceled due to a storm cell right over the race track!


Photos. #50 Mike Carlson at speed at La Crosse Fairgrounds Speedway. Jim Sauter Nova that he raced to a 4th place feature finish on the day at Wisconsin International, Kaukauna, WI. in 1973. Interesting to note he had to change the number to #51 instead of his normal #5. Who could possibly with that number have had precedent over Sauter's established number 5? #76 Don James one of the Minnesota travelers that raced the Wisconsin circuit in the 1970s.
Questions, comments, opinions and other information welcome at Starmaker Multimedia 967 10th Ave N Ste A, Onalaska, WI 54650 608-783-5827 or at dale@starmakermultimedia.com


AUTO

RACING FACTS, OBSERVANCES and OPINIONS


By Dale P. Danielski
August 4, 2011
Although I couldn't attend the event this past week at State Park Speedway, Wausau, WI. the scheduling of it brought back many memories of the man and racer the Memorial race is named after; Larry Detjens.
The majority of Detjens' career took place in the 1970s until sadly in 1981 he was killed in a racing accident. Detjens packed a lot of racing and success into a short period of time but it's still a terrible shame his life was cut so short.
Larry began racing in the Wausau area in the Hobbystock division but it wasn't long thereafter however that he was piloting a Dodge Coronet in Late Model competition. What immediately set Detjens apart from most of the others was the appearance of his race car. Purple in color with extreme detail in both the painting and lettering of it. It was something folks weren't used to seeing as cars racing 4-6 days a week would get pretty beat up looking. This also was in the days of all paint, no vinyl for lettering or wraps. Most amazing, was Larry kept his cars looking that way the entire season! We later learned that Larry was the owner of Detjens Body Shop in Wausau, WI., and we realized where the work was being done and the race car maintained. It certainly couldn't have been too bad for his business either!
Almost as unique as the race cars themselves in those days were the haulers drivers brought them in on. Of course enclosed trailers hadn't even been thought about yet so the open variety was the way to go in many cases. Larry at one point did have a trailer of that type but what was really cool was what he used to pull it. The best way I can describe it is a mini wrecker! A Dodge pick-up of some kind which was Larry's vehicle manufacturer preference, with 4 wheel drive and a boom and hook in the back. The unit couldn't have had a wheel base of more than 90 inches and when it was packed up for racing the front end was practically off the ground! There was no mistaking it was Larry showing up at the race track as in addition to the aforementioned the cool wrecker thing was bright yellow to boot! With fuel prices being low I guess burning up a bit more with a 4x4 unit traveling all around the State wasn't a concern either.
Something else that set Detjens apart from others and certainly his finest attribute, was how well he handled pressure under fire. No matter how bad things seemed to be going Larry was able better than nearly everyone to keep it all in perspective. He'd say, "When things are going bad, that's when you build character." Tom Reffner vouched for Detjens' even disposition. "When all of us racers would be getting down in the mouth about other drivers or things going on Larry would just be the same Larry." Speaking of disposition, I can remember a certain racer and his crew banging away at trying to get a shock removed from the mounting on a race car and getting madder by the minute. Larry walked by and said, "Wait a minute and in short order he returned with the proper tool to do the job. Added to that he helped with a couple set up tips to make the car better and said, "If you ever need any other help just ask." That driver was me and I never forgot that day at the Wausau track.
Larry was never the most prolific winner of feature events but he was a master when it came to the long distance race. He had a way of pacing himself and hiding on the track until it was time to go. At that point he'd use all the reserve he still had in the car and win going away from competitors who had nothing left for the end. His smooth calculating style resulted in big paying wins in the Nashville 500, at the Minnesota Fair as well as in California, Florida, Nevada, Missouri, Illinois and of course Wisconsin where he took numerous 50 and 100 lap wins.
It's ironic and sad that while in the midst of his winningest season and the chance to move into NASCAR racing his life ended. With 22 Feature wins heading into August in his Packerland Packing Dennis Frings Chassis Camaro his next scheduled event was at the Wisconsin International Raceway of Kaukauna for an ARTGO event. Forgotten by many is the fact that a disagreement had taken place and Detjens was back in a Bemco Camaro for the event. Without a lot of time in the car he didn't qualify as well as he had been, lining up on the front row for the first 50 lap feature. Setting a torrid pace at the outset Larry and Alan Kulwicki raced side by side for 14 laps with neither giving an inch. Kulwicki thought he was far enough inside Detjens at that point with the two making contact which sent Detjen's car into the inside guard rail on the backstretch. The wreck looked reasonably harmless but it wasn't, as the end of the guard rail went right through the side of Detjens car inflicting fatal internal injuries to the driver. Having been taken to an area hospital, by 9:25 pm that night it was announced Larry Detjens had died.
It was one of the few times during that period in racing that I remained in the pit area for an entire race program, usually opting to sit in the grandstands for the feature finals. On this occasion I wish I hadn't, as I was in the immediate area where the incident took place and witnessed it very plainly.
It took a long time for many to forgive Kulwicki for what they saw as over aggressive driving especially so early in the race in going for the lead and causing the contact between the two. Some never have. Somehow I don't think Larry Detjens would have felt that way even though at just 37 years of age his racing career which was actually really just about to begin and now his life had ended. With George Gillett involvement, discussion had taken place that Detjens was headed to NASCAR's top division for the next season. Most of us had caught wind of at least something happening for Detjens and were extremely excited knowing his long race prowess would prove him successful at that level. Furthermore is the fact NASCAR was really just starting to become the media monster and money making machine it is today and having someone from our neck of the woods do well would have greatly served the Midwest in showing it had quality talent in racing. It just wasn't to be.


But gladly, Larry Detjens' memory lives on in the event held at State Park Speedway fittingly near his home town and now owned and operated by the Wimmer family including father Ron and racing sons Scott and Chris. And maybe after all, even in death, Detjens positive, optimistic disposition and success so many years ago has paved the way for others in racing in the Midwest. Scott Wimmer has tasted success at the top levels of NASCAR and Chris is carving out a nice career of his own. Their uncle Larry Detjens sure would have been proud.


Here and there…Steve Carlson who hasn't shown his age racing but must have had a bout of it in his daily life was unable to compete here recently at La Crosse Fairgrounds Speedway due to back issues. He lent the car he normally drives to Tim Schendel who placed 3rd and 2nd respectively in the two 20 lap NASCAR Features on the night. Not to be outdone in his return he won the 25 lap feature July 23rd…15 year old Michael Sauter, son of Jay has had his ups and downs at the speedway this year, but things were definitely on the upside here July 16th as he captured his first ever NASCAR Late Model win taking the first preliminary event on the night…Dustin Bagstad definitely had a different approach in the Novelty Outhouse race held at the speedway. Instead of hopping out of his car and quickly heading over to grab a sheet of toilet paper as is required for the event he went around to the other side of his race car and picked up a newspaper! Taking it in with him to the outhouse it took track announcer Dan Deicher after a fair amount of time had elapsed, sneaking a peak inside to get him out of the John! It must have been some good La Crosse Tribune reading keeping Bagstad detained. He definitely didn't win the event with the effort where speed is a necessity…NASCAR Late Model competitor Albert Locy has battled an electrical problem nearly all season. A distributor pick up failed for a 3rd time which really has the team searching… J.Herbst solidified his NASCAR Late Model points lead with his 4th Feature win here Saturday night. Herbst can thank NASCAR driver Kenny Schrader who was a guest at the speedway on the night for assisting as he drew the invert number that put J. on the pole for the race!...Shawn Pfaff stayed close in 2nd

in the points race even though he was forced to use a backup car here tonight...With a little extra money on the line in the Darius Pettibone 20 lap Sportsman feature tonight everyone was definitely more racey. Cars were loose and sideways for much of the race and in most cases amazingly great saves were made before necessitating a caution flag! What was all the fuss about? $1,000 to win the race that's what. Jimmy Gilster ran a smart race and very happily took home the grand with a late race pass of Jamie Dummer…Jordan Myers was a happy guy tonight as the rookie driver took home his first ever Thunderstox feature win… And in racing history, on August 26th, 1971 it was season championship night at State Park Speedway where Dick Trickle won the 50 lap feature event followed by Tom Reffner, Larry Detjens, Marv Marzofka and Bill Wirtz. The 25 lap Semi-feature winner was Dick Bentley, followed by Chuck Cherek and Terry Semrow. Heat race winners were Sonny Immerfall, Bentley and Trickle with the Trophy Dash going to Marlin Walbeck. Fast Qualifier was Jim Back at 14:97 around the ¼ mile recently repaved track. Over $4,000 was offered in purse pay-out with $500 going to Trickle for his Feature win. An "overflow" crowd attended the event the last of the 1971 season at the track…


Photos. #25 Larry Detjens in his Packerland Packing Frings Camaro at the Milwaukee Mile in 1981.Photo from the past. Detjens in 1973 with his Dodge Challenger being towed by the mini-wrecker. Chris Wimmer nephew to Larry Detjens at Speed at State Park Speedway this year.
Questions, comments, opinions and other information welcome at Starmaker Multimedia 967 10th Ave N Ste A, Onalaska, WI 54650 608-783-5827 or at dale@starmakermultimedia.com


AUTO

RACING FACTS, OBSERVANCES and OPINIONS




July 21


By Dale P. Danielski
No one really asked me, but…
Why were there only 27 cars for the big $10,000 to win ASA Midwest Tour race at Elko Speedway, Elko, MN. July 8-9? I would have thought a number of outsiders would have taken a shot at a payday we seldom see in asphalt short track racing. As it turns out if you showed up you were in the show and guaranteed the $1,100 starting money. Skylar Holzhausen was glad he made it as he took home the 250 lap win and a cool $10,000. It's reported his hometown of Bangor, WI., is still rockin'…How did things get so out of hand at tracks that everyone is selling their own tires and spending thousands of dollars on impound buildings to insure no one can cheat? What happened to being able to use tires you raced at other tracks, same compound and all, so traveling at least once in awhile could take place? No wonder fields continue to dwindle at speedways hosting the Super Late Model Division, who can afford that!…If NASCAR decides to have a competition yellow at 30 laps of a race as they did at Kentucky recently do fans get a % of their ticket purchased back? After all that's only fair since they weren't really racing up to that point and the yellow flag was not due to an incident, weather, or of course the now you see it now you don't infamous debris…The worst thing a dirt track can do is run its top billed attraction last when the track is worn out and one groove. Many spend 45 minutes to an hour farming the track which sometimes helps, then run four support division features before the main again wearing it out. Most do it this way and the only thing I can figure is they are trying to sell more hotdogs and beer, because obviously this is not what fans come to see, right?…La Crosse Fairgrounds Speedway, West Salem, WI., ran their normal full program of racing here on a recent Saturday night which included driver intros and a novelty event in 2 hours and 25 minutes. They do have full fields of cars in 3-5 divisions as well. They also draw between 2,000-3,000 fans on a weekly basis. This is what fans come to see, continuous racing, right?...In the what's in a name category pertaining to creating fan interest, why would you list a racing division as limited? Limited Sprints. Limited Late Models. How exciting is that! If I'm looking to attend an event those titles aren't doing much to entice me to the show. Same with B Mods or Economy Mods. That's down the list in the alphabet from A Mod so it can't be too good, right? Micro anything. Micro as in microscopic? That means I won't be able to see it without the use of special equipment? Mini anything isn't much better unless it's mini-donuts which I really enjoy! Perception people, create excitement with your racing divisions. Might as well say slow cars going in a circle if you're going to go this type of division naming route…Apparently the dirt World is suffering through tire softening issues as well. One of Wisconsin's favorites, Jimmy Mars was questioned for that after a recent $30,000 win. Was even reportedly subjected to a lie detector test on the issue. A lie detector test, is that legal? I think we've definitely crossed the reason and sanity line here, but where there's that much money it was bound to happen I guess. Maybe it's time to put a claim on tires and let the racers have at it as NASCAR has done. Wait a minute, have at it isn't working in NASCAR so it probably won't work here either!..Speaking of NASCAR is it just me or has the value of the Nationwide Series been totally diminished? What little identity it had is gone especially with Kyle Busch or other Cup drivers winning everything…It took me a long time to find the various track results I was looking for here recently on the internet. Talk about labor intensive. Some of what I found was dated from 2 years ago! It was always so nice to find it all in a racing publication(s)…Conservative, Liberal, Tea Party, Protest Candidate, Transparency, enough already of the titles and terms. How about compromise, compromise and compromise some more for a better Country representing the people that voted you in. Not sure where that came from in a racing column…OK, so what deems this scribe the knowledgeable or even expert on all these topics. Well, no one really asked me, but…


Here and there…With two 20 lap Features contested at La Crosse Fairgrounds July 16th during the Fair the points battle at La Crosse Fairgrounds changed once again. J. Herbst is now back in front just barely, after winning one of the 20 lap events. It was also his 3rd of the year here. Brent Kirchner got himself back in the hunt with his 3rd win in the second 20 lapper…Good to see long time competitor Tim Nelson get a hard earned 3rd place finish in the 2nd 20 while relative newcomer Jes Tenner scored a career best with a 5th place finish in that race…Some ex-racers have a hard time staying away from the racetrack. Kevin Nuttleman could be found manning a 50/50 booth here during Fair week racing… Nick Clements got it right this time. The Rookie NASCAR Late Model driver at La Crosse Fairgrounds won the Feature July 9th at the track and was legal. A ride height issue negated a good finish in an earlier event but that wasn't going to happen again!...Good to see Caledonia, MN., Sportsman driver Rob Mason pick up the feature win here at Lax July 9th. Mason who has numerous dirt tracks in close proximity to where he lives instead has chosen paved racing. It paid off with a big win here tonight…Ralph Cottone who picked up a win in a Sportsman race recently has announced this will be his last year racing. Ralph has been at it a long time but of course we have heard drivers say these things before!
Quote of the column. "My parents weren't here to see me win they're in Alaska, that stinks, so now I'll just have to do it again." Nick Clements comment after winning the feature at La Crosse Fairgrounds.
Back on this date in 1971 it was Marv Marzofka, Nekoosa, WI., winning the 20 lap Feature at La Crosse Interstate Speedway of West Salem, WI. The #91 of Marzofka was followed by #99 Larry Behrens and #57 Larry Anderson. The Semi-Feature winner was #13 Don Grant with heat wins going to #36 Fred Beckler, #8 Lyle Nabbefeldt and Anderson. Trophy Dash winner was Rich Somers.
Photos. Nick Clements in his NASCAR Late Model #08 racing in 2011. Nick Clements racing in the Sportsman Division in 2008. #70 Jerry Smith pavement car in 1973. Smith was one driver that fared quite well crossing over and racing on pavement although the wins on dirt surfaces in North Eastern Wisconsin occurred more frequently. Known as "Medina" Smith for his hometown of Medina, WI., to differentiate between another racing Smith, Jerry (J.J.) Smith also from that area.
Questions, comments, opinions and other information welcome at Starmaker Multimedia 967 10th Ave N Ste A, Onalaska, WI 54650 608-783-5827 or at dale@starmakermultimedia.com


AUTO

RACING FACTS, OBSERVANCES and OPINIONS


By Dale P. Danielski
July 7 2011
Heading into the ASA Midwest Tour event at State Park Speedway here June 24th a name you probably wouldn't have put on the list as a true threat to win was Mark Mackesy. A consistent finisher and a win here and there at area tracks through the years is pretty much what Mackesy has been all about. Racing on a limited budget and at fewer events than most would also keep his name off that special event winners list. But that's why you contest the races and also why fans attend, because you just never know.
Mark Mackesy did indeed win the ASA Tour event 150 lap Feature on Flip Merwin Memorial night at the track and after he pulled into victory lane the applause was deafening with just about every soul in the jam packed grandstand cracking a smile over what was a huge upset win.
The Mackesy name has been involved for many years in racing with Father Bob racing in the 1960s through the '80s and Mom Barb a big part of it through the Women Concerned for Racing group. They've taken their racing seriously but more importantly have enjoyed the journey as much as the successes along the way. That has definitely rubbed off on Mark as he is one of the most happy go lucky guys on race night at the track. And again because of that attitude no one showed their displeasure at his winning this, the biggest victory of his career.
Mackesy didn't fall into the win with a bizarre happening or bad luck by others either. Qualifying 5th among the 30 racers in attendance, Mackesy drew the 8th spot for the 150 lap main. Not dropping back like a rock as some may have predicted, Mackesy actually made rapid progress forward! With race long leader Bryan Reffner the last car in his sites Mackesy bided his time finally making his move with 30 laps or so left with an inside pass for the lead. From there on there was no catching the Wausau, WI. driver as he cruised to the huge win. Some you may have predicted to win did fill out the top 10 with Andrew Morrissey, Jacob Goede, Ross Kenseth, Reffner, Nate Haseleu, Jon Eilen, Tim Sauter, Ben Pettis and Griffin McGrath following in that order. However, on this day it was a win for the little guy, the racer that has done his time and finally breaks through for a career win. Mark Mackesy was that guy on this night!
With Mackesy taking a huge win it was like lightening striking twice as Jason Weinkauf came through with a career win in the ASA Midwest Tour event at the Marshfield Motor Speedway, Marshfield, WI. here July 2nd. Again as with the Mackesy win there was nothing cheap or lucky about the victory as Weinkauf took the lead on lap 14 and had rather comfortable sailing the rest of the way. Interesting to note that Weinkauf almost didn't even compete in the event as the car he was supposed to drive had engine trouble and wasn't going to be ready in time. Race team owner Jay VanderGeest solved that problem by offering the car he normally drives. The combination worked and the rest is history as they say. Nick Murgic made the 100 lap feature finish here at Marshfield reasonably close but ended up 2nd. He was followed by Tim Schendel, Andrew Morrissey, Travis Sauter, fast qualifier Jacob Goede, Jonathan Eilen, Skylar Holzhausen, Matt Tift and Steve Carlson. Here and there…Some days you're right on it and some you'd just as soon have stayed home. Bryan Reffner and Collin Reffner comfortably qualified into the show at Wausau and raced competitively while at Marshfield neither one made it into the feature…Steve Holzhausen and Eugene Gregorich Jr made their ASA Midwest Tour 2011 debuts at Marshfield with mixed results. Holzhausen set 3rd fastest time but fell out of the feature with mechanical issues. Gregorich Jr. also got in the 100 lapper but was none too pleased with his race car. "I don't get scared going into a corner but with this car I am because I don't know what it's going to do!" Gregorich Jr., pulled out of the event after completing 78 laps…Neil Knoblock who made an appearance at Marshfield for the event stated that his previous notes didn't help much this time around. "I've been fast here and believe me I have good notes on the set up here. But with these tires were running it didn't help at all, everything is changed." Knoblock made the feature but was a non factor in the event…Jon Eilen had fast time honors on the night at State Park Speedway as he bested the 30 car field around the ¼ mile oval in 13:834 seconds…Jacob Goede completed an amazing feature run in 3rd place moving all the way up from 18th…Another area racer had a good run at Wausau as Ben Pettis in the Redline Motorsports entry placed 9th in the main event…In asking Mackesy if racing at State Park Speedway, his home track would offer any advantage he replied, "Maybe a little, but these guys are catching up fast." Upon further inquiry of any advantage Mackesy stated, "But we're ready though, we've got a cooler full of beer and we'll have some fun!"…In discussing why fans these days seem to get more into dirt racing events than asphalt Michael Bilderback had some thoughts. "Dirt racing always has more grooves and paved racing seems a little boring compared to that. I also think shorter races might be a little more exciting for the fans. There's no reason we need to run 150 laps at a track like this. (State Park Speedway.) Give us a 50 lap race and let us have at it." Bilderback as it turns out wished the race here was shorter as he fell out of the main event with just 37 laps left while in 3rd position!...With the big $10,000 to win Feature event pay-day coming up in the ASA Tour race at Elko, MN., Speedway July 8-9th some observers are wondering what potential outside of the rules equipment might be tried to win the event. Discussion has taken place that softening of tires and traction control devices already exist in paved Super Late Model racing creating huge advantages. As one person stated if you can't find it is it legal? Maybe if these types of things can't be found they should be made legal which in turn may very well create cost effectiveness and allow everyone to utilize them. Just what would the negative consequences be at that point?...Brent Kirchner has turned things around at La Crosse Fairgrounds Speedway as he raced to his second consecutive 25 lap NASCAR Late Model Feature win here June 25th…Harley Jankowski who has looked very good racing in the Late Model Division at Lax Fairgrounds this year received the best news recently that he possibly could. A Kidney donor emerged providing a match for the young driver and he'll at last be able to live a reasonably normal life again. The transplant took place here a week or so ago which will put Jankowski out of competition for the rest of the season. A small price to pay in getting back to normalcy… Got talking some old times in racing with Tom Reffner who was at State Park Speedway helping son Bryan and grandson Collin at the ASA Tour event there. Tom mentioned one trip where they raced in at least 4 States and one other Country during a stretch of 9 races in 9 days! According to Tom, "I got thinking about that one day and wondered, did we really do that? According to Tom the money was good at the time and it was quite common to be on the road racing for days on end. Trips to Missouri, Indiana, Ohio, Canada and back to Wisconsin all within a week or so weren't unusual. Best of all for them, most of the time the Wisconsin bunch ended up bringing back the majority of the loot when they went on such adventures!...Car owner for Chris and Jason Weinkauf and racer himself, Jay VanDerGeest could be found at the controls checking out a 277B Cat loader while at State Park for the ASA show. When asked if that's how he got to the track his answer, "Absolutely, it's faster than my race car was here two weeks ago!"… There was one open trailer with a Super Late Model on it at the ASA show at Wausau. The car being hauled in on it just happened to end up in victory lane after 150 laps of racing as Mark Mackesy pulled the upset win...The most mild mannered, unassuming driver picked up a big win here at Lax Fairgrounds June 25th in the Thunderstox Feature. As a matter of fact if you saw him on the street you'd never guess he likes making left turns and going really fast at the track We're talking about Dustin Bagstad son of former racer Jeff and relation to regular Late Model competitor Tony. There was nothing unassuming or mild however about his super exciting last turn of the last lap pass for the win here Saturday night!...Quote of the column comes from Tom Reffner. "We could have put a kill switch in the car, it would have taken 5 minutes. We didn't the throttle hung up and I went right off the end into the trees. Everybody said you could see the trees shaking where the car went in. Wrecked a car that night." Reffner was describing his throttle sticking and going off turn one at State Park Speedway in 1984 with his brand new race car. That was back when trees lined 2/3 of the track, long before walls were put up.


Photos. Bob Mackesy puts his car #12 through its paces at State Park Speedway in 1984.

Mark Mackesy #12 back when we both had hair takes a win in 1989 at the Golden Sands Speedway, Plover, WI. Jason Weinkauf battling Steve Holzhausen in the #23 that Jay VanDerGeest couldn't find the speed in at an earlier event.
Questions, comments, opinions and other information welcome at Starmaker Multimedia 967 10th Ave N Ste A, Onalaska, WI 54650 608-783-5827 or at dale@starmakermultimedia.com


AUTO

RACING FACTS, OBSERVANCES and OPINIONS




June 23 2011


By Dale P. Danielski
Success stories in racing are few and far between compared to normal every day occupations and that's why it's nice to be able to report on one now and then. Dan Navrestad of DCA Racing & Fabrication, La Crosse, WI., is one such success story.
Having grown up on a farm in Westby, WI., Navrestad was exposed to the tough farm life early on. He realized to make life easier he'd have to learn how things mechanical worked and how to fix them. "I enjoyed building things and I learned that while working on the farm. You couldn't afford to have someone else doing that maintenance for you so we'd work with what we had and cobble things, as they say together, to keep going." As it turns out that experience really paid off and eventually I became a mechanic in La Crosse."
"I bought tools from George Roders, a supplier in the area who was involved in racing and that's where it all started. It was a great opportunity for me meeting George as he encouraged me to try things knowing I could do it. I did prove to myself I could build and fabricate things and at that time I just took it and ran with it."
After working on Roders' racing equipment which consisted of drag and road racing cars for a year and a half Navrestad met stock car driver Mike Belling. "After helping Mike for a couple years and meeting a lot of nice people I decided to give it a try myself, that was in 1984. I had a lot of fun racing and I think I was a decent driver, but still being interested in building things I decided I was a better fabricator than driver so I started my own business. Plus, at that time, which was 1989 I had gotten married and there just wasn't time to do all that racing like I had. That's when DCA Racing & Fabrication was born."
"Having met so many people in racing and driving myself it just made sense that I would conduct business with that crowd. The fact I did drive really helped me to understand the racers needs and without that knowledge there is no way I would have been as successful."
Again with financially successful longevity in the sport of racing no easy feat how has Dan Navrestad maintained. "The big thing is not to go too far in debt. I was fortunate, I already had a lot of tools and equipment before I started in business and that's the key, not going so far in debt you have nothing left to operate off of. That's especially the case in the racing business with margins on parts and labor so small."
Of course with changes in race cars and trends in the sport unpredictable, adapting to what's out there and taking advantage of opportunities are also key elements to remaining solvent. "The sport is getting so expensive it's tough for guys to compete. It's especially tough for the young guys to get interested knowing in some cases just to get on the track with a car is going to cost them $10,000 or more. I've worked with the stock car group for the most part but I'm seeing an upswing in business in drag racing. I think it's due to consistent rules coast to coast and the fact it's more affordable. Being more diversified and working on road course cars and hot rods has helped keep me going too."
And just where does Dan Navrestad of DCA Racing & Fabrication envision himself a year, 5, or even 10 years down the road? "For 22 years I've been making a living on other people's toys. If you asked me 20 years ago if I'd thought this was possible I'd have said it couldn't happen. I'll keep doing this as long as I'm able. Eventually I'd like to cut back to 3-4 days a week. I know I'll always be building something though, maybe one of these days I'll be able to build a toy for me instead of for everyone else!"
I've likened success and longevity in racing to farming or being a rock star. It's high risk and the day could come at any time when your career in it is over. That's why its great to see when someone does make it work. Dan Navrestad of DCA Racing & Fabrication is one such success story we can continue to talk about.
Here and there…Brad Powell made his NASCAR Late Model debut June 11 at
La Crosse Fairgrounds Speedway, West Salem, WI., and promptly set fast time of 19:727. That's just short of a 100 mile per hour average around the big 5/8 mile paved oval…One more lap. That's what Todd Korish was hoping for as Late Model feature leader Troy Rave nursed his car home with a sick engine. Rave held off Korish for his first ever NASCAR Late Model Feature win at Lax Fairgrounds. Matt Henderson, Powell and J. Herbst followed…Quote of the column. "I could smell oil and all of a sudden I was catching him. I just didn't catch him fast enough!" That from Todd Korish who with 2 laps left in the race was behind Troy Rave's ailing race car by 10 car lengths but closed to within one at the finish of the June 11th feature at La Crosse Fairgrounds Speedway.In Racing History, on July 17th 1960 the Griffith Park Speedway, the first paved track built in the area of Wisconsin Rapids, WI held its first ever stock car race with Jere O'Day taking the 25 lap feature win. Finishing 2nd was Don Ruder with Ken Pancratz placing 3rd. other winners were O'Day in the Semi-Feature, John Moquin in the 1st heat, Augie Winkleman in the 2nd, and Ruder in the 3rd. O'Day also set the fast time for the event. The facility in 1960 was reportedly built for $20,000. Sam Bartus initiated the effort leasing land from John Murgatroyd. Gerald Richter served as Manager of the Speedway…
Photos. The late Rich Somers always had some of the best looking equipment on the race track. This Ford from Rich's earlier days of racing is an example. (Bob Bergeron photo) Troy Rave drove this Brent Kirchner back up car #81 to his first ever NASCAR Late Model Feature win June 11 at La Crosse Fairgrounds Speedway.
Questions, comments, opinions and other information welcome at Starmaker Multimedia 967 10th Ave N Ste A, Onalaska, WI 54650 608-783-5827 or at dale@starmakermultimedia.com


AUTO

RACING FACTS, OBSERVANCES and OPINIONS


By Dale P. Danielski
June 9 2011
Compared to some race tracks, the Golden Sands Speedway of Plover, WI., has had a pretty long life. I know we've talked about this facility before, but when built it was so unique it's worth venturing back in time once again, especially since we were able to pay a visit here recently.
Originally built, owned and promoted by Sam Bartus in 1967, the track has weathered more than a few storms and is still an active weekly operation today. The current ownership regime is the Basseuner family and we had the opportunity to visit with them and catch their season opening show on a recent Friday night.
Looking back through the years, most tracks were quite primitive in their construction. Bare necessities and not much more to entertain the paying customer. That was enough then, but certainly today fans are looking for more in the way of creature comforts. The Basseuner's after purchasing the speed plant saw to it that updated and more modern amenities would be in place before any racing action took place. True to their word, the place is definitely spiffed up and still holding exciting racing action every summer now over 40 years later.
Having grown up in that part of the State and putting much sweat equity in the place myself, I've always thought the high banked, 1/3 mile paved oval featured nearly the perfect lay-out for a short track. Originally advertised as a 3/10ths mile in length with 12 foot banks in the corners and 7 foot on the straight a ways, I guess it just depends on exactly where it was measured in determining the exact size. All I know after watching hundreds of events there, is it was always one of the most exciting places to view a race.
At one point the track even featured 3 groove passing all the way around, although today's featured brand discourages that. The 3 wide racing deal back in the day actually came as a result of a time or two, too often, of the front row starting drivers "Making it look good" by racing each other side by side for nearly the entire length of the Feature event. With the checkered flag ready to wave, they'd miraculously find a burst of power and really start racing, showing what they truly had in the car in the process and making a mad dash to the line to see who would win. Of course this tactic left those in the rear, who had qualified the fastest that day frustrated for their inability to move from the back to the front. Being that the speed of the front row guys was probably a half second slower than what the fast guys in the back could do, Marv Marzofka one day said, the heck with this inventing the new third groove and passing the entire field in 5 laps! According to Marv, "You really had to trust the guys in the 2nd groove to stay in their lane, but if they did you could win from out there since you were going so much faster than they were." Marzofka as stated was the first to accomplish the feat, but soon others caught on as Tom Reffner, Mike Miller and Dick Trickle all won while 3rd grooving. Of course now that these guys realized they could do this the front row side by side dogging ploy was no longer viable and it pretty much ceased.
2011 found Golden Sands Speedway opening on May 20th and we witnessed just shy of 50 racing machines in three divisions, Super Late Model, Pure Stock and Cruiser participating. Third generation driver Colin Reffner proved early he would be the one to watch as he set a blistering fast time pace of 11:948 in Super Late Model qualifying. Reffner has a new chassis this year and is racing for Gary and Elaine Kawleski with father Baird Reffner overseeing the operation. After opening the program in grand fashion a feature win was unfortunately not to be for young Reffner as electrical problems put them out while running 4th in the 75 lap main. Jeremy Lepak had no such trouble and cruised to a relatively easy win over Jeff Weinfurter, Tim Sauter, Ted Reichenberger and Darren Jackson.
There are still some familiar names racing at the track these days as long time competitors Kirby Kurth and Rene Scheinoha race in the tracks top division. Kurth who is back after a several year hiatus admits things have definitely changed. "These kids today have no fear at all racing. They really get out and go!"
Other names from past years of racing here are also prevalent today at the facility although a generation or two later, as drivers with the names Lepak, Marzofka, Sauter, Weinfurter are all competing. A number of folks that used to race here with names like Bohmsoch, Nitzke, Rossier, T. Reffner, can also be found observing or working on cars and it's always fun to catch up on things with them.
A day at what was the home track for many years is always a good day. Hopefully we can make a return trip in the near future.
Here and there… According to Baird Reffner, once all the bugs are worked out of their new race car, son Colin is going to be a force to reckon with. "We have one bad to the bone race car. Starting now this car will be a bullet!"…La Crosse Fairgrounds, Speedway, West Salem, WI., got another show in the books here Saturday night with Brent Kirchner who has had nothing but problems so far this year getting the 25 lap NASCAR Late Model win. Kirchner avoided the numerous wrecks and spins that took many of the top contenders out of the race and held off Shawn Pfaff at the stripe for his first win of 2011. Nick Clements, Matt Henderson and Harley Jankowski rounded out the top 5…Jankowski in a rare occurrence raced in three divisions Saturday, NASCAR Late Model, Thunderstox and Outlawz. He did well in each even pulling off a win in the Thunderstox Feature…The highly competitive brothers Gilster have been on top of their games at Lax Fairgrounds in the Sportsman Division this year. They lined up side by side at the front of the field on a restart in the feature here Saturday with Dan sneaking ahead of brother Jimmy and eventually taking the 15 lap win. Jimmy who has also won this year settled for 3rd…

If you think eating a hotdog and consuming a drink faster than anyone else is easy just ask the majority of racers who tried it at the speedway Saturday. I think some are still sitting at the table trying to finish! Rusty Winchel had little trouble though and he convincingly won the novelty event…Quote of the column comes from Kirby Kurth, "I'm going to have to put a slow moving vehicle sign on the back of my race car so some of these guys don't run over me."…In thinking who has promoted racing at Golden Sands we can recollect Bartus, Paul Kaczrowski, Jere O'Day/Dean Spohn, Ralph Jacobson and Terry Preuser as the only ones. There were others that did some one off shows but basically a pretty short list for over a over 40 years of racing operation…Looking back in time on Thursday May 25th 1967, it was Dick Trickle winning the 25 lap Late Model Feature race along with setting fast time of 13:66 seconds and capturing the 4th heat race in the Golden Sands Speedway Grand Opening event. Other winners on the night included Willie Reinwand 1st heat and consolation, Del Kemnetz 2nd heat and Lyle Nabbefeldt 3rd heat and semi-feature winner while racing the famous Chicken Coupe. Adults attending the event paid $1.50 to get in with those under the age of 12 being admitted for $.50…
Photos. I have to thank colleague and friend in racing the late Bob Bergeron for the photos of early Golden Sands Speedway action featuring #20 Ed "Gunner" Walkush, #55 Mike Brown, #67 Larry Rezin, #91 Marv Marzofka, #61 Jim Back, and #2 Dave Marcis. Photo. Jeremy Lepak on his way to the 75 lap season opening Feature win at Golden Sands Speedway.
Questions, comments, opinions and other information welcome at Starmaker Multimedia 967 10th Ave N Ste A, Onalaska, WI 54650 608-783-5827 or at dale@starmakermultimedia.com




AUTO

RACING FACTS, OBSERVANCES and OPINIONS
May 26 2011
By Dale P. Danielski
Talking about the weather is common in striking up a conversation. But when it's bad weather, like it's been here for a number of race events we've tried to attend it's like, "Enough already, I don't want to hear it anymore!" But of course if it would get to being even close to normal for this time of year we wouldn't be now would we.
The two ASA Midwest Tour events held thus far have certainly been affected adversely by the weather. The nice sunny skies we've witnessed at both shows have unfortunately been accompanied by 30 mile an hour winds! That was the case here at Wisconsin International Raceway Sunday afternoon May 15th for the running of the Dixieland 100 on it's new, earlier scheduled date. The show did however go on.
Highlight of the day was seeing Tim Schendel finally get a win in the feature event after 11 years of trying! With a fast car and a good starting spot, all Schendel had to do was drive it to the front which he did about half-way through the main. Skylar Holzhausen appeared to have things well in hand but a broken brake line ended his day and opened the door for Schendel's momentous win. Ross Kenseth had a fast car also but he was no match for Schendel crossing the finish line 2nd after 100 laps 20 car lengths behind. The suddenly invigorated Andrew Morrissey placed 3rd right on Kenseth's bumper. Nate Haseleu, Nick Panitzke, Jacob Goede, Jeff Van Oudenhoven, Steve Carlson, Travis Sauter and Chris Wimmer rounded out the top 10 finishers.
An 8th place finish for Carlson is not usually noteworthy, but it is in this case as Steve was the 2nd slowest qualifier on the day and forced to use a provisional starting position in the feature for the first time ever in this series! Certainly Carlson will iron out the bugs on his new car and score wins and podium finishes down the road.
Morrissey's 3rd place finish was on the heels of his setting quick qualifying time on the day of the 34 racing machines on hand. His increased speed and consistency have also found him 2nd in points only three behind that other fast and consistent racer Kenseth heading into the next event June 4th at Grundy County Speedway in Morris, Ill.
Chris Marek and Bobby Wilberg are each batting 1,000 as they picked up their second ASA Tour wins in the Sportsman and Truck Divisions respectively. Both have also been getting the work done in very convincing fashion as well. Is it time to post a bounty to beat them?
Here and there…Interesting to note that besides Carlson Jon Eilen Bryan Reffner and Wimmer all failed to make the race on time. Unlike Carlson, the three did get in via the last chance race however…Frank Kreyer was at the La Crosse Fairgrounds Speedway on a recent Saturday (The show was rained out of course) shaking down one of the 6 cars he will have at his disposal in 2011. Yes, you read that right, 6 race cars to tackle the 2011 season. Kreyer has teamed up with Wes Coon and a number of different drivers will be competing at various events throughout Wisconsin as well as in some CRA sanctioned events. According to Frank who will contest the entire campaign at Wisconsin International Raceway it was time to incorporate their ideas into the race cars starting from the ground floor. "We just decided rather than constantly changing things we thought would work better on other builders chassis' we'd do our own. It was a busy winter for sure in the shop getting everything ready!"…As mentioned earlier, La Crosse Fairgrounds was rained out for the second time in four tries. Qualifying was in the books when the monsoon rains and wind hit…Todd Korish although not happy was at least glad the show didn't go on…he blew his engine in hot laps!...With all the big rigs getting teams from race to race it was interesting to see what Tommy Pecaro used to get to WIR for the ASA race. Can you guess? No you can't as it was a 1986 Chevrolet ½ ton pick-up truck with a topper for protection and an open trailer. He didn't make the feature event but he made it to the show like everyone else did, and probably spent a lot less on fuel!...Sad to hear of the passing of Rich Somers. Somers got his career started in the late '50s and raced for over 30 years. Rich had health problems for awhile, but remained busy restoring his original Thunder Pony Mustang, his favorite and winningest car. Unfortunately his calling came before he could finish that project. It is hoped that someone will step in and complete the restoration and we'll be able to enjoy seeing its appearance at numerous venues down the road. Somers was 71…Quote of the column from Steve Carlson after his poor qualifying effort at WIR, "I've definitely dug myself a hole haven't I."…
Photos. Speaking of haulers they were pretty unique back in the day. How about this one of famed car owner in Wisconsin's Fox Valley, Crooks Schultz. We know on this day in 1974 Bobby Wawak drove the Camaro at WIR to a win in the 3rd heat race.

Tim Schendel on his way to breaking an 11 year victory drought at WIR in the Dixieland 100 held there May 15th.
Questions, comments, opinions and other information welcome at Starmaker Multimedia 967 10th Ave N Ste A, Onalaska, WI 54650 608-783-5827 or at dale@starmakermultimedia.com


AUTO

RACING FACTS, OBSERVANCES and OPINIONS




May 12th 2011


By Dale P. Danielski
Everyone was looking at each other, shaking their heads and asking, "What is going on here!" They were talking about the opening laps of the season kick off ASA Midwest Tour Joe Shear Classic race at Madison International Speedway, Oregon, WI., Sunday, May 1st. It was one of those days for race drivers. Everyone was so anxious to get to the front in the 136 lap main event they were running all over each other to get there. The race was scheduled for 136 laps and no less than 10 cars had substantial damage by the 10th lap! It's always been said you can't win the race, or of course the season championship on the first lap of the first event, but then again on more than a few occasions many have tried! Worst case scenario as today was another one of those days.
All the early carnage made little difference to Ross Kenseth as he started up front and pretty much raced there throughout the feature. Content to run behind Michael Bilderback for much of the event, when it was time to go, Kenseth went passing Bilderback for the lead leaving the rest of the field behind…way behind. Bilderback ended a very good day in 2nd and was followed by Andrew Morrissey, Jacob Goede, Nathan Haseleu, Griffin McGrath, Chris Wimmer, Tim Schendel, Bryan Reffner and Nick Murgic.
Chris Marek got his year off to a good start, by winning the companion ASA Sportsman Feature while Bobby Wilberg took the ASA Truck main. Scott Hansen made his return to racing in that event and placed a respectable 3rd in the main. Even though we spotted snow on several ski runs in the Baraboo, WI., area on our way down to MIS, it was time to get winter behind us and go racing which is exactly what happened here in the ASA Midwest Tour opener. Hopefully drivers will be a bit less anxious for race two on the schedule may 15th at Wisconsin International Raceway, Kaukauna, WI.
Here and there…Bryan Reffner who started the ASA Tour year by setting fast time at MIS complained of tire issues. "Same old thing trying to keep stagger in the tires. We went out with plenty and came back in with ½ inch."…Jeff Storm had a rather embarrassing moment while leading in the odd dash at MIS. "I thought the spotter said one to go so I slowed down. Before I realized there were two laps left and got back on the gas it was too late…finished 2nd."…Some folks were blaming the new to the series double file restarts on all the early feature wrecks at MIS. I think it was more of a case of driving too hard to get to the front on cool tires which were taking longer to get heat in them due to the cold temperatures…With Steve Holzhausen

still laid up with a foot injury, car owner Pete Kempf is thinking about racing the car in the ASA Tour event at Wisconsin International Raceway, Kaukauna, WI., May 15th. "I've got about 8 hours left to finish it, so since Steve can't I think I'll drive it at Kaukauna." The car Kempf is finishing up is one previously owned by Mark Eswein which Pete purchased last year after his other car was wrecked when Holzhausen had the throttle stick hitting the wall and totally demolishing the machine at Dells Raceway Park…Great weather greeted fans for night two of competition at La Crosse Fairgrounds Speedway here Saturday night with J. Herbst taking the NASCAR Late Model Feature. He had all he could handle but did manage to hold off the night's fast qualifier Todd Korish for the win…With a couple 2nd place finished Korish finds himself leading the division's point standings and has definitely established himself as a season long contender…2010 NASCAR Late Model Champion at La Crosse Fairgrounds Shawn Pfaff did more snowmobiling this winter to stay in racing shape. "A lot of guys don't do anything in the off season. I snowmobiled more this year and I think it helped as far as hand eye coordination." Apparently it has as Pfaff has avoided all the early season skirmishes and finds himself in the hunt for the championship…Cole Scholze is a rookie driver in the NASCAR Late Model division and notes things are quite different racing that type of car. "It's a lot different than driving a Thunderstock or Sportsman car. These cars are a lot faster and they stick and go where you point them!"…In asking Tony Bagstad what was left of his Late Model car after severely damaging it a couple weeks back at La Crosse his reply was, "The seat. Actually I could fix it, I can fix anything. Could maybe even have done it in a week, but it would really have been a long week." In discussing the wreck, Bagstad indicated he was reaching for reverse gear in the car after the initial contact as there was minimal damage. However, that thought changed when Mike Carlson came shooting into the middle of the pile up inflicting the majority of the damage to both cars…Quote of the column comes from the president of the ASA Midwest Tour Tim Olson. "I got on the radio to the spotters and said will you please tell your driver there are 127 laps still left in the race!" Of course Tim was pleading his case at the MIS opener where so many struggled to keep their cars going in a counterclockwise direction.


Photos. Ross Kenseth at speed on his way to the win in the ASA Midwest Tour event at MIS. A young driver on his way up as father to Ross, Matt takes a win in a sportsman division race at Golden Sands Speedway, Plover, WI in 1989.
Questions, comments, opinions and other information welcome at Starmaker Multimedia 967 10th Ave N Ste A, Onalaska, WI 54650 608-783-5827 or at dale@starmakermultimedia.com

AUTO
RACING FACTS, OBSERVANCES and OPINIONS


By Dale P. Danielski
April 28 2011
With winter grudgingly departing it was great to see a track beat the weather here Saturday night as La Crosse Fairgrounds Speedway, West Salem, WI., opened its 2011 season with a full slate of racing.
Tough times and economy be damned as an excellent four division field pushing 80 was on hand to do battle in front of an anxious to see some racing crowd of nearly 2,000. When all was said and done it was a familiar face in victory lane after the top billed event of the night, the NASCAR Late Model Feature, as Steve Carlson got off to a quick start taking the main.
Although a perennial winner graced victory circle the night was not without plenty of action, excitement and drama.

After an early caution period took out contenders Mike Carlson, Tony Bagstad and Adam Degenhardt, Carlson as usual, took the opportunity to move up from 12th in the field via the outside on the double file restart to near the front of the pack. Shortly thereafter he was in front never to be headed. Todd Korish fought gamely but was never able to pose a real threat and wound up 2nd at the finish. He was followed by NASCAR Late Model Rookie Nick Clements, Matt Henderson and defending LM champion Shawn Pfaff, or maybe not. In post race tech inspection Clements was found in violation of the ride height rule and disqualified which moved everyone up a spot. That put J. Herbst in 5th with Skylar Holzhausen, Bill Niles, Harley Jankowski, Cole Scholze and Jerimy Wagner following. The Herbst finish was noteworthy in that he had to come from the back of the pack twice having been involved in on track incidents. Holzhausen was forced to do the same on one occasion but still moved through the field to finish 6th. Brent Kirchner who is expected to contend for the title this year wasn't so lucky as he was involved in an early caution which meant he had to restart the race at the rear. He decided he didn't want to start in that position and wouldn't go there at which point he was black flagged. Not heeding that warning he was consequently disqualified! Did we say action and drama here tonight!
It appeared after watching the NASCAR Late Model Feature and all its carnage the Sportsmen Division drivers decided to take a bit more cautious approach for their 15 lap main. Brothers Gilster were the show, battling each other much of the way before Jimmy was able to eke out a close win over Dan in a relatively incident free race.
Another familiar face was in victory lane in the Thunderstox division as Adam Moore captured the 15 lap headline event. The new Outlawz division made its debut with John Olson taking the top attraction.
All the aforementioned with a bunch of fun added,

best describes the opening night of racing at La Crosse Fairgrounds Speedway. Now if Mother Nature will only cooperate and let us move into Spring-like weather we know there is more of the same to come.
Race night notes…Michael Sauter son of Jay made his debut racing a NASCAR Late Model here tonight. At just 15 years of age, Sauter already has a fair amount of experience racing. According to Dad they began his racing in Karting. "We raced locally for a couple years before competing with the IKF. Having done very well with that it was decided to get into car racing. We thought about starting out in one of the lower divisions of racing but it seems you can develop a lot of bad habits doing that so we decided to get right into the NASCAR Late Model Division. We first thought of racing two cars out here in the division with me driving the other car but it just seemed like it would be too much work. Plus I wanted to help my son get started and heading in the right direction." With Chad Wehrs providing the equipment, the team did just that with Michael, after an earlier spin, battling back to place 12th in the Feature event. With the Sauter bloodline you have to believe the kid has got a future in racing…One rabbit was very lucky Saturday and probably did make it to Easter Sunday. Seen running next to the wall between turns three and four during hot laps track workers helped the animal to freedom...for now anyway…The gopher however was not so lucky this week as the J. Herbst machine made short work of him…The cars of Mike Carlson and Tony Bagstad suffered by far the most damage after the evenings racing with both needing to be hauled away via Flatbed trucks…Quote of the column this time around comes from Skylar Holzhausen who will be racing on a near regular basis in a team car to J. Herbst at the track in 2011. "J. has a good feel for his race car. Our styles are real close which helps us in setting up the cars. I think we've got something here." Both cars and drivers were extremely fast but being in the right place at the wrong time hurt both their performances…Here and there…Things should start heating up in area racing as a number of dirt tracks including weather plagued Mississippi Thunder Speedway of Fountain City, WI., and Deer Creek Speedway, of Racing, MN., are set to get rolling by the time you read this. The ASA Midwest Tour will also get their season started at Madison International Speedway of Oregon, WI., April 30 and May 1st…
Pic from the past. Jay Sauter who has had a pretty fair racing career of his own in his car, vintage 1983. Photo. 15 year old Michael Sauter, son of Jay, made his debut in the NASCAR Late Model Division at La Crosse Fairgrounds Speedway.
Questions, comments, opinions and other information welcome at Starmaker Multimedia 967 10th Ave N Ste A, Onalaska, WI 54650 608-783-5827 or at dale@starmakermultimedia.com





AUTO

RACING FACTS, OBSERVANCES and OPINIONS



By Dale P. Danielski
April 2011
A number of Series and track schedules for 2011 are out so hopefully a mild spring will allow for racing here in the Upper Midwest in short order.
Several tracks in our vicinity are looking at April openers with the Deer Creek Speedway just south of Rochester, MN shooting for the 2nd with a 6th-10th special scheduled for the following week of the month. That's pretty ambitious considering our finicky weather here but they've done it for many years and are usually quite successful. Maybe instead of successful the word used should be lucky as you never know what you will get weather-wise this time of the year. It seems it's either a home run or a total wash or snow-out with these early season events. Deer Creek has taken it a step further than most by scheduling a high dollar special event this time of year which is normally something reserved for later in the season when weather is more predictable. Again it's a feast or famine type scenario as you can get a ton of cars and people who are anxious to get things going early on, or you can spend a bunch of money on advertising and facility preparation only to need additional funding to advertise a rain date down the road! The Queensland family of promoters is very equipped to handle just about everything thrown at them and you don't get voted as promoter of the year as the family did by Racing Promotion Monthly for 2010 without taking a few risks along the way. We'll see if it pays off for them to start off 2011.
In the immediate area La Crosse Fairgrounds Speedway, West Salem, WI., will kick things off with media and practice day April 16th. A program of NASCAR Late Models, Sportsmen and Thunderstox

race cars will officially get the season underway the following Saturday, April 23. Much discussion is currently taking place of a night those divisions won't be racing at the track as June 18th will see a SMASH-O-RAMA event instead of the normal three Divisions of racing. It will be interesting to see how the week off plays into those chasing championships during the year.
And with so many race tracks facing noise, dust, congestion and potential closure issues it's nice to be able to report of a track re-opening. The Excalibur Speedway of Tomah, WI., will again be holding racing events on Friday nights in 2011. Dave Thompson, owner of the facility has brought on Greg Oliver to operate the track this season. If that name sounds familiar it should as Oliver is the flagman at La Crosse Fairgrounds and also for the Big 8 Series of racing. Opening day for the 3/8 mile paved oval will be Sunday, May 15 where a 200 lap 4 cylinder Enduro will take place. The following Friday, May 20th regular weekly racing gets started with Sportsman, Thunderstocks and Bumble Bee Divisions competing. Oliver hopes driver participation is in the form of established divisions of racing in the area and expects to draw competitors from the La Crosse, Wisconsin Dells and Marshfield areas. According to Oliver, "If we can get 45 cars in all divisions each week and 300 people in the stands to start out I'd be ecstatic!" We wish the best for the track which hasn't operated in 10 years and hope to attend a number of events there.
Mississippi Thunder Speedway will have at it for another season of racing as the 3/8 mile clay oval near Fountain City, WI., will open Friday night, April 22nd. Bob Timm and his crew always have something special going on with a number of big events again on tap for 2011.
The ASA Midwest Tour schedule features a number of traditional and very prestigious events for 2011. The Joe Shear Classic gets things started at Madison International Speedway, Oregon, WI., April 30th-May 1st, 2011. The Rockford Speedway is opting to go with ASA Tour sanction this year for its 46th Annual National Short Track Championship event October 2nd. Other notables include the Annual Dixieland race moved up to May 14-15 at Wisconsin International Raceway, Kaukauna, WI., from its normal August date. The Wayne Carter Classic takes place at Grundy County Speedway, Morris, IL., June 3rd, while the Iowa Speedway of Newton, Iowa is back on the schedule for 2011 with a 150 lap event on the 7/8 mile super speedway August 5th. Rounding out the impressive schedule are dates at Illiana Speedway, Schereville, IN., June 18th, State Park Speedway, Wausau, WI., June 23rd, Marshfield Motor Speedway, Marshfield, WI., July 2nd, Hawkeye Downs Speedway, Cedar Rapids, Iowa, August 12th, Raceway Park, Shakopee, MN., August 21st, Norway Speedway, Norway, MI., September 4th, and the huge season ender at La Crosse Fairgrounds for the 42nd Annual Oktoberfest October 8-9. And we would be remiss if we didn't mention a new format for the ASA Midwest Tour event at Elko Speedway, Elko, MN. The Summer Clash 250 will take place July 8-9 at the 3/8 mile oval and the main event will feature 250 laps of feature attraction racing. And best of all, Elko which has hosted Tour events from the beginning, plans to pay the happy winner a cool $10,000! Always one to do things big, the Elko event this year certainly fits in that category.
Here and there…Steve Holzhausen who was badly injured at Dells Raceway Park, Wis. Dells, WI., in a racing accident last year and had surgery on his leg and ankle, has been informed the healing of the bones has not taken place properly and consequently he will need further surgery. As we speak the surgery should have taken place and if all goes according to plan he will be ready to go racing in 2011, albeit later than planned in the Spring…Quote of the column comes from Skylar Holzhausen, son of Steve. "I want to run the entire ASA Midwest Tour this year even if I have to spend all my own money. I need to show something this year!" Young Holzhausen will also have that opportunity at La Crosse Fairgrounds during the season as he will race Saturday nights when free in a second Terry and Michelle Herbst NASCAR Late Model…Now that National Speed Sport News has ceased publishing a paper all the more reason to read MRC! Tell me readers, what coverage or feature stories you would like to see and we'll get it done through the Midwest Racing Connection…


Photos from the past. Dick Trickle with his new Mustang at the Golden Sands Speedway, Plover, WI., April 1974 opener. Bob Gunn in an Ex-Trickle Mustang in 1974.
Questions, comments, opinions and other information welcome at Starmaker Multimedia 967 10th Ave N Ste A, Onalaska, WI 54650 608-783-5827 or at dale@starmakermultimedia.com


AUTO RACING FACTS, OBSERVANCES and OPINIONS
March 2011 By Dale P. Danielski

With Florida Speedweeks in the books it can't be long before Spring arrives and we get into Upper Midwestern racing can it? In looking out my window it can as more snow piling up means the Ground Hog is back to sleep and it will be awhile before we hear the roar of racing engines in these parts. So, to keep everyone nice and cozy we'll produce some more warm racing memories, or new experiences if you weren't there, with events and goings on from the year 1974.
A big announcement by track promoter Phil Stewart heading into the racing season was the Elko Speedway (Now Minnesota Speedway) continuing with the NASCAR sanction but going with a dressed down "Sportsmen" type race car as its main attraction. Cutting costs was the reasoning behind the decision and many longtime Twin Cities drivers were not happy feeling their Late Model race cars were literally obsoleted over night. A minimum car weight rule of 3,300 Lbs at 9.4 pounds/cubic inch of the engine displacement were the most drastic changes in the rules. In addition a street type tire was to be utilized instead of the more expensive racing skins of the past along with the mandatory use of mufflers. It proved to be too much for many of the area star drivers to take and they began traveling to Wisconsin to race where less restriction applied. And being selfish in Wisconsin, we welcomed the Minnesota contingent as field's swelled to huge numbers everywhere we followed paved racing. Some that crossed the border to do battle included Larry Behrens, Don James, Mike Miller, Bob Jusola, Jim Derhaag, Bob Arbuckle, Bruce Sparrman, Bill Oas and Jon Chrest.

Interesting to note that while embroiled in argument with Stewart the Minnesota Stock Car Racing Association which had for members most of the top pavement drivers racing in the area, was looking to purchase the track in Shakopee, MN which they had also been regular competitors at for many years. If that, with advice from consultants wasn't feasible, the group was looking at having a track near Centuria, WI., paved and possibly racing there. None of it however came to fruition and most was forgotten when in a shocking to the racing community development, Stewart at just 37 years of age, suddenly died of a cerebral hemorrhage just a week later. Only one event in 8 tries had been contested under the new rules and now many were wondering if there would be a racing season at all. Mercifully it was arranged to continue racing in Elko and the season once again commenced with a late May event. The driver line up there was looking quite different now that most of the veterans were running elsewhere and names like Dewey Gustafson, Mike Demars, Ted Kitzman, Mark Lamoreaux and rookie to the top billed division, Jim Weber were showing up in victory lane. It was however, one of the regular star drivers that stayed home, John Boegeman having one of the best seasons winning numerous main events.
In 1974 it wasn't just Minnesota paved racing shaping up differently as the Rockford Illinois Speedway was also implementing new cost savings "Rockford Rules" for their Late Model division which meant many of the drivers that had been racing there wouldn't be, and consequently heading over to Wisconsin on a regular basis. What a treat to have Joe Shear, Dave Watson, Don Leach, Boyce Sparkman, John Knaus, (Yes, that's the father of NASCAR crew chief Chad Knaus) Danny Bellard and numerous others crossing that border to race in the Badger State! According to flamboyant promoter Hugh Deery, "It makes sense for drivers to be racing a $3,000 car for a $3,000 purse rather than in a $15,000 car. We are putting racing back in the driver's hands as they will be able to compete here in a car for 25% of what they used to need to be competitive."
Actually Wisconsin didn't totally stay put in their rules package from previous years as cars were required to race at the 8 Lbs/cubic inch standard which ended up eliminating the huge bore Big Block engines that had been regular winners in the past. Now racing with those engines would require a car to be too heavy to compete with the 350 CI or so small blocks. Wisconsin also went with a muffler rule which drew a fair amount of opposition but as it turns out was a blessing since we could now hear each other talk when cars were on the racetrack. That especially applied when Larry Detjens went by in his Hemi-Mopar which was by far the loudest of them all!


Sadly the season barely got started when it was reported that long time racing supporter Alan "Moose" Peterson had perished in a motorcycle accident. Peterson from Black River Falls, WI., had kept many a racer going both on asphalt and dirt including Ev Fox, Lyle Nabbefeldt, Dick Trickle, Wayne Kittelson, Jere O'Day, Harold Mueller, Gary Kneisley, Tom Nesbitt and Marv Marzofka. Peterson, who also did some dirt racing himself was just 38 at the time of his passing.
Looking at the circuit for many of the Wisconsin group in 1974, you had Wednesday racing at Columbus 151 Speedway of Columbus, WI., Thursday at State Park Speedway, Wausau, WI., Friday at Capital Super Speedway, Oregon, WI., and La Crosse Interstate Speedway, West Salem, WI., Saturday at Dells Motor Speedway, Wis. Dells, WI., and Sunday night racing at Golden Sands Speedway of Plover, WI. Of course Tuesday and Sunday afternoon also found much in the way of Special event racing.
In the meantime, the latest promotional group, Tri-R promotions of Oak Forest, IL., had come up with a very ambitious schedule of open competition racing for top Late Model drivers announcing a 10 race series of events featuring $125,000 in purse pay-out money. The group had scheduled four events in 1973 but upped the ante for competitors considerably with its 1974 version.
With all the money on the line Tri-R events regularly attracted the Wisconsin and Illinois gang of racers but also such Michigan stars as Bob Senneker and Butch Miller which was special for us following the sport as we rarely had an opportunity to see those guys in action. They ended up taking their share of the loot home with them too when all was said and done.
Early season action found Larry Detjens in his still really loud but cool nonetheless 1974 Dodge Challenger taking the win at Wisconsin International Raceway, Kaukauna, WI., in the Spring Opener 50, besting a record field of 63 entries. Dick Trickle meanwhile captured the overall win in the Tri-R Prairie State 150 event at Capital Super Speedway in his 1970 Mustang taking one of the three 50 lap feature events.


With all the uproar going on about drastic rule changes folks should have been looking back in time where they would have seen that this type of action is not all that unusual. If you take a look through the years racing has always gone through phases to make the sport less costly. Taking a step or two backward periodically to move forward has been commonplace. The controversial Rockford Rules move by the Deery's may have cost a bit in the short term as virtual no names Jerry Lewis, Marv Palmer, John Luther, Gene Sisk and Rich Blakely made the headlines, but by sticking to their guns the track persevered and eventually ended up with very good car counts and successful weekly race programs. Minnesota National Speedway finished out their year with set rules intact and also saw car counts increase and a number of the previous stars come back to race there.
Along those lines, we've seen some tracks refuse to let technology and racing revolution dictate what classes of cars and rules they'll mandate. Many stayed with the same rules for many, many years. One such track in 1974 was the Door County Speedway of Sturgeon Bay, WI. The coupe division was still competing with Ray LeMieux, 1932 Plymouth, Dale Peterson, Straight 8 Buick Coupe along with Irv Ettien and Terry Cochart in 1930 something coupes! Now that's maintaining the status quo!


Also of note during this time period, for certain in Wisconsin anyway, was the simplicity of identifying race cars and divisions of racing. You had the top billed Late Models, our favorite, and the start up, entry level Hobby stocks which we had a number of friends competing in and were also fond of. Unknown to most, Vic Getzloff who went on to become Dick Trickle's race car hauler driver, sometimes pit man and full time body guard, drove in this division in the 1970s. In one particular program at Golden Sands Speedway as described by jack of all trades and publicist Kenley Snyder, Getzloff was in a hurry to get to the front in the feature race. In Snyder's words, "A bizarre incident occurred in the hobby stock feature as Vic Getzloff knocked out six cars in the 3rd turn of the first lap. Getzloff assumed that the cars in front of him would take the high groove and attempted to pass on the inside. Unfortunately, all the cars stayed glued to the inside and Getzloff plowed into the pack." As you may have guessed, Getzloff was one heck of a body guard through the years for Trickle!
The multiple feature event race program format was becoming more popular at this time and Tri-R Promotions held their second event of 1974 at the Baer Field Speedway in Ft. Wayne, IN., utilizing it. Called the Memorial Day 200, the event featured two 100 lap mains. Ohio hot shoe Tony Diano won one with area star Joe Wallace capturing the 2nd.

Talent for this show was at a premium as the aforementioned along with Larry Moore, Dave Watson, Moose Myers, Bob Senneker, Larry Detjens, Butch Miller, Bobby Wawak, Jim Bickerstaff, and Dick Trickle were a partial list of those competing! The following week La Crosse Interstate Speedway held a Tri-R event with three 50 lap features. Senneker, Trickle and Shear were the 50 lap victors with Shear getting the overall win. The next Tri-R event held at Capital Super Speedway included four 50 lap mains! Trickle, Shear, Terry Bivins and Conrad Morgan took home wins in those. Trickle banked over $1,000 for his days work which was tops for the event.
The next Tri-R event on the schedule was to take place at a track undergoing a huge change. The Slinger Speedway which had hosted the highly popular Modifieds on its dirt surface for over 20 years was going to be paved and as a special attraction run Late Models. Now a ¼ mile high banked asphalt track the Tri-R promoted event was the first Mega-Special to be held there. What a special it was, with drivers representing 5 States appearing in hopes of capturing the 198 lap feature. The race was actually run in two 99 lap segments with Joe Shear winning the first and placing 4th in the 2nd for the overall win. Dick Trickle won the 2nd 99 and Bob Senneker set the tone early for the event by setting fast time at 12:564 seconds, a record. Even more impressive was the fact Senneker hadn't even taken a hot lap before qualifying! The Late Model event proved very popular and although Modifieds were the top billed class there through July, the writing was on the wall and the LM's became the star attraction the rest of the season.


One of the more significant events during the year was the Lyle Nabbefeldt Memorial race held at Dells Motor Speedway. Dick Trickle won the 100 lap feature race in honor of fallen star in a1973 racing incident, Nabbefeldt. As deemed by the family, the first driver that could win the event three years in a row would be able to keep the traveling trophy. Although extremely coveted, no one was ever able to accomplish that fete, two in a row being the closest several drivers ever got.
Three is better than one was the theme as Tri-R promotions appeared at Capital Super Speedway for the Badger 150. Three separate drivers appeared in victory lane in the 50 lap events Butch Miller, Joe Shear and Johnny Reimer, with Miller getting the overall win.

Tri-R ventured into Ovid, Michigan for the Great Lakes 100 and of course Michigan drivers being on their home turf did best with Bob Senneker taking the rain shortened 100 lap main.
Tri-R had put on some pretty impressive shows with great fields of cars up to this point but the announced North American Short Track Championship, September 4-8 really got the attention of drivers and fans alike. It consisted of 5 days of racing at 4 race tracks in Wisconsin. The near week long tour was set to start at Columbus 151 Speedway, move to State Park Speedway, than Capital Super Speedway before wrapping up at Wisconsin International Raceway the last two days. The purse for the event was advertised at $40,000. Although the event didn't draw all the heavy hitters that were entered, it did attract an excellent field. Joe Shear who was finishing off a fantastic season of racing captured the 50 lap finale of the first night at Columbus. Following Shear were Tom Maier, new track record holder Tony Diano, Bob Senneker, John Ziegler, Terry Bivins, Tom Jones, Dave Watson, Tom Musgrave and Mike Miller. Stop two found Dick Trickle getting back on track taking the overall win at State Park Speedway. Individual 50 lap wins went to Trickle, Tom Reffner and Trickle again in the finale. Three different drivers graced victory lane for the Capital Super Speedway stop with Tony Diano, Tom Reffner and Joe Shear taking 50 lap wins. Shear was the most consistent and claimed overall win honors. The Tour finale was set to take place on the weekend of September 7-8 but rain threw a wrench into the plan and it was pushed ahead to September 15th. The wait proved worthwhile for Tom Reffner as he placed 2nd in the first 104 lap feature and won the 2nd to take overall honors in the finale at Wisconsin International Raceway and the North American Short Track Championship. John Reimer won the first 104 lap feature.
The multiple feature format wasn't just a flash in the pan either, as it would be utilized for years to come by many groups. Little did we know at the time but John
Mc Karns and Art Frigo would form the ARTGO Series the next year and use that format in more of their events than not.
In other 1974 happenings…
The year produced the famous Ralph Starr promoted race at the Rolla, MO., Speedway that no one got paid for! An advertised $29,000 purse produced an unbelievable field at the ultra-fast ½ mile oval, including Tom Maier, (Who won the 300 lap race) Mike Miller, Dick Trickle, Cale Yarborough, Joe Wallace, Terry Bivens, Ed Howe, Pete Hamilton and over 60 others. The event was held with over 4,000 fans at $10 a head attending, but when all the drivers went to get paid, Ralph Starr was nowhere to be found having run off with the purse money! Years previous, cutting purses or not paying drivers at all did happen more than it should have at speedways everywhere, but now in what was considered modern era racing it was unheard of. Rumor had some of the pay eventually finding its way to drivers but never the amount that was advertised…
Port Edwards, WI., driver Dave Field went on a tear racing in Wisconsin in June of 1974. Field who hadn't raced in sometime had his 1968 Mustang convertible running flawlessly taking 7 feature wins in a 4 week period. Field brought the same car out in 1975 with a new body on it but it just wasn't the same. He never did win another feature and disappeared from the racing scene shortly thereafter…Neil Callahan who had raced mainly at the Tomahawk Speedway emerged as a major threat during the season racing to double digit feature wins. Callahan continued to race and win at Tomahawk but he also found himself in victory lane at State Park Speedway and Golden Sands Speedway…Joe Shear won the prestigious National Short Track Championship at Rockford, which saw a newcomer introduced to Late Model Racing. None other than Rusty Wallace competed on the day hitting just about everything in sight! Fans felt so sorry for Wallace and the bad luck he was having they voted his mangled car best appearing!...When Joe Shear wasn't racing his own equipment he'd hop into other cars at Jefferson, WI., Speedway. He wound up winning features there in Al Dahlmeyer and John Knaus's cars…We didn't get to a whole lot of dirt track events during the year, but it was hard not to notice the year Leon Plank had winning 26 main events mostly in Northwestern Wisconsin. Plank did however on occasion venture across the State and ended up grabbing a bunch of money from tracks and racers on that side of the State…
All in all 1974 was a pretty fair year in racing. Although an energy crunch with fuel not being available, or priced extremely high, was forecast (It never really did materialize though the Daytona 500 was shortened to 450 miles just to make it look good.) promoters kept pricing in line again allowing fans to get to almost as many races as they wanted. Rules changes made the news, but all in all it was pretty much great, exciting racing as usual in our World. Here and there…Excalibur Speedway near Tomah, WI., is set to reopen this year after 10 years of inactivity. Many of the old pros of racing competed here back in the '60s when it was known as Tomah Sparta Speedway. It was also called Bill's Track and Trail Speedway at one time before becoming Excalibur. Friday night racing throughout the summer will occur with a couple ASA Midwest Tour sanctioned events Trucks and and Sportsmen the special events for the season… Speaking of the ASA Tour a very ambitious 2011 season of racing is on tap with some very tradition rich event dates scheduled…This editions Quote of the Column, "Racing into the future by appreciating the past". By Dale P. Danielski and the theme for Yesteryears Racing Reunions held for 5 years at La Crosse Fairgrounds Speedway. Popular here as well with all the positive feedback we receive form these history columns!
Photos. #26 Dave Field 7 Feature wins in 1974 in 1968 Mustang Convertible. #40 Jim Derhaag, one of the Minnesota travelers in 1974. #44 Multi-Feature winner Neil Callahan in his 1972 Bemco Nova. #53 Terry Bivins frequent Wisconsin visitor in 1974 from Shawnee Mission, KS. #84 Bob Senneker a Tri-R promotions race regular in 1974. #99 Larry Behrens in 1974. #A3 John Reimer the Caledonia Clipper in 1974. #36 Tony Diano another regular Tri-R Promotions competitor.
Questions, comments, opinions and other information welcome at Starmaker Multimedia 967 10th Ave N Ste A, Onalaska, WI 54650 608-783-5827 or at dale@starmakermultimedia.com


AUTO

RACING FACTS, OBSERVANCES and OPINIONS




February 2011


By Dale P. Danielski
The snow is piled high and although a lot is going on in the background by race organizers and competitors alike in preparation for the 2011 racing season, by popular demand, we'll take another step back in time and highlight some of what was going on in racing, this time for the year 1973.
Most folks know of the late John McKarns as a race promoter. But in 1973 Mr. McKarns was on the media side of things informing us race followers of goings on through his Chicagoland STARS column in the Midwest Racing News.
The Midwest paper was pretty much the coverage of racing bible in its day and we all looked forward every week to receiving our copy, generally on Thursday. To continue receiving the paper on a regular basis a $4.00/year subscription was necessary. $7.00 would get you two years worth of coverage if you can believe that! Looking at some of the race event admission fees at the time, Hales Corners Speedway outside of Milwaukee, WI., (Menards is located where the track used to be) was charging $2.50 for adults with children admitted for $.50. The Brown County Fairgrounds Speedway, a popular venue for the dirt set in Depere, WI., (Fairgrounds is still there but only a small patch of the old speedway remains) charged an adult price of $2.00 with children in for $1.00. Truly amazing what racing entertainment cost then to say the least.
With the Pony Car revolution having taken hold the previous year nearly all drivers were on the small car band wagon in 1973. Some that were ready to do battle on the pavement included Dick Trickle, 1970 Ford Mustang, Marv Marzofka, 1973 Chevy Camaro, Tom Reffner 1970 Mustang, Jim Back, 1973 Camaro, Joe Shear, 1973 Camaro, John Rank, 1972 Chevy Nova, Bobby Wawak, 1973 Dodge Challenger, Jim Sauter, 1973 Camaro, John Ziegler, 1973 Mustang, Larry Detjens, 1972 Challenger, and Whitey Harris, 1973 Camaro to name some. And according to McKarns in an early season column, drivers were wasting no time getting their cars dialed in as Ray Para, Shear, Ray Young, Lee Schuler and Ed Hoffman all took main event wins away from their home tracks. Of course our upper Midwest contingent got the season rolling in quick fashion as well as Trickle took a 150 lap win at the Springfield, MO., Fairgrounds Speedway which

was worth $1,000 and amazingly held in front of a near capacity crowd of 5,000 fans! The "Tricky" one also found victory lane in major events at Rolla, and Odessa, MO., tracks.

Shear meanwhile followed up a big win in Springfield, MO., with wins at Golden Sands Speedway of Plover, WI., and at Capital Speedway of Oregon, WI. Not to be outdone, Marv Marzofka and Jim Back were off and running with victories at Dells Motor Speedway, Wis. Dells, WI., and at Golden Sands. Back's winning day was noteworthy in that he scored a clean sweep of all the events he participated in. The feat included setting fast qualifying time, winning the fast dash, his heat race and the 30 lap Feature event! A clean sweep today in many instances is winning as little as two events. Not so back in 1973. The wins for these drivers kept adding up too as they had won more times in the first several weeks of the season than many do in a year or better.
Also significant was the racing career taking shape of New Prague, MN., driver Mike Miller. Miller scored his first career Late Model Feature victory in early May at the Minnesota National Speedway of Elko, MN. In an attempt to speed up that career even further, Miller decided to move south and become a member of the Wisconsin gang. Basing his operation out of Wisconsin Rapids, WI., Miller in short order began competing 5 or more times a week which drastically sped up his learning curve on the pavement. All the extra laps on tracks of different sizes and shapes paid off as Miller went on to win 125 main events in a career that lasted over 20 years.
With the success of the Red, White and Blue Series at Wisconsin International Raceway in Kaukauna, WI., the track decided to schedule a couple additional special events in 1973. One was the Spring Sizzler held in May that year. A gigantic crowd of 6,351 no doubt still getting over cabin fever turned out for the event that saw Joe Shear winning the 50 lap feature. Yes, it was Shear winning and not Trickle who so often took inaugural events wherever they were held. Trickle did wind up 2nd

by barely a car length with Dave Watson, Tom Reffner, Whitey Harris, John Rank, Marv Marzofka, Larry Detjens, Dan Bellard and Jim Pierson following. Shear also broke the track record in qualifying with a lap of 21:42 around the big ½ mile Tri-Oval breaking the old mark of 21:60 set by Al Moldenhauer the previous year. Another fact unknown to many is that the late Gary Vercauteran was instrumental in getting the events at WIR scheduled. The idea for the series was a good one and it continues today. The Spring Sizzler title for the opener didn't last long however, as the Stafford, CT., Speedway had a patent on that name forcing WIR officials to later retitle it the Spring Opener 50.
Unfortunately in 1973 one of the biggest racing tragedies up to that point for the area was the death of veteran driver Lyle Nabbefeldt. Nabbefeldt had the throttle stick on his Camaro while qualifying at The Dells Speedway hitting the wall nearly straight on. The impact reportedly knocked his seat loose causing the Nekoosa, WI., driver to make contact with something in the car which killed him instantly. It was also rumored that Nabbefeldt may have had a heart attack but nothing was ever substantiated. What was fact was that one of the areas winningest and most popular drivers was now gone. His death was very difficult for the area drivers as most at some time or another had counted on Lyle for advice, assistance and even money to keep them going which he willingly offered. A big void was left but the season continued on.
Racing actually at this time was becoming much more popular. According to John McKarns in a column he wrote, racing recorded an estimated 76 million in attendance which out drew all other types of sports at the time. Horse racing was at 74 million (With pari-mutuel betting the biggest reason of course) while football was at 43 million which outdrew baseball, basketball and hockey in that order. Always staying on top of things, John's writings definitely made people take note that racing was for real and not just a bunch of red necks driving in circles!
One of the most publicized events for 1973 was the MARC TIMES Invitational to be held at Sam's Capital Speedway. Twin 75 feature events were advertised with $1,000 going to the winner of each. The show was also considered a Tri-R Promotion which was the precursor Series to John McKarn's ARTGO. Drivers from six States appeared for the event but that only represented 25 cars as the sanctioning group American Racing Congress was very strict on their rules enforcement and many drivers were not willing to add hundreds of pounds of weight to be legal. Tom Reffner decided to give it a try but was required to add over 200 pounds of weight. His Mustang apparently felt good at that weight as he easily won both feature events and set fast qualifying time. You look at the 25 cars that did race and it's a pretty impressive field. Names like Dick Trickle, Bob Senneker, Paul Weisner, Fred Bender, Terry Bivens, Jim Back, Bob Jusola, Boyce Sparkman and even M.J. McBride who took a shot at pavement racing. No slouches here they were just a little short on quantity for this particular event. Speaking of Fred Bender the Sun Prairie driver was having one of his best seasons winning at the Dells Motor Speedway, Capital, Jefferson, WI. and Columbus 151 Speedway, Columbus, WI.. Freddy was one of the most likeable guys on the circuit as well.
It was extremely difficult for an outsider to win where the Wisconsin gang was racing. Kansas visitor Terry Bivins however pulled off the feat in a special event at the Dells Motor Speedway. Rain did help Bivin's cause shortening the event to 80 laps from a scheduled 100 and it didn't hurt that Trickle who was leading blew his engine handing over the lead and win to Bivins. Definitely something to be said for being in the right place at the right time!

Bob Jusola one of the Minnesota travelers was racing more and more in Wisconsin and the trips paid off mid-summer as the Burnsville racer took a feature win at the same Dells track in his 1972 Chevy Nova. Like Miller Jusola eventually moved to Wisconsin. Joe Ruttman scored the biggest win for outsiders coming to the Wisconsin playground as he steered Joy Fair's radical short wheel base Ford Maverick to the 200 lap win in the Midwest Championship at Dells Motor Speedway.
Interesting how another racer during this time was beginning to make a name for himself. Terry Baldry in his second year of racing captured a couple semi-feature wins racing in the Fox Valley. Of course we know how well he eventually did winning multiple track and series championships. Baldry is still racing and winning in the Valley today.
Again taking a peak at admission prices we see WIR charging adults $2.00 admission for their first event of the Red, White and Blue Series. Kids under 12 were free. Raceway Park of Beaver Dam, WI., (Which no longer exists) charged adults $2.50 to get in with students priced at $1.50 and kids under 12 free. The track in Plymouth, WI., was charging $2.00/adult admission with accompanied students age 12-15, $1.00. The Illiana Speedway just outside of the high roller and high income City of Chicago, IL., charged $2.50 for adult admission with teens thru the age of 17 getting in for $2.00. Children at Illiana age 6-12 had to suffer thru paying $.50 to get in.
Contrary to popular belief we did during the years get to many different dirt tracks and special events. It was awhile before we made the decision to get a taste of the dirt slingers way of racing but once we did we were nearly as hooked on that form of racing as the pavement style.
Most of the dirt racing we witnessed early on was the guys competing in North Eastern Wisconsin. Actually what got us to an event was the rumor that Dick Trickle, Tom Reffner and Tom Jones were going to be racing at the Seymour Speedway of Seymour, WI., after competing at Kaukauna that afternoon. Perhaps after a couple beers to build up their courage we did get to see Trickle and Jones at the track while maybe Reffner had one extra brew and thought better to head home instead. Not certain how Trickle did on this day but as time went by he became quite good on dirt surfaces winning a number of feature races. It didn't always matter how well he ran either as promoters were paying the crowd attracting Trickle big bucks just to show up! I do remember how Tom Jones fared as the Camaro driver drove to two wins on the night beating a number of dirt regulars in the process. Even more impressive was the fact he did it with the same tires on his car that he had raced on the pavement earlier in the day! You definitely won't ever see that happen again as nobody crosses over surface to surface with the same car anymore.


Of course the dirt guys had their stars too and they could definitely get it done in exciting fashion as we found out. In 1973 many of this contingent had also picked up on the Pony Car explosion. Top drivers in those cars included Roger Paul, 1973 Chevy Nova, J.J Smith, 1970 Ford Mustang, Jerry Smith, 1973 Camaro, Jim Jahnke, 1969 Chevy Camaro, Dave Conger, 1969 Camaro, and a very young Pete Parker, 1967 Nova. The big cars hadn't become totally obsolete yet however and hotshots Roger "The Bear" Regeth, 1972 Chevelle, M.J McBride, 1972 Ford Torino, Russ Peterson, 1971 Torino, Doug Larson, 1972 Chevelle and Bob Bennett, 1972 Chevelle took more than their share of wins.
Speaking of more than their share, Roger Paul, The "Flying" Farmer went on a tear in mid-summer of the year winning main events at Shawano, Seymour, again at Shawano and in Depere. Four wins in four nights of racing against the best the area had to offer, now that would make even the best paved racer proud!
As we mentioned earlier drivers don't cross over at all anymore in terms of racing the same equipment on both surfaces. Harold Mueller a Western Wisconsin dirt track star who raced anywhere and everywhere did however utilize the same car in 1973 to race on both types of tracks. Beginning the year in his 1973 Chevy Laguna on the Central Wisconsin paved circuit, Mueller proceeded to frustrate nearly everyone he raced against with his foot to the floor, sideways through the corner "Style". Most he competed against called it something other than that and weren't too happy with Harold as they were used to clean, side by side racing with little or no contact. After awhile Harold realized he really didn't belong racing straight into the corner and put the car with some adjustments back on the dirt. He went on to a bunch of big wins that year and never made another attempt racing on black top. Not to diminish from Mueller and what he did racing but he was way more suited for dirt than pavement. And the man could definitely handle a race car as his impressive number of wins through the years indicates.
Unbeknownst to many was the fact that Dick Trickle wrecked the Mustang he started the season with and was forced to build another one. There certainly wasn't any drop off in performance with the second car and that fact came through loud and clear when he won the Badger Monza 150 at Capital Speedway. With three 50 lap features on the racing slate Trickle took the overall win by winning all three in convincing fashion! Having witnessed the event first hand I recall the closest anyone got to Trickle once he was in the lead was 10 car lengths. A thorough trouncing of the field it was.
Hard not to be impressed with the 1970s era of racing and the '73 season had to be ranked right up there with the best of 'em. The fact it was reasonable to travel then with gas prices less than a buck, and food practically a non-issue price wise you could make yourself very mobile and hit your favorite race event almost whenever you wanted. Still hard to fathom what it cost to get into these shows. Even special events offering anywhere from $5,000-$12,000 purses were reasonable to get into. The Dells track had a special event scheduled with a $6,000 purse. Adult admission, $3.50 with children 6-12 $.50. Unbelievable. Of course in my case if I could get in free all the better. Being a bit small in stature I'd get the under 12 free price wherever I went. I guess around the age of 17 tracks thought that a bit suspicious and finally I was forced to pay a buck or two to catch the racing. Of course a press pass or two later and back to free admittance, all I had to do was cover the events. The rest is history.
And here again, I'm glad we could give one and all a glimpse back in time of racing and how it used to be. We'll bring you more special features when time and space allow. Here and there…Harold Mueller ended up winning 16 dirt features during the year after racing the first two months of the season on asphalt…Roger Paul captured 25 main event wins in 1973 racing in North Eastern Wisconsin…Dick Trickle followed up his record breaking 67 win season in 1972 with 47 feature wins in 1973.
Photos. One of two #99 Mustangs Dick Trickle raced in 1973. Mike Miller campaigned this 1970 Mustang #18 during the 1973 season. Fred Bender #56 was in double digits for feature wins in this Chevy Camaro in 1973. Terry Bivins #53 one of the few outsiders to score a Feature win in Wisconsin in 1973. #4 Bob Jusola another Minnesota driver scoring a win in Wisconsin. The #55s 1969 Camaro that Lyle Nabbefeldt sadly took his last ride in. Joe Ruttman #1 captured a huge win in the 200 lap Midwest Championship Feature at Dells Motor Speedway in 1973.
Questions, comments, opinions and other information welcome at Starmaker Multimedia 967 10th Ave N Ste A, Onalaska, WI 54650 608-783-5827 or at dale@starmakermultimedia.com


Auto Racing Facts, Observances
December 2010


By Dale P. Danielski
With the off season of racing here and things quieted down a bit we'll take the time now to do a little Retro-Racing.
One of the most significant changes in short track racing occurred in 1972 when the Pony cars or smaller sporty type cars officially arrived on the scene. Due to national trends in short track racing the most influential group in this part of the country, the Central Wisconsin Racing Association decided via it's mostly driver membership voting power to allow 108 inch wheel base race cars and eliminate the big 18 inch or wider steam roller tires. An 11 inch maximum tire width was decided on mounted on a 10 inch rim and Ford Mustangs, Dodge Challengers and Chevy Camaros would now be the norm rather than exception at Wisconsin tracks. With the rule changes Central Wisconsin's favorite drivers immediately began constructing new race cars for the upcoming season. Dick Trickle would be in a 1970 Mustang, Marv Marzofka planned to campaign a 1972 Moose Peterson backed Chevrolet Camaro, while Tom Reffner was putting together a 1967 Mustang. Others going the small car route were Lyle Nabbefeldt, 1968 Camaro, Jim Sauter 1972 Camaro and Jim Back, 1968 Mustang. Although the smaller wheelbase appeared to be the way to go many opted to take a wait and see attitude by sticking with the longer wheelbase cars they'd been racing successfully for years. Some of the hold outs included Rich Somers, 1969 Ford Torino, Tom Jensen, 1971 Torino, Bill Wirtz, 1972 Chevelle and National Short Track Champion from the previous year at Rockford Speedway Bill Retallick in a specially built Bobby Allison Chassis, Chevelle. John Rank a Milwaukee area Modified racer in previous years was set to hit the stock car scene in an immaculately prepared 1972 Camaro. Of Course Rank and Son was a very successful auto dealership in the South Eastern part of the State and most believed financing for his racing effort would make John a huge threat on the paved stock car circuit.
Of course who better to take advantage of the new car specifications then Trickle who was trying to better his 56 Feature wins of 1971. He already had 12 wins by Mid-May. Statewide tracks with the same rules again enabled drivers to race as much as they wanted during the season. A typical week found racers at North La Crosse Speedway on Wednesday, State Park Speedway of Wausau on Thursday, Capital Speedway of Oregon on Friday, Wis. Dells Motor Speedway Saturday and Golden Sands Speedway Plover, WI on Sunday. Sunday afternoons also found special events held at various tracks including Wisconsin International Raceway of Kaukauna, WI., while Tuesday night found an occasional big event held as well. Tracks in Columbus, Jefferson and West Salem, WI., also held weekly shows for the stock car group as did Rockford Speedway where Joe Shear began the season in a full sized Chevelle but soon switched over to a 1972 Camaro where he was in short order dominating. During one stretch in late May and early June Shear won 7 features in 8 tries.

Wisconsin favorite Dave Marcis who was establishing himself racing in NASCAR came back home to Wisconsin and made a huge impact with a shorter wheelbase car in 1972 as the Wausau native teamed up with Dave Deppe to race in the USAC sanctioned race in Kaukauna in May. The 200 lap event found Marcis in his blue Chevy Nova number 37 racing to the win against the established veterans of the series in their full sized cars which did not go over very well at all. USAC did everything it could to find something wrong with the car including tearing down the engine in a dirty dusty area of the pits. Everything was legal and the win stood however further establishing a stranglehold for the little cars racing in 1972. Popularity was never higher for the drivers racing in the State as fans were flocking to tracks everywhere to watch them compete. With IMCA, USAC and NASCAR considered the big league attractions the short track stars and their pony cars were stealing their thunder as exciting racing was happening at paved track venues everywhere. That fact was made even clearer

with the cancellation of a 250 lap USAC stock car race scheduled for August in Kaukauna. With few of the Wisconsin drivers having cars to compete in the race as rules were much different than what they raced under at the short tracks the main attraction of the event was lost. USAC still had star power with Ramo Stott, Butch Hartman, Verlin Eaker, Jack Bowsher and the open wheel guys like Foyt, Unser and McCluskey dropping in on occasion to race the stock cars, but the area now had its own top status with the short track guys. And with all the racing in this part of the Country and a chance at making some decent money most racers weren't even considering heading South to NASCAR which at the time was no where near as financially desirable as it is today. Not that the best from the Midwest couldn't compete in the South they chose not to as it meant more sacrifice than they were willing to take to fit in.
Action continued to heat up heading into summer with Trickle at 18 wins and Marv Marzofka up to 10 Main event victories. The two were taking much of the spotlight but others such as Larry Detjens in his 1971 Dodge Challenger and Throttle Stomping Lyle Nabbefeldt were also winning. Detjens scored a 100 lap win at Golden Sands Speedway while Nabbefeldt did the same in a special holiday event in late May. Long time racer and many feature event winner at Jefferson Speedway Dick Duerst decided if you can't beat 'em join 'em as he debuted a Dodge Challenger in Mid-June at that track winning the main event.

Not to be outdone John Ziegler was racing a Mustang in competition mostly in the Southern part of the State taking checkered flag after checkered flag at the Columbus 151 Speedway and a big win in the red, white and blue painted car at Capital Speedway which was drawing all the top drivers from every corner of the State. Interesting to note at this time that some drivers weren't going the way of the new pony cars as Bryce Spoehr, '37 Pontiac, Pappy Diemel and Ron Van Roy '32 Fords, were racing and winning at tracks in Wisconsin's Fox Valley with their older versions of pony cars, Coupes!
Across the border Illinois hot shoe Ed Hoffman hopped on the Pony Car bandwagon campaigning a radical Camaro Convertible to numerous wins at Illiana and Grundy County Speedways. Meanwhile across that other border in Minnesota the Wisconsin guys were still having their way with the Gopher State contingent as Tom Reffner in his 'Stang took the Uncola 100 at Elko Speedway. Shear in his Camaro placed 2nd with Minnesota drivers putting up a good fight in their full size cars placing 3rd and 4th in the form of Dick Giles, '67 Fairlane and Dan Prziborowski, '67 Chevelle. The writing was definitely on the wall by this time for the big cars though and as of July 30th Trickle and Marzofka had roared to 44 and 17 Feature wins respectively. Almost everyone else was left literally just hoping for a top five finish as the dynamic duo continued to dominate action. Rich Bickle gave hope to the big car set winning a number of Features at Jefferson in his full size Ford but the day was near for all to be racing 108 inch wheel based cars. Even Bickle recognized that fact debuting a 1970 Mustang at Jefferson late in the season with a feature win.
Of course the Pony Car set knew they were on to a good thing as Trickle proved racing to the 300 lap win at I-70 Speedway of Odessa, MO. Trickle pocketed $4,645 in the process further hammering home the point of not needing the form of racing USAC offered.
Another really unique promotion going on at the time was the Late Model versus Milwaukee Stock Car Racing Association Modifieds challenge races. Capital and Golden Sands promoter Sam Bartus came up with the idea and events were held at those tracks along with Wis. Dells and others. The events pitted the Milwaukee Modified stock car guys in their smaller cubic inch engine but much lighter cars against the heavier full bodied mostly big block engined Late Model stock car group. The superior handling stock cars usually won out over the feather weight and faster on the straight a ways Mod set but what a cool concept nonetheless. How cool it was to see John Reimer, Ron Marish, Whitey Harris, Don Schuppel, Dick Duston, Fuzzy Fassbender, Aaron Solsrud, Jim Sullivan, Willie Goedon, Roger Otto, Bob Robel and up to 15 others go head to head on a regular basis against Dick Trickle, Joe Shear, John Ziegler, Dave Watson, Tom Reffner, Fred Bender, Jim

Back,

Marv Marzofka, John Rank and so many others for bragging rights.


With the season winding down the small car group with all its success was practically salivating in anticipation of the season ending high dollar event promotions. One such race was the 1st Annual Midwest Championship to be held at Dells Motor Speedway September 9-10. The event boasted of a $16,000 total purse pay-out with $2,500 going to the main event winner. Winning the race wasn't going to be easy either as it featured 200 laps of tough racing on the small 1/3 mile Dells oval. Added incentive to attract drivers to the event was a $500 offering by promoter Howard Johnson to anyone outside the area that could win the 200 lap race. Attract drivers it did as Michigan hot shoes Ed Howe and Tom Maier entered along with Missouri star Larry Phillips. All told over 100 race cars were on hand for the event representing seven states. Big event; Big money. That meant Dick Trickle would be at the top of his game which he was, winning the 200 lap race for his 64th main event victory of the season. With the year Trickle and Marv Marzofka had it was only fitting they would finish 1-2 in the 200. Trickle also captured the 2nd Annual Old Style 200 later at Elko Speedway putting Wisconsin up 3-1 over the Minnesota contingent in the challenge races held there in 1971 and '72. Bill Oas did finally break the ice in his Big Car by scoring a win for Minnesota against the pony cars with his victory in the Uncola Rematch in 1972. As is quite well documented Trickle and Marzofka scored 67 and 32 main event wins respectively during the 1972 racing season. The Pony Car ushered in the latest revolution in short track stock car racing as lightweight cars with big horsepower engines became a necessity if you wanted to win or even compete. The domination displayed by a handful of drivers in their areas that took a chance on constructing their version of the cars will probably never be duplicated. The 67 feature win mark set in a single season of racing certainly seems out of reach.
We offer this quote of the column for our latest writing effort. "You CAN get the black flag for driving like an a******". Everyone listened as the black flag was not given during the race. That quote from a person remaining anonymous!
The pony car revolution, Lyle Nabbefeldt #55s and Dave Marcis #37. Sticking with the full size machines in 1972 was #0 Bill Wirtz, and #25 Bill Oas. Whitey Harris raced this modified #A3 in the 1970s for Fred Nielsen, while he also raced a Pony Car late Model Camaro also #A3.
Questions, comments, opinions and other information welcome at Starmaker Multimedia 967 10th Ave N Ste A, Onalaska, WI 54650 608-783-5827 or at dale@starmakermultimedia.com
AUTO

RACING FACTS, OBSERVANCES and OPINIONS
November 2010
By Dale P. Danielski
I think if I planned on racing at the Annual Oktoberfest event at La Crosse Fairgrounds Speedway I'd make my car number 36. Why? Joe Shear was #36 and is the only 5 time winner. Dan Fredrickson is a three time winner having taken the last 3 out of four top billed events and guess what his number is? Number 36!
Maybe there is nothing to it but that number has sure had great success through the years at 'Fest. In this years race it was practically a run away as Fredrickson took the lead early in the 100 lap feature and cruised to a pretty easy win. Even a caution on lap 75 failed to tighten things up as Fredrickson went about his business and crossed under the checkered flag with a comfortable margin.
For others it's championship winning time at Oktoberfest as numerous of those are determined at the event every year. Steve Carlson added another to his long list as he became the 2010 ASA Midwest Tour Champion holding off Chris Wimmer in the final standings. The NASCAR Late Model track Championship was also settled during the weekend with Shawn Pfaff claiming the title by a scant one point over defending titlist J. Herbst. A late race pass for position in the feature by Kevin Nuttleman, the cagey veteran Champion himself, over J. Herbst ended up being the determining factor. That along with Pfaff's 4th place finish in the 40 lapper was just enough to give the Sparta, WI., driver the title. For Pfaff who was bound and determined to win it this year after a late 2009 season car flipping wreck it was a great relief. For Herbst it was where did I lose that one point!
With all the great racing that goes on at this event you might be surprised to know that some folks don't even head into the grandstands to watch! For those people it's one big party in the Camping City which is the Fairgrounds for a week in October. Of course much goes on besides the racing and having had the chance to witness some of it this year I dare say it was almost as entertaining as the racing. Of particular interest was the pet costume parade. Meant for the pets which range from dogs to cats to ferrets to who knows what all, it's the pet owners and how they dress that really steals the show. A Wizard of Oz characters depiction, a bee costume worn by an owner with her dog as the hive. Those were the two big winners by the way but all the others in the show deserve credit also. It had the large gathering witnessing it, yours truly included laughing most of the time. Of course it doesn't hurt to have a guy with the name of Dick Trickle on hand to help with the judging either.
So much to do so much to see, that is the Annual Oktoberfest Racing weekend. The 2011 version is set for October 6-9. You really should make plans to attend.
With weather conditions October 30 almost balmy we decided to make the trip over to Columbus 151 Speedway for Matt Rowe's Impact Survival Series season finale 300 lap Enduro. Competitors apparently thought the same as 92 strong arrived to start the event on the ¼ mile paved oval. To participate in ISS you need a mostly stock 4 cylinder car. According to long time Late Model competitor Kirby Kurth who was racing today a roll cage for $300 and another couple hundred bucks and you can be on the race track. With a $500 investment the winners share for the 300 of $1,200 looked pretty darned good too! Matt Rowe definitely lays down the law in a very colorful way as to how he wants things to go in the Series. It's entertainment for the fans first before a racing event for drivers and you better listen or find yourself on the trailer and headed home early if you don't. One aspect of the show is if your car stalls on the track and sits for two laps the red flag comes out and you are allowed to get out. The car however stays right where you left it or crashed it in most cases. "Where they die they lie" is the rule according to Rowe. This definitely makes for drivers taking some interesting lines around the race track as an oval now becomes an obstacle course. All in all things went quite smooth on this day and after 300 rounds of the Columbus oval it was Frank Calabrese taking the win and as it turned out the 2010 season championship. Of the 92 cars starting 39 managed to make it to the finish many of course much worse for wear. In talking to some of the teams the approach to this type of competition is very different than your normal short track fare. The majority really are out here just to have fun. And what is the key to winning. Keeping the car running. It's not about speed it's about having fewer problems than the others and finishing…Some well known racers were on hand for this event including Jerry and Eddie Muenster, Davey Pennel and Harley Jankowski…Kirby Kurth was on the scene with a two car team his and one that his wife Cheri drove. Both finished in the top 20 on the day…The great Pumpkin driven car didn't fare too well. After "Dying" on the race track and having to "Lie" the car was finally able to be moved at the 1/2 way break. Upon heading to the pits with it he drove smack into a head on collision with a car that was heading out on to the track! Frustrated at that point Punky drove the car off in the woods behind the pit area and walked…or sort of rolled away…We've witnessed some tardy racers in our day but the participant that showed up at 3:30 for a 2pm start race to compete today takes the Halloween candy. He was allowed to start but the rest of the field had 235 laps on him by that time! Making the story wilder, after about 5 laps he pulled into the pits for lengthy repairs…Pretty cool to see a car with a sponsor listed from Brantwood, Wisconsin. Brantwood is the town (population of about 3 according to some) where the driver resided that gave me my first ever fast ride in a stock car. That was in 1968 or so and we're still involved in the sport today…

Matt Rowe is shooting for 5-7 ISS events in 2011. Hopefully the Series is endorsed by large fields of cars as was the case today. Seems like a great way to have fun racing without all the huge expense. Here and there…The Oktoberfest Racing weekend is mostly attended by in the know fans rather than casual observers. Therefore they understand much of the racing lingo. But for those that don't can you imagine what they think with verbiage used such as…She's too tight going in…It's really loose coming out…Adjust the bar a little…We're a bit better on the high side…Side bite is OK but we need more forward bite…With a slide job I can get around…I don't think we have enough stagger…it's pushing in the center probably need to get up on the cushion…My lord, who and what are we describing here!!! No wonder folks new to the sport get that bewildered look on their face, at least initially. Hopefully they begin to understand if we can keep them around long enough…32 Champions were in attendance for the Champions Reunion at 'Fest on Sunday. With that turnout it's been decided to do it again in 2011. If you are a Champion of any kind any series any division any track and haven't raced in three years you are invited…Sparta, WI., Late Model driver Davey Pennel finished 3rd in the final vote among 12 drivers having a shot at an ARCA race ride this past year at Rockingham North Carolina Speedway through the Richard Petty Driver Search program. Top honors went to Ryan Wilson of nearby Randleman, NC, but according to Davey's dad Dean, the $15,000 investment and experience were worth it. "We learned so much while we were down there. It really helped us as when we came back we were able to qualify 3rd at Oktoberfest in the Big 8 Division". As for 2011 plans Pennel is going for the Dells Raceway Park Championship which they came so close to winning this year…The Sauter jinx at Oktoberfest returned after taking a year off as defending ASA Tour winner Travis Sauter blew an engine while practicing and backed into the wall ending his racing weekend prematurely… Looks like we will have another young driver trying to make his mark in Super Late Model Racing in 2011. Gary Kawleski a racer in Central Wisconsin awhile back has purchased a car and will be putting Colin Reffner in it. The team plans to race in a number of special events including with the ASA Midwest Tour if things go well. Reffner of course did some Super Late Model racing this year but a more full time effort will take place in 2011. And that arrangement leads us to the quote of the column by Gary Kawleski. "Dick Trickle and Tom Reffner will serve as mentors for Colin and the team so I think we'll run pretty good"…Looks like the ASA Midwest Tour will be expanding a bit in 2011. Newton, Iowa is back on the schedule and it appears the Milwaukee Mile, State Park Speedway in Wausau and the Grundy County Speedway of Morris, IL., will be in the fold this year as well…So just what was the significance of the date 10/10/10 which occurred during Oktoberfest racing weekend? Absolutely nothing near as we can tell as our computer is still operating, the date on our VCR changed, (Yes, still have one of those) and the sun is still coming up in the east in the morning! Photo ISS Weekend Warriors ready to race at Columbus 151 Speedway.

Photo from the past Dick Trickle in his Pabst powered race car, 1985. Trickle won both the ASA and ARTGO titles that year.
Questions, comments, opinions and other information welcome at Starmaker Multimedia 967 10th Ave N Ste A, Onalaska, WI 54650 608-783-5827 or at dale@starmakermultimedia.com

.
Auto Racing Facts Observances and opinions
October 2010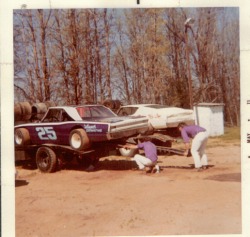 ---
Auto Racing Facts Observances and opinions
Auto Racing Facts Observances and Opinions
Auto Racing Facts Observances and Opinions


AUTO

RACING FACTS, OBSERVANCES and OPINIONS


By Dale P. Danielski
July 22, 2010
The Red, White and Blue State Championship Series has held a great amount of prestige for stock car racers for many years and much to our delight is still going strong today being held at the same venue as always the ½ mile paved Wisconsin International Raceway of Kaukauna. We had a chance to catch the "White" race there this past Thursday but more on that after we give you a bit of a RWB history lesson.
The first RWB Series began in 1972 and boasted of an $18,260 total purse pay-out for the 3 events. Feature event lengths for the three races were scheduled to be 50, 75 and 100 laps respectively. The series aimed to pit North Eastern Wisconsin drivers, many who raced almost exclusively on dirt tracks in the area, against Central Wisconsin's best along with those competing in the southern part of the state. It did just that as the "Red" race opener saw 52 cars sign in to do battle representing Wisconsin, Illinois and Minnesota. To no one's surprise, Dick Trickle raced to the 50 lap main event win edging John Rank at the checkered flag. Marv Marzofka, Joe Shear, Tom Reffner, Bob Wawak, Jim Sauter, John Ziegler, Steve Arndt and Dave Watson rounded out the top 10 finishers. 7,832 sun baked fans watched the event which officially ushered in the "Pony Car" revolution as Camaros, Mustangs, and Challengers with shorter wheel bases were becoming the preferred choice of race car over the full sized machines that circled tracks for so many years. It also marked the beginning of the end of the United States Auto Club stock car events at the track as rules, expense and lack of local driver participation forced the hand of promoters into choosing a more weekly racer friendly series of events. The new concept definitely worked and the rest is history as they say. And, by the way, for Trickle on the day it was already his 28th feature event win of the 1972 season. He as is well documented would go on to victory 67 times in main event competition during the year which established a record that remains today.
Steve Holzhausen was on the trailing edge of the heyday of racing in the 1970s and '80s as many of us call it, but he carved out his own winning niche in the sport during the next era of short track racing in the Midwest. Having won at the local level, in ARTGO and ASA, one championship Holzhausen has wanted to win, was the Red, White and Blue State Championship Series. After capturing the 75 lap White race here tonight he is in good position to do just that. Holzhausen after setting 2nd fast time on the evening, bided his time in the feature finally taking the top spot from Terry Baldry on the 57th lap and holding off Tim Rothe who made a late race charge for the victory. The win for Holzhausen was no cakewalk however as some heavy hitters were on hand in attempts of taking home the top prize. Ross Kenseth, Bryan Reffner and Eugene Gregorich Jr., to name a few but it was Bangor, Wisconsin native Holzhausen thwarting all attempts in the end. Having been a number of years since we last visited the WIR track for a RWB race it's good to see there is still a nice mix of competitors from different parts of the state competing. The series does not appear to have lost it's following either as over 3,000 fans were on hand to view the action. As was the case years ago, they don't leave either until the last checkered flag is waved as the grandstands were plenty full right up to the end of the Figure 8 race, the last event of the night. There's good reason for that as action is aplenty during that race with cars scattering all over and some getting a piece of each other at the intersection. An attraction many years ago and still one today. The figure 8 event wasn't the only attraction though as Limited Late Models, Super Stocks, Sport Trucks and 4 cylinder cars were also all competing on the night's card. Actually, there was plenty to see and no shortage of excitement in all divisions. All in all a very enjoyable Thursday night at WIR. It's great to see that racing here in the Fox Valley is alive and well and that the Red White and Blue Championship Series is still a very popular venue.
On our way to Kaukauna, we caught up to Jim Randerson of RanderCar Chassis at his shop which is little more than a stones throw from WIR. Jim is still at it after purchasing the business in 1991 from well known builder of the day Mike Randerson. According to Jim, he got into the business because, "I liked racing ever since I was a kid. I chose racing over joining the Boy Scouts as that just wasn't it for me if you know what I mean!" As for the state of short track racing today; "The good old days aren't coming back. But I believe that short track racing is in the beginning stages of making a comeback. NASCAR tempted the young guys with a chance to make it big in racing with them, but it got so expensive and so many didn't make it, that I think you're seeing people get involved again at the short track level in a division they can afford to have fun again. It's a family thing for them again instead of a waiting game to see if they get noticed for a driver development deal and can move on into the top tiers of NASCAR racing." And according to Randerson he sees drivers getting into the sport at the lower levels like in 4 cylinder divisions. "The thrill of going fast and winning is still there but the new drivers getting into the sport aren't necessarily looking at it as a step to reach the top. It's not guys (And girls) spending their last hard earned penny on the race car instead of putting shoes on their kids to get noticed and move up to NASCAR or some other big money division. They're doing it because they enjoy it. It's a family outing for them. And, if they get a chance and get better they can perpetuate it into moving into other divisions of racing. The good thing about it is once they get involved they bring a following of co-workers, family and friends out to the race track to watch them which is good for the sport." Of course myself and Jim Randerson being of age to remember racing in days gone by recall how huge the following was at tracks 5-6 days of the week for the statewide contingent of racers. "Back in those days fans followed the racers from here. They really didn't have that much interest in NASCAR then since it wasn't nearly the attraction it is today. The drivers they followed were from the garage down the road, that's why they went to the races, to watch their local heroes compete. I really think we are getting back to that kind of racing at the short track level." Certainly there is no shame for a driver to race and reach goals and be content with accomplishments achieved at this level. In Randerson's words, "Don't you think when Terry Baldry looks behind after all is said and done and sees 11 championships that he won't be proud? You bet he will!" Cool stuff from someone who's nearly as old as me and still gets a thrill at the local short track!
Here and there…Steve Holzhausen leads the RWB point standings going into the Blue race August 19th with 145 and is closely followed by Terry Baldry, 133, and Lowell Bennett with 121…The 1972 "White" race 75 lap feature resulted in another win for Trickle as he bested Jim Sauter, Marv Marzofka, Joe Shear, Tom Reffner, Jim Back, Lyle Nabbefeldt, Rich Davis, Lee Schuler and Rich Somers. The "Patriotic Polack" Denny Sobkowiak of La Crosse, WI., distinguished himself on the day by rolling over his red, white and blue 1971 Plymouth Roadrunner…Joe Shear finally stopped Trickle's streak as he won the "Blue" Race besting Trickle and the other 41 drivers entered during the day. Top finishers in the 100 lap feature were Shear, Trickle, Larry Detjens, Tom Reffner, Jim Sauter, Jim Back, Marlin Walbeck, Rich Davis, Larry Behrens and John Scott. With his 2nd place finish Trickle became the first ever RWB champion with 2,440 points. Shear was 2nd in the standings with 2,110. Interesting that the point totals represented the dollars won at the events. Whatever your winnings were those were your points for the event. That system to determine a champion was used for many years and was kind of neat as we all then knew how much money the racer was earning…With rain everywhere the show still went on! La Crosse Fairgrounds Speedway although with much program juggling got their entire show in this past Saturday which included two 20 lap Features for the NASCAR Late Models. Mike Koenecke picked up his first feature win in over 10 years as he captured the 1st 20 lap main. Division point leader Shawn Pfaff won the nightcap, but even with the victory his 3rd this season, he is just 16 points ahead of defending track champion J. Herbst…What appeared was going to be a dominating win for Steve Carlson ended up being a disappointing loss as Nathan Haseleu passed Carlson with just a handful of laps left to win the 125 lap feature in the ASA Midwest Tour program at Raceway Park of Shakopee, MN., here Sunday. Carlson who led the entire race up to that point hung on for 2nd with Thor Anderson in his best Series finish to date coming in 3rd…In the quote of the column department when asked by an ASA Tour official when he was going to quit Steve Carlson replied, "I'll quit when I go slow. Right now I'm still fast!"…
Photos. Steve Holzhausen in one of two Pete Kempf owned cars he's racing in 2010. Dick Trickle in 1972 with his 427 cubic inch engine 1970 Ford Mustang. Nate Haseleu takes the lead and eventual win in the ASA Midwest Tour race at Raceway Park, Shakopee, MN.

Questions, comments, opinions and other information welcome at Starmaker Multimedia 967 10th Ave N Ste A, Onalaska, WI 54650 608-783-5827, or dale@starmakermultimedia.com.
Auto Racing facts Observances and Opinions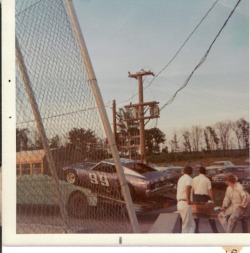 ---
May 27, 2010

May 13, 2010

April 29, 2010