Yesteryears Auto Racing Products
The Golden Era of Stock Car Racing $25.00 plus $3.00 shipping. Available in VHS Tape and DVD.
Payment accepted includes Pay-Pal (Electronic check, Debit, Credit card) Cash and Money order.
Golden Era of Stock Car Racing features over two hours of racing action from Wisconsin tracks North La Crosse Speedway, South Side Speed Bowl, La Crosse Speedway, plus tracks in Tomah/Sparta Speedway, Marathon Park, Griffith Park Speedway, Stratford Speedway, Capital Speedway, Golden Sands Speedway, La Crosse Interstate Speedway and more! Some of the drivers in action include Lloyd Viner,Cecil Henderson, Gerald Goldbeck, Dubby Anderson, Arlo Ziemann, Ken Pancratz, marlin Walbeck, Vic Kopacz, Rich Somers, Dave Marcis, Tom Reffner, Larry Detjens, Ron Waite, Jim Back, Dick Trickle, Whitey Harris, Mike Miller and many more...
ALSO AVAILABLE, NUMEROUS PHOTOS OF YOUR FAVORITE DRIVERS FROM THE 1950s TO THE PRESENT! BELOW IS A SAMPLING OF WHAT WE HAVE, EACH PRINT COSTING YOU JUST $7.50 FOR 8x10 SIZE, BLACK AND WHITE OR COLOR, PLUS SHIPPING TO YOUR DOOR!
Below Neil Callahan #44, Dave Field #26, Jim Back #61 and Marv Marzofka #91 at Griffith Park Speedway, Tom Reffner Oldsmobile, Dick Trickle Torino and Tom Reffner Comet.
Receive a free print if you can name this driver!
Marlin Walbeck wins another at Golden Sands Speedway
Dick Trickle Comet
Tombo Reffner teammate to Jimbo Back
The last car driven in a long career by Tom Reffner
Tom Reffner Mercury Cyclone 1971
Tom Reffner and Dick Trickle early years of racing
Rich Somers Thunder Pony and the infamous bus hauler
Homer Spink #55
Jimbo Back #61
Also Available: The New Champions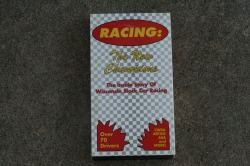 The New Champions, a Bill Holland production, is the inside story of Wisconsin Stock Car Racing. This hour long VHS tape features over 70 drivers racing in CWRA, ARTGO, ASA and other series throughout Wisconsin. Just $25.00 plus $3.00 shipping.
---
STILL AVAILABLE! THE FULL SET OF FOUR YESTERYEARS RACING REUNION SOUVENIR PROGRAMS. FEATURING INTERVIEWS AND PHOTOS OF DRIVERS AND PROMOTERS THAT SHAPED AND FORMED OUR SPORT TO WHAT IT IS TODAY! 1950s, '60s, '70s, '80s, '90s, AND TODAY ERAS OF RACING FEATURED.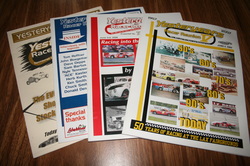 Collectible Souvenir programs are $5.00 each, or get the full set for just $17.00! Add $5.00 for shipping and handling. Order today while supplies last as quantities are limited.
---
AND, DO YOU REMEMBER THE DAY? READ ALL ABOUT THE GREAT BORDER WARS BETWEEN WISCONSIN AND MINNESOTA SHORT TRACK RACERS!
THE GREAT BORDER STATE RIVALRY ROUND

ONE


By Dale P. Danielski
Border States rivalries with Wisconsin and Minnesota sports teams are well documented. But not to be outdone or upstaged is the fact some of the most intense rivalries occurred between Wisconsin and Minnesota short track race drivers through the years. The 1970s produced a number of challenge races and with tracks in both Wisconsin and Minnesota hosting big events it was certain to draw all the top drivers from both states as they strayed from the weekly show in attempts to make some big money at these special events. I pick the '70s era as that is when this scribe was becoming more mobile and gaining a real interest in the sport both in my neck of the woods, Central Wisconsin and beyond. The paved speedways are where it started for this guy so that is what at least initially, we will focus on.
Of course when you mention Central Wisconsin pavement racing the names that immediately come to mind are Dick Trickle, Marv Marzofka, Tom Reffner, and Jim Back. Those guys as it turns out carved out some unbelievable careers in short track racing and collectively they astoundingly won nearly 2,000 feature races! Yes, you read that right 2,000. That's not trophy dashes. It's not heat races nor fast qualifying efforts but the featured, main attraction of the night. It's no wonder these guys traveled like they did to events because more often than not when they got back home it was with most of the purse loot.
In 1971 stock cars were still being built in a very stock manner as in obtaining parts pretty cheap from a junk yard. The fabricated turn key race car was still some years in the future. Our Central Wisconsin gang placed themselves ahead of the curve technologically by literally building their race cars from the ground up. We know this as some racing friends of mine and I used to travel to the shops in the winter to witness the progression from a pile of metal on the shop floor to completed race car by spring. How cool to see first hand the creativity utilized by all these guys as they built from scratch a race car capable of hitting speeds of more than 100 miles per hour on any number of bull ring race tracks they competed at.
And race they did, as Thursday it was off to the newly reopened and paved ¼ mile State Park Speedway of Rib Mountain, WI., Friday night the just paved and reconfigured in 1970 5/8 mile La Crosse Interstate Speedway, West Salem, WI., or the ½ mile Capital Speedway of Oregon, WI., enlarged and paved in 1969, Saturday the 1/3 mile Wis. Dells, WI., Motor Speedway and Sunday at my home track, built in 1967 the Golden Sands Speedway of Plover, WI., which was a super high banked 1/3 mile oval. Those were just the weekly events they attended; keep in mind these tracks would rotate special events on Sunday afternoons and even sometimes during the week, creating a schedule that could consist of 6-7 events. Can you imagine racing that many times a week and still holding down a fulltime day job? All but Trickle did just that as Trickle at that time was already a full time racer.
And that brings us to one of the biggest showdown races between the Wisconsin and Minnesota contingents. Promoter Phil Stewart had a nice thing going with his Twin Cities Metro Circuit featuring the "Scat Pack" which was a group of drivers competing at the Elko Speedway on Saturday night and at Raceway Park of Shakopee every Sunday. The top hot shoes in that group included Bob Jusola, Dan Prziborowski, Bill Mueller, Larry Smith, Jon Chrest, Bill Oas, Norm Setran, Leon Duda, Larry Behrens, Don James and a relative newcomer making waves, John Boegeman. With a tidy season point fund to race for, Stewart was keeping his pack of stars together and putting on great shows at both tracks throughout the season. The 1971 season found a newly configured Elko Speedway oval built to a full 3/8 in length. That with new pavement was producing faster speeds and records to go with it. In preparation for future confrontations Minnesota racers Mert Williams, Behrens, and James, were sneaking down to La Crosse Interstate Speedway on Friday nights to see how they fared against outside competition. One driver down there who proved to be extremely tough was transplanted Minnesotan Jim Sauter who was winning everything in sight at the track. The experience had to help these drivers, however with the huge Uncola 7000 scheduled race at Elko Speedway July 5 featuring a record $7,000 payoff; the true test was just around the corner.
A great field assembled for the event and 7,222 fans were on hand anxiously awaiting the outcome. Almost immediately Dick Trickle became the favorite by setting a new track record in qualifying with a 15:61 lap. That feat alone was worth $500. It got better for the Wisconsin Rapids, WI., speedster, Trickle as after starting in the back of the pack for the 100 lap main he worked his way through traffic taking a lead on lap 50 he would not relinquish. Crossing under the checkered flag first was worth a cool grand for Trickle who took on all comers and captured the huge border wars win. Top Minnesota drivers tried to beat the cagey Trickle but Bill Oas and Bob Jusola were forced to settle for 2nd and 3rd at the finish. Jim Sauter followed in 4th and was followed by Jon Chrest, two more Wisconsin invaders, Bill Retallick and Marv Marzofka, Alex Metcalfe and Dick Grave. Top Metro Circuit point fund shoe, Dan Prziborowski made a gallant effort but smacked the wall on the 44th lap putting him out of contention.
Of course the cry for a rematch was heard from the Minnesota gang after the event and soon they would get their opportunity and hoped revenge. More on that next time.
Comments welcome to Dale P. Danielski, dale@starmakermultimedia.com 967 10th Ave N Ste A, Onalaska, WI 54650 608-783-5827.


THE GREAT BORDER STATE RIVALRY ROUND TWO


By Dale P. Danielski
With

Wisconsin Star Dick Trickle's decisive win in the Uncola 7000 Challenge race at Elko Speedway July 5th the Minnesota contingent was out for revenge in round two, The Uncola Rematch. They didn't have long to wait while licking their wounds either as the Rematch was set to take place August 10.
With Trickle handily winning the first race in his Ford, Iten Chevrolet of the 'Cities decided to offer a bit more incentive to the predominantly Chevy group of Minnesota racers by presenting the winner of the Rematch with a very intricate and beautiful four foot trophy. The trophy was billed as the Minnesota-Wisconsin Challenge Series Award and was accompanied by a $750.00 check. A large throng was on hand to again witness the action as 7,222 fans officially paid to see the event, most of them rooting on the Minnesota "Scat Pack".
Sadly, even with the extra incentive and all the hype, the Rematch race again turned into a Dick Trickle benefit. Trickle started 18th on the grid but by the 24th lap was already in first place! Having nearly lapped the field, the only thing that kept the final finish reasonably close was a red flag with 4 laps to go. That put Dan Priziborowski and Bill Oas on Trickle's bumper for the restart, but neither could mount a challenge and Trickle again found himself in victory lane. With the win Trickle was able to take home the "Chevy" trophy after crossing the stripe first in the 100 lap main in his 1969 Ford Torino. For the record the final order was Trickle, Prziborowski, Oas, Dick Giles, Bill Retallick, Jim Sauter, Dave Field, Larry Smith, Marv Marzofka, Larry Behrens, Don James, Dick Kessler, John McNamara, Alex Metcalf, and Jon Chrest. For his effort Trickle took home $800 to go along with the $1,500 he took home in the first event.
Trickle also controversially proved to be truly "tricky" with his tire game plan for the two Uncola races. In the first race he went with a soft compound, 12" Firestone tire in taking the convincing victory. Consequently the Minnesota gang caught wind of the serial numbers on the tires and bolted those on for the rematch race. So what does Trickle show up with for the Rematch? A hard compound 15" Firestone tire. The result was an even more impressive win which really left the Minnesota guys steamed and scratching their heads as to what Trickle could possibly do next.
With the season coming to a close many felt a third time could be the charm for the Minnesota, home field guys, but would they get the opportunity? The answer was a resounding yes as Phil Stewart announced his biggest event ever, The Old Style 200 featuring an astounding $15,000 purse pay-off. With a September 18-19 date, most tracks would have completed their seasons guaranteeing a star studded field for the big event. How accurate the prophecy would prove to be as a short track event second to none featuring the best drivers from the entire Midwest would take place with everyone vying for the $3,000 top prize to win the 200 lap feature event. More on the exciting season conclusion in our next Portal to Racing's Past feature story.
Comments welcome to Dale P. Danielski, dale@starmakermultimedia.com 967 10th Ave N Ste A, Onalaska, WI 54650 608-783-5827.



THE GREAT BORDER STATE RIVALRY: FINAL ROUND


By Dale P. Danielski
If Phil Stewart had issues with the Wisconsin short track drivers taking most of the money back home with them after one of his special events at Elko Speedway in 1971 he never mentioned it. More than likely it really didn't matter as he was putting on races like never seen before in the Upper Midwest. And best of all the pit area was jammed with most of the best and equally significant, the grandstands were packed! With the recently announced Old Style 200 to take place September 18-19 at the Speedway much the same was expected for the event. And boy did that turn out to be true as the event drew the best field of cars yet and the biggest crowd, over 10,000 over the two days.
To say everyone was psyched up and ready for round three of the Wisconsin vs Minnesota stock car rivalry was the understatement of the entire summer's racing. With over $15,000 on the line in purse pay-out and $3,000 of it earmarked for the 200 lap feature winner plus lap money, there was no lack of incentive for drivers. With tickets priced at just $4.00 and $4.50 Saturday and Sunday for adults and $1.00 both days for kids age 8-14 how if you were even remotely interested in the sport could you choose not to attend the event! The race was shaping up to have all the ingredients for the best ever except for one thing. Winner of the two previous challenge events, Dick Trickle was scheduled to race at a USAC stock car race in Pocono, PA., on the same day! Of course that would immediately improve everyone else's chances to win but that was not what drivers hoped for. All figured they were due to unseat King Trickle this time so he needed to be racing at Elko!
The pre-entry list was growing daily as Metro Circuit point leader Dan Prziborowski and track record holder Bill Oas sent in their $10.00 entry forms. Jim Sauter fresh off his big win in the North Star 500 and Twin 100s at the Minnesota State Fair was coming to grab some more Gopher State cash. Bob Jusola also inked an entry as did dirt track star Dave Bjorge. Top runner from Southern Wisconsin Bill Retallick was making the trip and National attention was attracted with the Terry Bivins of Shawnee Mission, KS entry. A five car contingent from Colorado led by Dave Swan was also coming with every intention of taking most of the money back to the Rocky Mountain State.

Illinois superstar Joe Shear was expected as was Dick Trickle garage mate Tom Reffner and fellow Central Wisconsinites Marv Marzofka and Jim Back.
Many drivers were putting dibs on the money the absent Trickle would be leaving behind but wait, just wait a minute here! USAC Stock Car Division supervisor Bob Stroud in a late decision granted Trickle permission to compete in the Old Style 200 as the team Trickle was racing for during the year was not entering the car for the Pocono race.

Trickle got into trouble with USAC earlier in the season for racing in an "Outlaw" event (Which paid him over $4,000 by the way) instead of a USAC race and was forced to post a $500 bond stating that he would not race in competing events with USAC.

Well, well, no one will know for sure what all transpired here, but the end result had Trickle coming to race at Elko!
Trickle along with 96 other cars representing 8 States packed the pit area on race day and the field included additional heavy hitters Conan "Moose" Myers from Indiana and Ohio hot shoe Carl Smith. It was a local star however Oas, putting a charge into the large field by shattering his own track record in qualifying. Oas turned a 15:27 lap around the 3/8 mile oval bettering his own previous mark of 15:53. For the feat Oas received a crisp $100 bill and also an all expense paid trip to the 1972 Indianapolis 500 courtesy of the Thermo King company.
The 200 lap finale proved to be substantially more competitive than the previous two. Jim Back, Marv Marzofka, Jim Sauter, Dan Prziborowski, and Bill Oas all took turns leading. Tom Reffner who didn't even qualify for the feature by time trials, made it into the main via a qualifying race. Starting mid-pack Reffner methodically worked his way through the 32 car field finally taking the lead from Oas on lap 160. From that point on, no one could catch the "Rudolph Rambler" and he motored to the biggest win up to that point of his 12 year short track racing career. The win was worth $3,300 and bragging rights for Wisconsin the rest of the current and off season. Reffner claimed to be more fortunate than good to win the race but nonetheless he was in first place at the checkers with just 19 cars finishing the 200 lap grind. Very surprisingly in 2nd position at the finish was Al Moldenhauer of Madison, WI. Moldenhauer was known for his prowess in a Midget race car and had only been racing Late Models for a few weeks. The 2nd position was worth $1,500. Norm Setran wasn't picked as a pre-race favorite either but he placed a very respectable 3rd the last car on the lead lap. The days work netted him $1,000. Filling out the field of finishers were Larry Smith, Marzofka, Kansas star, Bivins, Dick Stang, Don Leach, Don James, Duane Walch, Marlin Walbeck, Bill Oas, Larry Detjens, Mike Murgic, Jeff Haar, Fred Bender, John Boegeman, Terry Semrow, and Del Triesch.
Heavy favorite Dick Trickle probably wished he had gone to Pocono to race as he experienced nothing but bad luck during the weekend. While practicing on Saturday Trickle blew the engine in his Ford and never did make a qualifying attempt. With help from the local racing Duda brothers, Trickle was able to borrow an engine and have it installed just in time to race in a qualifying event. He then proceeded to pass 23 of the 25 cars in the race to earn a spot in the main. Unfortunately Trickle's luck again went south as he only completed 15 laps when a radiator problem sidelined him.
Besides the 200 lapper the two day extravaganza featured some interesting race events. Ford product, Chevrolet and Chrysler events were all held with Rich Bickle, Carl Smith and Bill Mueller each winning. Of course to be in these races you had to be driving those makes of cars. Midwest Challenge races were also held and determined by regions of the United States. The Minnesota region race winner was Larry Smith with the Wisconsin Region race victor Bob Gunn. The Southern regional winner was Dave Swan while the Eastern region saw Bickle take another win. Last chance qualifying race winners on Sunday were Sauter, Reffner and John Boegeman. The consolation race which put the winner in the 32nd

and last feature starting spot, went to Mike Murgic.
All in all it was an unbelievable three challenge events held at Elko Speedway in 1971. Each event was unique and definitely left the huge throng of fans and drivers that attended and participated

wondering what Phil Stewart would do in 1972 for an encore. If all goes well perhaps that can be future racing fodder for additional looks into racing's past feature stories.
Quick notes…Trickle went on to win a total of 56 feature events in 1971. Reffner ended the season with 19…In case you were wondering the Uncola race name was derived from the 7UP beverage which through area bottlers sponsored the races…As lopsided as the three Challenge races appeared in 1971 Minnesota travelers did actually experience a fair amount of success racing in Wisconsin as the photos and headlines here indicate…Don James takes a big win at La Crosse Interstate Speedway…Bob Jusola was in the right place when rain hit to win at Capital Speedway…Special thanks to the Checkered Flag Racing News of which I have archived many for information on these historic Challenge events. Also thanks to the columns by Dave Anderson in Midwest Racing News that very closely covered the Minnesota racing scene. And, I have to give thanks to myself for being crazy enough to keep all this old stuff to look back on and refer to…
Comments welcome to Dale P. Danielski, dale@starmakermultimedia.com 967 10th Ave N Ste A, Onalaska, WI 54650 608-783-5827.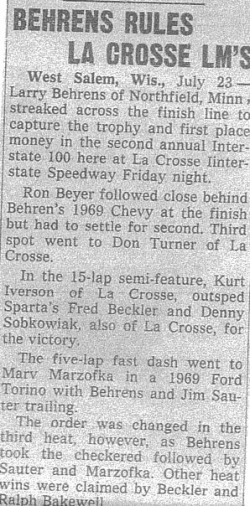 ---